First Drive 2016 Toyota RAV4 Hybrid first drive review
Toyota has fitted its proven hybrid technology to its rugged RAV4 family SUV. Fresh looks and an improved interior round off the changes, but is it an improvement? Here, we give our first verdict.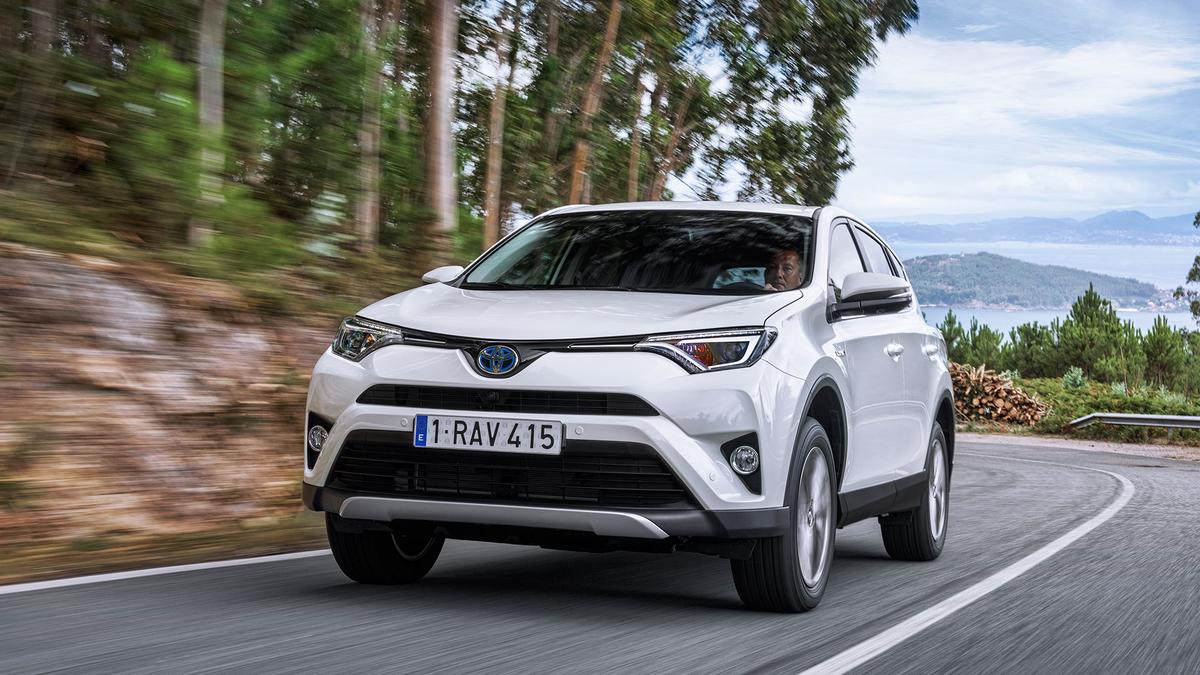 View gallery
First published: 15th January 2016
Auto Trader Verdict:
Fitting a hybrid powertrain has given the RAV4 a new lease of life, and some buyers will love its impressive refinement, roomy cabin, and relatively low running costs – particularly those after a petrol/electric model without the hassle of a plug-in, or after a clean automatic SUV. However, you do pay a hefty price dynamically for this new-found efficiency, and cheaper alternatives from the likes of Mazda and Nissan are better to drive, and nicer inside, too.

Need to know:
First petrol/electric version of rugged 4x4

Available in two- or four-wheel drive; 115g/km CO2

On sale now, priced from £26,195 OTR
What is it?
The latest generation of Toyota's traditionally rough-and-ready family 4x4, and also the first time the company has chosen to fit an SUV with its patented and proven hybrid technology. A surge in the popularity of cars like the Mitsubishi Outlander PHEV has shown that the car-buying public has an appetite for this technology, although Toyota – for now – isn't ready to take the plunge and introduce a fully-fledged plug-in hybrid, with a more usable electric range.

Instead, the hybrid RAV4 uses a 2.5-litre four-cylinder petrol engine, which works in tandem with a large electric motor to produce a combined 194bhp. That makes this the most powerful hybrid Toyota yet; and, if you pick the AWD version, you get another, smaller motor on the back axle, which can send power to the rear wheels when extra traction is required.

There are five different trims to choose across the revised RAV4 range, but this hybrid model is only available in three of them. The Business Plus Edition can be had in front-wheel drive form, but you need to step up to the top Icon or Excel trim if you want four-wheel drive.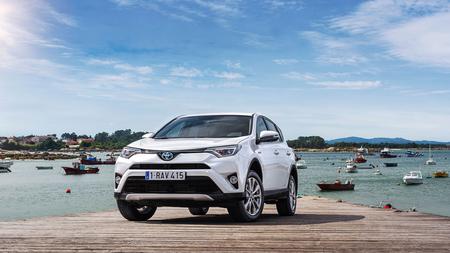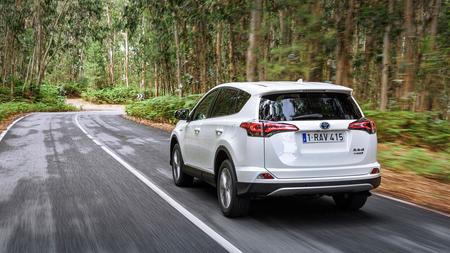 What's it like?
The RAV4 has been around a long time, but the tastes of SUV buyers have shifted a lot in the 20-odd years since it first arrived, and the latest model now reflects this.

No longer are these customers after rugged utility and off-road prowess. Instead, they want cars that look tough, but have the same manageable running costs and compliant on-road manners as any family hatchback.

To cater to these demands, Toyota has thoroughly refreshed the exterior styling. The two 'nostril' grilles from the previous RAV4 have vanished and been replaced by a slimmer, more modern design. Mid-range models upwards come with LED headlamps and roof-rails, while some contrasting silver trim on the underbody gives it more definition.

The RAV4 hybrid still does all the things that the old RAV4 did best. For a relatively compact SUV, it has a huge amount of room on-board. Those up front are treated to a wide, spacious cabin, while the flat floor and reclined rear bench in the back mean anyone will be able to get comfortable in the rear seats on long journeys – even when sitting behind a tall driver.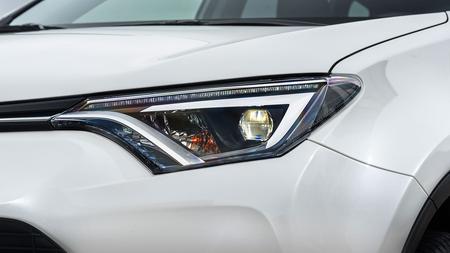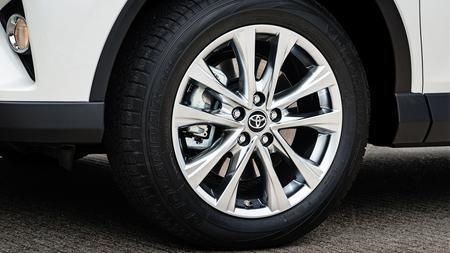 The boot has shrunk slightly to accommodate the nickel-metal hydride battery pack which sits below the floor, but with 501 litres of loading space, it's still deep enough to carry most everyday items, or a big weekly shop, and comes with a handy removable luggage net, too.

However, when it comes to the way it drives, the new Hybrid RAV4 feels quite different from anything that's come before. The previous RAV4 was an agricultural thing at best, but with a 2.5-litre four-cylinder petrol engine assisted by a powerful electric motor, the Hybrid model is considerably quieter, whether you're traipsing through town or cruising along the motorway.

Toyota has tried to combine efficiency with performance, too, and the hybrid system has a combined output of 195bhp, giving a 0-62mph time of a brisk (In SUV terms at least) 8.4 seconds. The trouble is, all this power only comes in at very high engine revs; and, with just 152lb ft of torque, unless you floor the throttle, the rate of forward progress is modest at best.

Drive very smoothly and deliberately, and you may never notice, but any sudden overtakes, steep hills or motorway slip roads require a very delicate right foot to avoid filling the cabin with a loud drone from the engine as it tries to haul the car along.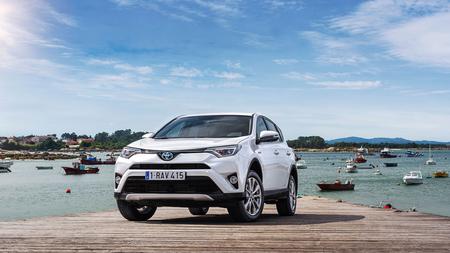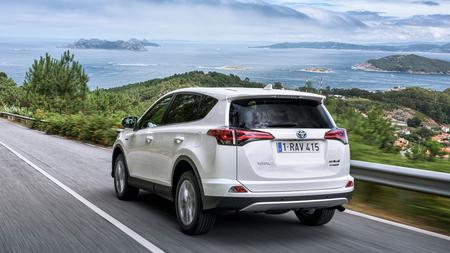 The suspension is set up to match the relaxed driving style that the hybrid drivetrain forces you into, with soft springs, and quite a lot of natural lean through corners. It feels fairly well damped, and soaked up the few bumps we could find on our smooth test route pretty nicely.

Point it at some challenging corners, though, and everything comes unstuck rather quickly. The problem is weight – the RAV4 (in the all-wheel drive form tested here) weighs 175kg more than the front-wheel drive diesel model, and that extra mass means the tyres lose their grip rather quickly, pushing into squealing understeer even at fairly modest speeds.

Combine this lack of composure with the oddly numb regenerative brakes – which are very hard to operate smoothly – and the slow steering, and the RAV4 has little to reward keener drivers.

That would be fine, of course, if the interior was more up to scratch, but again, there are rival SUVs that feel more upmarket – especially the premium models this hybrid is priced against.

The large touch-screen system, for example, is contained within a shelf on the dash that holds the chunky climate controls and is angle towards the driver, but it sticks out too far, making the square buttons below much harder to reach, and reflects glare from the sun badly, too.

There are a decent number of cubbies, and the switchgear is certainly easier to find and use, but the strange mixture of materials, with hard sliver, grey and black plastic covering most surfaces, makes the RAV4 feel utilitarian and cheap compared with a Nissan Qashqai or BMW X1.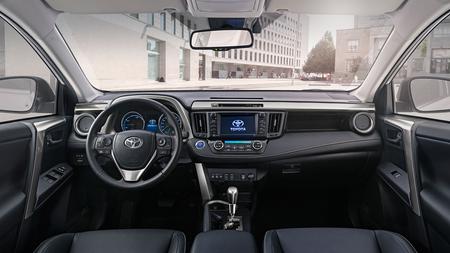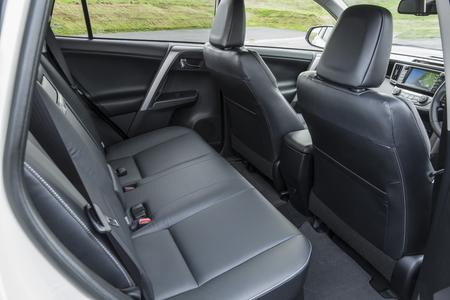 Should I buy one?
Toyota is hopeful that private buyers will be tempted by the hybrid's low running costs; and, compared with some diesel 4x4s, the RAV4 does stack up well. The front-wheel drive model emits just 115g/km, while this AWD version is not far behind, with a CO2 output of 118g/km and a claimed average economy of 55.4mpg.

If you want four-wheel drive and an automatic gearbox, there aren't many SUVs that will match that figure, although a two-wheel drive X1 or the plug-in Mitsubishi Outlander both manage to emit less CO2. On the plus side, the Toyota comes fairly well equipped, with a full suite of intelligent safety systems, LED front and rear lights, keyless entry, cruise control and DAB radio, but aat-nav, parking sensors and roof rails are only standard on the pricey Excel trim.

Traditional Toyota buyers will see this as good value, but with prices for the four-wheel drive models starting at just under £30,000, and relatively high leasing rates, cheaper, better-to-drive alternatives like the Mazda CX-5 and Nissan Qashqai are a more tempting proposition.
Key facts:
Model: Toyota RAV4 Icon 2.5 Hybrid AWD CVT

Price: £29,795

Engine: 2.5-litre 4cyl petrol, CVT automatic w/ synchronous electric motor

Power/Torque: 195bhp/206Nm

0-62mph: 8.4 secs

Top speed: 112mph

Economy: 55.4mpg

CO2/BIK tax liability: 118g/km/18%

Boot space seats up/down: 501/1,633 litres
Also consider:
Nissan Qashqai
A smarter interior, better infotainment system and similar safety technology
Mitsubishi Outlander
If you want a hybrid just to cut your company car bills – this is the one to buy 
Mazda CX-5
A well-rounded small 4x4 with sporty looks and performance, but low running costs
Interested in buying a Toyota RAV4?