First Drive 2016 Subaru Levorg 1.6 DIT Lineartronic first drive review
Subaru has a long history of fast and fun turbo estates, but is the new Levorg a worthy successor to the likes of the Legacy Spec-B and Impreza STI?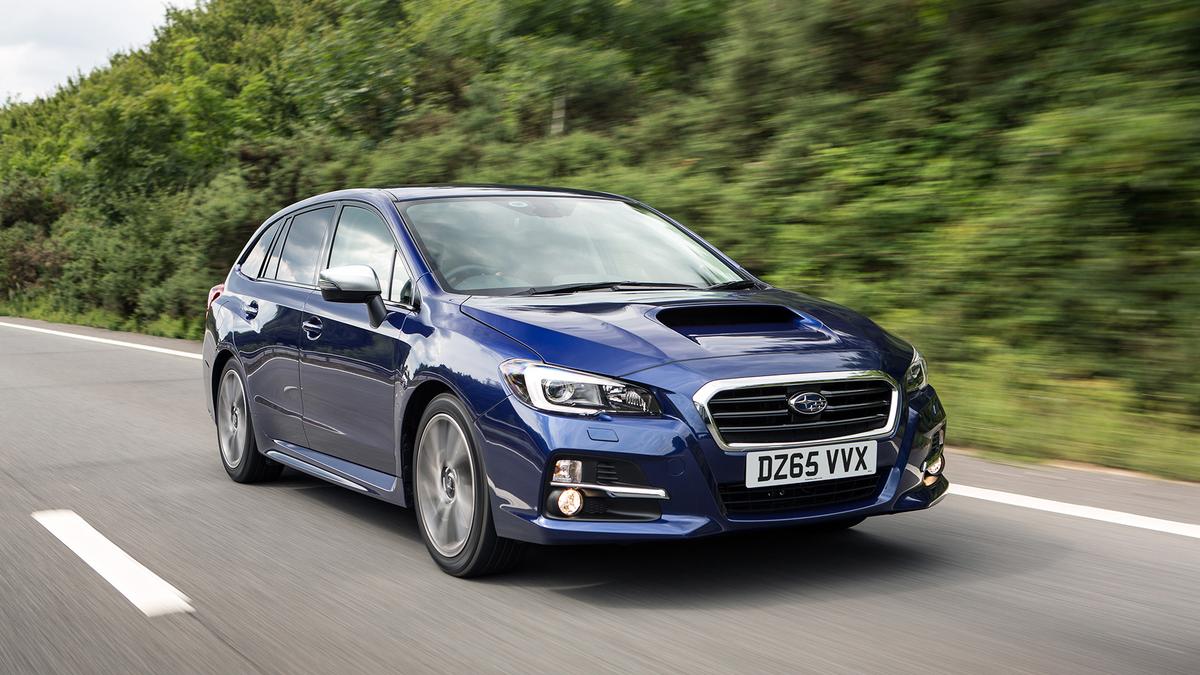 View gallery
First published: 30th September 2015
Auto Trader Verdict:
It would be easy to dismiss the Levorg as the answer to a question that no one asked. That would be unfair, though, as its strengths will give it plenty of appeal to Subaru's loyal UK customers: it's practical, grippy and fun to drive, with loads of equipment and a refined engine. However, this is not a car that will win customers from other brands, and the CVT gearbox, firm ride and awkward styling will - in the UK at least - make it an acquired taste at best.
Need to know:
New compact estate features 1.6-litre turbo petrol and 4WD

Available in the UK with a single GT trim and CVT gearbox

On sale now, priced from £27,495 on the road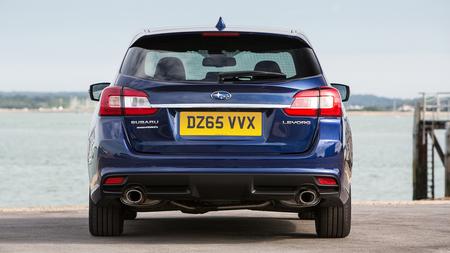 What is it?
Subaru and estate cars are a match made in heaven. Diehard fans of the brand have long favoured its rugged, 4x4 estates not just for their versatility and durability, but also for their surprisingly deft handling and turbocharged performance.
So, it seemed odd when the previous Legacy estate was never directly replaced, as the rapid Spec-B version was a classic example of Subaru ploughing its own unique, yet rather compelling furrow. Or, rather, it wasn't replaced until now, as the new Levorg (which has been on sale in Japan for some time) is something of a spiritual successor.
The range is simplicity itself, with just one trim (GT) offering customers everything they could possibly want for £27,495, meaning the Levorg sits just below the larger
Outback estate
in Subaru's range. Power comes from a new 1.6-litre turbo petrol engine with 167bhp, which drives all four wheels via a CVT automatic transmission. This gearbox is not compatible with Subaru's clever symmetrical all-wheel drive system, though, so you get a clutch-based solution instead.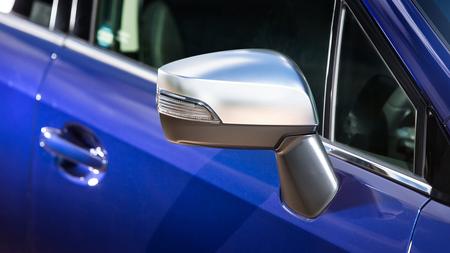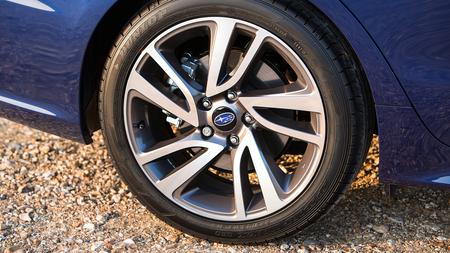 What's it like?
Different from the norm. If your idea of the perfect estate has to include a manual gearbox and a diesel engine, this new Subaru might not be your cup of tea.
However, it's not without its positives, and there are plenty to choose from, such as the new engine, which is a real highlight. It might not have quite as much power at some other turbocharged Subarus, but the 1.6 unit is really refined. It delivers its power and 184lb ft of torque in a smooth, linear fashion right across the rev range, and this flexibility makes it relaxing to stroke along a country lane.
Performance is best described as brisk, but the car will have no problem keeping up with motorway traffic. Load the impressive 522-litre boot to the gunwales and drive up a really steep hill, though, and it might be a different story.
The CVT gearbox is not as intrusive as you might expect, although sadly that's not something you can say about the transmission whine when overtaking. Left in 'auto' mode, the CVT does a decent job of slurring its way between the six 'steps' which take the role of actual gears, but the paddle shift manual mode can be a little more hit-and-miss, and lacks the level of control a manual gearbox would provide. Otherwise, the controls inspire confidence, with weighty, direct steering, a progressive brake pedal and sharp throttle.
Subaru was keen to point out that the Levorg shares some chassis D.N.A and suspension components with the extreme 300bhp
WRX STi
- and some of that pedigree can be felt when tackling a challenging B-road. The suspension is definitely on the firm side, but has enough travel to work with the dampers and do a decent job of keeping things flat and level.
This allows you to tackle bumpy corners without the fear of losing grip, upsetting your passengers, or being jolted off line. The downside to this agility is that at low speed, the ride can feel pretty punishing. No matter how gingerly you try and creep over a speed bump, the 18-inch alloys will crash and thump in a fairly unpleasant fashion.
Away from the driving experience, the Levorg gets a lot of other things right, too. The interior is well appointed, with subtle blue stitching along the leather trim on the seats and the door panels. The flat-bottomed steering wheel is a little busy, as it's covered in tiny, hard-to-read buttons and switches. The standard central 'Starlink' touch-screen display and sat-nav work well, but the extra digital gauges plonked on top of the dash look like an afterthought, and use dated graphics which rob the interior of the kind of sophistication you might reasonably expect to find at this price.
Although the Levorg has a smaller footprint than the Outback, it feels spacious inside, with generous leg- and headroom for those in the back. Still, the combination of front seats that are mounted a little too high, plus a low-slung dash does make it feel at times like you're perched on top of the car, rather than nestled inside it.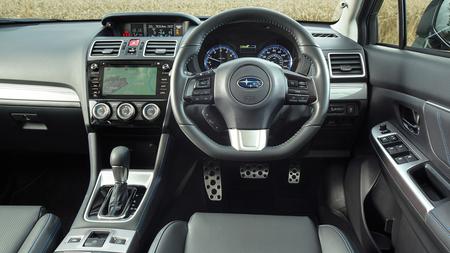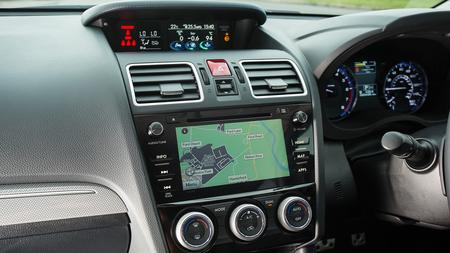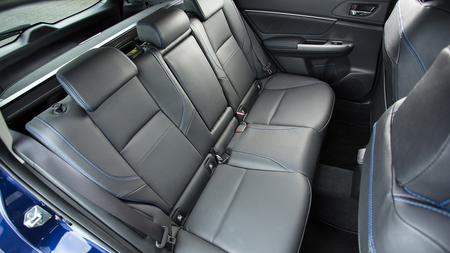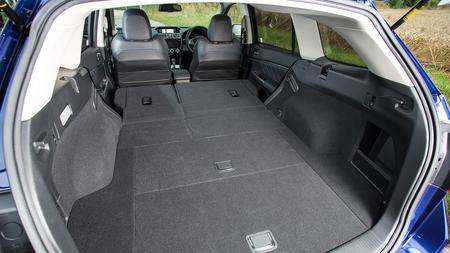 Should I get one?
You would need to be a fairly particular kind of customer to choose the Levorg over something like a Skoda Octavia Scout, which also has four-wheel drive and an off-road bias, but places its dynamic emphasis on comfort and diesel grunt. It's even more spacious, has better fuel economy and is considerably cheaper to buy, if not quite as well equipped as the Subaru.

However, not every estate buyer exists solely to tow caravans and eke as many miles as possible from a tank. The Levorg rides, handles and goes well enough to be more amusing than the majority of family estates. However, it falls a long way short of being as amusing or potent as a Ford Focus ST estate - which costs almost exactly the same.

If the Levorg does float your boat, then be prepared to pay a considerable penalty in fuel and tax, with the claimed figures a distinctly underwhelming 39.8mpg combined, while the C02 output is 164g/km. We could forgive the car these numbers if it was a little faster or more involving, but the CVT gearbox and lukewarm engine make it a confusingly mixed bag.
Key facts:
Model: Subaru Levorg 1.6 DIT Lineartronic GT

Price: £27,495

Engine: 1.6-litre petrol turbo, CVT automatic gearbox

Power/torque: 167bhp/184lb ft

0-62mph: 8.9 seconds

Top speed: 130mph

Economy: 39.8mpg

CO2/BIK tax liability: 164g/km/27%

Boot space seats up/down: 522/1,446 litres
Also consider:
Skoda Octavia estate
Bigger, and more practical, but less fun in corners than the Subaru
Ford Focus ST Estate
Smaller inside, but just as well equipped and a seriously rapid hot estate
Volvo V60
A mature, premium alternative, with a lovely cabin, but best as a diesel manual
Interested in buying a Subaru Levorg?