First Drive 2016 Porsche 718 Cayman first drive review
The latest version of the Cayman is a radical departure, with the naturally aspirated flat-six engines binned in favour of more powerful and more efficient turbocharged four-cylinder units. Essential progress, or is Porsche guilty of tearing the heart out of one of the greatest sports cars of all time? We give you the warts-and-all lowdown.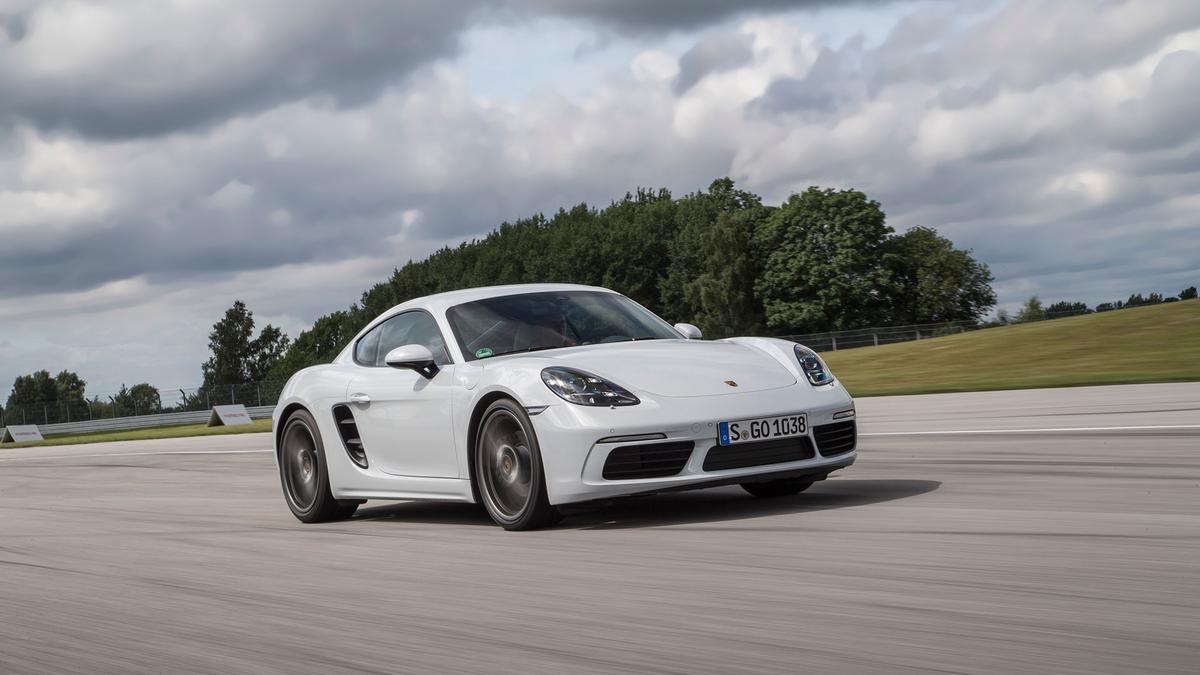 View gallery
Auto Trader verdict:
Over the years, Porsche has built some stellar products, but it just goes to show that the closer you fly to the sun, the further you have to fall. Although the latest Cayman looks, drives, handles and stops better than ever, its 2.0-litre flat-four engine is an absolute nail. Yes, the turbo makes it faster and more efficient than the old six-cylinder engine, but it sounds and performs like it was engineered in a kindergarten. Consequently, it undermines every other endearing aspect of what is an otherwise brilliant sports car.
Key facts:
On sale now; priced from £39,878

More powerful, yet more fuel efficient power units

718 ushers in new styling and interior upgrades
What is it?
Porsche claims that the latest Cayman's '718' designation comes from the successful factory race cars of the fifties and sixties, but there's nothing retro about this new car. It has totally new exterior and interior styling and, most importantly of all, a pair of brand new turbocharged four-cylinder engines.

Obviously, downsizing from naturally aspirated six-cylinder engines to smaller capacity four-pot turbo units is a radical departure from Porsche's tried-and-tested sportscar philosophy, but you'd have to think that if any manufacturer has the technical expertise to pull this transition off, it'd be Porsche.

From the outset, the figures look extremely encouraging. The entry model Cayman we're testing here is powered by a 296bhp 2.0-litre unit, giving it 35bhp more than the old 2.7-litre flat-six. The new engine is also 13% lighter on fuel, returning 38.0mpg. In the case of our test model, the new engine was paired with the standard six-speed manual transmission, and was also fitted with 20-inch wheels and fitted with a sports exhaust.

What's it like?
Pretty disastrous, really. From the first instant you turn the key and allow the engine to settle into an uneasy idle, you're immediately struck by the fact that all is not right with the world. Initially, the engine rumbles away with all the mechanical refinement of an air-cooled VW camper van, and as the revs rise, your senses are assaulted by an uncouth increase in decibels and a cranky, most un-Porsche like drone.

Press the sport button in an effort to ramp up the exhaust content and elicit some kind of character, and two things happen. Firstly, for some reason best known only to Porsche (perhaps it's an attempt to escape the ragged off-beat engine firing pulses at low engine speeds), the idle speed jacks to 1000rpm. Secondly, the engine takes on a rough-edged rumble akin to Boaty McBoatface's bilge pump.

Surely, things get better as you get the revs motivated and drive with some speed under your wheels, right? Not a bit of it. Instead, some hugely distracting rattles, resonances and vulgar booms, accompanied by conspicuous turbocharger whine, can be heard and felt resonating through the cabin at various points within the rev range. Things get even worse on the overrun. Even the sports exhaust, with its theatrical cacophony of chirps, pops and bangs, can't mask the coarse mechanical racket, which for all the world sounds as if the big end bearings are about to lose the plot.

It might seem harsh to condemn the whole car because of its engine, and Porsche may claim its ability to shake 300 horsepower from a 2.0-litre is worthy of praise. However, countless hot hatches, including the Volkswagen Golf R and Mercedes-AMG A45, produce this kind of power from 2.0-litre lumps, and neither sounds or feels as rough or as poorly engineered as the 718's punch-drunk boxer.

What's more, the performance feel has also suffered, never mind what the figures say. That's because the 718 is over-geared to enhance fuel efficiency, and it seriously blunts driveability. The car always feels sluggish below 2000rpm, and it bogs down with every shift at low speeds. You need to spin it well above 3500rpm to keep things on the boil, and then and only then does it begin to feel seriously quick. Perhaps most damning of all, there's no final heady release of power that you got with the old six-cylinder units as they rocketed towards the red line.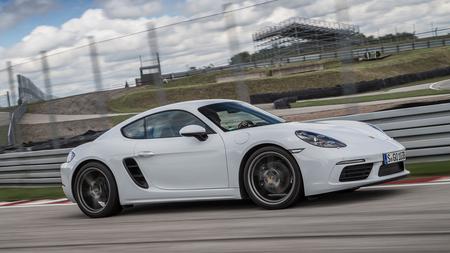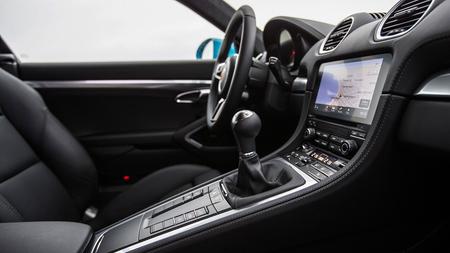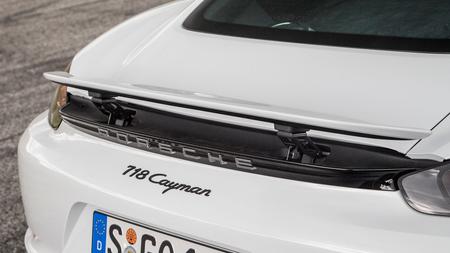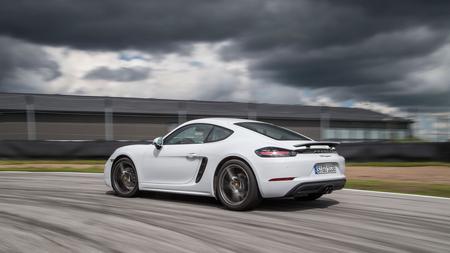 The inadequacies of the engine become even more disappointing when you consider that the rest of the driving experience is simply sublime. The Cayman already had the sweetest-handling chassis in the class by a country mile, and it's been made even sharper thanks to a revised suspension, better brakes and wider rear wheels, not to mention new steering borrowed from the 911 Turbo.

The controls all have a precision and weight that make you feel instantly at one with the car. The new steering is sharp and responsive and has a peerless consistency, as the weight and speed of return when releasing the wheel is a mirror image of the efforts and pace required to get the car to turn into corners.

The sheer grip and cornering agility are simply staggering, to such an extent that on normal roads, most folk will never get close to squealing a tyre, let alone provoking anything approaching a drift.

The brakes are stunningly effective and the pedal is easy to modulate, but perhaps the most remarkable aspect of the 718 is the way it manages to handle like a rally car yet ride like a limousine, even on 20-inch wheels. While many sports cars are so firm they tend to skip over challenging surfaces, the 718 is almost impossibly supple, smothering all manner of lumps and bumps with a fluidity that ensures the wide tyre contact patches always remain glued to the road surface.

Just as impressive is the cabin quality, which has improved to such an extent that you need to look long and hard - and to a far higher price point - to find a rival for the 718. There's also a new, clearer and more responsive central touch-screen that apes an iPhone interface, along with an upgraded standard stereo, improved connectivity and Apple CarPlay as standard. Sat-nav with full voice control is also available as an option.

Should I buy one?
Now that really is a toughie.

Engine aside, the Cayman is a class-leader in almost every other area. It sets the handling benchmark in this class by a wider margin than ever, and the ride quality of the new car needs to be experienced to be believed. The cabin is flawless and represents an exceptional execution of style, quality and ergonomic excellence.

But – and it's a huge but – that engine pretty much ruins the whole experience. It's so crude and so far below the standards set by the rest of the 718's sublime attributes, we struggle to understand how it made it out of the factory gates, let alone onto the world stage.

Overall then, the 718 Cayman is undoubtedly a step backwards compared with its six-cylinder predecessor, but here's the thing; for new-car buyers, the 718 doesn't compete with its predecessor, it competes with rival sports cars such as the Audi TT S and BMW M2. So, the question should be, how does it stack up where they're concerned?

Well, to be honest, we don't know, and we won't until we've driven all of them back-to-back. The margins are just too tight. However, that in itself shows the size of the backward step that the Cayman has taken, because in days gone by, the contest wouldn't even have been close.

Key facts:
Model: Porsche 718 Cayman

Price: £39,878

Engine: 2.0-litre flat-four petrol, six-speed manual

Power/Torque: 296bhp/280lb ft

0-60mph: 4.9 seconds

Top speed: 171mph

Economy: 38.0mpg

CO2/BIK tax liability: 168g/km/30%

Boot space front/back: 150/275 litres
Also consider:
Audi TT S
If you're more interested in bonkers performance and a superb soundtrack than cornering ability, this five-pot Audi is superb.
BMW M2
Old-school rear wheel drive thrills, with a wonderful engine and playful chassis, plus a lot more refinement.
Jaguar F-Type Coupe
Add a few options to your Cayman (which you'll need to), and the price rivals that of the exotic-looking – and epic-sounding – Jag.
Find a Porsche Cayman in our classifieds
Interested in buying a Porsche 718 Cayman?