First Drive 2016 Mercedes E220d SE Saloon first drive review
The executive saloon market is fiercely contested, and the new Mercedes E-Class brings a high-class interior, impressive efficiency and a heap of technology to the fight
Auto Trader Verdict:
In the form we've sampled it, the new E-Class is a deeply impressive piece of machinery, combining comfort, quality, luxury and practicality. However, the cars we tested were rammed full of performance-enhancing optional equipment, so we're hardly any the wiser about how the car will perform in its standard form. Here's hoping…
Need to know:
Latest version of Merc's popular executive saloon

New looks inside and out, with more technology

On sale in May, costing £35,935 for model tested (excluding options)
What is it?
In all likelihood, a very strong contender for being your next company car. The Mercedes E-Class has been part of the 'big three' in the executive saloon market for as long as anyone can remember, and in order to take the fight to its rivals from Audi and BMW, the new E-Class employs a collection of mind-blowing new technology, along with improved efficiency and an upgraded interior.
To look at, you'll find the E very hard to distinguish from Merc's other recently released saloons – the
C-Class
and the
S-Class
– other than on size. The styling is virtually identical to that of its sister cars, but that's no bad thing as they're all pretty handsome-looking beasts. LED lighting at both ends comes as standard, as do alloy wheels. Die-hard Merc fans might be disappointed to hear, though, that you won't be able to have the gunsight-style three-pointed star on your E-Class; the company emblem is mounted on the grille rather than the bonnet on all versions of the car.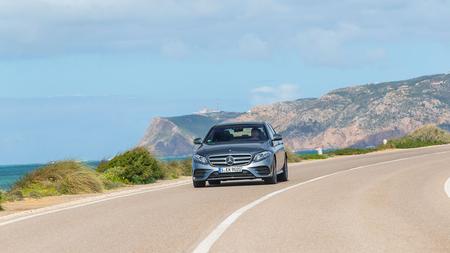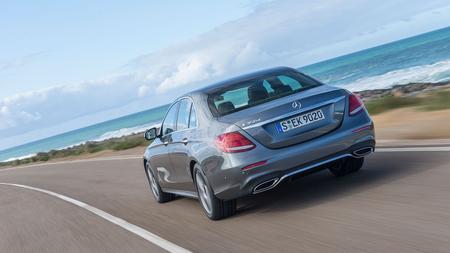 What is it like?
Sounds like a bit of a cop-out, but it's pretty hard to say exactly what it's like on the road, because all the cars we tried came on £1500-worth of optional air suspension. For what it's worth, the E-Class is very, very good with this fitted, delivering a smooth, cosseting ride and tidy, controlled handling. However, we have no idea what its road manners will be like on its standard steel springs.

Sneakily, Mercedes also fitted all our test cars with non-standard double-glazed side windows to give better suppression of wind noise, so we're not even 100 per cent sure on how it fares for overall refinement. However, we can say that road noise seemed very well isolated as did – importantly – engine noise.

We say 'importantly' because engine noise is an area in which previous versions of the E220d have really struggled. The old 2.1-litre four-cylinder diesel unit that Mercedes has been plugging away with for years was undeniably prodigious on power and performance, but gave off such a serious amount of noise and vibration that it overpowered and ruined pretty much every one of the car's virtues in other areas.

Happily, the E220d is now powered by an all-new 2.0-litre unit that stays impressively quiet and smooth most of the time; and, even when you work it to its limits, it doesn't get unreasonably loud. It also works really well with the nine-speed automatic gearbox you get as standard. The smoothness of the shifts really contributes to the car's easy-going nature, and when you put your foot down, it always finds the right cog to kick down to at the first time of asking. It could react a fraction faster when you give it a proper bootful of accelerator pedal, but that's really splitting hairs.

The performance is just as good as the refinement, too. With prodigious power and a generous slice of torque delivered from low down in the rev range, your progress is always easy, and a fair turn of pace is available when you need it. And, with fuel economy of 72.4mpg and CO2 emissions from as low as 102g/km, it's also impressively clean given the power it delivers, which is absolutely crucial for the company car drivers to whom the E-Class will appeal.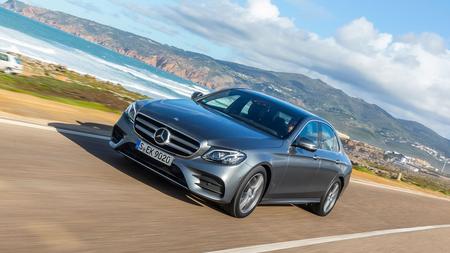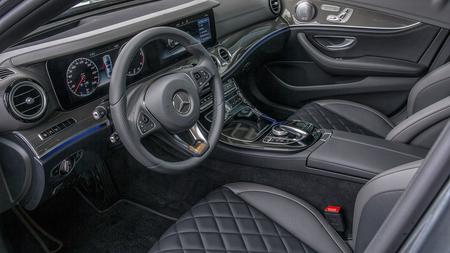 The E-Class' real party piece, though, comes in the form of another optional system called Drive Pilot, which allows the E-Class to pretty much drive itself for large portions of time. It reads the road signs to determine the prevailing speed limit and sets the radar cruise control accordingly. It then follows the car in front, taking care of all your acceleration and braking, and even helps you out with your steering. It's pretty effective on the motorway, but it's not a system you'll want to employ on the open road.

Inside the E-Class, you get lots of space for gangly passengers and an impressively sized boot, but like most cars in this class, you'll have to pay extra if you want split-folding rear seats. You also get a good amount of luxury toys as standard, including cruise control, park assist with reversing camera, heated leather seats, keyless go and an infotainment system incorporating DAB and sat-nav.

For an extra touch of high-tech appeal, you can also control the infotainment system via a couple of touchpads on the steering wheel that respond to the horizontal and vertical swiping movements of your thumbs. In all honesty, it's not the most intuitive or precise way to operate all your various functions, but if you use the wheel controller on the centre console that's also provided, the system is just as simple to use as that in any other Mercedes.

The quality of the cabin looked very encouraging, too, but again, our assessment was clouded by the fact that Mercedes had slung pretty much every piece of optional interior trim available onto our test cars. Exactly how posh an E-Class in standard SE spec feels remains to be seen.

Should I get one?
On the evidence of what we've seen, there's certainly no reason why you shouldn't. In the form we drove it, the E-Class is an exceedingly impressive car in a vast number of ways. Only trouble is that its ability in a number of these areas more than likely comes courtesy of non-standard optional equipment. Yes, it's possible that the E-Class will be just as impressive in its standard pauper spec, but until we sample it, we simply don't know.
Key facts:
Model: Mercedes E220d SE Saloon

Price: £35,935 (exc. options)

Engine: 2.0-litre diesel, nine-speed automatic

Power/Torque: 192bhp/295lb ft

0-62mph: 7.3secs

Top speed: 149mph

Economy: 72.4mpg

CO2/BIK tax liability: 102g/km/20%

Boot space: 540 litres
Also consider:
Audi A6
Efficiency and refinement are the A6's biggest party pieces, and with this sort of car, those are valuable assets.
BMW 5 Series
Great to drive (as long as you spec it right), lovely to sit in and affordable to own, the Five is a cracking all-rounder.
Jaguar XF
The driver's choice in the executive saloon class thanks to its sharp handling, alert steering and comfortable ride.
Interested in buying a Mercedes-Benz E Class?