First Drive 2016 Lexus RC first drive review
Lexus reckons its riotous-looking RC has the desirability, quality and dynamic abilities to prise style-conscious hipsters out of their slinky German Coupes. With the all-conquering BMW 4 Series currently ruling the roost, you've got to admire that sort of bravado.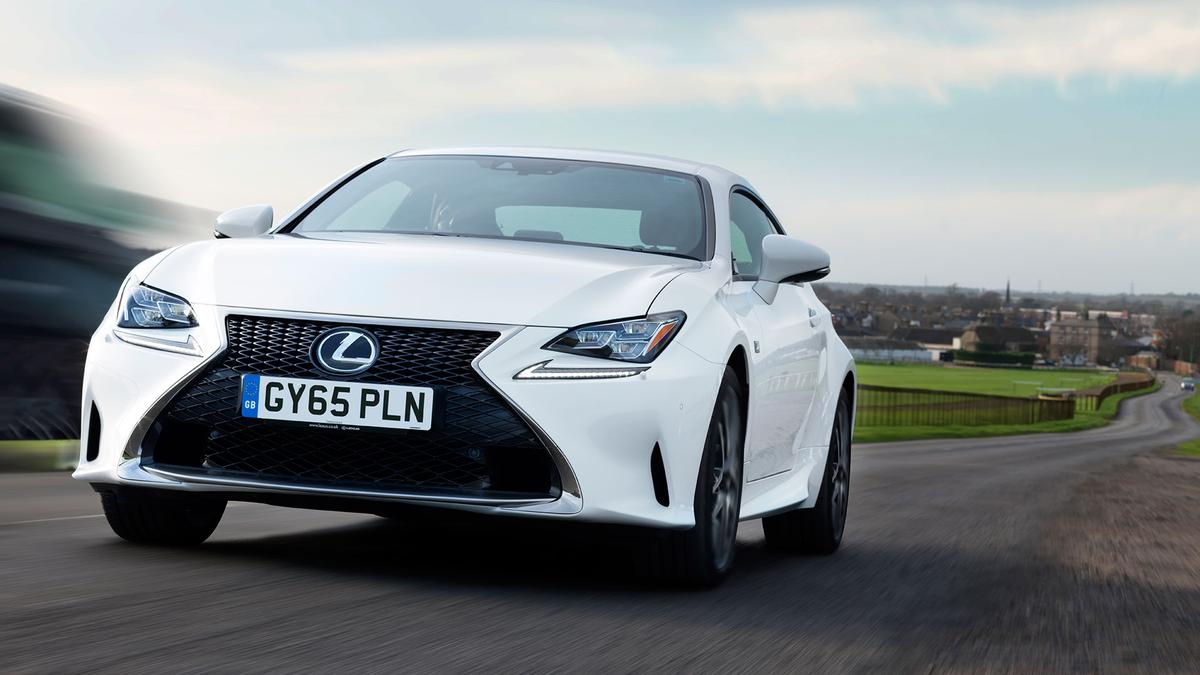 View gallery
Auto Trader verdict:
We're pretty sure most folk will agree that the RC is one cool looking coupe. It's beautifully built, impressively specified, and surprisingly comfortable. It is pretty portly, however, and as a result, it's not as good to drive as BMW 4 Series Coupe. Normally we'd be happy to accept this compromise, but were less convinced by the RC's two powertrains. The lack-lustre turbocharged engine isn't particularly quick or refined, and it's also overly fond of a drop of unleaded. Alternatively, while the Hybrid's is cleaner and able to run solely on electric power, its virtues are undermined by even greater bulk and a truly frustrating transmission.
Need to know
A credible alternative to established German coupes.

Available with hybrid or turbocharged petrol powertrains.

On sale now, priced from £34,995
What is it?
Lexus has always been a bit of a left-field choice, but if you're in the market for a rakish 'check-me-out' coupe, then you'll probably embrace a touch quirkiness. Certainly, with its bloated Botoxed grille and more swirls and slashes than a thrash-metal axe-man, no one is going to mistake the RC for any of its conservative-looking German rivals.

And, unlike the Deutschland gang, you won't find any RCs filling up with the truckers. Lexus has dabbled with diesel in the past, but it didn't take long before that 'grubby' little experiment was ditched and petrol and petro-hybrid power was reinstated as the company's bespoke panaceas.

Top spot in the RC range is occupied by the truly bonkers 5.0-litre V8 RC-F, but you don't need a Masters in economics to appreciate the limitations of its 'chainsaw-to-a-rain-forest' thirst. Thankfully, for those without shares in Shell, the RC is now available with a couple of more palatable powertrains.

First up, is a 2.0-litre turbocharged 241bhp four-cylinder engine, and perhaps the most notable aspect of this engine is its relative orthodoxy. Sure, it's able to switch between Otto and Atkinson cycles, but that's just another way of saying it has variable camshaft programmes that can be utilised to help maximise economy when pedalling sedately, or ramp up performance when driven sadistically.

Meanwhile, stepping up the range a notch finds you in now-familiar Lexus territory. Featuring a big-bore 2.5-litre four-cylinder petrol engine linked to an electric motor, the Hybrid RC sends its power to the rear wheels via a continuously variable automatic transmission.

At first sight, the power generated by the Hybrid's petrol engine appears pretty weedy but that's before you factor in the additional thrust of the electric motor; and it is the synergy of these two powerplants that gives the Hybrid RC its mojo.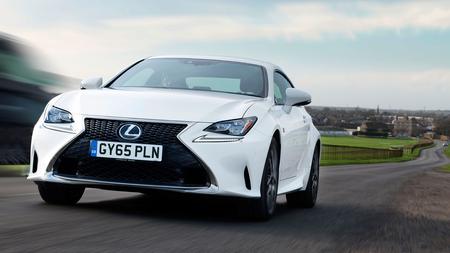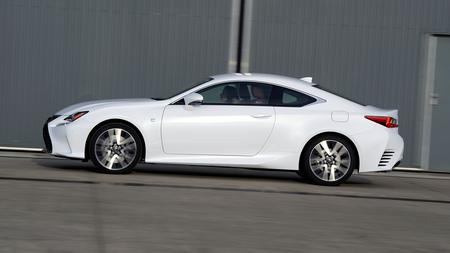 What's it like?
Lexus reckons its turbocharged car is a bang-on rival for a BMW 428i Coupe, and the Hybrid a match for the 420d. Closely priced and specified, and of similar stance and stature, we can see where the firm is coming from.

That said, if you regularly fill up at the black pump and love the big slug of torquey performance that characterises modern turbodiesel motors, then test driving a RC Hybrid will come as something of a culture shock. For a start, you'll wonder what on earth all that whirring is about, but more pertinently, you'll be thinking some wag has wired the handbrake on.

The whirr we're referring comes when driving the Hybrid solely on its electric motor - remember those old electric dairy floats? - as it sings away under acceleration and becomes even more audible when decelerating. To be fair, compared with the intrusive rattles you accept from a diesel motor, a bit of background whirring is a small cross to bear.

The lack of initial performance, on the other hand, is far harder to square. This is partially due to the RC's rather lardy disposition, but it's mainly a bi-product of the Hybrid's efficiency-biased continuously variable transmission.

Bury the accelerator pedal away from the mark way and the transmission instantly feels like it has lost connection with the engine, as the frantic leap in engine revs appears to have minimal influence on a relatively leisurely increase in road speed. To be fair, it's only initial standing starts that expose this rather freakish characteristic, and once above 30mph, additional acceleration comes on strong and in a more proportionate manner.

The 2.0-litre turbocharged engine is far more conventional, sending power to the rear wheels via a traditional eight-speed automatic, and along with a considerably lighter kerb weight, it feels immediately sprightlier than the Hybrid. It's not the sweetest or the most linear engine, however, lacking a bit of low-end grunt and becoming quite raspy towards the rev counter extremities.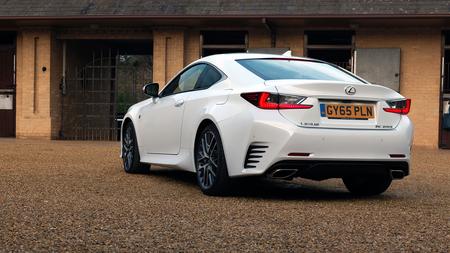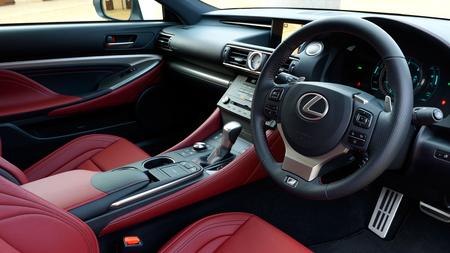 What's more, given it produces near identical power to a 428i Coupe, its fuel efficiency and its performance aren't in the same ball park as the BMW's. Even further evidence, then, that the RC has scoffed far too many pies. You're also patently aware of this heft when pushing on; despite the nicely weighted steering, the RC seldom feels like it is in a hurry to change direction.

Offsetting this rather laid back attitude, the RC does do its best to charm you with refinement. Wind and road noise are impressively subdued, and occupants are well isolated from suspension noise when encountering rougher road surfaces.

Inside, the RC is easily the equal of any of its German rivals. There are plenty of standard toys, all of the materials on show are premium grade and the overall fit and finish represents a study in precision. Further evidence of this attention-to-detail can be found in the layout of the steering wheel, which is plumb in-line with the centre of the driver's seat and pedals that are aligned and spaced to give a near perfect driving position. This is not something you can say about German coupes, as they are all blighted to some extent, either by steering wheels that are off-centre or pedals that are specifically designed to twist your vertebrae out of kilter.

In a further effort to provide comfort, the RC's centre console is precisely the same height as the door panel armrest, but as a result you do feel quite hemmed in and this can prove rather restrictive (as well as bruising to the funny bone) if you're trying to sling-shot the RC through a series of switch back bends.

Undoubtedly, the RC's biggest black mark goes to the centre console-mounted tracking pad that controls the various infotainment menus. Infernally small and overly sensitive, even if you're blessed with ambidexterity, it's an absolute nightmare to try and operate when driving.

More positively, although the figures suggest the RC's boot is smaller than that of the 4 Series, it is well proportioned in all the right areas. It will easily accommodate a suit case, a folding trolley and a full size golf tour bag.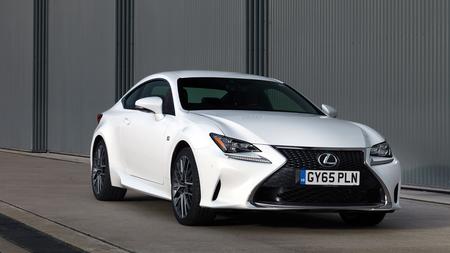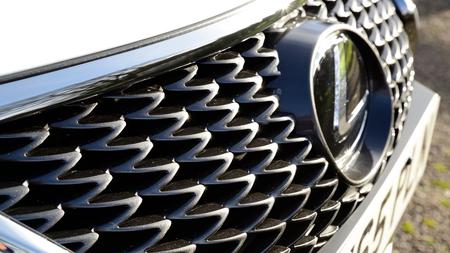 Should I buy one?
On paper, the RC has far more pluses than minuses. We like the looks, the fit and finish, the levels of standard kit and the on-road refinement. We are less convinced by the excess flab and the suitability of the powertrains. If you held a gun to our heads, we'd recommend the turbocharged 2.0-litre above the Hybrid. It's not the most thrilling, the most refined or the most efficient engine, but because it makes the RC feel sprightlier, it gets our vote.

The Hybrid's relatively modest petrol power output, allied to its ability to drive solely on electric power, does give it an extremely low CO2 output. No doubt the impact of this on company tax liabilities will not be lost on business users. Whether you can live with its transmission is quite another matter, though. We know we'd struggle, and we're pretty convinced that lots of sports coupe owners would, too.

Key Facts:
Model: Lexus RC 200t F Sport

Price: £36,495

Engine: 2.0-litre four-cylinder turbocharged petrol, eight-speed automatic

Power/Torque: 241bhp/258lb/ft

0-62mph: 7.5sec

Top speed: 143mph

Economy: 38.7mpg

CO2/BIK: 168g/km/28%

Boot space: 374 litres
Key Facts:
Model: Lexus RC 300h Luxury

Price: £34,995

Engine: 2.5-litre four-cylinder Hybrid CVT Transmission

Power/Torque: (petrol-electric) 178bhp-141bhp/163lb ft-221lbft

0-62mph: 8.6sec

Top speed: 118mph

Economy: 57.6mpg

CO2/BIK: 113g/km/17%

Boot space: 340 litres
Also consider:
BMW 4 Series Coupe
Wicked looks, engaging performance and handling, impressive efficiency and spacious, stylish accommodation; no wonder the BMW 4 Series Coupe is the default choice for savvy coupe buyers.
Audi A5 Coupe
Ageing gracefully but it's more of a GT than a true sports coupe. Interior quality remains impressive but accommodation is tight and the design and tech are starting to looks jaded compared to newer Audis.
Mercedes C-Class Coupe
The C-Class Coupe will be replaced later this year. Just as well, as the current car is blighted by an overly firm ride, harsh engines and lacklustre interior quality.
Interested in buying a Lexus RC 200t?