First Drive 2016 Lexus GS 300h Executive Edition first drive review
The latest Lexus GS hybrid may be up against all the odds, trying to overturn decades of German executive sector dominance, but no one could ever accuse Lexus of shirking a challenge.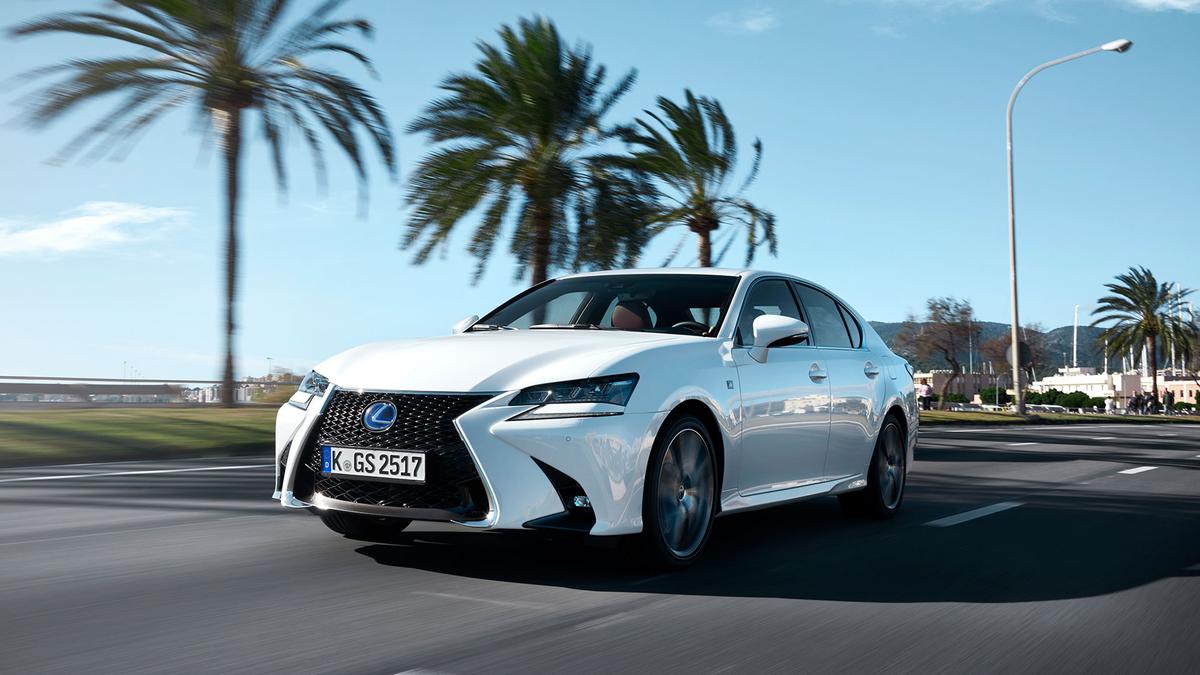 View gallery
Auto Trader verdict:
Lexus has pulled out all the stops with its latest entry-level GS. Keenly priced to undercut all of its diesel competitors, the Executive Edition GS is comprehensively specified, superbly built and offers overall levels of refinement that make diesel alternatives seem noisy and uncouth. Ok, so it's not as engaging to drive or as accommodating as a BMW 5 Series, and you may encounter some technophobic resistance from prospective buyers when you come to sell it. But, if you're currently planning your next executive purchase, the GS 300h is worthy of serious consideration.
Need to know:
On sale now from £33,495

A highly polished alternative to established German diesel execs

It maybe the entry model, but you'll still feel pampered
What is it?
If you're the kind of person who wouldn't dream of wearing brown shoes in the City, or be so rude as to pour the milk before the tea, then it would probably never occur to you to drive anything quite so gauche as a Japanese executive car, 'darling'.

All joking aside, surely, it can only be our entrenched attitudes and risk aversion culture that is responsible for the Lexus GS remaining such a rare sight on UK roads. Conservatively styled, with a beautifully constructed interior, powered by a tax-efficient Hybrid powertrain and underpinned by legendary Lexus reliability. Other than a lack of a German badge, what's not to like?

Perhaps the association with (arguably less glamorous) parent brand Toyota continues to dissuade some image-conscious middle management from switching from their established selections. Alternatively, maybe sales continue to be held back by unfounded suspicions surrounding the longevity of Hybrid battery technology and the negative effect that has on residual values.

More likely, a diesel-obsessed company car accountancy culture and the suspicion that Hybrid powertrains perform best at low speeds, and actually gobble unleaded at much the same rate as traditional petrol car when cruising motorways, may even have led to your bosses removing the 300h from your list of available options.

That's a shame, really, because if you're not the one picking up the fuel tab, then the obvious attraction of a CO2 output of 104g/km and a subsequent BIK rate of just 15% looks very tempting indeed.

Whatever the reasons, and maybe it's simply a culmination of all of the above, there's no denying Lexus still struggles to break the sector stranglehold held by the holy trinity of Audi, BMW and Mercedes. Undeterred by what seem like unsurmountable prejudices, Lexus is once again sprucing and spicing up the GS for yet another crack at the highly lucrative executive marketplace.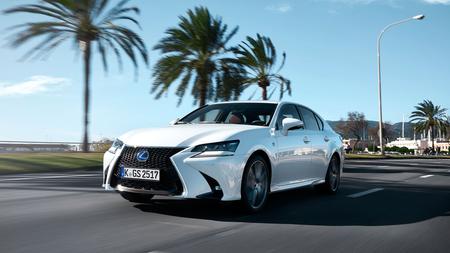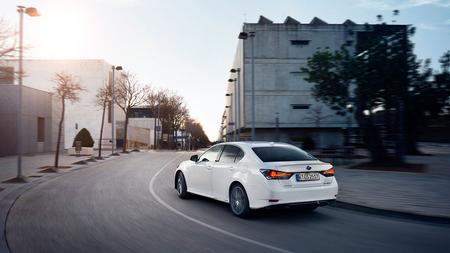 What's it like?
The good news is that, along with a mild face-lift that includes an even bolder version of the gargantuan spindle-shaped front grille and freshly sculpted LED headlights, Lexus is bringing a new entry model to the range.

With an on-the-road price of just £33,495, you could be forgiven for thinking the 'Executive Edition' is probably a stripped-out pauper special, but you'd be wrong. Perched on 10-way electrically adjustable, heated leather seats, you can't fail to be impressed by the levels of standard kit, including electric steering wheel adjustment, automatic lighting, rain-sensing wipers, parking sensors and a reversing camera. A dash-dominating 12.3-inch touch-screen (Lord only knows why screen sizes are still measured in inches) also gives a bold, crystal clear view of the sat-nav and various infotainment menus.

You even get a physical mouse-like device that you can grasp, move and click, allowing you to skip through the functions displayed on the screen while doing your best to keep at least one eye on the road ahead. It may be relatively old-school and not as intuitive to use as BMW's iDrive system, but it's better than the infernal track-pad fitted to some other Lexus models.

Even at this end of the price spectrum, it's impossible to spot any evidence of cost cutting. Appropriate amounts of leather trim, slickly operating switchgear, satin finished buttons and a rotary drive mode controller set against piano black inserts, subtly reflecting the subdued LED ambient lighting, all conspire to make the GS feel more like a top-end luxury car than a mere middle management conveyance.

With chauffeur considerations in mind, rear legroom is not huge, but because the Hybrid's batteries are located under the rear seats, the chairs themselves are quite elevated. As a result, rear passengers gain a rather regal view out, both to the side and straight ahead. It also means, that your kids will be able to see over the tops of the door trims and gaze out on previously unimagined delights. As we see it, there are two main benefits to this; games of I-spy will no longer be limited to cabin components, and because they are actually able to soak up some daylight, your kids will have less chance of contracting rickets.

Of course, the primary reason for relocating the batteries further under the rear seats was to improve boot space – in the previous generation GS, they significantly reduced litreage – but even so, at 450-litres, the loadspace is still quite snug compared to the 520 litres you get in a BMW 5 Series. It probably hasn't escaped your attention, either, that unlike the BMW, there is no estate version of the GS.

In much the same way that it looks and feels quite stately inside, the 300h responds best to a 'considered' driving style. Lexus claims it has retuned the suspension and recalibrated the steering to improve responses, but you still get the feeling you are driving a large car that prefers to glide rather than hustle.

Providing you employ a gentle enough right foot, you can take off and cruise around town solely in electric mode, with just the whirring of the electric motor and a virtuous emission-free conscience for company. Also, because the electric motor seamlessly summons the petrol engine into life, you're not subjected to the infernal starter motor whirrs and clanks that afflict so many stop-start diesel execs.

Granted, the lazy power delivery that's characteristic of all continuously variable transmissions is less of an issue in the gracious GS than it is in the go-get-em' RC Coupe. That said, you still get that the feeling of lost connection that causes revs and noise levels to soar under forceful acceleration. But, because the GS has exceptional sound deadening, the cry of engine working its socks off is at least kept to a dull roar.

Which brings us nicely to the car's trump card. With near anesthetising levels of road- and wind dampening, and so little mechanical chatter from under the bonnet when relaxed into a cruise, even this entry-model GS is a match on motorway refinement for many luxury cars costing three times the money.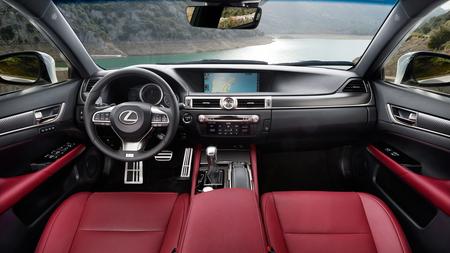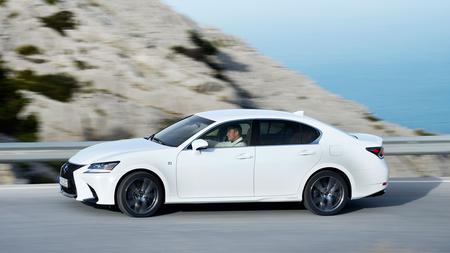 Should I buy one?
In a perfect world, we'd ditch the 300h's continuously variable transmission in favour traditional automatic, and while we were about it, we'd up the driving engagement and factor in a bigger boot. But, other than that…

If you're not hung up on German badges, and you prefer your executive motor to be more about quality, comfort and refinement, rather than raucous revelry, then the entry-model GS might just do it for you.

Key Facts:
Model: Lexus GS 300h Executive

Price: £33,495

Engine: 2.5-litre four-cylinder hybrid, CVT Transmission

Power/Torque: (petrol-electric) 178bhp-141bhp/163lb ft-221lb ft

0-62mph: 9.2sec

Top speed: 118mph

Economy: 64.2mpg

CO2/BIK: 104g/km/15%

Boot space: 450 litres
Also consider:
Audi A6
Supremely refined with a beautifully appointed cabin and some incredibly efficient engines. Not the greatest driving machine, but it has more than enough virtues to make it onto your shortlist.
BMW 5 Series
The darling of the executive car park provides a classy, spacious, cabin, featuring some advanced, easy-to-use tech. It's also a pleasure to drive in most guises but is let down by noisy four-cylinder diesel engines and a slightly firm ride.
Jaguar XF
Beautiful to look at and to drive, the XF is truly engaging and efficient enough to appeal to your head and soul. Not as spacious or as well built inside as German rivals, but strong resale values and lots of standard kit add to the appeal.
Interested in buying a Lexus GS 300?