First Drive New Ford Fiesta ST200 first drive review
Britain loves a junior hot hatch and the Ford Fiesta ST is at the top of the tree. But can this more powerful special-edition ST200 raise the bar even higher?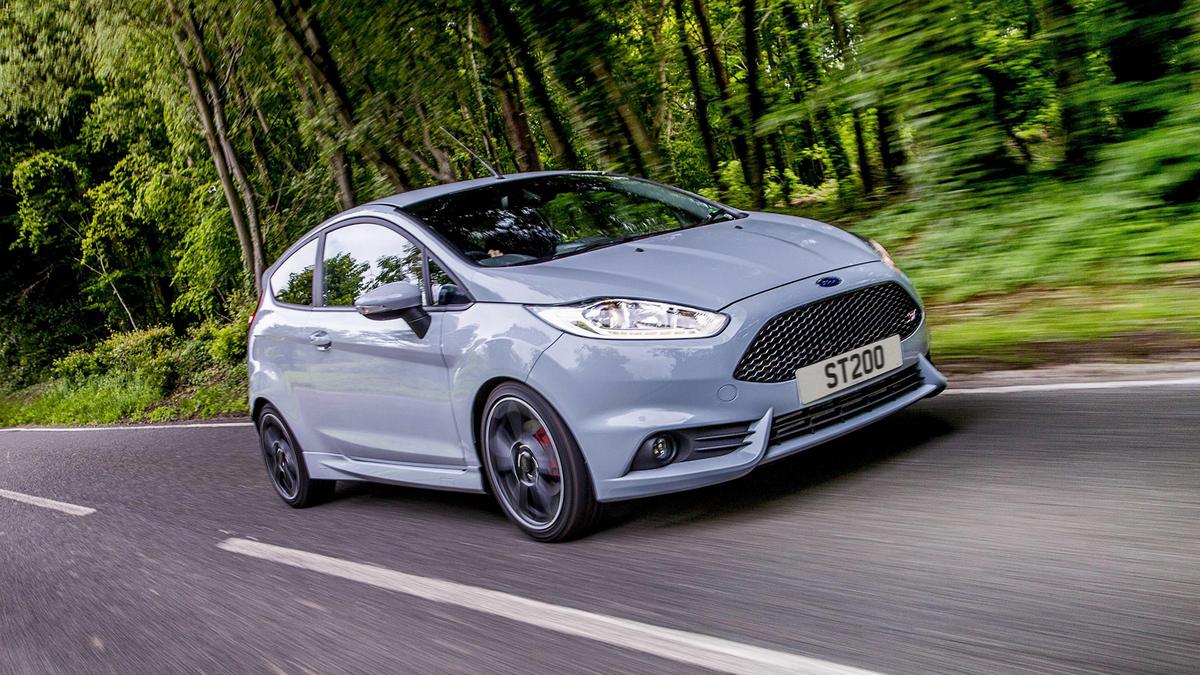 View gallery
Last updated: 28th June 2016
Auto Trader verdict:
The Ford Fiesta ST200 is the fastest, most expensive and most exclusive version of the junior hot hatch. The mild upgrades have given a slight increase in urgency and engagement to an already hugely entertaining package, but perhaps not enough to justify the significant increase in price. It is, however, a timely reminder of just how good the standard Fiesta ST is, remaining on top of its game for entertainment, equipment and value. Ford is the current king of hot hatches - regardless of their size, or power.
Need to know:
Most powerful production Fiesta develops 197bhp

Storm grey paint and black alloys mark out this special edition

UK allocation limited to just 1000 units, on sale now
What is it?
The most powerful version of Ford's junior hot hatch, and a final farewell to Britain's best-selling car, which is due to be replaced by an all-new Fiesta early in 2017. To justify the moniker, the turbocharged 1.6-litre petrol engine receives an ECU remap, a new airbox and new filter to develop 197bhp (or 200PS), 17bhp more than the standard Fiesta ST.

Just like the standard ST, there also remains an overboost function, whereby for a maximum of 15 seconds on full throttle, the engine is able to develop 212bhp and 236lb ft of torque. Unfortunately, Ford isn't allowed to advertise this temporary output as the headline figure, hence why we're not talking about the ST215.

The front anti-roll bars and rear torsion beam have been made stiffer to further improve body control, while a shorter final drive ratio trades a bit of top speed for punchier acceleration. Storm Grey paint, matt black 17-inch alloys and a scattering of ST200 badges cover the cosmetic upgrades to complete the look - and quite a looker it is too.
What is it like?
Like a Fiesta ST with more chilli, although we're talking jalapeño rather than habanero on the Scoville heat scale. We were able to test the ST200 back to back with the regular Fiesta ST, perfectly highlighting the nuances between the two cars. Both behave similarly with very little turbo lag from the engine, quick but direct steering, and when matched with excellent body control, it feels darty without ever being nervous.
The extra output of the ST200 certainly encourages you to keep the right pedal pinned. As you flex the engine to the upper limits of its 6500rpm rev range, the sound ricocheting off the flint walls around our testing location in Goodwood is so gravelly and textured, you soon end up dizzy with the vim and vibrancy of the thing.
The 0-62mph sprint may be 0.2 seconds quicker than a standard ST, but it's the extra in-gear urgency that is more noticeable, the acceleration gently pulling your elbows back into the sculpted Recaro seats like a bow arching. In fact, on these narrow roads the ST200 is perhaps proof that less really is more. While we still love its big brother the
Focus RS
, the ST200 is every bit as dynamic and engaging - but at much saner speeds, and with a smaller body, more margin for error.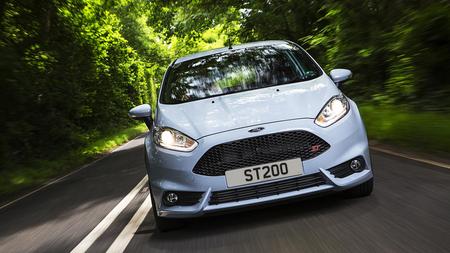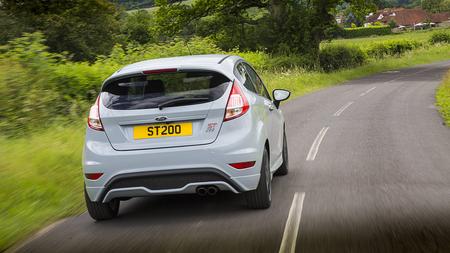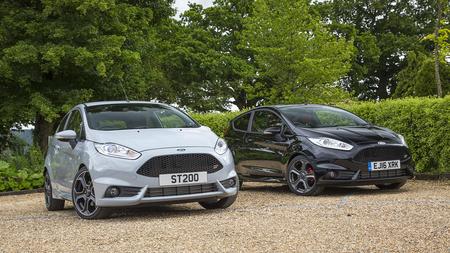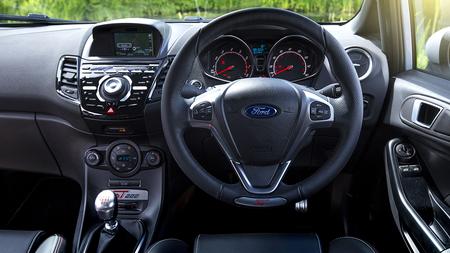 There's an oh-so-subtle improvement in ride compliance, too, the stiffer set-up allowing Ford to dial back the damping effort, which makes the ride on broken B roads less unsettled. It's still firm, but a little less jiggly, and when you up the pace, you can push the ST hard without ever worrying about being thrown off your chosen line through a particularly bumpy corner.

It's subjective, but we love the cosmetic upgrades too, free from the jarring chintz that's usually the preserve of boy racer specials like this. The on-trend black wheels appear to fill out the arches more impressively, while the flat grey paint gives off a modern, reflectionless dull shine. It's actually a look that is cribbed from the Audi RS3, still not exactly a bad source to borrow inspiration from.

Yet, the criticisms that beset the current, ageing Fiesta ST also plague this one. The seating position is still set too high, the infotainment system is festooned with tiny, impossible-to-hit buttons rather than using a clear touch-screen, there is no cruise control and, at motorway speeds on a steady throttle, the engine drones on like a bad bartender.

However dated the cabin may feel, though, the core Fiesta remains a safe, solid and robust small car, without ever feeling leaden. It's also practical enough to perform the school run or supermarket shop, although the chances are you'll be so distracted by the drive, you'll actually forget what you headed out for in the first place.
Should I buy one?
If you're a diehard, 'cut me and I bleed blue' kind of Ford fan, then yes. The tweaks over the standard ST are noticeable, while the forecasted 1,000 units coming to the UK will make this particular Fiesta stand out like a bird of paradise in a field of Herdwick sheep.

However, at nearly £23k, the ST200 has lots of credible competition. Mountune, a tuning company closely affiliated with Ford, already produces a bonkers Fiesta with 227bhp, while the magnificent RenaultSport Megane 275 Cup-S is a full fat hot hatch that is priced perilously close. It's why, for the majority of hot hatch fans, we'd recommend the standard and much cheaper Fiesta ST as the wiser buy, as it offers a similarly rewarding driving experience for a more palatable price.
Key facts:
Model: Ford Fiesta ST200

Price: £22,745

Engine: 1596cc, turbocharged, four-cylinder petrol, six-speed manual

Power/Torque: 197bhp/213lb ft

0-62mph: 6.7secs

Top speed: 143mph

Economy: 46.3mpg

CO2/BIK tax liability: 140g/km/25%

Boot space: 290 litres
Also consider:
Ford Fiesta ST-2
For us, the sweet spot of the current Fiesta ST range in terms of price, performance and equipment
Suzuki Swift Sport
It may only have 136bhp, but this is a bargain junior hot hatch that is hugely rewarding to drive at road-legal speeds
RenaultSport Megane 275 Cup-S
The big league for £23k. Showing its age in some areas, but still the finest handling front-wheel drive hot hatch on sale
Interested in buying a Ford Fiesta?