First Drive First drive: Mercedes GLC 220 SE 2015
The Mercedes GLC is a compact prestige 4x4 to rival the likes of the Audi Q5, BMW X3 and Range Rover Evoque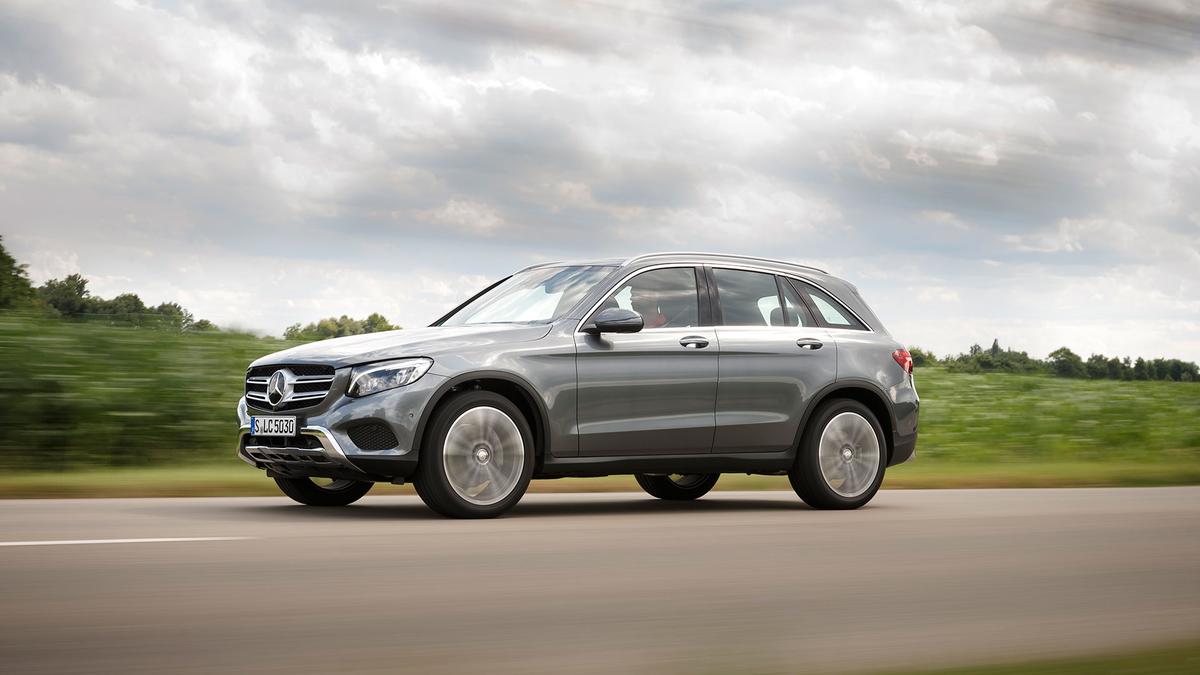 View gallery
Auto Trader Verdict:
For a long time, Mercedes has been nowhere in the prestige compact SUV market. Now, though, the oldest German carmaker has a very convincing and compelling offering in the shape of the GLC, which impresses with its quality, practicality and polished driving manners. BMW and Audi should be worried.

Author: Ivan Aistrop
Location: Basel, Switzerland

Need to know:
Prestige compact 4x4 to rival the Audi Q5 and BMW X3

Two diesel engines available, four-wheel drive and auto gearbox as standard

On sale in October, starting at £34,950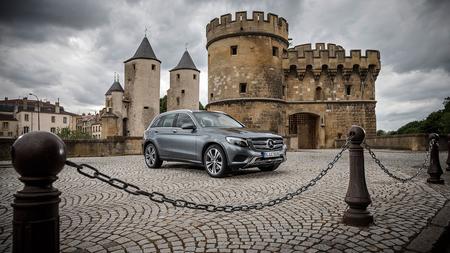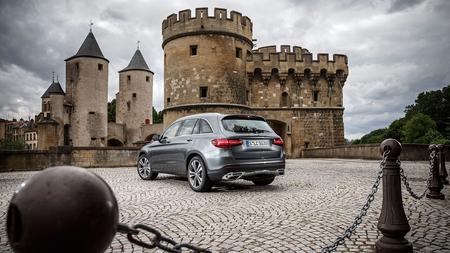 What is it?
The moniker GLC means different things to different people. Depending on your age and/or cultural references, your mind will probably conjure one of two images; a younger Ken Livingston, or a group of novelty hip-hop rappers from Wales. Now, though, GLC has a new meaning; it's a swish new 4x4 from Mercedes.

The GLC replaces the GLK in Mercedes' model line-up, and for many, that'll be a name that's far less familiar. While it did well in the rest of Europe, the GLK was never offered in the UK due to the cost of converting it from left- to right-hand drive.

That left Merc with a big hole in its model range, and at a time when small prestige SUVs were proving immensely popular; you only need look at the sales figures of the Audi Q5 and BMW X3 for proof. All this means that the GLC could be a real money-spinner for Mercedes.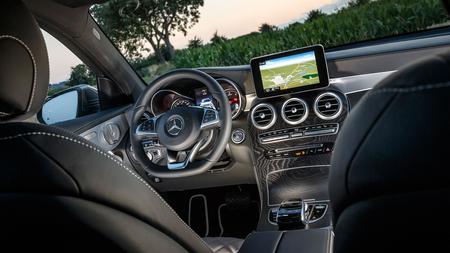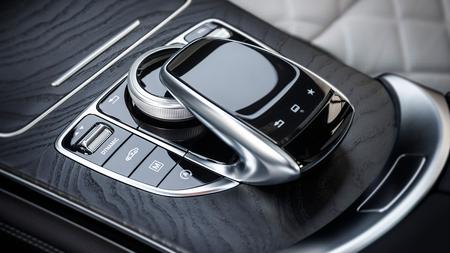 What is it like?
Pretty darned classy. The styling has all the rugged-yet-sophisticated appeal to match the Q5 and X3, and when you climb inside, you'll find a cabin that's trimmed with high quality materials and thoughtfully finished surfaces.

The buttons on the centre console are clearly marked and easy to use, but most functions are controlled by scrolling through menus on the tablet-style screen using a rotary dial. It lends the cabin a high-tech feel and it's also a pretty intuitive system, so long as you ignore the touchpad controller – which is inaccurate and distracting – and stick with just the dial.

You get the high driving position and good forward visibility that SUV buyers love, even if the wide rear pillars and small back window mean your over-the-shoulder visibility for swift parking manoeuvres isn't quite so hot.

Practicality, on the other hand, is pretty hot. The generous boot is on a par with the Q5's and X3's for capacity, and the back seats fold virtually flat when you need to carry bigger loads. The rear bench is more comfortable for two than three, due to the middle seat being hard, raised and positioned above a bulky transmission tunnel that the middleman will have to straddle. But, if you only have two adults back there, both will enjoy generous head- and legroom.

The driving characteristics of the cars we sampled were also very impressive. They were all fitted with the optional air suspension, which costs £1495 extra, and it delivers a smooth cosseting ride at all speeds (at least, it did on the mostly smooth roads we drove the car on) and tied down body movements well in bends.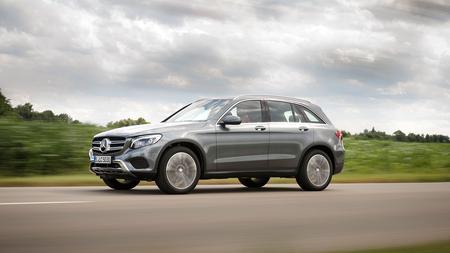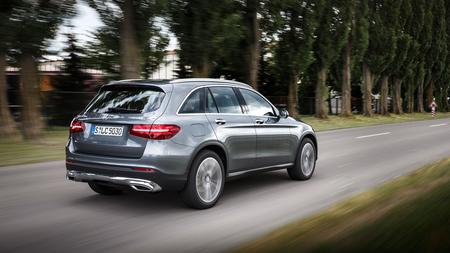 Whether the GLC is so impressive on its standard steel springs and rutted UK roads remains to be seen, but having seen the difference the air suspension makes to the C-Class, with which the GLC shares its platform, it's entirely possible that it won't be quite as impressive.

Refinement is a similarly grey area, because all the cars we drove were fitted with double-glazed side windows – designed to isolate exterior noises more effectively - which aren't available in the UK, even as an option. Sure, our test cars were pretty good at shutting out on wind- and road noise, and the diesel engines were a lot less clattery than they are in other Mercedes models. However, we can't be sure whether this will be the same story on UK specced cars.

Speaking of diesel engines, two are available, both 2.1-litre units with either 168bhp or 201bhp. The base-level 220 CDI is all you need; it's not particularly fast, but it has all the muscle you need to build speed in a relaxed, easy manner. The higher-powered 250 CDI does feel a shade brisker off the line, but when you're picking up speed on the move, it's tough to tell the difference.

Both work well with the standard nine-speed automatic gearbox, too. Granted, it can be caught out when you really nail the throttle, causing it to search around for the correct gear for that little bit too long. Most of the time, though, it slushes through the ratios in an entirely relaxed, smooth manner.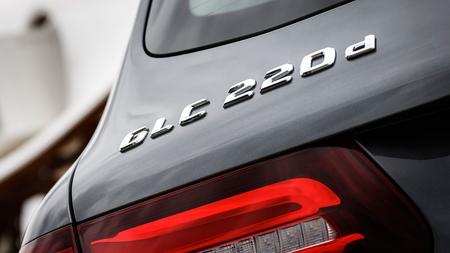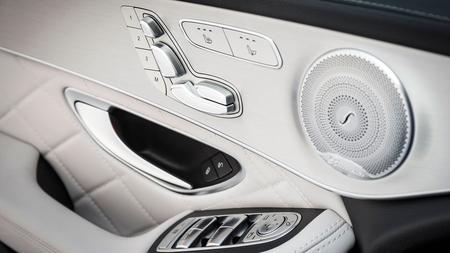 Should I get one?
Finally, in this super-popular and ever-growing section of the market, Mercedes has a worthy contender. It's not the cheapest option compared with a Q5 or X3, but it is competitive on price, and the diesel engines – both of which return the same vital statistics for efficiency – give the GLC some of the lowest running costs in the class, too.

Buyers of either engine can expect an official fuel return of 56.5mpg, while CO2 emissions of 129g/km put the GLC in a lower company car tax band than the other main players. You get plenty of equipment for the money you pay, too. Entry-level SE cars come with kit including keyless go, leather-effect upholstery, a powered tailgate and an infotainment system that incorporates five speakers, a DAB radio and a reversing camera.
Sport trim adds a parking assistant, heated front seats, sat-nav, a mirror package, a lighting package and a different interior trim to the roster for £2,495, but you can add the best of those bits to SE trim by adding the SE Premium package, which costs half the price.

All in all, the GLC is a very convincing car when compared with its rivals, and it's also a fairly compelling ownership proposition. Before you sign on the dotted line for your next Q5 or X3, you should definitely give one of these a look.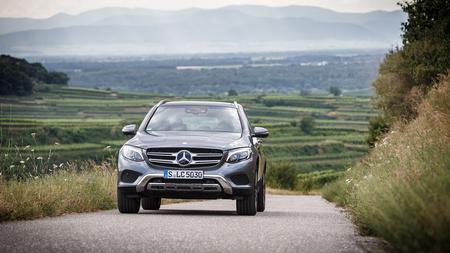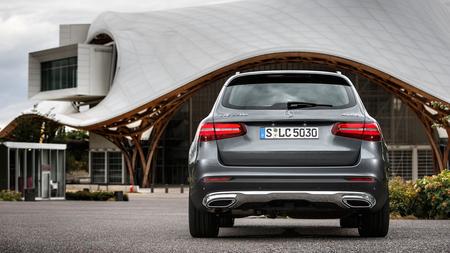 Key facts:
Model: Mercedes GLC 220 CDI 4Matic SE

Price: £34,950

Engine: 2.1-litre 4cyl diesel, nine-speed automatic

Power/Torque: 168bhp/295lb ft

0-62mph: 8.3secs

Top speed: 130mph

Economy: 56.5mpg

CO2/BIK tax liability: 129g/km/23%

Boot space: 550 – 1600 litres
Also consider:
Audi Q5
Fashionable, desirable and fun to drive
BMW X3
Comfortable and refined, and an excellent family car
Range Rover Evoque
The stylish one, but not the most polished or practical
Interested in buying a Mercedes-Benz GLC Class?