Feature
Most Loved Brand 2019 – Tesla
Find out why the Tesla is the 2019 winner of our Most Loved Brand award.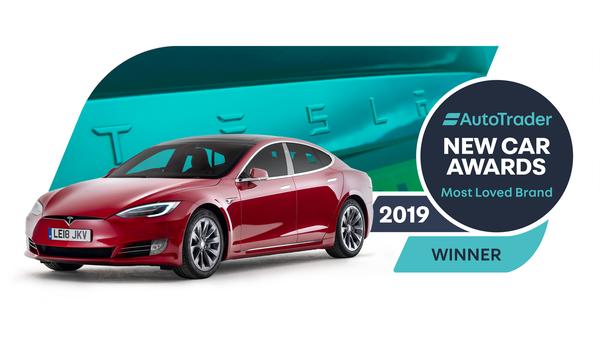 Words by: Auto Trader
Published on 9 May 2019 | 0 min read
Brand appeal is something that's very difficult to quantify. Why? Because everyone who favours one brand over the rest will have very different reasons for doing so, and these reasons are usually are built on preferences and experiences that differ greatly from person to person.
That's why the only real way to get a handle on brand appeal is to talk directly to the individuals in question, and happily, that's what our research is all about. And it seems that the brand that's formed the biggest connection with its customer base in 2019 is
Tesla
. Like all our
awards
, this category was decided by feedback collated from a survey of more than 60,000 car owners, all of whom rated their car in 16 key areas. That means an Auto Trader New Car Award is a real stamp of approval from people that live with the car day-in, day-out, and it makes each winner a true consumer champion. Here are just a few of the comments Tesla owners made about their cars…
"It's the greatest car I have even owned. I bought it for my wife and kids to keep them safe, and make my mark for a better planet. Space, performance, tech features, gets better with age, never needs fuel. Better on every metric."
"Insanely safe for all the family. The car feels strong and controlled, even on snow and ice."
"It doesn't cause any air pollution. I can look my children in the eye and say I didn't contribute to doing that."
"Loaded with innovative technology, and the fact it is electric."
In fact, that last comment echoes most of the ones we received from owners. The technology on display was a massive theme, with owners talking mainly about the 'Autopilot' autonomous driving features, and Tesla's supercharging network, not to mention the over-the-air updates for everything from the touchscreen system to the suspension.
The brand's electric propulsion system was the other big factor, with owners loving the fact that it's good for the planet, as well as the low running costs and the incredible speed and quietness it delivers on the road. Many also talked about the community that driving an electric vehicle – especially a Tesla – brings you into. Commenting on Tesla's victory in this category, Auto Trader's road test editor, Ivan Aistrop, said: "Our research shows that pioneering technology and the feel-good factor of electric motoring certainly play their part in Tesla owners' enthusiasm about their cars, but there's more to it than that. Tesla has managed to make electric motoring cool, and that's a trick that not many other electric car manufacturers have managed to pull off so far. What owning a Tesla says about you seem to be as important to owners as the car itself, and for a company trying to build brand loyalty and desirability, that's a master stroke."
Alfa Romeo
and
Land Rover
ran Tesla close for top honours this year, so will either of them be able to go one better next year? Or, will Tesla have what it takes to retain its crown in 2020? If you're looking for a new car, and you're also looking to save the planet and make a fashion statement at the same time, you can
find or configure your brand new Tesla on Auto Trader
right now.