Feature
Brand with the Best Features 2019 – Jaguar
Find out why Jaguar is the 2019 winner of our Brand with the Best Features award.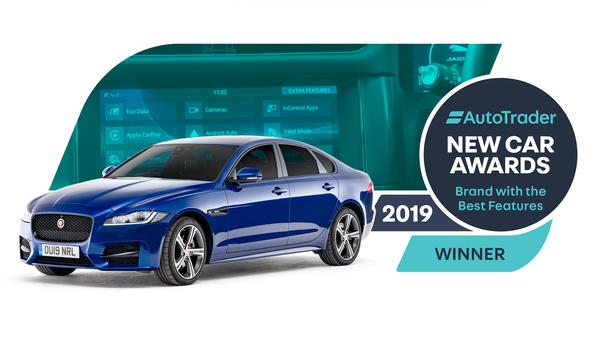 This award is one of four bestowed upon a manufacturer rather than an individual model. It recognises the importance to buyers of certain common features – things like sat-nav, smartphone integration and air-conditioning – and it also identifies which manufacturer does these particular features the best.
Hyundai
and
BMW
both made the shortlist, but were consigned to runner-up status by the eventual winner,
Jaguar
.
Like all our
awards
, this category was decided by feedback collated from a survey of more than 60,000 car owners, all of whom rated their car in 16 key areas. That means an Auto Trader New Car Award is a real stamp of approval from people that live with the car day-in, day-out, and it makes each winner a true consumer champion. Here are just a few of the comments that owners made about the features in their Jaguar…
"All the accessories that come with the car."
"I like the media system and the wifi connectivity"
"I love the Remote Climate feature for a cold morning warm-up and screen defrost, which all operates from a phone app."
"The whole package. It looks great, drives well and the automatic gearbox is superb. The option to change the modes is brilliant. Very comfortable and huge space in the boot."
Commenting on Jaguar's win in this category, Auto Trader's road test editor, Ivan Aistrop, said: "Whether it's your stereo or your sat-nav, your air-con or your Isofix, certain features are impossible to live without for a lot of new car buyers. Congratulations to Jaguar on being voted the winner of this award. It shows that not only are all the essential bits and pieces provided, whether in the car's standard equipment or on the options list, but these features are also proving effective and easy to use for owners."
There's a lot more to like about Jaguar products than just their features, too, and you can read all about them in our various
expert reviews
. The thing about technology, though, is that it's always moving forward, and that means that Jaguar can't rest on its laurels if it wants to retain its crown in 2020. It must keep innovating and developing if it's going to stay on top. So could another manufacturer pip Jaguar to the honours next year? If you're a tech-head and you're looking for a new car, you can
find or configure your new Jaguar on Auto Trader
right now.