Expert Review
Renault Clio Hatchback (2016 - ) review
The Renault Clio is a flamboyantly styled supermini that will doubtlessly appeal to style-conscious buyers. Then again, so will rivals like the Ford Fiesta and Volkswagen Polo.

Words by: Ivan Aistrop

Additional words by: Phill Tromans
Last updated on 4 April 2017 | 0 min read
The Auto Trader expert verdict:
The Renault Clio is a solid contender in the supermini class, if not quite up there with the absolute best. There's a lot to like, including its style, sophisticated driving manners and some punchy turbocharged engines, not to mention decent equipment and affordability.
Reasons to buy:
Swish looks
Comfy ride and capable handling
Efficient engines
How good does it look?
The Renault Clio has always been considered as one of the more stylish superminis, and this version is no exception. The steeply-angled headlamps, complete with Renault's now-trademark C-shaped LED motif, dominate the front end. And, with the narrow grille connecting them to the over-sized Renault badge in the middle, the nose looks striking, purposeful and attractive. The curvy haunches at the rear give the back of the Clio just as much style. This is one very swish-looking car and fashion-conscious buyers – of which there are many in the supermini market – will love it. You can also customise their car with a choice of five roof decals, four exterior customisation packs and ten paint colours. Base models do without most of the swish looking kit though, so stick to the Play or Dynamique versions if you want alloy wheels and front fog lights. Dynamique S models, meanwhile, have full LED headlamps, while the Renaultsport hot hatch models have their own hardcore-looking bodykit and front fog lamps designed with a chequered flag motif.
Expert rating: 5/5
What's the interior like?
The Clio's 2016 facelift brought in new cabin materials designed to up the ante on quality, but sadly, the changes make hardly any difference. The new panels don't feel a whole lot posher, and there are still plenty of others that are rather unappealing to both the eyeballs and the fingertips. It's certainly no Volkswagen Polo for plushness, and it's pretty mediocre by the standards of the class. Depending on which trim you specify, you'll get one of three infotainment systems. So far, we've only tried the poshest one, which has rather messy and dated graphics on its 7.0-inch touch-screen. The mid-range system also uses a 7.0-inch screen but has fewer functions, while the entry-level system is little more than a downloadable smartphone app and a cradle that slots into the dash. There are ergonomic issues elsewhere, too, with switches that are poorly marked and strangely placed. On the plus side, there's loads of adjustment on the seat and steering wheel on all models, allowing you to easily find a comfortable driving position, and excellent visibility.
Expert rating: 2/5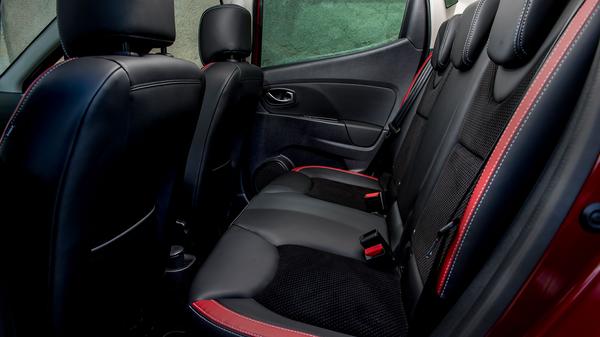 How practical is it?
This is an area in which the Clio does an adequate-if-not-exceptional job. The space you get inside the car is pretty average for the class in both the front and the back; four six-foot adults will fit, but headroom and legroom in the back will be rather tight for anyone much taller than that. Worse still, it feels cramped, with a high window line and narrow cabin that makes it harder to stretch out than in say, a Hyundai i20. The boot is a reasonable size by class standards, but you have to load items over a large lip and the seats don't go flat enough when you fold them down, leaving both a step and a slope. Not the kind of things you want to try and navigate past when you're holding something heavy.
Expert rating: 3/5
What's it like to drive?
It's no class-leader for either ride comfort or handling prowess, but the Clio gives a good balance of both abilities. There's enough softness in the suspension to take the sting out of most road surfaces, but enough firmness to ensure that the body doesn't slop around too much through corners. The steering doesn't give you much in the way of feel, but at least the weighting is consistent and predictable. It's also fingertip light, so the Clio is very easy to drive, even when parking. Unsurprisingly, the Renaultsport version has a much stiffer suspension setup than the rest of the range, while the Trophy version is firmer still. Both feel appropriately hardcore but are still (just about) tolerable, but the reduction is comfort is worth it for the handling prowess it gives you - both are exceptionally grippy and agile, and allow you to tackle twisty roads with remarkable speed and composure. However, the sportier Clios only really feel at their best when you select RS mode, which sharpens up the throttle, steering and gearbox to extreme levels. On the right road, this makes for scintillating fun.
Expert rating: 3/5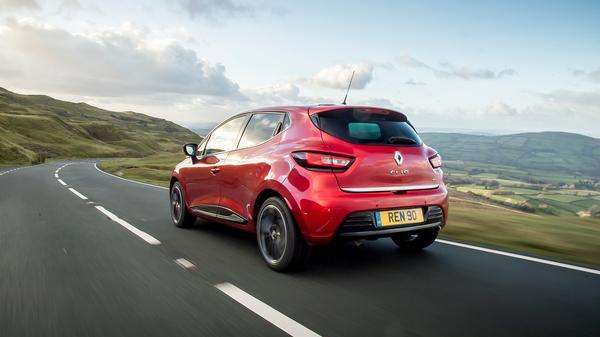 How powerful is it?
"

The Trophy model has 217bhp, and crucially, more torque

"
We've tried most of the engines in the Clio range, starting with the turbocharged three-cylinder 0.9 with 89bhp. It's not very smooth or quiet for a three-pot, but it gives perky if rather steady performance. The better bet is the four-cylinder 1.2-litre turbo engine, which has 118bhp. It's a wee bit flat at the very bottom of the rev range, but there's enough fizz from 2000rpm to give it good flexibility. The manual gearshift is rather notchy - like it is in all Clios - but it's better than the jerky, slow shifts you get from the twin-clutch automatic. There are two 1.5-litre diesels with 89bhp or 108bhp. Both are pretty flexible, with a decent spread of power, but their real strength lies in their refinement; they're really smooth and quiet. The Renaultsport Clio has a turbocharged 1.6 petrol engine giving 197bhp, and while it looks fast on paper, it doesn't feel all that fast. The combination of low-end turbo lag and a twin-clutch gearbox that's clunky and hesitant when changing down means that when you bury the throttle, you'll often wait for the fireworks, which never arrive. The Trophy model has 217bhp, and crucially, more torque, which arrives earlier in the rev range. It feels seriously punchy, but it's still undone – especially when driving hard at a send of bends - by the sluggish nature of the gearbox, although it's better in RS mode.
Expert rating: 3/5
How much will it cost me?
Price-wise, the Clio is about average for the class. Model-for-model, it costs less than the Volkswagen Polos and Ford Fiestas of this world, but more than the Hyundai i20 and Skoda Fabia. Resale values are around average for the class, too, so you shouldn't lose too much of your initial outlay come sell-on time. Encouragingly, many of the Clio's engine options are among the cleanest and most economical of their type, with the diesels being particularly impressive; every one of them returns an official average of more than 80mpg. That means they're cheap to tax as well - but paying extra for a diesel only makes sense if you plan on driving quite a lot of miles every year.
Expert rating: 3/5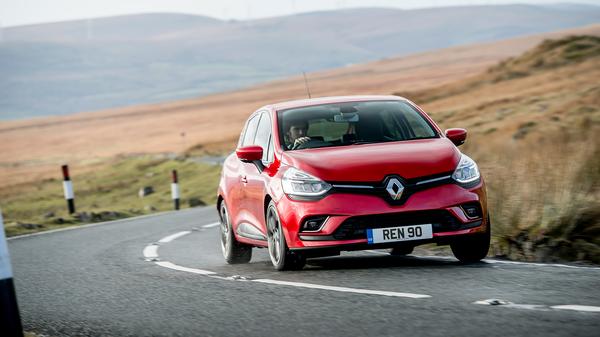 How reliable is it?
"

The Clio comes with a four-year/100,000-mile warranty

"
The Warranty Direct Reliability Index paints a fairly positive picture of the Clio's reliability, with the model achieving a strong score in the most recent study. What's more, Renault is currently riding reasonably high in the same survey's manufacturer rankings. Owners on our own site have given rather more mixed reports about the car's dependability over time. Renault offers a middle-of-the-road three-year/60,000-mile warranty.
Expert rating: 4/5
How safe is it?
Renault has become something of a leading light when it comes to safety, but in the case of the Clio, the company has been left behind by the advances of new technology. Yes, the car has achieved the full five-star Euro NCap rating, but that was back in 2012, and the tests have become much more difficult to ace since then. Like many of its rivals, the Clio comes with anti-lock braking, electronic stability control and six airbags, but while rivals also come with clever systems like autonomous emergency braking (preventing simple low speed shunts in town) and lane departure warning, these are unavailable on the Renault.
Expert rating: 3/5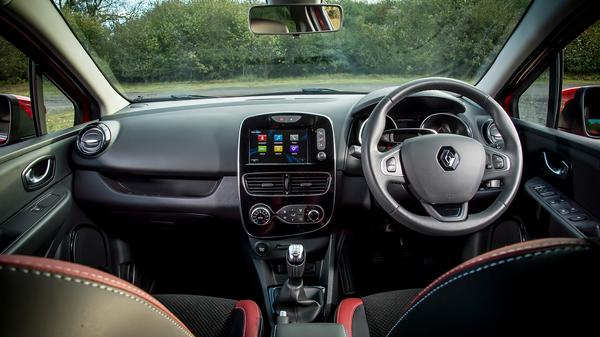 How much equipment do I get?
"

Upgrade to Dynamique Nav, and you get a proper touch-screen infotainment system

"
The entry-level Expression model comes with a decent amount of kit, including the smartphone cradle, DAB radio, Bluetooth, cruise control, electric front windows and remote locking, but it misses out on important items like air-conditioning and alloys. In fairness, though, such items are also missing from entry-level versions of many rival superminis. These boxes are checked by Play trim, and if you upgrade to Dynamique Nav, you get a proper touch-screen infotainment system with sat-nav (obviously), keyless entry, a leather steering wheel and automatic lights and wipers. Dynamique S comes with climate control, rear parking sensors and rear electric windows. There are two flavours of Renaultsport; the 200 has a sports chassis, navigation, electric rear windows and air-con, while the 220 Trophy has climate control, all-round parking sensors with rear camera, cleverer navigation and an even sportier chassis.
Expert rating: 4/5
Why buy?
Put it this way; there's no real reason why you shouldn't. Granted, the Ford Fiesta and Volkswagen Polo are better all-rounders, but if you prefer the looks of the Renault, you won't be disappointed. Choose the right version (best to look mid-range when comes to your choice of both engine and trim), and you'll be getting a talented and very stylish car for a competitive price.
Expert rating: 3/5