Expert Review
Mercedes-Benz S Class Saloon (2020 - ) review
Read about the brand-new Mercedes-Benz S-Class, this latest generation of the class-leading luxury saloon packed to the rafters with luxury and tech
The Auto Trader expert verdict:
Available new from £80,450
Mercedes-Benz's S-Class is the benchmark luxury saloon, but the all-new 2020 model takes technology and interiors to a new level entirely and stretches the lead between the S-Class and its rivals, BMW 7 Series and the Audi A8. Available in five trim levels, with four-wheel drive and diesel and petrol engines among the options.
Reasons to buy:
Extraordinary technology
Beautiful interiors
Ultimate comfort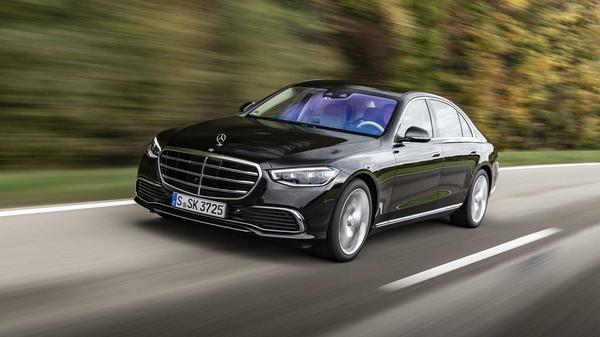 Running costs for a Mercedes-Benz S Class
The entry-level S350d diesel version in AMG Line trim is the most fuel efficient, tax-effective and cheapest S-Class to buy and run. However, even at the top of the range, the S500 4Matic petrol, four-wheel drive version uses
'mild hybrid'
electric boost to add top-end power but keep fuel economy vaguely under control. That said, this is still a big, heavy, fast, luxurious executive saloon and running costs - from
tax
to servicing to insurance - will be commensurate with the indulgence. You'll face similar bills from the
BMW
and
Audi
.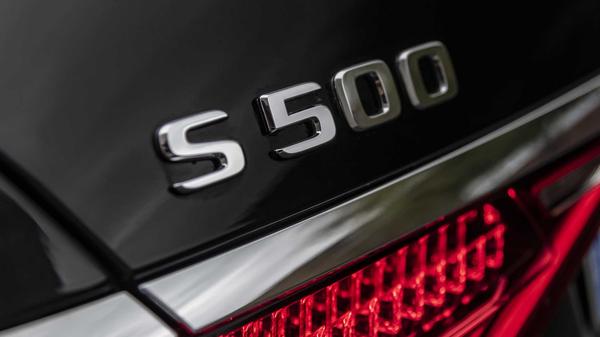 Reliability of a Mercedes-Benz S Class
It's a mixed bag for Mercedes in the reliability stakes. While the brand rarely performs above average in customer satisfaction league tables, the S-Class almost never elicits complaints from its owners, and there's a reason the C- and E-Class are the ubiquitous taxis in European holiday destinations. Put simply, the engines go on and on. We are slightly wary of all this new technology that the 2020 S-Class is packed with - there's a huge amount that could go wrong, and much of it is brand-new to the marque. So watch this space on software, but the hardware should be fine.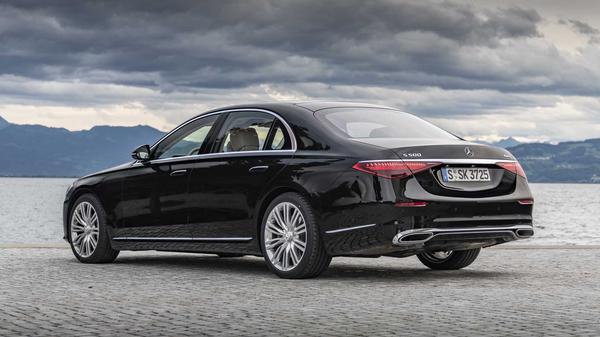 Safety for a Mercedes-Benz S Class
It will come as no surprise to hear that Mercedes' flagship model is packed to the rafters with the very latest safety aids. Facial monitoring detects driver drowsiness and you can say "Hey Mercedes, I'm stressed" and it will adapt ambient lighting, music and temperature to aid your mental wellbeing. It's the stuff that is standard on every S-Class that is comforting, though. Active Distance Assist prevents collisions with stationary objects at up to 80mph, Traffic Sign Assist warns you if you're about to accidentally run a red light, Lane Keeping Assist uses active steering alongside a warning to pull you back into your lane, and Active Evasive Steering Assist responds to cyclists and ends of tailbacks, as well as pedestrians, and works at up to 67mph to steer the car away from an accident. There's also the option of four-wheel drive, and, of course, parking sensors and reversing camera on the base model, upgraded to a 360 view camera on other versions.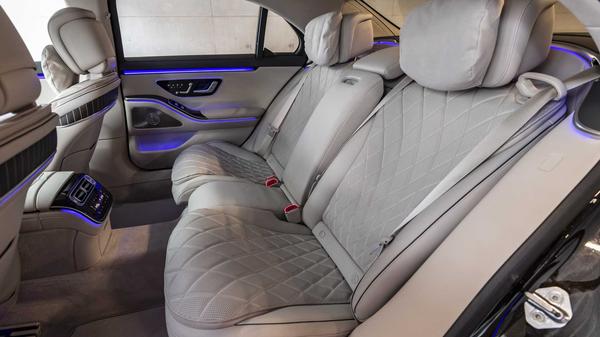 How comfortable is the Mercedes-Benz S Class
It is indicative of the stratospheric levels of comfort available that the door handles of the S-Class pop out as you approach with the key. This saloon is all about calming the stressed-out executive, whether he or she is driving or sitting in the rear, where lush pillows can adorn the head rests. Everything is a fingertip touch away, or even closer than that at times. For instance, if you're in the back and want the radio station changed there's no need to ask the driver, just pick up the tablet between the seats and do it yourself. There is acres of leg room everywhere and a deep, wide boot. The long-wheelbase option gives you yet more room if you prefer to be driven than drive yourself. Wherever you're sitting the car drifts along in near-silence, with sound deadening smothering the jolts and jostles of life outside. From AMG Line Premium trim you get a heated centre arm rest, heated steering wheel and front and rear door armrests. An extra 'Chauffeur Package' includes removable head restraint on the front passenger seat and electrically extending footrest for rear passengers.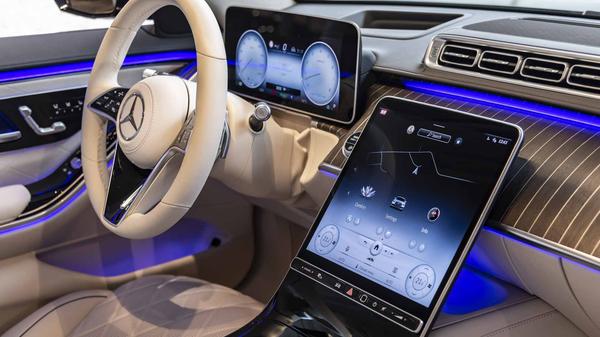 Features of the Mercedes-Benz S Class
The new S-Class is quite astonishing in its array of new tricks and toys - you certainly won't find more cutting-edge technology on any 2020 competitor. There's the head-up display that can be optioned in 3D, with all the information from the driver display projected far down the road, while arrows point into thin air through the windscreen to show you which road to take off a junction, as well as its name. The vast touch-screen in the middle of the car shows a detailed sat-nav map, which minimises to reveal a camera view of the junction ahead as you approach, with arrow pointing out the route to take. "Hey Mercedes" voice control can find you a sushi restaurant en route, book a table and tell you the menu, or adapt the various 'wellness' features like lighting, massage seats and more according to your mood. Indeed, the ambient lighting itself is a feature worth highlighting, the stripes embedded behind smooth glass surfaces and changing colour according to the temperature you've set, along with other responses to your actions. Sure, Mini has done something similar for years but it's a totally different level of glossy luxury in the Mercedes. Tech options in the rear include individual screens, along with the aforementioned tablet control station.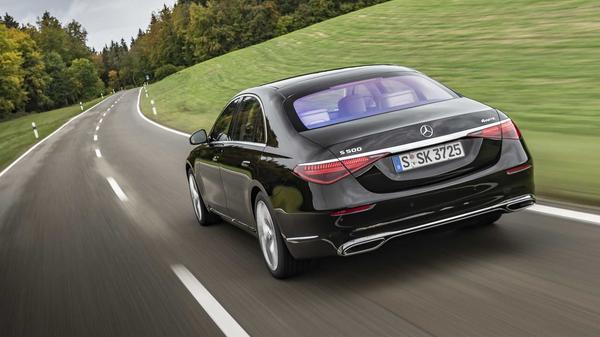 Power for a Mercedes-Benz S Class
Engines on offer at launch include the S350d diesel with 286 horsepower, S400d diesel 4Matic (Mercedes-speak for all-wheel drive) with 330 horsepower and the S500 4Matic with 435 horsepower. This last option includes a
mild hybrid electric boost
during overtaking while keeping emissions to an impressive (for a car of this size) 184g/km. Mercedes' nine-speed automatic transmission comes as standard. Whichever option you choose, you're assured of a smooth, quiet, unruffled ride with sumptuous suspension and light steering, which makes this large car easy to pilot in and out of town.