Expert Review
Jeep Wrangler SUV (2018 - ) review
The Jeep Wrangler is unapologetically focused on its off-roading heritage and ability – it's compromised in many areas as a result but is brimming with character and stands out as a proper 4x4 in the sea of SUVs
The Auto Trader expert verdict:
Available new from £50,420
The Jeep Wrangler builds on a great heritage to rightfully stake its claim as one of the most competent off-road vehicles you can buy. It also looks cool and comes with a higher quality interior and a better infotainment system than previous Wranglers. Yes, its off-road ability does lead to compromises on the road, but these compromises are fewer and less severe than in Wranglers of old, and it's more civilised than some other hardcore mud-pluggers we could name.
Reasons to buy:
Huge off-road ability
Well-finished interior
Four-door is reasonably practical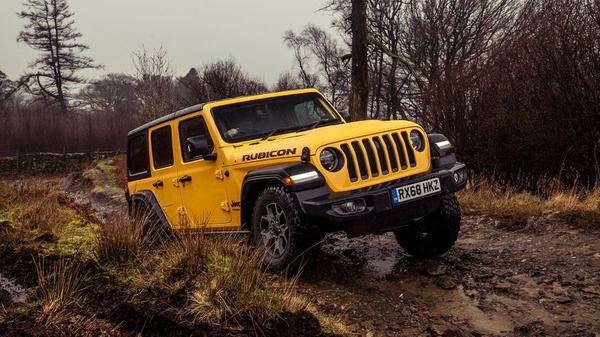 Running costs for a Jeep Wrangler
Choose the diesel engine over the petrol if you need to keep your running costs down over longer distances, because it's easier on fuel. There's not much in it on purchase price between the two- and four-door versions, so we'd suggest that the bigger car is worth paying the extra for as, not only is it a sight more practical, but it'll retain its value and appeal to more buyers when it comes time to move on. There isn't much else on the market quite like the Jeep Wrangler within its segment. The lovable (but recently discontinued)
Suzuki Jimny
was more affordable, but tiny, while the
Mercedes-Benz G-Class
is much more expensive. At this level the new
Land Rover Defender
is a worthy alternative and the Jeep compares well on price, if not glamour. They're not as exciting to look at but the
Toyota Land Cruiser
and
Mitsubishi Shogun Sport
are also proven off-roaders and competitively priced. Against more road-oriented and mainstream SUVs and crossovers the Wrangler will be expensive to run, however.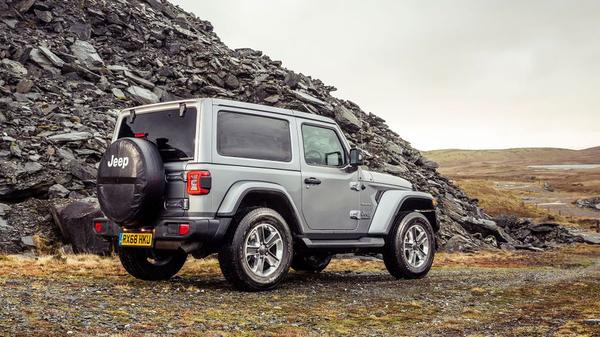 Reliability of a Jeep Wrangler
The current Jeep Wrangler is too new for there to be meaningful reliability data available, and even though it's been around for years, the old one isn't included in Warranty Direct's Reliability Index study. Jeep features in the bottom half of the manufacturer standings in that study, but the brand is still well clear of the foot of the table. Our owner reviews don't report many reliability issues with the car, either, which should provide some peace-of-mind, and owners are widely known to put their cars through demanding situations few other cars would endure. Jeep's five-year warranty also boosts confidence.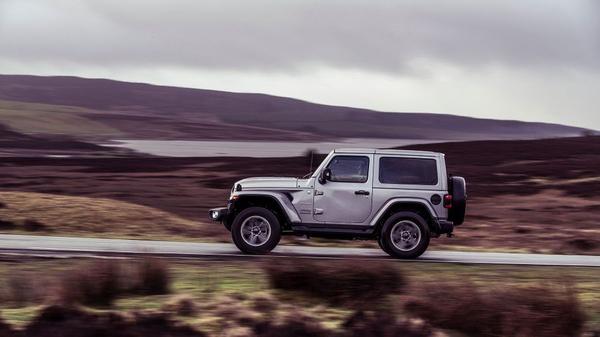 Safety for a Jeep Wrangler
Unlike most modern SUVs, which offer six or more airbags, the Wrangler gets just four, and all of those are up front. So, those in the rear have to rely solely on their seatbelt for crash safety. You do get the basic systems such as anti-lock brakes and electronic stability control, plus electronic aids to reduce the risk of rolling over. Jeep offers more driver assistance technology to monitor blind spots and the area behind when reversing. There's also a reversing camera, but you don't get any of the fancy automatic braking, automatic parking or adaptive cruise control features that you might expect from a car in this section of the market. The Wrangler scored a very poor one star out of five in crash tests by safety organisation Euro NCAP, which is highly unusual for a brand-new car. Testers highlighted particular issues fitting child seats into the car.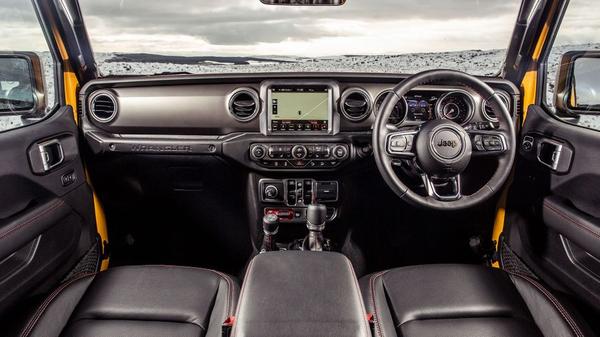 How comfortable is the Jeep Wrangler
The Wrangler is available as a two- or four-door and practicality varies according to which one you pick. The two-door's front seats are just about roomy enough for adults, but access to the rear ones is pretty tight. The boot is also tiny and, if you want any more luggage room, you have to fold the rear seats down, effectively making your Wrangler a two-seater. The four-door is much better. There are three rear seats instead of only two, and they're surrounded by a good bit more space than in the two-door. The boot is also considerably larger and the rear bench folds down in two portions, giving you more versatility on how you use the space available. On both versions, the side-hinged tailgate makes the space rather awkward to get to when you're in a tight parking space, and you have to flip up the rear window separately, but it's not too much of a faff. The Wrangler's interior is utilitarian in its design, and it's also highly functional. You sit close to the near-vertical windscreen, with the door shutting right up against your side, which is pretty unique, but ultimately less comfortable than more conventional SUVs. The centre touch-screen is within easy reach and surrounded by a rugged rubberised frame. Below this are the easy-to-use climate controls. Between the front seats, and almost as large as the gear level, is the selector for the four-wheel-drive system. The Wrangler's cabin is designed to be washable, though we don't fancy trying to get dried mud out of all the nooks and crannies. The Wrangler has always compromised on its on-road ride and handling in the name of
exceptional off-road ability
, and the current generation is no different. Admittedly, the Wrangler can go places that owners of most other SUVs wouldn't even dream of. Therefore it wouldn't be fair to criticise it too much for its shortage of handling precision, but the fact remains that the steering is very slow and overly light, and the loose body control means you'll find yourself slowing down for bends much more than you would in other SUVs. This sensation is exaggerated on the Rubicon model, which features extra suspension travel and special tyres. It's also worth noting that the four-door Wrangler feels more secure on the road - and rides marginally better - than the shorter model.
Features of the Jeep Wrangler
The Wrangler range kicks off with the Sahara, and even this comes with plenty of creature comforts. These include keyless go, cruise control, rear parking sensors, a reversing camera, climate control, powered windows and an 8.4-inch touch-screen infotainment system with navigation, eight speakers and
Apple CarPlay/Android Auto
. From there, you upgrade to either Overland trim or Rubicon trim, which cost similar money but offer very different packages. The Overland focuses on luxury, giving you heated leather seats, a headlining for the hard top and a few extra styling flourishes, while the Rubicon makes the Wrangler as hardcore as it can be, with knobbly mud tyres and a host of other no-nonsense off-roading gear.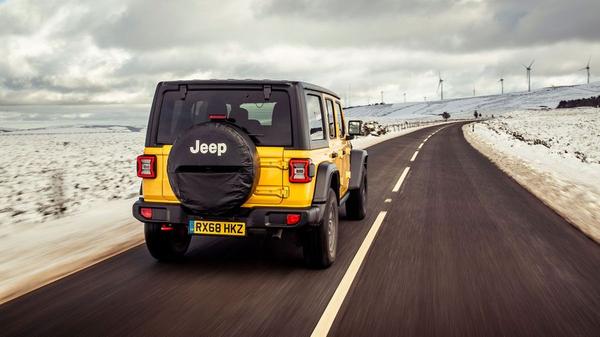 Power for a Jeep Wrangler
As with every other aspect of the Wrangler, the engine choices are simple. A 2.2-litre diesel provides 200 horsepower, ensuring brisk performance, especially in terms of low-down muscle. An eight-speed automatic gearbox shifts up and down the gears smoothly, although it could react quicker when you ask it for more acceleration. It's a rather agricultural-sounding engine, too, and there's a bit of vibration to be felt, but many will argue that this reflects the rest of the car's character. There's also a turbocharged, 272 horsepower, 2.0-litre four-cylinder petrol engine available, also mated to an eight-speed automatic gearbox. It's properly strong, with lots of pull from low revs, and it's smoother and quieter than the diesel as well. Both have additional low-range gearing, doubling the available ratios for low-speed off-roading. Neither is especially good on fuel or emissions but, frankly, that's in line with expectations.