Expert Review
BMW X7 SUV (2019 - ) review
The BMW X7 is a flagship, luxury SUV with the option of family-friendly seven seats or limo-spec six-seat configurations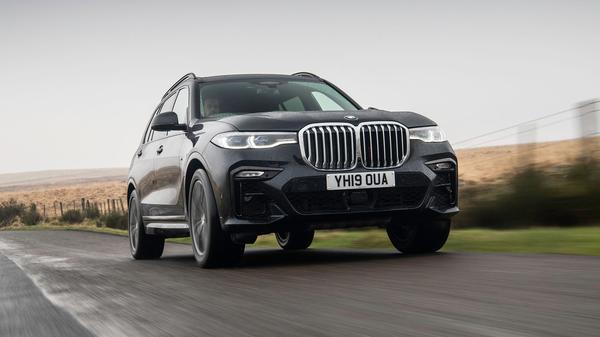 The Auto Trader expert verdict:
Available new from £77,710
The BMW X7 makes for a compelling alternative to traditional luxury cars, mixing a high-quality cabin with lots of technology and seating for up to seven adults. It drives well for such a big SUV, but its key selling point is the spacious, flexible and well-appointed interior.
Reasons to buy:
Fabulous quality
Great interior space
High specification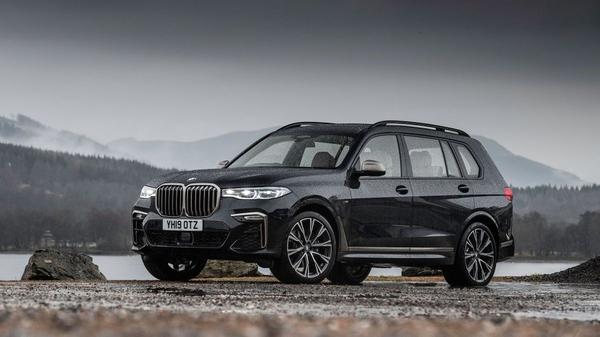 Running costs for a BMW X7
All large
SUVs
, and indeed large
luxury
saloons, are relatively expensive to run, and the BMW X7 is no different. It runs on wide, costly tyres, insurance premiums won't be cheap and, though BMW makes efficient engines, the X7 won't be as frugal as the smaller cars in its range. Nonetheless, the X7 is one of the most economical options in the sector and strong resale values will offset some of that upfront price. Buyers in this sector are unlikely to be put off by the cost of running a car of this nature but, for simplicity's sake, BMW's three-year, pay monthly all-in servicing takes stress out of ownership and includes two full services, fluid top-ups, a wash and vacuum every time you visit, map updates for the sat-nav and seasonal health checks. It also includes the first MoT.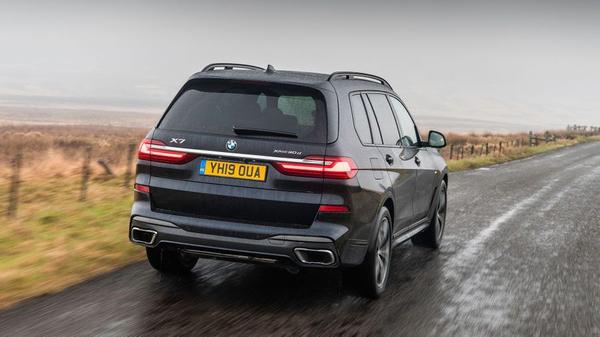 Reliability of a BMW X7
As this is BMW's first ever X7 model, there's very little reliability data of note to call upon. It shares its electronics with other models in the BMW line-up, but they're still too new to get a handle on their reliability. The engines have been around for longer and in general are quite robust, though as we've seen in the past, BMWs can get expensive to maintain as they get older. It might be slightly worrying that BMW ranks stone-dead last in the JD Power UK Vehicle Dependability Survey, and has done for the last few years on the trot.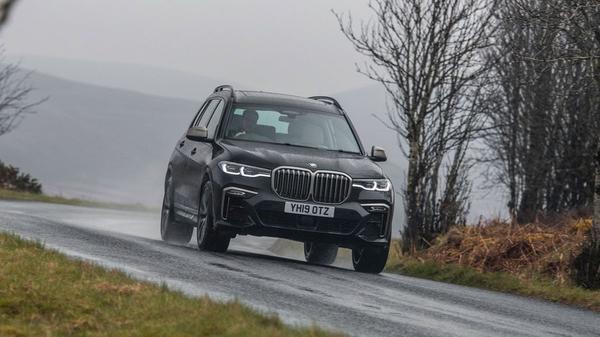 Safety for a BMW X7
By way of reference, the BMW X5, with which the X7 shares much, fared very well in the Euro NCAP safety tests, so there's no doubt the bigger car is inherently safe. Along with the expected array of airbags around the cabin, the X7 comes as standard with a system that attempts to reduce the effects of a collision that the car detects as imminent. This includes a side airbag for the rear seats, pre-tensioning of the seatbelts, closing of the windows and sunroof and even applying the brakes automatically after the crash. It is a shame, though, that the all-encompassing 'Driving Assistant Professional' bundling together various active safety and driver assistance systems is a costly option.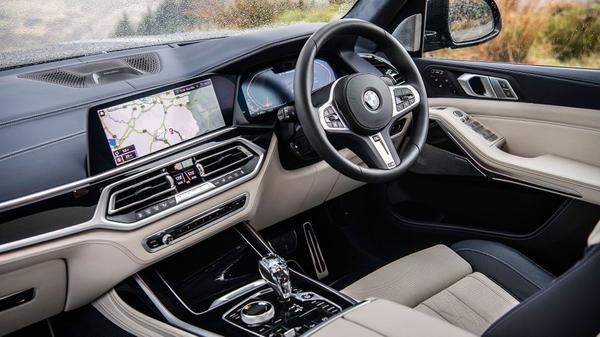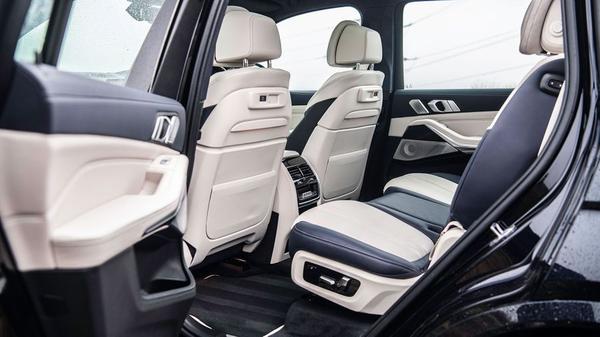 How comfortable is the BMW X7
Comfort is top priority for most luxury car buyers and that's what the BMW X7 majors on. Its inherent quietness helps with this, but so too does the standard-fit air suspension. This is particularly effective on the open road and on the motorway, absorbing bumps and isolating the car's passengers from the surface underneath. Despite this focus on comfort, the X7 resists lean in the corners well, allowing it to carry high speeds in safety and giving the driver confidence. The sportier M50d and M50i versions feel tauter again, at the expense of some comfort. Buyers spending time in town should consider upgrading to BMW's four-wheel-steering system (called Integral Active Steer), as it helps with the X7's manoeuvrability. There's also an off-road package for those that are likely to take their X7 away from solid ground at times, and it's reasonably capable thanks to a sophisticated
four-wheel drive
system. As standard, all versions of the BMW X7 have
seating for seven
. And, we can confirm that means seven adults, as even the rearmost two seats come with plenty of headroom, legroom and even space under the seats in front for feet. The X7 can also be ordered with a six-seat layout, with two separate chairs in row two for the ultimate in luxury.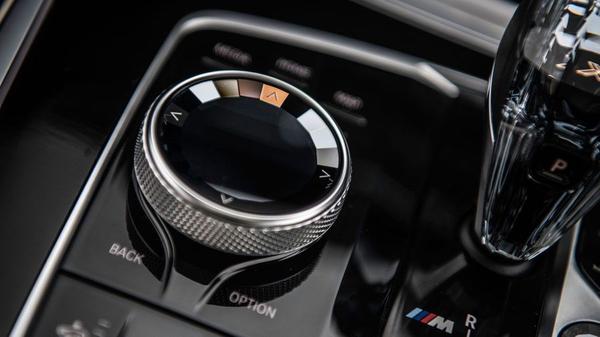 Features of the BMW X7
The X7 line-up is quite simple. Buyers choose either the entry-level – and fabulously named - Design Pure Excellence model or the sportier-looking M Sport version, while the M50d and M50i get a unique specification based on the M Sport package with a few technical upgrades. All cars are generously equipped as standard, including such niceties as large alloy wheels, LED lighting, leather upholstery, electrically adjusted and heated seats (front and rear) and a sophisticated self-parking system. The comprehensive infotainment system features gesture- and voice-control (the former pointless, the latter really good), Wi-Fi, Bluetooth, sat-nav, DAB radio and various online services, while BMW also throws in what it calls its Display Key. It's a bit big and bulky for a car key, though some might like its touch-screen functionality and constant communication with the car.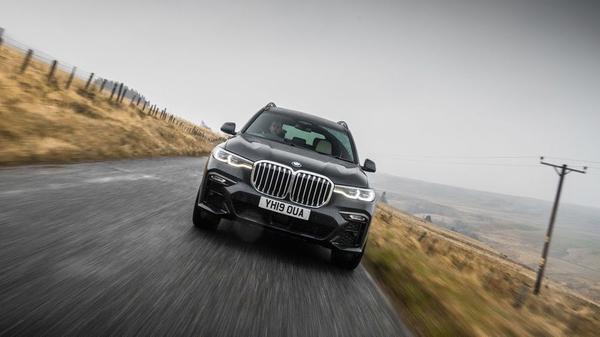 Power for a BMW X7
While there's no such thing as a slow X7, the character of your car is affected by your choice of engine. The X7 xDrive40i uses a powerful sounding 3.0-litre petrol engine but, when the car is full and the road turns hilly, even its 340 horsepower is no more than adequate. Things couldn't be more different in the range-topping M50d, which uses a quad-turbocharged 3.0-litre diesel engine producing 400 horsepower, but what makes it feel so rapid is its unbelievable low-down pulling power; it is genuinely faster in a straight line than many hot hatches. For those really placing performance above running costs there's the even faster M50i, based on the same upgraded running gear and using a 530-horsepower petrol V8. However, most drivers will be perfectly happy with the X7 xDrive30d diesel. Though its 265 horsepower is less than the petrol version's, it has superior low-speed pulling power, making it feel faster in everyday driving. All engines are paired with an excellent eight-speed automatic gearbox.