Expert Review
BMW M8 Convertible (2019 - ) review
The BMW M8 Competition is the most powerful, fastest and most luxurious car in the range and delivers an incredible driving experience – albeit at a cost
The Auto Trader expert verdict:
Hugely powerful, luxuriously equipped and packed with technology, the BMW M8 Competition Convertible is arguably even more exciting than its Coupe equivalent when you drop the roof. And with its wide range of driver modes you can configure it anywhere on the spectrum from luxury GT to proper sporting convertible.
Reasons to buy:
Bold and attractive styling
Incredible performance
Technology packed cabin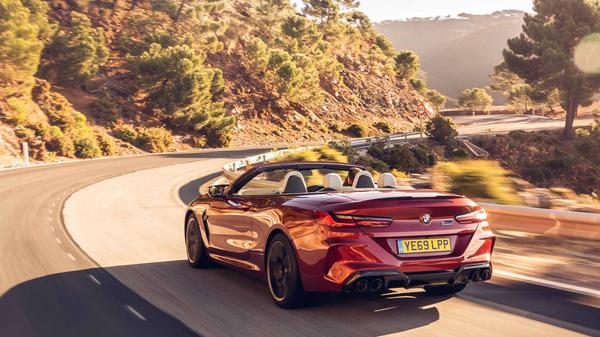 Running costs for a BMW M8
If you're looking for affordability and cheap running costs it's safe to say the BMW M8 Competition Convertible isn't for you. This is one of the dearest BMWs you can buy, a chunk more expensive than even the M8 Competition Coupe and capable of being made even more expensive if you choose to expand on the already generous standard specification. In price, performance and character the M8 Competition Convertible is operating in the same realm as the
Porsche 911 Cabriolet
, ,
Mercedes-AMG Roadster
and the like and you'll be paying at the pumps if you make the most of the V8 engine's incredible performance. Arguably it'll be worth it, though! Whether it retains its value as well as those more prestigious brands will be another question, depreciation potentially one of the biggest costs you'll face.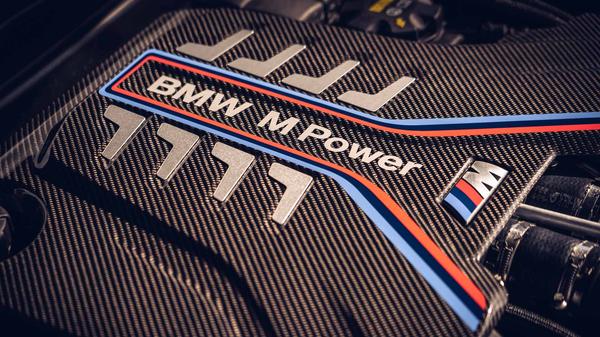 Reliability of a BMW M8
Cost of repairs can skew the reliability rankings for premium brands like BMW but, even taking that into account, as a brand it doesn't have a great reputation. That won't be too much of a worry for those buying the M8 Competition Convertible as a new car, given any manufacturing faults will of course be covered by the three-year, unlimited mileage warranty. But it may be a concern longer-term, especially given the complexity of the car. The weight and performance will also put extra strain on expensive consumable items like brakes and tyres too.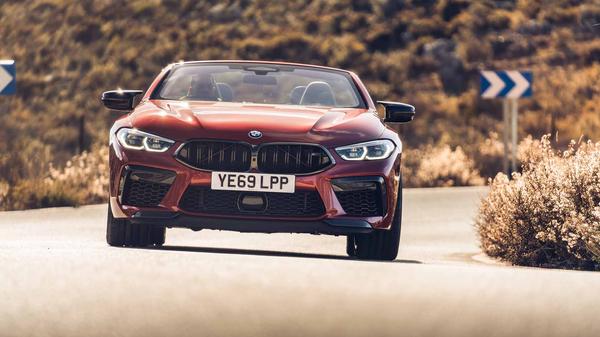 Safety for a BMW M8
As you'd expect of an expensive car of this type there's an impressive array of gizmos to help keep you safe, including cameras and radar to warn you of cars in your blind spots, inadvertent weaving out of lanes, vehicles crossing behind you when reversing out of parking spaces and hazards like pedestrians that may appear in your path. Where necessary the car will intervene with automatic braking or alerts through the steering wheel. If you want to take it further a full active system that can nudge the wheel to keep you in your lane is available as an option, this helping to take the stress out of busy motorway driving and including automatic speed limit monitoring through the cruise control.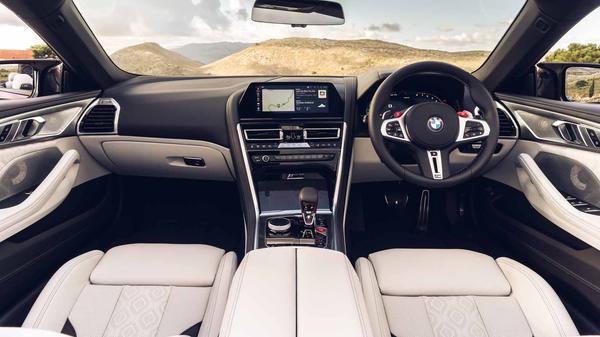 How comfortable is the BMW M8
The M8 Competition Convertible is a big car and may look like a four-seater but, in reality, it's only really viable for two. And those seated up front are very well catered for, with soft leather upholstery and a stylish mix of traditional materials and more modern ones like carbon fibre and aluminium. Inside and out the M8 is a good-looking car, packed with feel-good features to offer a return on your considerable investment. Opportunity to enjoy it with the roof down is expanded with the inclusion of seat heating as standard, along with vents in the seats to waft warm air down your neck on a cold day. You can even pay extra for a heated steering wheel and armrests. On the road the various driving modes include adjustable suspension, which in its most comfort-oriented setting is respectably refined for such a sporting car. There's a touch of harshness around town but it smoothes out as speeds rise and feels appropriate to the M8's performance credentials. The mid setting improves body control when you're pressing on but we'd leave the hardest setting for all but the smoothest of roads. Refinement with the roof up is excellent too, with very little wind noise for a fabric roofed convertible.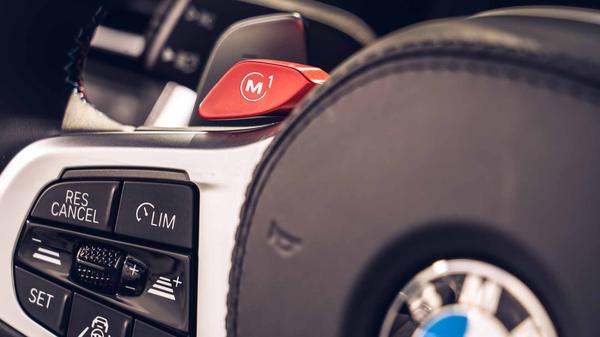 Features of the BMW M8
BMW hasn't held back on the spec of the M8 and includes its top-line and fully connected 'Professional' infotainment system you interact with through a massive
touchscreen
dominating the centre of the dash via touch, voice or gesture. The instruments are also presented on a screen and fully configurable. A fancy Harmon Kardon surround sound stereo is standard, likewise the high-grade leather with contrast stitching and carbon fibre trim. There are still plenty of options though, including a desirable exterior carbon fibre trim package, fancier ceramic brakes and more – if you're indecisive or just want to keep it simple the 'Ultimate Package' wraps all the extras up into an all-inclusive (but expensive) single option.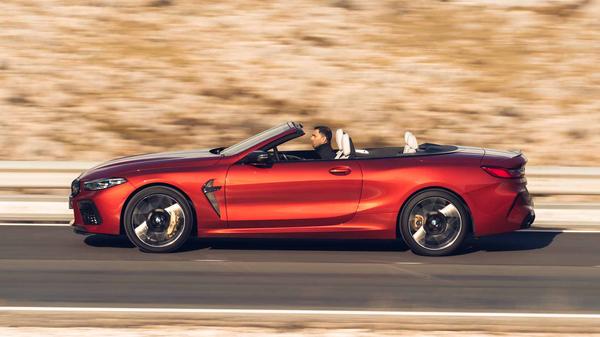 Power for a BMW M8
The M8 Competition Convertible is a chunk heavier than its Coupe equivalent but there's such an excess of power from the turbocharged V8 engine that hardly matters and, against the clock, there's very little to separate them. And thanks to the adjustable all-wheel drive system you can enjoy this performance whatever the conditions underfoot. With a mighty 625 horsepower the firepower to leave more focused sports cars is there at your disposal, which is all the more enjoyable in the luxurious surroundings of an opulent cabriolet like this. Via the various driver modes and configurable 'M' buttons you can instantly switch from refined cruiser to proper, snarling bruiser too, the Convertible all the better for enjoying the thundering exhaust note. Frivolous, perhaps. But exactly the point in a car like this.