Expert Review
Bentley Continental Saloon (2005 - 2011) review
Read the Bentley Flying Spur (2013 - ) car review by Auto Trader's motoring experts, covering price, specification, running costs, practicality, safety and how it drives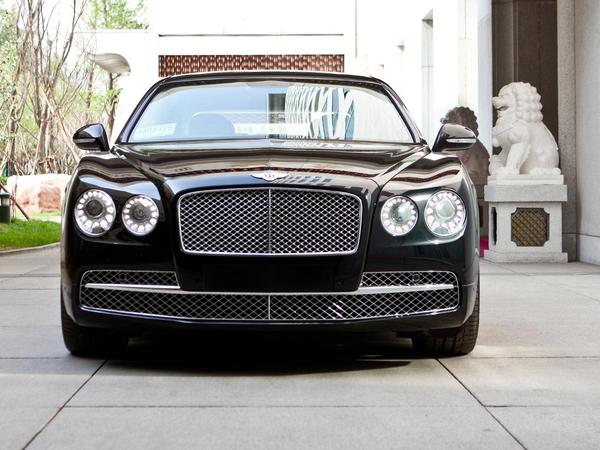 The Auto Trader expert verdict:
The Bentley Flying Spur is one very expensive car to buy and run, but it delivers enough interior quality, performance and dynamic ability to justify the price. If you can afford it, there's no good reason not to.
Reasons to buy:
Engine gives thunderous performance
Interior is simply beautiful
Lots of luxury kit provided
How good does it look?
Luxury limousines need to have a fair amount of on-road presence, especially one with a Bentley badge. The
Spur
delivers this visual impact in spades courtesy of the huge chrome grille, the spangly 19-inch alloy wheels and the collections of LED lighting at either end of the car. The clean, curvy lines also give the Spur a sleekness that you wouldn't expect of a car as huge as this.
What's the interior like?
We can't think of any firm that makes a posher cabin than Bentley at the moment. The interior is swathed in soft, high-grade leather interspersed with hand-crafted wooden panelling, and every single surface you come into contact with (and even those you don't) is simply gorgeous to look at and to touch. The 14-way electric seat adjustment and straight-ahead arrangement of the controls give a superb driving position, too. However, the small back window means your rear visibility isn't great, while the touch-screen infotainment interface in the dashboard is pretty clunky. That's weird, because the touch-screen remote control that gives rear-seat passengers control over the system is much sharper.
How practical is it?
As you'd expect from a luxury limousine, there's lots of room inside the Flying Spur for its occupants to luxuriate. Head- and legroom are in plentiful supply in both the front and the back seats, and depending on your requirements, the car is available with either two rear seats or a three-person rear bench. The boot is a decent size, too, but it isn't as gargantuan as you'd expect from the outside because some of the car's luxury toys impinge on the space available.
What's it like to drive?
Luxury limousines are all about ride comfort and refinement, and on this score, the Spur both impresses and disappoints. The ride always stays comfortable, even if it's not quite as soft and as cosseting as you might expect. Likewise, the acoustic windows give you excellent protection from wind noise and the engine is virtually silent at a steady cruise, but the fat tyres do kick up a little bit too much road noise. That said, the Spur handles very tidily for a car of this size; you can tell it's a big, heavy car, but it changes direction crisply and securely, while the steering is nicely weighted and offers some genuine feedback.
How powerful is it?
Under the Spur's sculpted hood lies a 6.0-litre W12 engine developing a mammoth 616bhp and 590lb ft of torque. That's enough grunt to propel this two-and-a-half tonne beast from 0-60mph in just 4.3 seconds, and whenever you put your foot down, you can feel every ounce of this epic performance.
How much will it cost me?
You expect a Bentley to be super-expensive, and the Spur costs an appropriately ridiculous amount to buy. And that's before you've added any of the optional luxuries that you inevitably will. Residual values are reasonably solid for the class in percentage terms, but the enormous sums of money involved mean depreciation losses will be eye-watering. So will fuel bills, with the enormous W12 engine guzzling through a gallon of petrol for every 19.2 miles you cover, and that's if you treat it gently. Which, of course, you probably won't.
How reliable is it?
The sheer depth of quality on display in the way the Spur is assembled and finished will make you think that this car will last forever. However, Warranty Direct's manufacturer standings tell a different story. Bentley currently sits at the very bottom of the standings, with a high rate of malfunction and a high cost of repair. What's more, the Continental GT, on which the Spur is based, currently resides in the survey's worst ten models overall.
How safe is it?
The Spur's permanent four-wheel drive provides plenty of traction, while an advanced stability control system is on hand to help out if you push the car beyond its limits of grip. There are eight airbags to provide protection in the event of a crash, and the bonnet has a pop-up mechanism designed to reduce damage to pedestrians.
How much equipment do I get?
Luxury limousines should come with a vast amount of luxury kit, and the Spur doesn't disappoint. The leather interior is available in a choice of 12 colours, while heated and cooled electric seats, electric rear privacy blinds, parking sensors, Bluetooth, climate control and a high-grade stereo incorporating sat-nav and the rear-seat touch-screen remote are also provided as standard. You can also add any number of other luxury options – for a handsome price – including an upgraded multimedia system that creates a Wifi hotspot inside the car and a drinks fridge mounted behind the central rear armrest.
Why buy?
The Spur is hugely expensive to both buy and run, but if you can even think about spending so much on your car, the cost will probably mean very little to you. For those who can afford it, the Spur is a very special car indeed. The beautiful interior makes it a lovely thing to spend time in, the performance is epic and, while the ride and refinement aren't ideal for a luxury limousine, they're good enough to justify your outlay.