Advice
How to choose and fit a baby car seat
We've teamed up with the experts at Joie to look at what to consider when you choose a seat, and even more importantly, how you should fit them.
New parents have a lot of things to consider, and one of their biggest choices is how to transport their baby in a car. The choice of seats is bewildering, so we've teamed up with the experts at Joie to look at what to consider when you choose a seat, and even more importantly, how you should fit them.
What sort of seats are there for the very youngest babies?
The most obvious choice is between an infant carrier – which can come with or without a base – or a larger fixed style of seat. We recommend keeping children in a rear-facing seat for as long as possible, as that will give better protection for the baby's head, neck and spine than a forward-facing seat.
Choosing between the two is a case of balancing cost and convenience. An infant carrier on a base will be the most expensive option, but it's the most convenient, as the base stays in the car all the time, secured using Isofix or the seat belt, and with a foot support section that extends to the floor. The larger, fixed seat will offer better value as it will last to a much higher age – in some cases for the same cost as an infant carrier – but it won't be so easy if you're in and out of the car a lot.
What babies are child seats suitable for?
The most important thing to realise is that it's not specifically your child's age that dictates which seat will suit them. Instead, it's their weight and height.
Thinking about babies and rear-facing seats first, there are three groups of seat you could consider. Group 0 covers children up to 10kg in weight (roughly six months old), but they're less common than Group 0+ seats, which work for children up to 13kg, which equates to between 12 and 15 months. The seats are usually in the form of an infant carrier, but when they become too heavy, don't rush to move your baby into the next type of seat. Simply leave the seat in the car and carry your baby on their own. This is what you will be doing with the next seat, anyway, and it helps to keep baby rear-facing for longer. Beyond that, you could go for a combination Group 0+ and 1 seat, which depending on type, will take a child of up to 18kg (or about four years old). While these appear to take more space in the car, as a general rule, if you can fit an infant carrier on a base, then most combination seats will take up no more room. However, access can be restricted in some cars, so a rotating seat can make it much easier to load and unload the little one.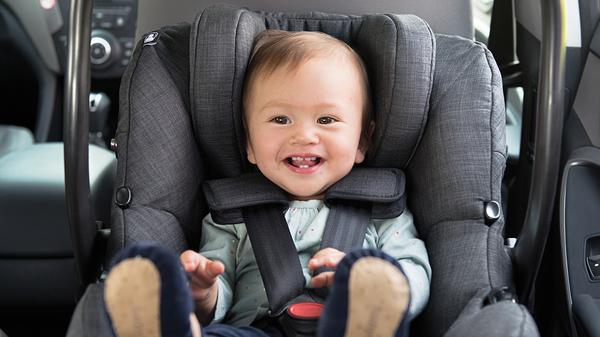 What about forward-facing car seats for infants?
First of all, only use one of these once your child is too heavy or too tall for a rear-facing seat, and don't be in any rush to have baby facing forwards. They can see plenty facing backwards, and mirrors are available, so they can see you and you can check on them, too.
Again, there is more than one group of seats to consider, but none will take a very young child. A Group 1 seat will take a child of between nine and 18kg (about nine months to four years), while a Group 1, 2 and 3 seat can be adjusted as your child grows. You start off using either an integral harness or a safety shield system, and then a combination seat that also covers groups 2/3 will use the car's seat belts to secure the child.
How do I fit a child seat properly?
As with any child seat, there are some general rules to follow. First, read and follow the instruction manual, as seat installation varies. Secondly, remove any of the car's head restraints that are in the way. Finally, when you're fitting the seat with the car's belts, feed all the slack out of the belt. To make sure everything is still nice and tight, on a daily basis, simply check the lap belt section is tight enough to flick when loading little one in.
As a guide, you should only be able to fit a couple of fingers between your baby's chest and the straps. And, remember to adjust the straps every trip, as the clothes your baby wears will affect how tightly the belts fit. The best routine to get into is to lengthen the harness as you get your baby out, so that it's ready to suit whatever clothing little one is wearing when you return to the car. It's best to fit any child seat in the rear seat, preferably in the centre. And, most importantly, only use the front seat if the passenger airbag is not active.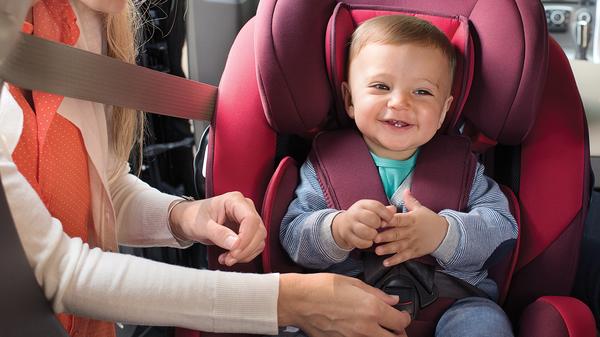 I've heard that Isofix mounts are really important, but what can I do if my car hasn't got them?
It's not a problem if you don't have Isofix points, as you can fit a seat securely using just the car's seat belts.
If you're doing that, use your own body weight to push down on the seat as you fit it, to ensure a good fit; make sure the belts aren't twisted; if there's a locking mechanism, make sure it's locked; and, check the buckle doesn't end up bent over the car seat. In cars with longer buckles, this can lead to what is known as buckle crunch, and they can break open in an accident.
What are the advantages of Isofix? And, are Isofix seats any different to fit?
The most important thing to know is that, contrary to what some people will tell you, not every Isofix seat will fit every car with Isofix mounts. So, you should only ever use a seat that's approved for use in your car.
The advantage of Isofix is that the seat is secured to mounts fixed directly to the car's body; and, not only are they easier to fit, most such seats also have an indicator that will turn from red to green to show when the seat is fitted properly. Finally, if you have a top tether, make sure it's only ever fitted to the proper fitting; and, if the seat has an extending leg, check if your car has an under-floor compartment. If it does, check with the car manufacturer whether it's safe to use to support the leg.