Advice
Tips on selling a used car safely
Watch our short film to go through top tips that will help ensure that you stay safe when you're selling a used car, and then read our full article below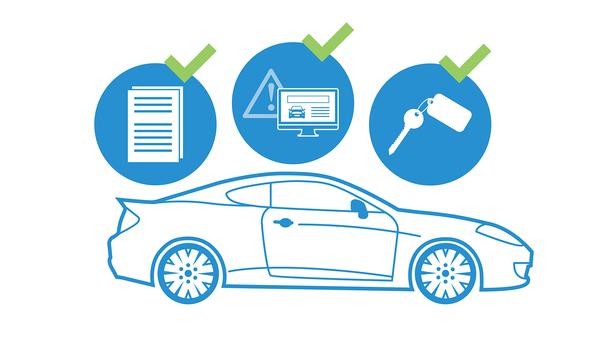 Selling your car yourself can seem pretty daunting, but follow these key points so that you can stay safe and sell your car quickly.
Related:
Sell your car with Auto Trader.
Be prepared
Have all the relevant paperwork together, such as the V5C, service history and MOT certificate, for a potential buyer to review. Buyers may wish to check details such as the address on the V5C and the mileage figure on the most recent MOT certificate.
Beware of scammers
Beware of scammers, and always meet the buyer. A genuine buyer should want to view the vehicle before making the payment.
Request the potential buyer's contact details, such as their mobile number (especially if they call from a withheld number), landline number and full home address. This should give you further reassurances, and a legitimate buyer should be happy to provide this information. During a viewing be sure to supervise any potential buyer closely to ensure they are not able to tamper with the vehicle in order to make it appear there is a mechanical fault which would impact the sale price. Auto Trader will not contact you via the protected number displayed on your advert, never give out bank or card details to an unsolicited caller. If you receive an unsolicited call and would like to report it or check it is genuine, please call the Customer Security Team on 0330 303 9001
Stay together
Always accompany the buyer on a test drive. Make sure you ask them to bring their driving licence when arranging a visit if they are expecting a test drive. Also check that they are covered by insurance to test drive the car. This should help prevent you being liable for damages.
Hold tight
Keep hold of the vehicle, the keys and all the documents until the full payment has cleared in your bank account.
In plain sight
Always ensure you can see the car keys, and make sure you take them out of the ignition when you change seats on the test drive. You should also make sure you can see the buyer at all times.
Stay on home ground
Always arrange to meet a buyer at your home or a location you are familiar with.
Never...
...allow a buyer to test drive the car alone.
Never leave a potential buyer alone with the vehicle, give them the keys or let them borrow the car documents. If you have a keyless fob, keep hold of it at all times, even on a test drive. And never jeopardise your personal safety and if you feel uncomfortable at any time, walk away.
Download our checklist...