Kia XCeed SUV
New from £22,165 / £270 p/m
Overview
Petrol or petrol plug-in hybrid
Is the Kia XCeed SUV a good car?
Read our expert review

Words by: Dan Trent
"SUVs and crossovers remain at the top of many car buying shopping lists but there's life in the traditional hatchback yet, Kia's Ceed family still an important part of its line-up and competing with traditional big-sellers like the Ford Focus and VW Golf. With its seasoning of crossover sparkle the popular XCeed version reviewed here arguably offers the best of both formats and has been refreshed with sharper styling, updated onboard technology and a simplified engine range that includes an all-important plug-in hybrid option."
Read the review by category
Running costs for a Kia XCeed
In a sign of the times the XCeed's engine line-up has dropped the previous diesels and is now based around a single 1.5-litre petrol, with the plug-in hybrid limited to just a single trim. Comparing like for like with its non-PHEV equivalent is interesting, and reveals just how much more expensive hybrids are to buy, like-for-like. In running cost terms that's only half the story, of course, and if you're buying as a company car the much reduced Benefit In Kind could more than offset that extra expenditure. But, even with the cheaper VED/road tax, private buyers will have to do a lot of pure-electric miles (likely by having off-street parking and a home charging point) for it to make financial sense. Unless you meet those specific criteria we'd hazard the pure petrol version looks a stronger proposition in value for money terms.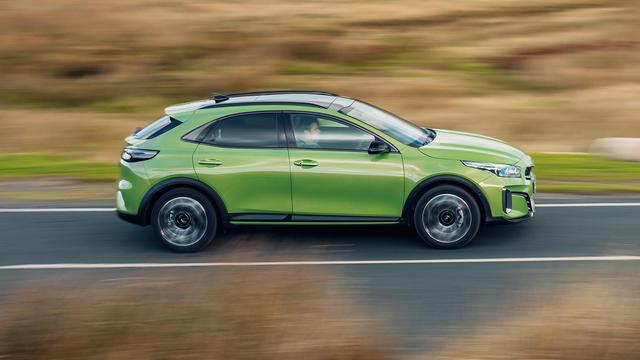 Reliability of a Kia XCeed
Kia shares much of its technology and hardware with its Hyundai sister brand, both trading on a generally strong reputation for reliability. Kia still stands apart for its signature seven-year warranty, though, the peace of mind this offers meaning you are covered for most typical finance terms and beyond and if anything does go wrong.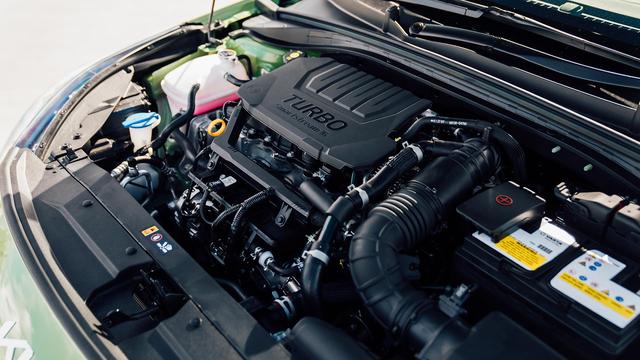 Safety for a Kia XCeed
All XCeeds come with a decent spread of driver assistance functions on top of the airbags and 'passive' safety equipment like Isofix mounts that you'd expect. This includes the usual automatic emergency braking (with pedestrian and cyclist detection), self-dipping headlights, a driver drowsiness warning and lane-keeping assistance. Credit to Kia for making this easy to switch off with a single button if you find the interventions intrusive. A reversing camera is also standard, which is handy given the restricted rear visibility. On the basis it's one of the more useful assistance gizmos it's a shame that, like many manufacturers, Kia restricts blind-spot warnings to the highest trim level only.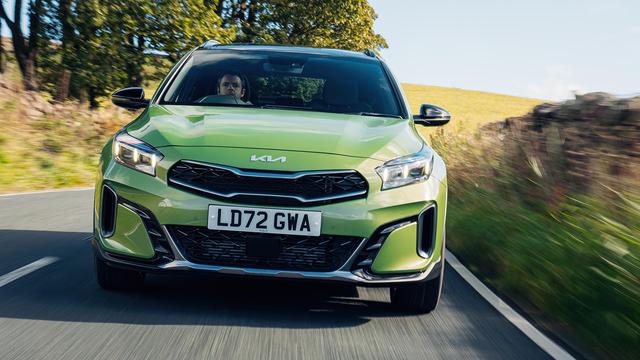 How comfortable is the Kia XCeed
The sleek looks of the XCeed are appealing but result in quite a dark and claustrophobic interior with the darker trim materials, especially for those in the back. Legroom isn't fantastic back there either, so if you're after a family-friendly Kia you may be better off with a Sportage. It's better for the driver and front-seat passenger, the combination of a lower-slung seating position with the improved view of the road ahead from being a little higher off the ground a rather appealing mix. While there's nothing wrong functionally with the more basic trim levels the funkier faux-leather seats feel rather more premium than the standard cloth and would be worth the upgrade if you can stretch to it. Boot space is adequate rather than generous, though you lose quite a bit to the battery in the hybrid and you only get the fancier 40:20:40 split rear seats on the top trim, the rest getting the usual 60:40 arrangement. On the road we weren't blown away by the ride quality, despite Kia's attempt to make the XCeed more comfortable with upgraded suspension components over the regular Ceed hatchback. While the extra ride height does give you that raised position many drivers seem to love it does result in a slightly top-heavy sensation, this wallowy feel oddly combined with unpleasant harshness over bumps and other road imperfections. It's worth noting the hybrid runs smaller wheels, which help to a degree.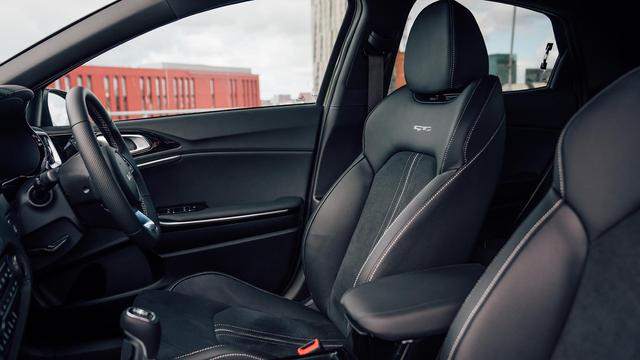 Features of the Kia XCeed
Like many manufacturers Kia offers a base trim level to hit an attractive price point, while accepting most buyers will accept the small premium on monthly finance costs to upgrade to the core mid-level models for the improved kit. Point proven with the XCeed and fact the 3 and GT-Line models get the 10.25-inch centre touch-screen you really want thanks to its crisp graphics and slick interface. We're not sure if the switch from physical buttons beneath it to touch-sensitive operation is actually a functional improvement but at least there's still a proper volume knob. Other additions making this upgrade worthwhile include heated seats, privacy glass, dual-zone climate and more besides. While pretty much the same, GT-Line gets a few sportier trimmings, while the top GT-Line S gets fancier upholstery on the seats, a panoramic sunroof, upgraded JBL speakers and the glitzier digital instrument cluster. The jump in price from GT-Line is pretty significant, though.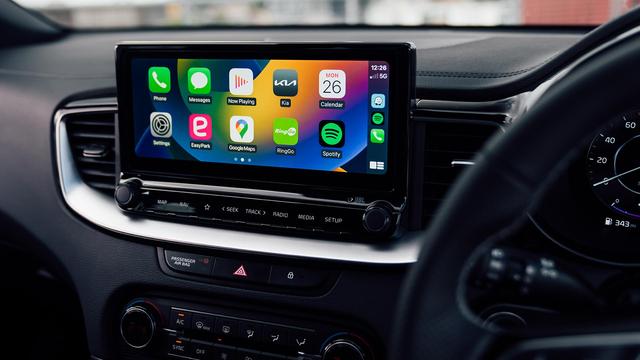 Power for a Kia XCeed
Being based on a hatchback rather than a crossover or SUV means the regular XCeed is quite a bit lighter than many rivals, so it feels perkier than the 160 horsepower of the standard petrol engine suggests it should be. A pity, then, the soft ride and vague steering don't make the most of this, the manual gearbox also a little vague with a big 'hole' in the power delivery just when you want a burst of acceleration to merge onto a roundabout or into fast-moving traffic. You have to choose the hybrid if you want an automatic gearbox, the electric motor helping address that gap in the power delivery but blunted by the considerable extra weight. You do get the option of up to 30 miles of purring about on the electric motor alone, but it feels easily overwhelmed and rather too quick to fire up the petrol engine for help. As such you'll do well to score the claimed triple-digit mpg figures, especially if you venture out of the town and onto the motorway. Neither engine option is perfect, then, but on balance we'd save the money and take the pure petrol over the hybrid.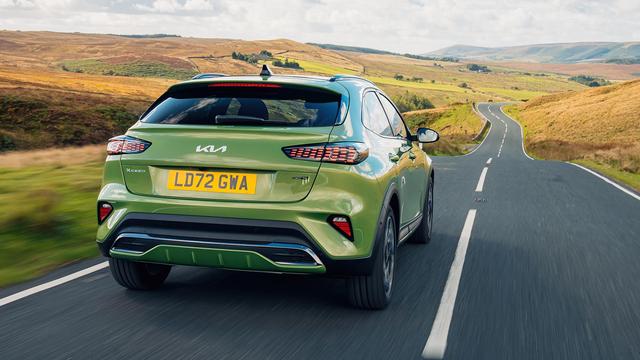 Lease deals
These deals are based on terms of 8,000 miles, for a 36 month lease with a 6 months initial payment.
Standard equipment
Expect the following equipment on your Kia XCeed SUV. This may vary between trim levels.
Related articles and reviews
Kia XCeed (2022 - ) review
The Kia XCeed's blend of hatchback practicality and crossover style have proven popular, this range update putting extra spring in its step
Kia XCeed SUV (2019 - ) review
With a new plug-in hybrid version to broaden its appeal the stylish Kia XCeed is a convincing alternative in the competitive small SUV and crossover segment