BMW X7
New from £86,590 / £1,509 p/m
Is the BMW X7 SUV a good car?
Read our expert review

Words by: Dan Trent
"If not especially big on charm the BMW X7 goes large on everything else, this imposing luxury SUV brimming with technology and able to seat seven in impressive comfort. Behind the restyled grille and headlight arrangement are new petrol and diesel engines, all with a mild electrical boost in an effort to keep running costs reasonable, all things relative. It also gets BMW's latest widescreen digital dashboard and a ton of tech. While just as massive on the road it's hard to ignore the fact the Range Rover or Defender you might also be considering do all of this with dose more style and, for UK roads, an X5 has most of the appeal in a more manageable package. But if size matters the X7 remains an impressive piece of kit and feels fresher than the equivalently huge Mercedes GLS."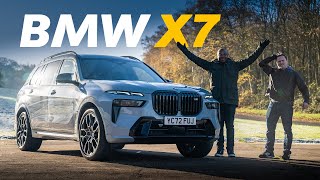 Read the review by category
Running costs for a BMW X7
Full electrification can significantly reduce running costs on a car like this if you can charge at home or claim the Benefit In Kind advantages. If that appeals BMW has you covered with the similarly imposing iX, the X7 meanwhile sticking with petrol or diesel power and only the mildest assistance from electric motors. The lack of a full plug-in hybrid doesn't help company drivers but private buyers will see their money go further with this more conventional line-up and the improved efficiency of the new engines will save a bit at the pumps day-to-day. Be under no illusions, though, because buying and running a vehicle of this nature is never going to be cheap.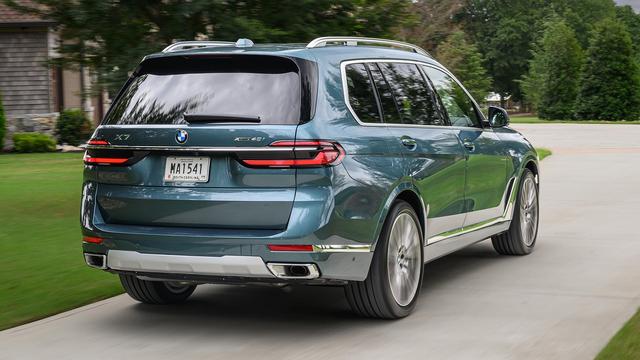 Reliability of a BMW X7
Recent data is harder to come by but BMW hasn't had a fantastic record for reliability in the last few years and the X7 is a massively complicated car with a lot to potentially go wrong. The petrol and diesel engines are, however, proven tech and, as a new buyer, you'll be protected by BMW's standard three-year warranty. Given the likely costs of fixing a car like X7 we'd be tempted to take up the offer of paying extra to extend it, and possibly signing up to the fixed cost service package as well.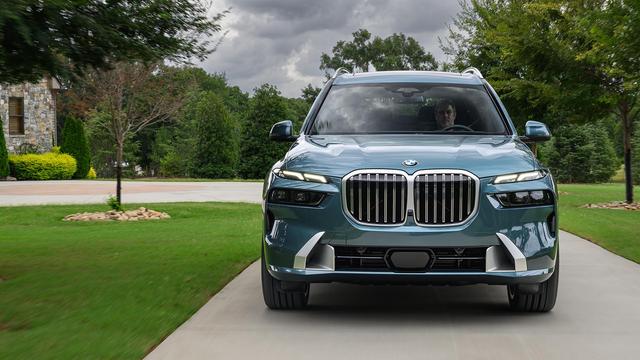 Safety for a BMW X7
The reassurance of surrounding your family with as much metalwork as possible is obviously a big attraction of SUVs, and the X7 certainly delivers on that. Hopefully the array of safety systems mean you won't have to test that theory, though. The sheer size of the X7 means you'll probably be triggering the intrusive lane keeping interventions more than you'd like on narrow UK roads and it's a pain it's so difficult to switch the system off. Other than that the tech is on your side, the automatic emergency braking now improved and activated when it thinks you're on a collision course with a pedestrian, cyclist or oncoming vehicle. If parking something the size of the X7 fills you with dread fear not – BMW's Parking Assistant Pro is standard and features cameras, sensors and automated braking to stop you backing into things. Pay extra and you can even have it 'record' regular parking manoeuvres like a tight driveway and let the car perform them itself!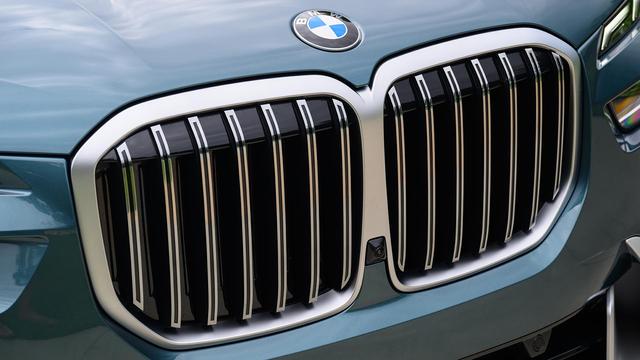 How comfortable is the BMW X7
It goes without saying there's tons of space in the X7, even if the rear bench only gives its best for the two outermost seats and its's better to consider it a six-seater if you don't want to be rubbing shoulders in the back. Indeed, you can even choose a two-seat second row if you'd prefer. A Land Rover Discovery remains the more spacious option if you regularly carry seven but the X7 looks after all its occupants well. The power-operated rear seats save a bit of manual labour and mean you can fold the third row down at the touch of a button to free up a huge load area if required. But they're also very slow, the long wait as the middle row whirrs forward to provide access to the back seats likely to cause teeth-grinding frustration in the melee of a frantic school drop-off. Other quirks include a power-operated split tailgate, this providing a useful trough to keep bags from sliding around or lowering as required, even if boot space in seven-seat mode is a bit limited. Out on the road for all the luxury pretensions the X7 sadly thuds like a 4x4 on bumpy surfaces, even with sophisticated multi-mode air suspension as standard. Blame the SUV ride height and big wheels for that, BMW's attempt to cling to its sporty brand values not as convincing as the waft you get in a Range Rover. The top of the range M60i adds clever tech like active anti-roll and rear-wheel steering (the latter optional on other models) to make it corner like a smaller car but there's no hiding the size or weight of the X7 on the road.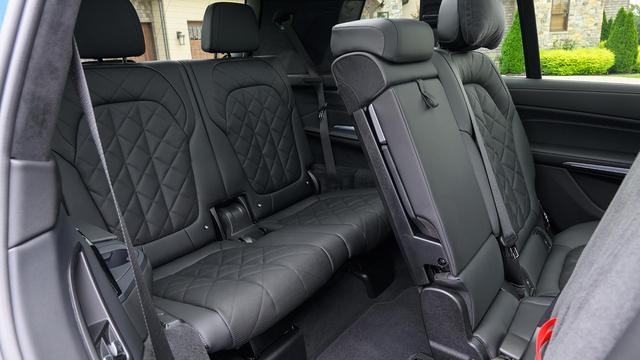 Features of the BMW X7
BMW calls model updates like this Life Cycle Impulses, so if you ever see an X7 listed on Auto Trader as an 'LCI' this is what it refers to. Among the more significant changes in this instance is the new, twin screen curved instrument display, as seen in the iX, i4 and latest 3 Series and powered by BMW's latest operating system. It's very slick and easy to use, with commonly used features a swipe away on customisable tiles. We did find the navigation was sometimes a little behind the curve when calling junctions but the nifty camera generated augmented reality view in the instrument display helped avoid too many missed turns. It is, of course, fully smartphone compatible and with the necessary app Apple users even automatically lock and unlock the X7 with from their device, even if it's still in a pocket or bag. There are two main trim lines to choose from, comprising Excellence with its traditional chrome-heavy look and the more assertive M Sport with black trim parts and different front and rear bumpers. The top of the line M60i counts as an M Performance model in its own right so takes this style further with the (usually optional) M Sport Package Pro included as standard. Wheel options now go all the way up to 23 inches as well, a first for BMW but an option we'd probably avoid in the name of ride comfort.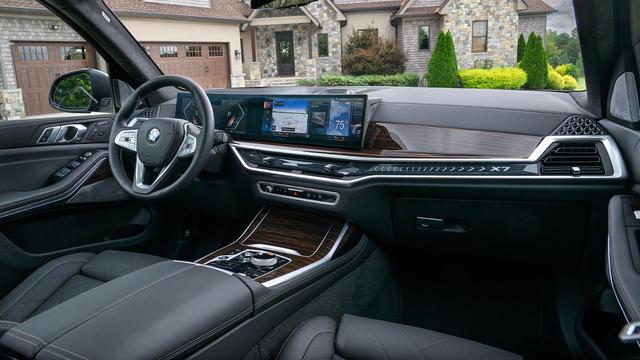 Power for a BMW X7
We tested the X7 in America, which is the biggest market for the car and where petrol is still king. No surprise, then, BMW expects the six-cylinder, 380 horsepower 40i we tested will be the biggest seller. In the UK we'll get a 40d diesel as well, experience suggesting this engine works well in a big, heavy SUV like the X7. You can also get a sportier M60i version with a powerful V8 engine and various upgrades intended to help you make the most of the extra grunt. All get a 'mild' electrified boost but the motor won't power the vehicle on its own so its effect is relatively subtle. Having gained a significant power boost over the previous X7 the 40i certainly feels smooth and has enough oomph to handle the considerable bulk – given the way it goes round corners we'd wager the extra power of the bigger engine is probably wasted so this or the diesel would seem plenty to be going on with.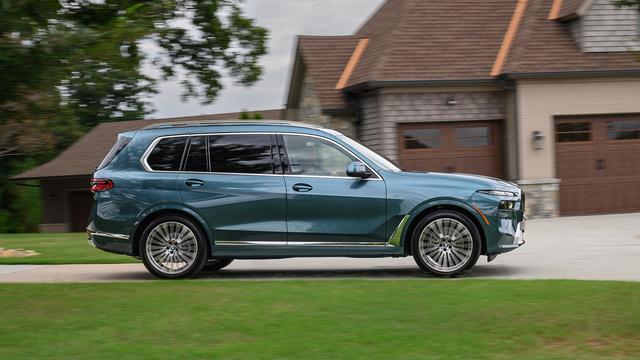 Lease deals
These deals are based on terms of 8,000 miles, for a 36 month lease with a 6 months initial payment.
Standard equipment
Expect the following equipment on your BMW X7 SUV. This may vary between trim levels.
Other vehicles in the X7 family Related articles and reviews
BMW X7 (2022 - ) review
Supersized and with seating for seven, the BMW X7 has been overhauled with fresh styling, new engines and the latest onboard tech