div>
Asking friends and family for a recommendation is a good place to start. If someone you trust suggests an instructor, ask if they were reliable, professional and how successful the previous student was.

Online is the place to look next. Driving schools often have reviews from former customers on their websites, and while some independent instructors may be harder to gauge, it's a good idea to meet them in advance to discuss your requirements. You may spend a lot of time in the car with them, so it makes sense to find someone you get on well with.

All UK instructors have to be licenced by the Driver and Vehicle Standards Agency (DVSA) and undergo a Disclosure and Barring Service (DBS) check to ensure they are suitable to work with young people. You can ask to see these credentials before your first lesson.

How much will it cost?
div>
Exact rates vary depending on the instructor, so make sure you're clear about exactly how much each lesson costs from the start. You may be taking lessons for several months or longer, so establishing a regular weekly or monthly cost you can afford is a sensible approach.

Most driving schools and independent instructors offer introductory discounts, and it can also be cheaper to pre-pay for a block of lessons, so ask about these.

The number one complaint about driving instructors relates to money paid in advance, so make sure you get full receipts for all payments, and that you understand the conditions of any discounts or deals – do you lose money if you cancel a lesson, for example?
Should I learn to drive in a manual or an automatic car?
div>
Automatic cars are generally considered simpler to drive because there is no clutch pedal. They're easier to manage on congested roads or when driving on hills, for example. If you struggle with the gears in a manual car, learning to drive an automatic could be a better solution.

Remember that an automatic licence does not permit you to drive a manual car once you have passed your test. That means going for an automatic may limit your choice when buying or renting a car or van in the future.

It may also prove difficult to find a local automatic instructor and it's worth bearing in mind, automatic driving lessons are typically more expensive than manual lessons.

How to help your children learn to drive
Parents or other family members can help young learner drivers, but they may need to brush up on their knowledge first.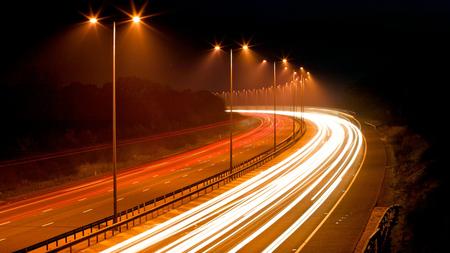 Can I help my son or daughter with their theory test?
div>
Yes, you can, but it's worth remembering that both the practical and theory parts of the driving test have changed a great deal over time, and may not be the same as when you took yours.
It's a good idea to look at the most recent version of the Highway Code, which is published
on the government's website
. This will keep you abreast of any changes and brush up your knowledge. Reading it together with your son or daughter is also worthwhile.
How has the test changed in recent years?
div>
A number of new elements have been introduced to the driving test since 2000, and parents with children who are now taking their test may not have first-hand experience of all of them. They include:
The hazard perception test, which involves watching video clips taken from inside a vehicle and identifying hazards by clicking a computer's mouse

'Show me, tell me' questions, two of which are asked by the examiner at the beginning of the practical test. The candidate has to demonstrate they can check a vehicle's basic safety features, such as whether the lights or brakes work correctly. The 'show me' question involves a physical demonstration, while the 'tell me' question requires a verbal explanation

Independent driving, which requires the candidate to drive for 10 minutes following traffic signs, a series of directions, or a combination of both
How can I avoid confrontations?
div>
Stories of arguments between parents and learner drivers are all too common, but there are techniques you can use to aid the learning process without causing a row. It's best to avoid criticism wherever possible, so ask the learner questions instead of bluntly pointing out their faults.

If, for example, they're in an inappropriate gear, ask, "what gear would you normally choose for this speed?" instead of, "you're in the wrong gear." Not only is this less confrontational, it also allows the learner to independently come to the right decision.

What if I don't agree with the instructor?
div>
Your driving techniques may differ to those taught by your son or daughter's instructor, but it's important not to undermine the instructor or send mixed messages to the person learning to drive. If you come across something you don't understand or agree with, discuss it with the instructor, as they will probably be able to explain it.

If your son or daughter asks you a question that you're not sure how to answer, contact their instructor so you make sure the learner driver receives accurate information.
How to deal with driving test nerves
Our tips for tackling driving test nerves will make sure you keep your cool on the day.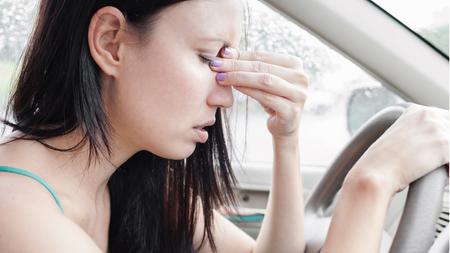 Prepare as much as you can
div>
Your instructor will often recommend a mock test before the real thing. Make sure you've attempted at least one of these – preferably several – and that you can pass them before you even apply for the real thing.

The night before your test, make sure you have all the documents you need for your test ready. These include your driving licence, theory test certificate, and confirmation email/letter of the appointment.

Familiarise yourself with the test centre
div>
It's a good idea to visit the driving test centre before the test itself, especially if you haven't already been there during your lessons. This will help you get used to the location and understand what goes on inside the centre. It's best to get there early on the day, as rushing will just add to your nerves.
Eat and drink well
div>
Have a banana for breakfast. Bananas are well known among instructors as the driving test superfood, as they're full of B vitamins and contain tryptophan – a type of protein the body converts into serotonin, the 'happy hormone' – which will help calm your nerves and keep your mood upbeat.

Nerves can reduce your appetite, but it's important to at least eat something so you have enough energy for the day and can concentrate. Don't drink energy drinks or too much coffee before a test, as caffeine can heighten your nerves.

The waiting game
div>
Sitting in the waiting room before your test is often the time when people feel the most anxious, so it's a good idea to bring a distraction such as a book or a game on your phone.

Breathing exercises are an effective calming technique, so focus as you inhale and exhale. This will have a soothing effect and stop your heart from racing. Laughing is also a great remedy for nerves and helps to boost your mood, so why not watch or read something that really makes you giggle? Remember that this is the worst bit, and most people find their nerves ease once they're on the road.

In the car
div>
The examiner is human and they're not there to fail you – they want you to pass – so don't be afraid to talk to them as it may put you at ease. There's nothing wrong with asking the examiner a question or asking them to repeat an instruction if you didn't hear it, either.

Open the window to let in some fresh air if you're feeling hot and flustered – this can also help to keep you alert. Watch your speed, too. People sometimes speed up when they're nervous, so just imagine you're on a normal lesson, breathe, and focus.

How to prepare for the 'Show me, Tell me' section of the driving test
Learners have to prove they can check basic safety features as part of the driving test, so it pays to swot up beforehand.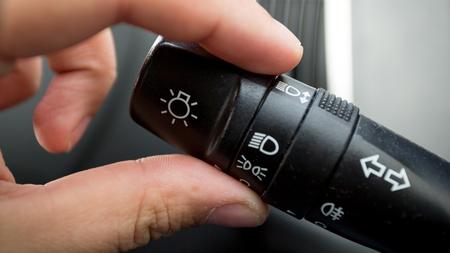 What is the 'Show me, Tell me' part of the driving test?
div>
'Show me' and 'tell me' questions were introduced to the practical driving test on 1 September 2003. Before you start the driving part of your test, the examiner will ask two questions about basic things drivers need to check to ensure their vehicle is safe.

For the 'show me' question, the examiner will ask you to demonstrate a basic safety check. For the 'tell me' question, you have to explain to the examiner how you would carry out such a check.

What sorts of questions will I be asked?
div>
The examiner can ask you about things inside and outside the car, but questions will always relate to basic safety checks and ways you can tell whether or not a car is fit to be on the road. They might ask you about things like the horn, lights or brakes, and how to tell if they're working properly.
Examples of 'show me' questions
div>
An examiner might ask, 'show me how you switch your headlight from dipped to main beam and explain how you would know the main beam is on'. You would then have to turn on the main beams (you might need to switch on the ignition or engine to do so), and point to the main beam warning light.

Or, 'show me how you would clean the windscreen using the windscreen washer and wipers'. You would have to turn on the wash/wipe function, again, possibly with the ignition or engine on.

Examples of 'tell me' questions
div>
The examiner might ask, 'tell me how you would know if there was a problem with your anti-lock braking system'. You would explain that a warning light should illuminate if there is a problem with the ABS.

Or, 'tell me how you would check the headlights and tail lights are working'. Tell the examiner you would turn on the light switch and walk around the vehicle to see if the lights were on (though you wouldn't physically have to do this).

How can I prepare for the 'show me, tell me' part of the driving test?
div>
The government publishes all of the questions examiners are likely to ask in the 'show me, tell me' section of the driving test – and the correct answers – on
its website
, so you can swot up on this part of the test before the day. They also have some videos that show you what this part of the test is really like.
Avoid these 7 practical driving test mistakes
Taking your driving test? Then check out the most common reasons for failing, so that you can avoid making the same mistakes.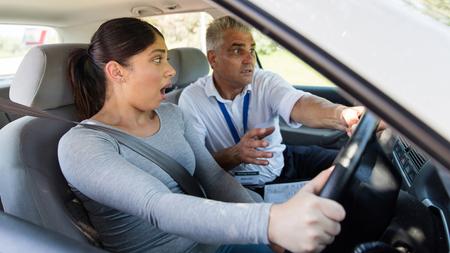 Junctions
div>
Junctions are hotspots for test failures because there's a lot to take in and visibility can be difficult.

Remember the Mirror, Signal, Position, Speed and Look (MSPSL) system when approaching junctions, and check your mirrors well in advance. Make sure you are looking in the direction the car is travelling before exiting the junction, as this is a very common mistake.

If you're turning right, position the car just left of the centre of the road markings. If you're turning left keep approximately a metre away from the kerb where there is sufficient room to do so.

Reversing manoeuvres
div>
Reverse parking is a tricky, low-speed manoeuvre where drivers often feel under pressure during the test. The best approach is to keep the speed right down to maintain as much control of the car as possible.
Responding to road signs and traffic lights
div>
Always look well ahead for signs and signals. The sooner you see them, the better, and if you are approaching traffic lights that have been green for a while, expect them to change.

Learner drivers are often caught out by changes in speed limits, so when you see a sign indicating a lower speed, make sure you slow down accordingly before you enter the new limit. The same applies to higher limit areas: don't speed up until you've passed the sign.

Finally, a stop sign means stop – creeping past one isn't acceptable.

Positioning
div>
Lanes leading up to a roundabout or major junction often catch drivers out, so look for the signs as early as possible and give yourself plenty of time to enter the correct lane.

However, you won't be penalised if you enter a different lane to the one specified by your examiner during your driving test. Providing you have continued to drive safely, the examiner will not mark you down for deviating from the route, so don't be tempted to try to correct your direction at the last minute.

Mirrors and blind spots
div>
Checking your blind spot is an easy thing to forget, so it's a common flaw on a driving test, as well as a dangerous thing to forget. Make sure it's second nature before you take your test. The same applies to mirrors. Make sure you check your interior mirror and the appropriate door mirror before passing obstacles.
Crossing lanes
div>
If you are crossing the path of oncoming traffic, do not move unless you're sure there's time to complete the manoeuvre. A good mantra is, 'if you can walk across, you can drive across'. Causing another vehicle to swerve or slow down is a guaranteed fail.
Nerves
div>
Though they are not measured on the driving test points system, nerves are arguably the most common cause of failure, as being on the spot causes drivers to behave in ways they often wouldn't.

One of the best ways to beat nerves is to visualise passing the test. There is no reason why you should not pass, as your instructor will not send you for a test until they feel you have reached the required standard.

Top tips for driving in bad weather conditions
The UK's weather conditions can turn in a moment, but following our top safety tips should help you be better prepared for any eventuality.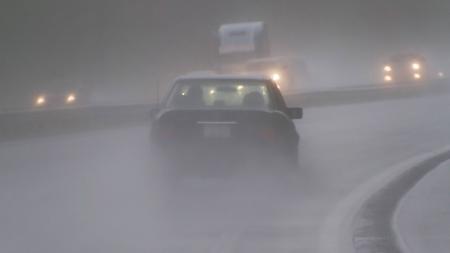 div>
Weather conditions affect driving in a number of ways. The typical stopping distance changes, fog lights might become necessary, and a car journey planner might become essential to avoid flood prone areas.

There are some basic things that you should do when driving in bad weather, like:
• Look out for any severe weather warning by the met office
• Maintain a safe speed
• Be mindful of Vulnerable Road Users (VRUs) such as cyclists and pedestrians, who are at a higher risk of being affected by a car accident
• Delay or avoid going out

There are a few things to keep in mind specific to different, adverse weather conditions: car snow socks might be appropriate for one driving condition, but using fog lights might be the way to go on other days, depending on road and weather conditions.
Driving in heavy rain and floods
div>
Roads are most slippery when oil and dirt coat the road, especially after the first rain.
• To avoid road accidents, maintain double the stopping distance between you and the car in front of you, as it takes double the time to stop on wet roads.
• When the road has flooded, let the car in front of you go first so you can tackle the water one at a time and keep a slow and steady pace in the middle of the road. Test your brakes are working afterwards.
Here's a complete guide on
driving in heavy rains and floods
.
Following these tips can help you keep the car running and risk-free from aquaplaning.
Driving in strong winds
div>
Driving in strong winds is dangerous, as there is risk of vehicles being pushed sideways or losing steering control, especially for high-sided vehicles like Rigid HGVs, Luton vans, double-deckers etc. If you find yourself driving on a windy day, follow these top tips:
• Choose a route that avoids exposed areas, as strong winds can get under the car and significantly affect its handling and braking.
• Use both hands on the wheel and avoid overtaking high-sided vehicles, as they could be blown into your path as you overtake.
• Take particular care around cyclists and motorcyclists who are especially vulnerable in high winds.
• Keep an eye out for twigs or branches in the road.
• Take particular care early in the morning, as debris that has fallen overnight may not have been cleared yet.
• Avoid parking near trees or tall buildings.
• If you break down in strong winds, exit the vehicle by the passenger door and move to a safe location. Lorries and other high-sided vehicles could be blown off course and veer onto the hard shoulder.
If you often find yourself driving in such weather conditions, look for a car with a good Traction Control System (ASR).
Related:
What are ESP and traction control in my car
Driving in ice and snow
div>
For those driving in snow for the first time or for the 50th time, here's
a complete guide to winter driving
to ensure that your car never slips on ice.
Here are some top tips from the guide to get you started:
• Ensure you have de-iced the vehicle thoroughly and you can see clearly through all windows before you set off.
• While maintaining a safe speed is important, it may be beneficial to drive in a higher gear, as this can help your tyres to grip the ice.
• Stopping distances can be up to 10 times more than usual in snow and ice, so leave a large gap between the vehicles in front and drive slowly.
• If traffic in front of you starts to slow, brake gently – slamming them on can cause you to lose control.
• Only drive in ice if your journey is necessary too, as it's best to stay off the roads when the driving conditions are treacherous.
• If your car skids, press the clutch pedal and turn the steering wheel in the direction of the skid. When you start to straighten up, steer along the road. Resist the temptation to brake – it will cause your wheels to lock and you'll skid further.
Driving in fog
div>
Fog reduces visibility levels, making it especially difficult to spot any cyclists or pedestrians nearby when driving. If you're wondering when to use your fog lights, here are some tips:

• When driving in fog, it is best to drive with a three-second gap in between you and the car in front, instead of the usual two-second gap. Slow down to a speed appropriate to the conditions so that the stopping distance needed is within the distance that you can actually see.
• Know when to use fog lights: Front lights aid your visibility so use them even in light fog while saving the rear fog lights for dense weather conditions and considering the vehicle behind, as you could dazzle the driver.
• Be especially wary of patchy fog – one moment the road can be visible, and in an instant visibility is almost zero.
• Slow down gradually and give yourself and vehicles behind you time to react to whatever appears in front.
• If the driver behind is too close, slow down even more to manage the gap in front and if the tailgating persists, find somewhere safe to pull over and let them pass.
• Don't be tempted to follow another vehicle at speed just because they seem to be able to see.
Driving in the dark
div>
What's worse than driving on wet roads? Driving in heavy rain at night!

Learning to drive in the dark can take time, but hopefully these simple tips will help you drive overnight safely:
• To see better while driving at night, use your main beams to see as far as possible on unlit roads and ensure your speed is such that you can stop in the distance you can see. Switch to dipped beams immediately if you see another vehicle approaching.
• Some modern vehicles have bright HID headlights that despite being legal and dipped, can make it hard to see. Don't be tempted to flash your lights – that will only dazzle the other driver.
• Focus on the left-hand edge of the road and try not to look at the approaching headlights. If in doubt, slow down.
• In towns and cities, keep watch for pedestrians wearing dark clothing, cyclists without lights and other VRUs.
Pass Plus scheme: who is it for and benefits
Pass Plus is an optional practical training scheme that helps you advance your driving skills. But should you get a Pass Plus? Find out everything you need to know about the Pass Plus scheme, from 'what is Pass Plus?' to 'is Pass Plus worth it?'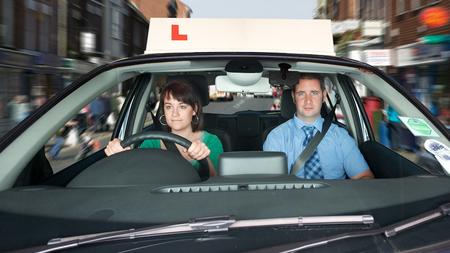 What is Pass Plus?
div>
The Pass Plus scheme is a six-hour practical training course designed to improve your driving skills further and drive more safely. You can start the Pass Plus scheme after you've passed your driving test.

To complete the Pass Plus scheme, you need to drive in six different situations:
• Dual carriageways
• Motorway driving
• Rural roads
• Complicated city situations
• All weather conditions
• Night driving

We'll cover how to prepare for each of these, further down.

How to book a Pass Plus course
div>
How much does Pass Plus cost ?
div>
The fee for this course varies according to the region you live in. The fee is charged by the instructor or the driving school, and can also be based on how long the lessons go on.
Some local authorities
offer discounts of up to 50% for Pass Plus training to residents living in their areas. If you live in the council's area, then you can be eligible for the discount.
Is Pass Plus worth it?
div>
The Pass Plus scheme can help you gain confidence and experience after you've passed your test, and learn how to reduce the risk of accidents.

New drivers can face high insurance premiums, as their lack of experience means they're considered the highest risk group. Many insurance companies offer discounts to drivers who have completed a Pass Plus course, so you could qualify for cheaper premiums.

Can you fail Pass Plus?
div>
There's no test to qualify for the Pass Plus course, which means you won't fail. You'll pass the course once you meet the required standard in all modules.

You'll be assessed throughout the course by your instructor. Once you've met the required standard, the instructor will give you a report form, which you and the instructor will have to sign.

Preparing for Pass Plus
div>
About to take your Pass Plus course? Here are our top tips on every type of situation.
1. Driving on dual carriageways
div>
On a dual carriageway, the side of the road you drive on and the side oncoming traffic drives on are separated by a raised kerb, barrier or grass patch. Dual carriageways are usually used for shorter journeys and have various junctions, exits and roundabouts. They have a national speed limit of 70mph.

You can enter a dual carriageway using a slip road. Pay attention to your car's speed; driving too slowly can be dangerous and impact the vehicles around you. Concentrate and keep checking your mirrors and blind spots and use your indicator to signal when you're joining.

Once you've joined the dual carriageway, drive in the left lane unless you want to overtake.

Pay attention to road markings and signs that signal that the dual carriageway is coming to an end.
2. Motorway driving
div>
Motorways are for vehicles only, so pedestrians and cyclists are not allowed on them. Learner drivers, tractors and slow-moving vehicles are also not permitted to use them, unlike dual carriageways.
You can normally enter a motorway using a slip road or an adjoining motorway. When joining a motorway, check incoming traffic and match the speed of the vehicles so that you join them easily. Slowing down at this moment can be dangerous to you and those around you.
Stay in the left lane unless you need to overtake. Unlike dual carriageways, motorways have a 'hard shoulder', which is a lane for an emergency stop. You should not drive in the hard shoulder.
Keep a safe distance between you and the vehicle in front of you, especially when it's raining or snowing.
Learn more about driving in snow
You should drive within the national speed limit of 70mph, same as dual carriageways. The exception to this is a smart motorway, which can adjust to speed limit to 60mph, 50mph or 40mph to best manage traffic. Smart motorways use speed limits and other traffic management methods, such as using the hard shoulder as a lane, to reduce congestion and increase capacity.
Motorways are usually used for long journeys which can get tiring, so make sure that you don't start feeling sleepy. Be observant of any exits that you need to take as, if you miss your exit, you'll need to drive for a long stretch until the next exit. Use your indicator at the first marker to let the vehicle behind you know that you're about to exit.
You may see light signals on the motorway. What the signals mean will be covered in detail on your Pass Plus course but as an introduction:
• An amber light flashing is a warning sign for some hazard ahead or indicates bad weather
• A red flashing 'X' means the lane is shut, so you shouldn't drive in that lane
3. Rural roads
div>
Quiet rural roads can be dangerous to drive on, due to the various blind bends, narrow lanes, mud, flooded areas and poor road conditions. With practice, you should become more confident at navigating these tricky roads.

Be careful when driving on narrow roads, as they only allow one vehicle to pass by at a time. To stay safe, drive at a slow speed and use 'passing places' to allow the other vehicle to pass.

Rural roads usually often don't have streetlights. Use your headlights at night as the roads can be dark making the visibility low.

Be careful of any loose animals, such as a herd of cattle, on the road. Slow down your car and allow the animals to pass by safely. Don't use your horn as it may scare the animals.
4. In town or cities
div>
Driving in the city can be complicated because you need to constantly check for pedestrians, cyclists, buses and so on. You can also face heavy traffic as the streets are generally busier, which can make looking out for road signs difficult.
It's wise to plan your trip ahead and drive when there's less traffic. This can also help you get a better parking spot. If this isn't an option, try and remain calm if you find yourself driving in heavy traffic.
You should also concentrate more as you need to stay on the lookout for any sudden vehicle movements, or people walking in front of your car. Keep checking your mirrors and leave enough space between you and the vehicle ahead of you for any sudden stops.
Remember to check whether there are any
congestion zone and ULEZ charges
, and pay them if you need to.
5. All weather conditions
div>
Bad weather conditions require you to be even more careful when you're driving.
Ice and snow
can make the roads slippery while strong winds can cause havoc on the roads.
This is quite a big topic, so we've written a whole guide on it to help you with everything from snow to black ice. Learn more about how to drive in
dangerous weather conditions.
6. Night driving
div>
Driving at night can be dangerous if you don't stay fully alert.

Not only does the darkness affect your visibility but the flashing lights from other vehicles can affect your vision as well. Make sure that you don't look directly at the oncoming vehicles, and follow the white-line markings to stay in your position.

Be extra vigilant for any pedestrians or cyclists near your car as they will be harder to see at night.

Before you start driving, always make sure that you're not feeling sleepy and are okay to drive.

Get a new insurance quote
div>
If you've passed your Pass Plus course, then congratulations!
As we mentioned above, car insurers can look more favourably on those that have passed this course and you could save money on your car insurance as a result. Get a
free car insurance quote to see how much you could save
.
Learning to drive
How to pass the hazard perception test
How to pass the driving theory test