News
Win a Ford Mustang Mach-E GT
Win a brand-new Ford Mustang Mach-E GT worth over £69,000!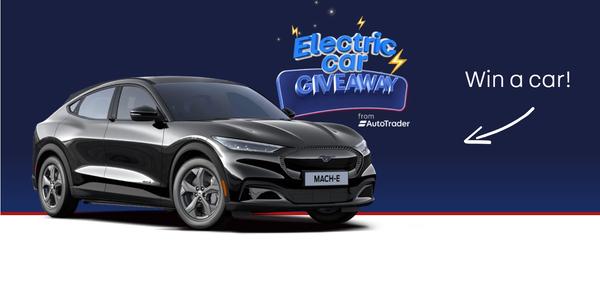 Auto Trader's EV Giveaway is back for another month with one of the biggest prizes to date: a
Ford Mustang Mach-E GT worth over £69,000
.
This stunning car, available in Absolute Black, is a five-door all-electric SUV with GT Performance Seats and Panorama Roof for GT. To enter, simply fill in the form on our giveaway page. A pre-populated Tweet will appear on screen following your standard entry via the form, and if press send on the pre-populated Tweet you'll get an additional entry. Couldn't be easier. Full
terms and conditions are here
.
Get to know the Ford Mustang Mach-E
The Mustang Mach-E GT is the high-performance version of Ford's stylish electric SUV. Combining Ford's formidable performance car heritage from both sides of the Atlantic, the Mach-E GT is packed with character and laden in style.
There's a huge amount of safety kit offered on the Mach-E, from blind-spot warning systems to dynamic brake support and evasive steer assist. Adaptive cruise control and lane keeping assistance are also standard for the GT, as are 360-degree cameras to help with parking what is a pretty big car. You get 91kWh battery, which is good for an official 310 miles, with an eight-year battery warranty for peace of mind. Twin motors deliver a combined 487 horsepower, which is over 100 more than the next most powerful model and underscores that the GT is all about performance.
Read (and watch!) our full review now
.
The Auto Trader Electric Car Giveaway