News
Facelift for Mercedes-AMG C43 at Geneva Motor Show
Mercedes tweaks the milder of the two performance versions of the C-Class saloon and estate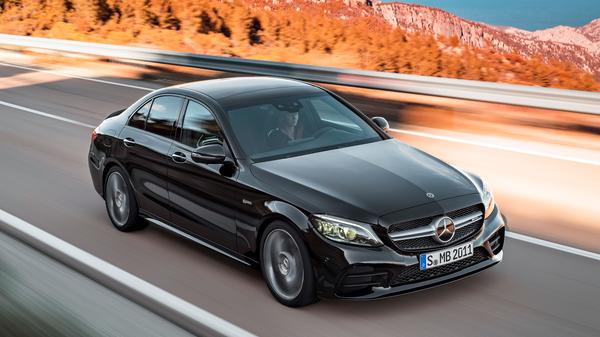 Mercedes-AMG C43 gets more power
Tweaks to looks
Speeds remain unchanged
Mercedes-AMG
has given its second-most-potent
C-Class
, the C43, a series of revisions to its engines and its looks, with the updated car making its global debut at the 2018
Geneva Motor Show
.
The most notable change is to the engine, with the V6 3.0-litre getting a boost in power of 23 horsepower to take its overall output from 367 to 390 horsepower. However, despite this tweak, there is no discernible change to the car's performance, at least on paper. The 0-62mph time remains at 4.7 seconds for the saloon and 4.8 seconds for the estate. Because the car now boasts more pulling power, though, it is expected to be
slightly quicker
when accelerating on the move, such as from 50mph to 70mph. Other changes include a new 'Slippery' driving mode, which is designed to help cope with
icy and snowy conditions
. It helps boost traction by always pulling away in second gear. The nine-speed automatic gearbox has also had a minor tweak, with marginally shorter shift times.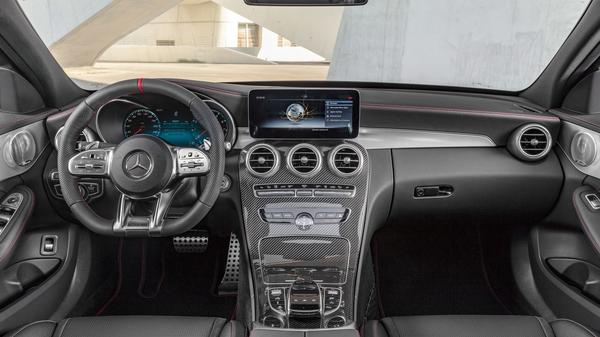 The visual changes include a new AMG radiator grille, which gets matt silver bits, and some aerodynamic alterations that should help improve air flow. There are new AMG alloy wheels, with two choices in all, while there is a new set of tailpipes at the rear.
Inside, it gets a new AMG steering wheel offered as standard, which is coated in nappa leather and has a pair of galvanised steel gear-shift paddles. The built-in touch control on the wheel are also new, and allow the driver to swipe through various functions on the infotainment system. The tweaks are expected to be applied to the coupe and cabriolet versions in the future, and more information on those variants, and the pricing of the saloon and estate, are yet to be confirmed. As ever, with more stuff being offered as standard, expect a slight rise on the £45,830 starting price of the C43 saloon.