Long Term Review
Living with a… Citroen C3 Aircross
Senior road tester Phill Tromans swaps a hatchback for a small SUV, and spends six months with Citroen's funky-looking family car.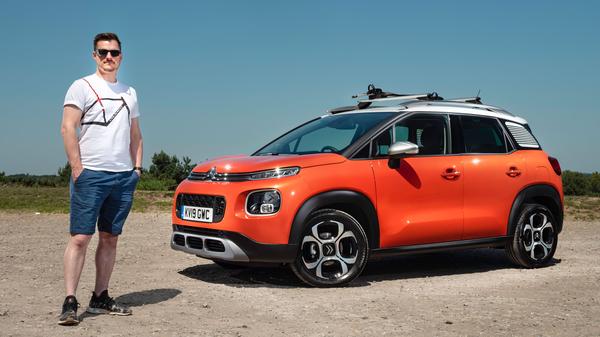 After six months
living with a Ford Focus
hatchback, I've now returned to the world of SUVs. Small SUVs are exploding in popularity, with all the major manufacturers producing at least one. The idea is that they provide the attractive points of a "traditional" SUV – space inside, a high driving position and a feeling of security – with a smaller footprint that won't feel massive on British roads.
My new ride, then, is a
Citroen C3 Aircross
, and it's an SUV that really stands out in a crowded marketplace. There's no other small SUV that quite looks like this, with its chunky, bubbly styling and, in my case, bright Spicy Orange paintwork (a £520 option). I don't think I'm ever going to lose it in a car park. Like all versions of the C3 Aircross, mine comes with a 7.0-inch touchscreen that features
Apple CarPlay
for plugging in my phone (and Android Auto too, if you're that way inclined). This is an immediate plus for me, as I tend to use my phone's navigation, podcast and music apps on the move far more than any of the built-in Citroen systems. But rest assured I'll have a play with the proprietary stuff as well, to compare. It also comes with automatic headlights and cruise control with a speed limiter – features that are increasingly vital in these days of average speed check cameras – as well as tinted rear windows and air conditioning.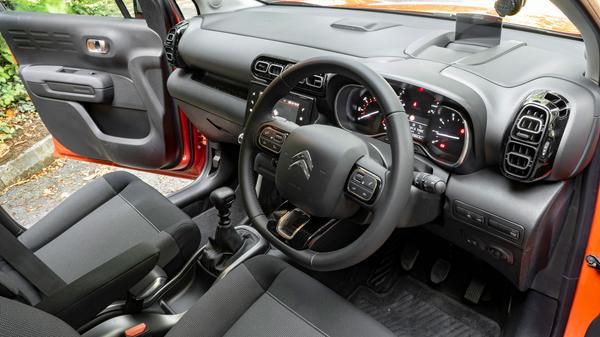 This is the Flair trim, which is the higher of the two available on the Aircross (the other being Feel). That gives it several extra features, including keyless entry and start (open the door and start the engine without having to fiddle with a key) and 17-inch alloy wheels. It also has a rear-view camera and sat-nav, and a white roof, which is a no-cost option. I'm not sure how much I'll need them, but the rear seats slide forward and backward to give either more boot space or more legroom for passengers.
I've got a few extras on my C3 Aircross, including the Techno HiFi Pack (£650), which gives me a head-up display that rises out of the dashboard and shows speed information, as well as a wireless charging tray for my phone and an improved sound system courtesy of a subwoofer and amplifier. The Family Pack (£260) includes a front passenger seat that can fold completely flat, which could be useful for lugging things around, as well as an arm rest for the driver and automatic high beam on the headlights. This system will default to high beam at night unless it detects oncoming cars, traffic in front of you, or you're in a built-up area. Engine-wise, I've got the BlueHDI 100 manual, which is a 1.5-litre diesel with 100 horsepower. I'm a little worried that it might feel underpowered, but having said that, the grunt you get low down in the rev range in diesels may make up for the relatively low overall power. We'll see. The manual gearbox is a six-speed. My aim for my six months with the car is to see how well it fits into my general lifestyle. Having gone from a
larger SUV
to a
pick-up truck
to a hatchback in the past 18 months, this is something new. I did occasionally find with the Focus that I wanted more space, so perhaps an SUV will help that, while being easier on fuel and less bulky than the
Kia Sportage
I ran before. I generally do a lot of driving on my own, often for long distances on motorways, so fuel economy, ride quality and creature comforts will be important. I also carry bicycles and assorted related paraphernalia, so for that reason I've had some roof bars (£189) and a Thule bike carrier (£67) added. The future then, for the next six months, is orange. Hopefully, it'll also be bright.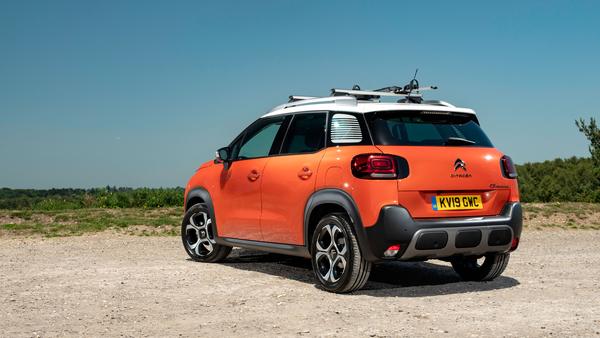 Month two: worst fear realised
Mileage: 1,734
Costs: £0 for the car, £475 in bicycle repairs At the end of my last
Ford Focus long-term report
, I shared my enthusiasm for towbar-mounted bike racks. I also shared my fear that with a roof-mounted bike carrier, I'd forget that the bike was there and smash my pride and joy into a low roof. Well, guess what happened this month. Deciding that my fear was irrational, I strapped my quite expensive carbon-fibre road bike into the roof-mounted Thule carrier that came with my Citroen. I positioned the lockable arm to keep it securely in place and happily drove to a lovely part of the Sussex countryside. I took the bike down, went for a very nice ride, then strapped it back on and drove home. At no point did I encounter a low bridge, or a car park entrance, or anything that could render my bike into shards. On returning to my block of flats, I went to park in an outdoor space. Out of habit, I swung the car right to reverse left into the bay you see in the below picture, as I've done hundreds of times before. I forgot that there was a low roof to the car park right in front of me. Crunch. Swear words.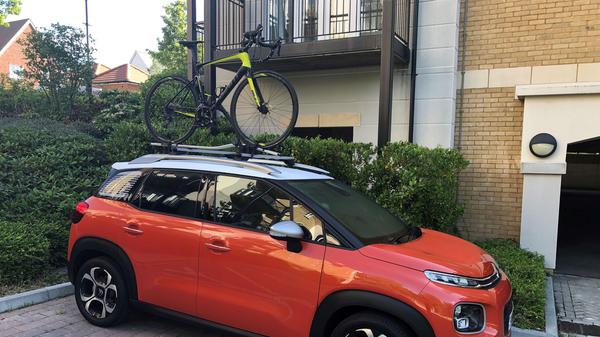 That three seconds of running on autopilot is about to cost me £475 to fix a cracked bike frame (it has to be sent to a composite specialist and will take months), but thankfully it hasn't caused any damage to the car. I can't have been doing more than 1mph when I clonked the bike, but that's frankly of little solace.
Luckily, I have a spare bike, which is just as well, as I'm training for the Ride London 100-miler. I've been transporting the replacement bike inside the car. My roof-carrying days are over, and I've vowed that, for future reference, the extra expense of a towbar-mounted rack is well worth the money. As it's not a full-size SUV, fitting the spare bike into the C3 Aircross could have been rather tight but for the fact that, as part of the Family Pack, the front passenger seat folds down completely, which lets the bike fit in without taking any wheels off. I can see that being a very useful feature if you're regularly using your car more like a van. I'm moving house in a couple of months, and have kept that feature in mind should we need any long flat-pack furniture. Disasters aside, I've put plenty of miles on this Citroen over the past month or so, including a few multi-hour drives, and it's been very pleasant for long journeys. The driver's seat armrest is particularly appreciated when spending ages on the motorway, and so is the upgraded sound system, which has been chirping out music from my phone with impressive clarity. I've been getting decent fuel economy too, at more than 50mpg. So it's not all bad news. Just don't mention the roof rack.
Month three: no cups for you
Mileage: 2,386
Costs: £0 It's difficult to mistake a Citroen for anything else. I've been mulling that over the last few weeks when returning to a car park and trying to remember where I've parked the C3 Aircross. It's not hard to spot. Not just because it's bright orange, although that definitely helps, but because the overall design is so different to anything else in the market. In an age where aerodynamics, legislation and safety requirements go a long way to making one car look much like another, it's refreshing that Citroen is going out of its way to make its cars identifiable and memorable. It's pretty different inside too, with all sorts of interesting design choices, although since I've started using it regularly, there are a few touches that seem a little bit like style over substance. The main culprit so far is the handbrake, which is a very nice piece of sculpture reminiscent of a jet fighter's throttle. It looks great, but it takes up basically the whole space between the front seats. That means there's no room for cupholders or a cubby hole to keep stuff. I'm all for spangly design, but not when it compromises practicality. The lack of cupholder is annoying, as I have a long commute each day and like having a coffee mug and a bottle of water to keep me going. Luckily my coffee mug is one of the tall, sealable ones, and I can put it in the door pocket, but if I'd got a takeaway cup from a shop, or a can of soft drink, then I'd have nowhere to keep it.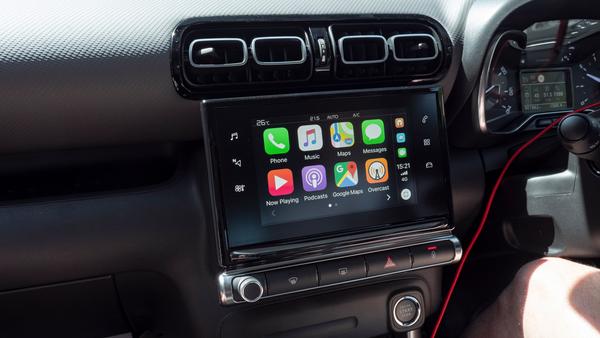 There is a storage area in front of the gearstick, which also has a wireless recharging pad for my phone. I tend to use
Apple Car Play
, which requires me to plug my phone in via USB, and I use a holder to mount the phone on the windscreen. My preferred navigation app, Waze, shows the map on the car's screen and turn-by-turn directions on the phone. This all means that I don't really have a use for the wireless charging pad, but at least it doubles as a handy place to keep my wallet and keys while driving.
Speaking of Apple Car Play, it's a very useful feature to have, and with BMW making it a paid-for subscription option in its cars, I'm pleased that Citroen has decided to provide it for free. If there's any niggle with the C3 Aircross' implementation though, it's that sometimes the system takes an age to recognise my phone. Often it's almost instant, but sometimes I'll have got in and be two minutes down the road before it loads up. In other news, part of the volume knob fell off. But it slotted straight back in again. I'm still not sure what caused it to ping off, but it all seems fine now.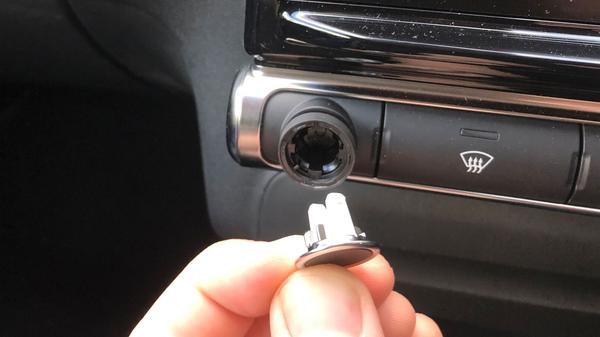 Month four: Options options options
Mileage: 3,196
Costs: £0 This month, I thought I'd reflect a bit on the added extras on my C3 Aircross. In the last couple of years, more and more manufacturers seem to be of the opinion that a large options list merely complicates the already complicated process of buying a new car still further, so it's started throwing more stuff in as standard. Look at a recent Mazda and once you've chosen what trim level you want, you can pick a colour and that's about it. But my Citroen has a few options boxes ticked, so here's how I've got on with them so far. It's important to note that the price tags for these, as noted below, might seem quite high, but when you spread them out over the usual financial period of a few years, they make less of an impact. First things first, the metallic paint. For £520 I had my C3 Aircross sprayed in Spicy Orange, which when combined with the bubbly looks really makes the car stand out. It's one of my favourite features about the car but, if I'm being hyper-critical, I wish it was actually a bit brighter still. Might as well go the whole hog and sear some retinas.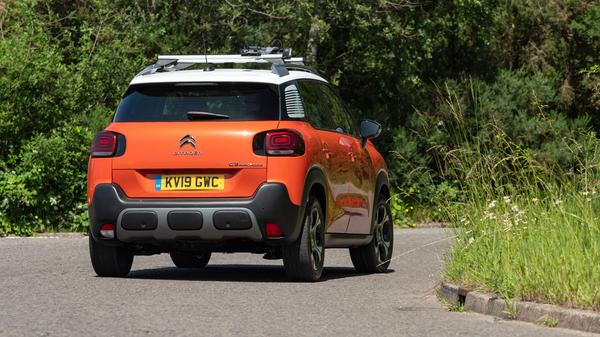 Next up, the Techno Hifi pack (£650). As the name suggests, this beefs up the sound system from standard, chiefly by way of a subwoofer. I listen to a lot of music as well as spoken word podcasts, and the sound has been rather good. Not spectacular, but when you consider that higher-end car stereo upgrades can easily hit four figure prices, it's not bad and worth doing. Besides, you also get a the wireless charging and the head-up display, which shows driving information on a small screen in the windscreen. I'm a big fan of these devices, as they mean you don't have to glance away from the road as much, and the Citroen's works well. It's maybe not the prettiest iteration of this type of technology, but the versions that beam the info directly onto the windscreen itself tend to be much more expensive, especially if you get a crack in the glass and have to replace it.
The Family Pack (£260) has given me an armrest on the driver's side, which I adore. I'm not sure why, but on long motorway journeys, being able to rest my elbow rather than have it hang down makes for a much more relaxing experience. It adjusts in height so I don't need to compromise my hand position on the wheel either. The folding front seat I've discussed above – I've only used it once, but it was very useful. The driver attention alert system, which will sound an alarm if I'm in danger of falling asleep, hasn't gone off yet, which is probably a good thing. And the automatic high-beam assist? Well, this is been mixed. In theory, it's a great idea – the car will automatically switch on full beam at night if there's no vehicles ahead of you. In practice though, it's been a bit hit-and-miss, occasionally not dipping the lights when it should, resulting in some irate flashing from oncoming drivers. I've used similar systems in different cars, and when they work they're just remove a distraction from night-time driving, but this one isn't the best. Lastly, the roof bars and the bike carrier. I think we've covered this above. I've not used them again.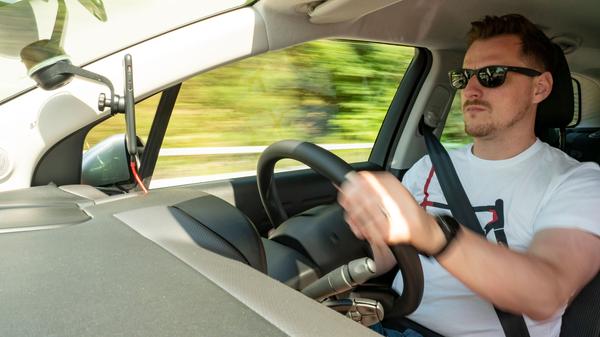 Month five: Terror revisited
Mileage: 3,740
Costs: £0 I decided this month that I needed to stop being silly, writing off a piece of equipment just because I'd had one bad experience. So with my carbon road bike repaired, and a few months passed since The Accident, I decided to give the roof-mounted bike rack another crack. After all, at less than £70, the carrier is perhaps the most affordable way of transporting a bike securely. A tow bar-mounted system – which I still maintain is better – is at least several hundred, and that's assuming you already have a tow bar fitted. Plenty of people use then, I just need to make sure that "out of sight, out of mind" doesn't apply when I'm on the move. Since the previous encounter between bike and roof, several people told me of methods that involved labels or sticky notes left in the glove box and mounted to the windscreen as a visual reminded of the wheels above. Perhaps tempting fate, I decided that the substantial repair bill I'd just paid was reminder enough. But I still took the precaution of loading my much cheaper bicycle on the roof for a short trip down to my in-laws ahead of a ride.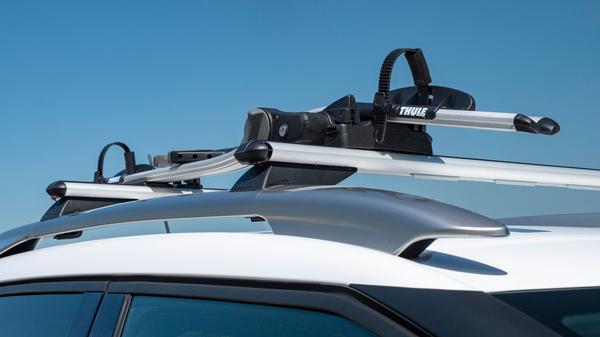 I'm delighted to say that it went generally smoothly, and I made absolutely sure to stay away from anything that could impinge on my airspace.
I'm still not a firm convert however, and here's why. Firstly, I'm six-foot tall and have a relatively light bike, and still found that lifting it up onto the roof on my own isn't the easiest manoeuvre in the world. If you're five-foot-something and have a heavier shopping bike, lugging it up above your head without help or a stepladder might be a challenge too far. I also noticed, glancing at the shadow of the bike on the road next to me as I drove home, that its front wheel wobbled around at motorway speeds. I stopped in a layby to check everything was strapped down properly. It was, which means the chances of it flying off were minimal. But it's distracting, and I can't believe it does either the bike, the carrier, the roof bars or the fuel economy any good over time. I feel like I've exorcised a demon of sorts, and I'm fairly sure that I won't be making my original mistake again. But I maintain that transporting the bikes behind me, rather than above me, is a better idea. Somewhere I can keep an eye on them. In non-bike carrying news, I had a chance to jump into another C3 Aircross this month. While it was a lower-spec model than mine, it had cup holders in it, two next to each other where the wireless charging pad is in my car. This again smacks of a lack of planning: when a supposed upgrade takes away practicality in a family car, someone's not thought things through properly. Still, it's interesting to know that you can carry your beverages around in a C3 Aircross as long as you pick the right model.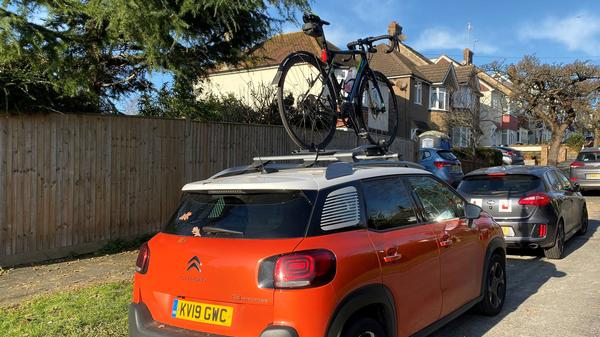 Month six: Farewell
Mileage: 4,471
Costs: £0 And so the man from Citroen has come and taken back the keys to the C3 Aircross, and I've spent a few days since wondering how I feel about it. With each of the previous long-termers that I've run at Auto Trader, I've had fairly definite opinions on them. But with the Citroen, I've struggled. And to compound that, I'm not really sure whether that's a good or bad thing. If there's one thing I've taken away from my time at Auto Trader, it's that not everyone has a great interest in cars. Most people don't, in fact, it's just something that they need to facilitate their lives. Aspects that I take great personal interest in will be of little concern to the majority. I strongly suspect, for example, that the nimble handling of the Ford Focus will meet with little more than a shrug from a lot of people. So the fact that I've been relatively unmoved by the C3 Aircross in terms of how it drives is probably academic. It's not great, but then it's not terrible either, and it'll be fine for most people. Can you do better? Yes. Will you be uncomfortable? No, not really. You press a pedal, turn a wheel, it goes where you want it to. Tick.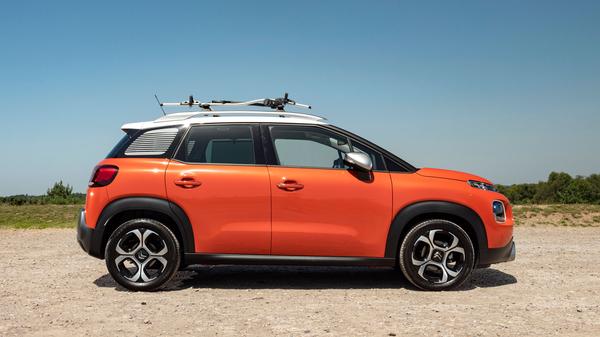 Of much more interest to most will be the looks, which countless bits of research tell us are the number one priority for a huge number of buyers. And on this, the C3 Aircross knocks it out of the park. Even without the bright orange paint, it's got visual punch to spare. Nothing else on the market looks like a Citroen and while the bubble bodywork and miscellaneous headlights might put off more conservative buyers, plenty more will love them. With its loud paint job I can always spot it in a car park, and I think it looks great.
I have had a few issues with the car's practicality. In some areas, it's brilliant: I love that the front seat can fold down for extra space, and there's plenty of room in the back and boot for people and stuff. It's also been useful to have a small shelf above the glovebox to keep a couple of pens on. There's a rubberised surface to stop them rolling about. No more faffing about trying to find one when you need one. But the lack of cupholders has ground my gears more than it should. Maybe it's because I do a lot of long journeys and want a beverage to keep me going, or maybe it's because I know other C3 Aircross models have them but in mine they're replaced with a largely redundant wireless charging pad. I know it sounds ridiculous to criticise a car for something so trivial. But when you drive a lot, it's one of those niggles that keeps grating and grating.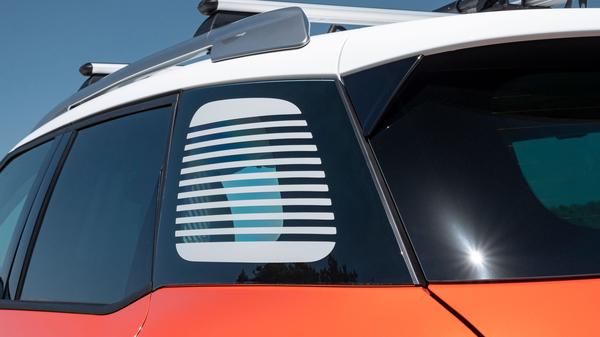 Head-up display? Great, and well worth having, as is the sound system upgrade that all comes as part of the Techno Hifi Pack. I'd have liked a bit more punch from the 100-horsepower BlueHDi diesel engine though. I'm not sure the reasonable fuel economy achieved – an average of 50.3mpg over six months – has made up for the number of times I've had to hurriedly change down a gear to eke a bit more grunt from it as I lumber up a hill. The manual gearbox is a bit squidgy too, and lacks the slickness of some rival cars. There aren't any other diesels available at the time of writing, but there are two petrol engines with 110 or 130 horsepower, and having tried them in different cars, I suspect they'd be more perky.
I've had no technical issues, save for a few occasions where Apple CarPlay (which is great) has either failed to load or taken an age. Usually pulling the cable out of my phone and plugging it back in again sorts everything out. Would I recommend the C3 Aircross? That's a tricky one. If you're sold on the looks, and haven't tried too much else on the market, then you're unlikely to be too disappointed with your purchase, especially if you value as much space as possible in a car of this size. But this small SUV market is super popular at the moment, and it's crammed with cars that, if I were spending my own money, I'd pick ahead of the Citroen. Cars like the < ahref="https://www.autotrader.co.uk/cars/volkswagen/t-cross">Volkswagen T-Cross and
Audi Q2
feel nicer inside, and the
Seat Arona
and
Kia Stonic
both have zippier handling. The latest
Nissan Juke
is vastly better than its predecessor and, arguably, matches the Citroen for quirky styling. There's so much choice. But whatever I end up choosing, I'd add a tow bar-mounted bike rack.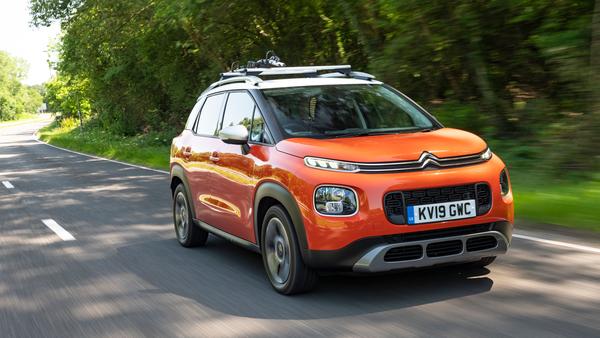 Key specs
-Model: Citroen C3 Aircross Flair S&S BlueHDi 100 manual
-List price: £20,885 MRRP -Price as tested: £22,315 -Engine/gearbox: 1.5-litre turbodiesel, six-speed manual -Power: 100 horsepower -Torque: 300Nm -Top speed: 114mph -0-62mph: 10.8 seconds -Economy: 54.4-63.07mpg combined (WLTP, claimed) -CO2: 103-106g/km (WLTP) Everything extra fitted to our long-termer: -Metallic paint (£520) -Techno HiFi Pack* (£650) -Family Pack** (£260) -Roof bars (£189) -Bike carrier (£67) *(Wireless charging, colour head-up display, 3.5-inch colour binnacle display, hifi radio with subwoofer and amplifer) **(Fold-flat front passenger, front arm rest, automatic high beam assist, driver attention alert)