First Drive New Kia Niro hybrid crossover first drive review
Kia claims the Niro is the world's first ever hybrid crossover, but is that really enough to give it the edge over the Toyota Prius and more conventional crossovers?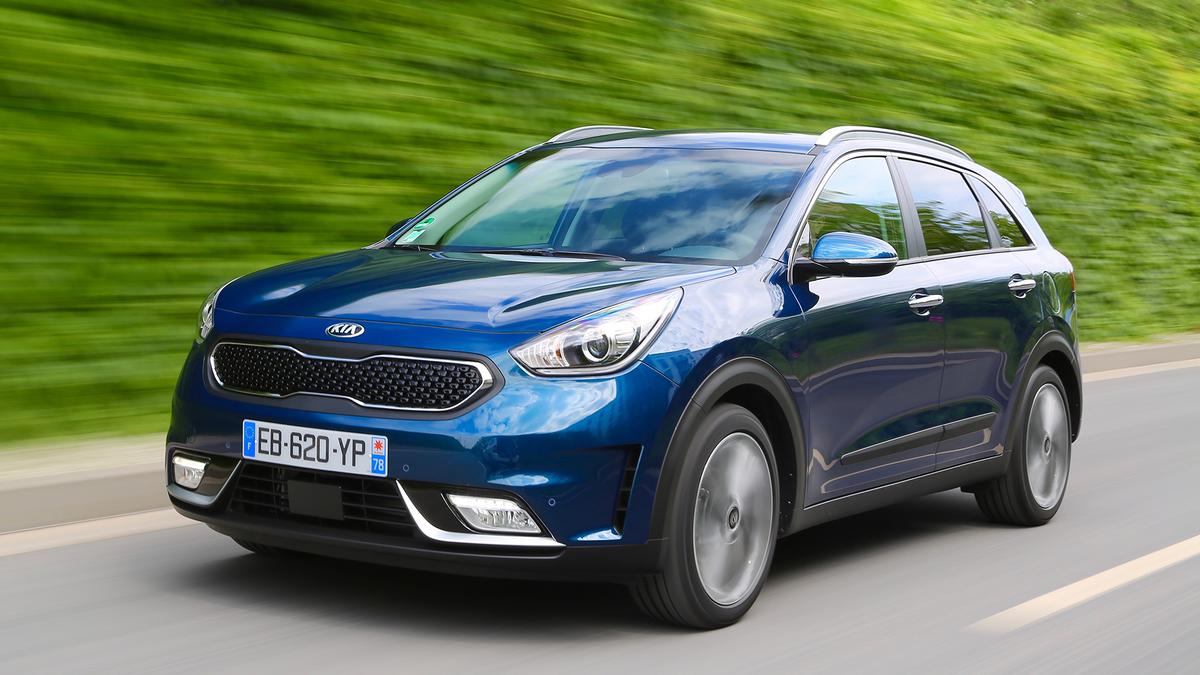 View gallery
Auto Trader verdict:
The Niro Hybrid represents a serious challenge to the market-leading Toyota Prius and, in some respects, it's a better bet. For a start, it uses a proper twin-clutch automatic gearbox rather than the dumb-witted CVT that Toyota owners are saddled with; and, unless we're sadly mistaken, the Niro will be competitively priced and come with loads of standard kit.

It's not all good news, though. On the face of it, the Niro is neither as as efficient nor as spacious as the Prius, and its cabin quality is a throwback to the 1980s. And that's before we get to the real elephant in the room... Look beyond the limited choice of hybrids and there are umpteen infinitely superior possibilities. Nissan Quashqai 1.5dci or Volkswagen Tiguan 1.4 TSI, anyone?

Need to know:
Kia reckons the Niro is the first ever hybrid crossover

On sale in September. Price from £22K (est)

Seven-year warranty includes battery pack
What is it?
Kia is convinced that diesel has had its day and, within five years, 20% of the cars we buy will be powered by petrol-hybrid powertrains. Hence the introduction of the Niro, a crossover that's powered by a combination of a 1.6-litre petrol engine and an electric motor. Together, they're capable of returning an official 74.3mpg and producing a paltry CO2 output of just 88 g/km.

Of course, Toyota/Lexus has been banging the hybrid drum for decades, but other than the rise of the ubiquitous Uber cab, we see little evidence of a dawning hybrid revolution.

Most likely, this is because hybrids work best within the confines of a gentle urban driving environment, where the use of the electric motor can be maximised. Get a hybrid legging along a motorway and the petrol engine will be working full time; and, because it's dragging the extra weight of a battery pack, it'll actually be less efficient than a traditional petrol car, let alone a diesel.

As for the crossover tag, that's a bit debatable, too.

Apparently, anything with a ride height higher than a snake's belly, besmirched with matt black plastic wheelarch cladding and faux roof rails – you can forget about strapping those jerrycans to the roof to get you across the Serengeti – qualifies as a crossover these days.

To put the Nitro in context; it's actually a bit taller than a Cee'd hatchback, but a fair bit lower than the Sportage SUV. Consequently, there's no need to haul yourself in and out trucker-style – handy, if you've got your heart set on a spot of mini-cabbing – and things feel little different to a family hatch once you're behind the wheel.

Although official pricing is still to be announced, expect £22K as a starting point, which puts the Niro bang in Toyota Prius territory. However, Kia being Kia, you can pretty much guarantee the Niro will come with loads of standard kit.

The cars we drove – granted, they were top-spec models – came loaded with heaps of active safety kit and big-car luxury features, such as dual-zone climate control, a mobile phone charging mat, and a trick nav and infotainment system, replete with Apple CarPlay, Android Auto and a 7-inch capacitive screen that allows you to pinch and scroll in a similar manner to your smartphone. Additionally, cooled and heated front seats, plus a heated steering wheel and heated pews in the rear will all be available to help keep you-and-yours cosy on those cold winter mornings.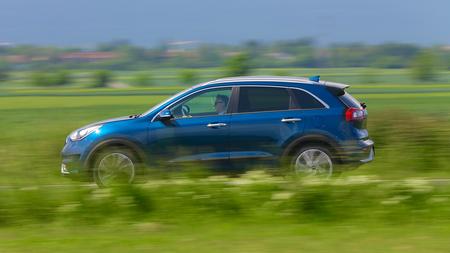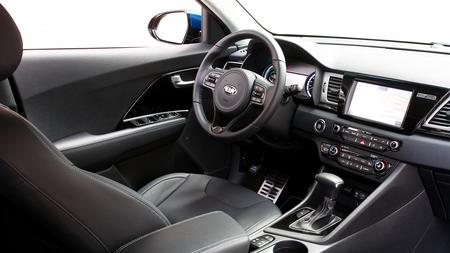 What's it like?
Ok, let's forget the whole hybrid versus diesel debate and assume you're dead set on hybrid. If that's the case, then you probably want to know if the Niro is better than a Toyota Prius.

Undoubtedly the bushiest feather in the Niro's cap is its twin-clutch automatic transmission, which is infinitely superior to the compromised contraption that's found in the Prius. Unlike the Prius, the Niro delivers near-instantaneous drive and, because the shift gaps are filled in by power from the electric motor, the changes are all but seamless, with just the occasional shunt as the box moves up a gear on a trailing throttle.

Equally, on the rare occasions we were able to experience it, the transition from electric drive to combined mode seems pretty cute, too. Ideally, we'd have liked more experience of these transitions, but despite our twinkle-toed efforts, the powertrain stubbornly refused to remain in EV mode, preferring to call the petrol engine to arms as soon as we set off from the mark. Unlike the Prius, the Niro has no button that'll allow you to force the powertrain into EV mode.

As such, performance felt pretty stately and the mechanical blare emanating from under the aluminium bonnet became quite intense and thrashy when the engine was extended.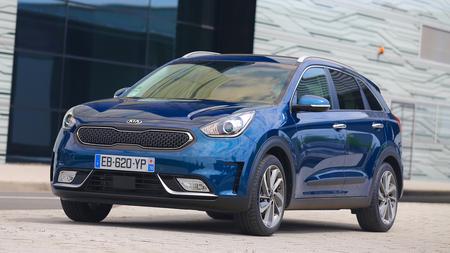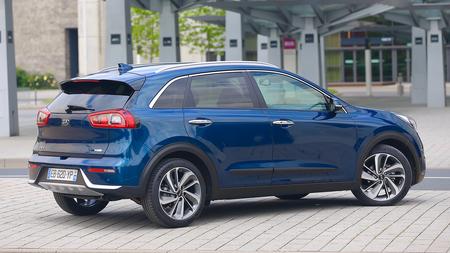 Despite Kia's claims that the Niro is the best-driving car in its class, that's not much of a boast, if it was benchmarking the Prius. While the Niro's body rises and falls in a reasonably controlled and comfortable manner at dual-carriageway speeds, at lower velocities, the ride is really quite jiggly. The handling is pretty sloppy, too, with a defined nose-heavy feel and tardy steering reactions. Overall, the Niro is definitely not the kind of motor you want to hurl down a country lane.

Cabin quality is nothing to write home about, either. While hard, grainy plastic mouldings dominate, and the graphics on the sat-nav look like they've been lifted from a Batman comic, the shiny finish and clicky activation of some of the switchgear smack of historic Kias.

Granted, the Prius's plastics are no great shakes, either, but when you consider you can have an impeccably built Volkswagen Tiguan for this kind of cash, the Niro's cabin looks and feels like some savage cost-cutting has been levied in order to offset the additional cost of the hybrid powertrain.

At least rear leg- and headroom are pretty good; and, there's easily enough room for two adults in the back, but the cabin is fairly narrow, so sitting three abreast might be a squeeze. Without the benefit of a tape measure, we'd guestimate that there's more elbow room in a Prius. Equally, although boot space is pretty reasonable at 427 litres, that's still smaller than the Prius' 502-litre trunk.
Should I get one?
If the majority of your motoring is spent commuting into city centres, and you're still not convinced by the practicalities of electric vehicles, then a hybrid could well work for you.

As such, the Niro will provide you with a low level of taxation and go a long way to salving your green credentials – city dwellers take note. Offering plenty of space, lots of standard kit and the convenience of an automatic gearbox, on paper at least, the Niro looks an attractive proposition. Whether you're able to gloss over the poor interior quality and put up with the Niro's lacklustre driving qualities is quite another matter.

Key facts:
Model: Kia Niro hybrid crossover

Price: from £22,000 est

Engine: 1.6-litre 4 cyl petrol engine and electric motor, six-speed twin-clutch automatic

Power/Torque: 138bhp/195lb-ft

0-62mph: 11.5sec

Top speed: 100mph.

Economy: 74.3mpg

CO2/BIK tax band: 88g/km/13%

Boot: 427 litres
Also consider:
Toyota Prius
The Prius is an intriguing alternative to diesel-engined family cars, being well built, comfortable, spacious and extremely tax-efficient.
Volkswagen Tiguan
The Tiguan is beautifully built and extremely practical. With loads of standard safety systems, it's one very desirable family car.
Nissan Qashqai
The Qashqai is a truly brilliant car. No rival can offer such a stunning mix of style, quality, practicality, refinement, comfort and affordability.
Interested in buying a Kia Niro?