First Drive 2016 Renault Twingo GT first drive review
Renault has put a firework up the exhaust pipe of its cute city car, to create the Twingo GT. Could this be another explosive masterpiece from the wizards of the hot-hatch game, or a bit of a damp squib?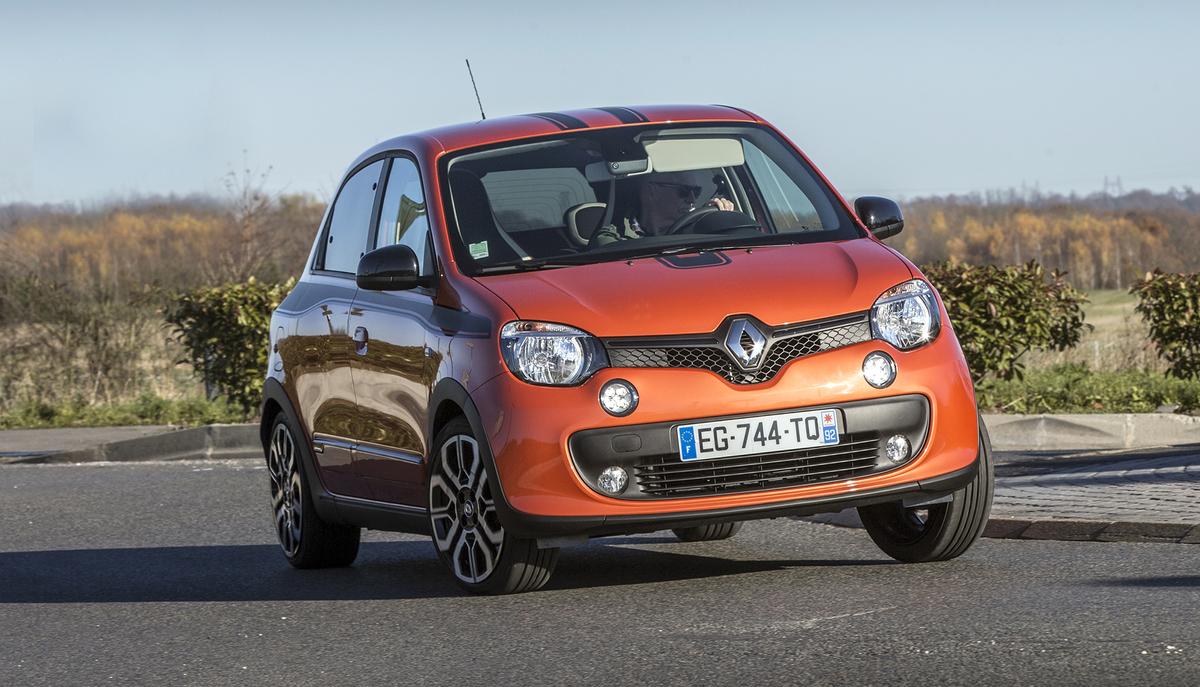 View gallery
Auto Trader Verdict:
There's no doubting the Twingo GT has more than its fair share of cheeky urban 'chic', but we could say the same about the standard Twingo. Anyone hoping the GT would usher in some much needed thrills and banish the original car's wholly unsatisfying driving manners, will be sadly disappointed. It's an improvement over the standard car (that wouldn't be difficult), but we had hoped for so much more. If the combined brains and engineering expertise of Renault's hot hatch specialist can't achieve more, then it leaves us to conclude that the properties of the donor car prohibit any significant degree of silky quality from being applied. Factor in the £13,755 asking price, and we'd be looking at any number of better driving and more practical city cars. Volkswagen Up anyone?
Need to know:
On sale now, priced at £13,755

The fastest and most capable version of the current Twingo range

Rear-engined rear-wheel-drive underpinnings are shared with the Smart ForFour
What is it?
Renault Sport has created some of the greatest hot hatches in recent memory, so when we found out it was turning its attentions to developing the Twingo GT, it's fair to say we were more than a little excited. However, that excitement was tempered somewhat by the knowledge that the standard Twingo doesn't exactly set any dynamic benchmarks. Sharing the same platform as the Smart ForFour and the same unusual rear-engined rear-wheel-drive layout, the Twingo is a neat enough city car, but as the basis of an entertaining hot-hatch? Let's just say Renault Sport was probably presented with its biggest challenge since cutting a Clio in half and shoving a 3.0-litre engine in the boot to create the Clio V6.

At the heart of GT, or perhaps we should say its rump, is a revised version of the standard Twingo's turbocharged 898cc three-cylinder engine, which has been tuned to deliver 108bhp and produce 125lb/ft of torque. This up-grade has been achieved by revising the air intake system, modifying the engine mapping, and fitting a less restrictive exhaust pipe, helping the GT to hit 62mph in a shade under ten seconds.

In order to take advantage of this enhanced performance, the GT's chassis has been fitted with bespoke suspension dampers, a stiffer anti-roll bar, a retuned ESP calibration and a variable-rate steering rack.

On the outside, there's a pronounced air intake mounted on the rear quarter panel, some more go-faster stripes, and a set of bad boy 17-inch alloy wheels to complete the GT look. There's also a fair few visual enhancements inside, including a splash of colour-coded detailing applied to the vents, gearstick surrounds, and sports seats. On top of this, a number of luxury and convenience features, including automatic climate control, automatic headlights and wipers, cruise control, and an upgraded infotainment system, mark the GT from more basic Twingos.

At the end of the day though, what we all want to know is, have the boffins at Renault Sport managed to transform the docile handbag Chihuahua, into a proper rabid ankle-biter?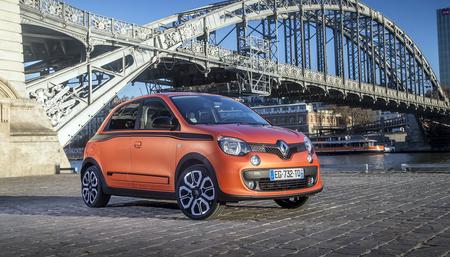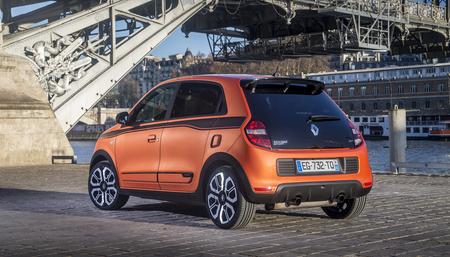 What's it like?
Fire up the GT and the result is not exactly street theatre. Anyone expecting that big bore exhaust to snap, crackle and pop like a junior rally car is going to be sadly disappointed.

Instead, turn the key and you're greeted by a generic three-cylinder awakening cough, followed by the usual uneasy thrummy idle, which instantly gets to work generating a trembling pulse of uneasy vibration directly into the Twingo's steering wheel and precisely into your derrière via the skimpily-padded sports seats.

Slip it into first gear though, give it some gas, and the GT sprints away from the mark with a fair amount of gusto. There's even a bit of an inspiring kick up the behind, as the rev counter summons the turbo into life, but sadly this is a bit of a false dawn, as the performance tends to plateau at this point, only re-emerging for a brief period just before the revs crash into the limiter.

Just as well that the gearshift is so sweet then! We struggle to bring to mind any Renault-badged motor that swaps cogs so neatly – as you'll need to be quick on the down-shift and hard on the throttle to keep things buzzing along at a spirited rate.

Because the engine is stacked over the rear wheels, there's loads of room up front to maximise axle articulation, which means the Twingo is able to spin around quicker than Darcey Bussell. Unfortunately, because it takes almost four full turns for the steering wheel to go from lock-to-lock, you're likely to drive yourself dizzy in the process. Still, because the steering is so breezy at low speeds, cutting a dash in dense city traffic is an absolute doddle. Things are less impressive as speeds rise, however.

Despite Renault's claims that the Twingo is the first car in its class to benefit from a variable rate rack – which enables the steering to weight up progressively with speed – it's difficult to appreciate this aspect, as any connection to the road surface is undermined by the rubbery, disconnected feel through the steering wheel. Consequently, when jostling along flowing B-roads, it's difficult to have any real confidence in what the front wheels are up to. What's more, because of that rear engine format, the front-end of the car feels increasingly light as you up the stakes. This is something that's patently obvious when passing trucks or when getting buffeted by gusty side-winds, so at motorway speeds, a firm guiding hand is compulsory in order to try to maintain a steady course.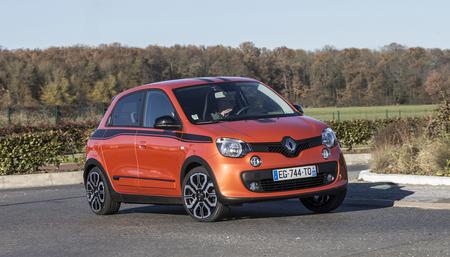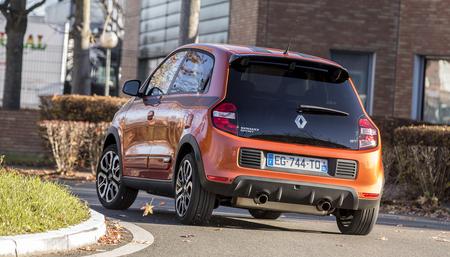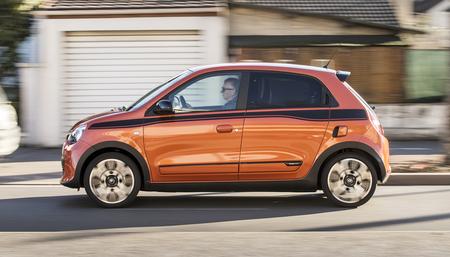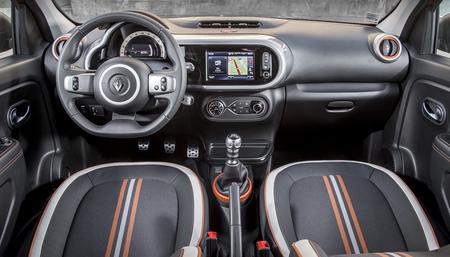 Undoubtedly, the worst aspect of the GT is its inability to tackle corners with any kind of conviction. Not that we'll ever know for sure, because as soon as the paranoid electronic stability control senses the merest whiff of a body lean or tyre flex, it freaks out and instantly shoots a scolding pulse of inside wheel braking to bring everything back to front and centre. Sure it's safe, and yes there's zero chance of the car rolling over, but boy, does it make for a frustratingly dull drive.

The Twingo is certainly not alone among city cars when it comes to having a snug interior. Despite the fact that you sit quite high up, there's actually plenty of head-, and a decent amount of leg-room up front, although shoulder-room is quite tight compared to a VW Up, so it helps if you're on good terms with your fellow front passenger.

The driving position itself would be fine, were it not for the fact that the foot rest is raised so high off the floor you're forced to sit with your left foot either withdrawn behind the pedals, or travel with one knee cranked up higher than the other, which can only be good news for your chiropractor.

Further back, there's a decent amount of head-room and just about enough leg-room to run a couple of mates down to the pub without too many complaints. Despite the engine's rear placement, there's no additional storage up front in the GT and at 188-litres, the boot is not much bigger than a sandwich box. It's particularly shallow too, so Fido will have to be confined to barracks if you're off for a weekend jolly. Either that, or you can fold the 50/50-split rear seat backs and pack lightly to accommodate the little darling.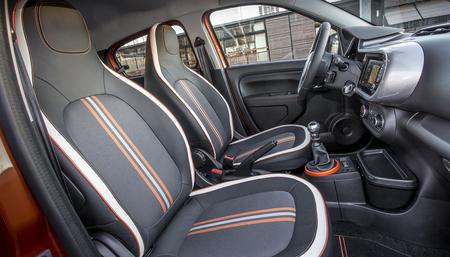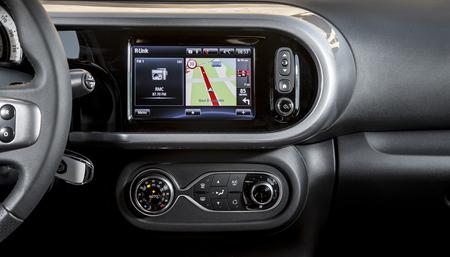 Should I buy one?
If it seems to you that nearly everyone is driving around in Fiat 500s these days, and that the Volkswagen Up is just too Germanic, too boxy, and lacks any kind of street cred, then ok, you might want go for it. Undoubtedly, the GT is the best of the Twingo breed, and if you're determined to have the fastest, the best equipped and the most expensive Twingo on sale, then the GT is the one to go for. Before you do though, you might want to give the Up a test drive.
Key facts:
Model: Renault Twingo GT

Price: £13,755

Engine: 898cc 3-cyl turbocharged five-speed manual

Power/torque: 108bhp / 125lb ft

0-62mph: 9.6secs

Top speed: 113mph

Economy: 54.3mpg

CO2/BIK tax liability: 115g/km / 20%

Boot space: 188 litres
Also consider:
Hyundai i10
It may not be as funky to look at, but for our money, the Hyundai i10 is one of the best city cars out there. It's seriously good to drive, immensely practical and although it's no longer a budget option, it's worth every penny.
Fiat 500
The Fiat 500's funky looks have made it one of the most popular city cars in Britain, and buyers also love its cool, retro interior and cheeky character.
Volkswagen Up!
The Up is not the cheapest example in the class, but it serves up everything city car buyers love. It's stylish, high in quality, fun yet comfortable to drive, and even reasonably practical.
Interested in buying a Renault Twingo?