Feature Social distancing at open dealerships
Dealerships are currently closed, but you can still safely buy a car online. When dealerships can open, they'll have measures in place to keep you safe when finding and buying your next car.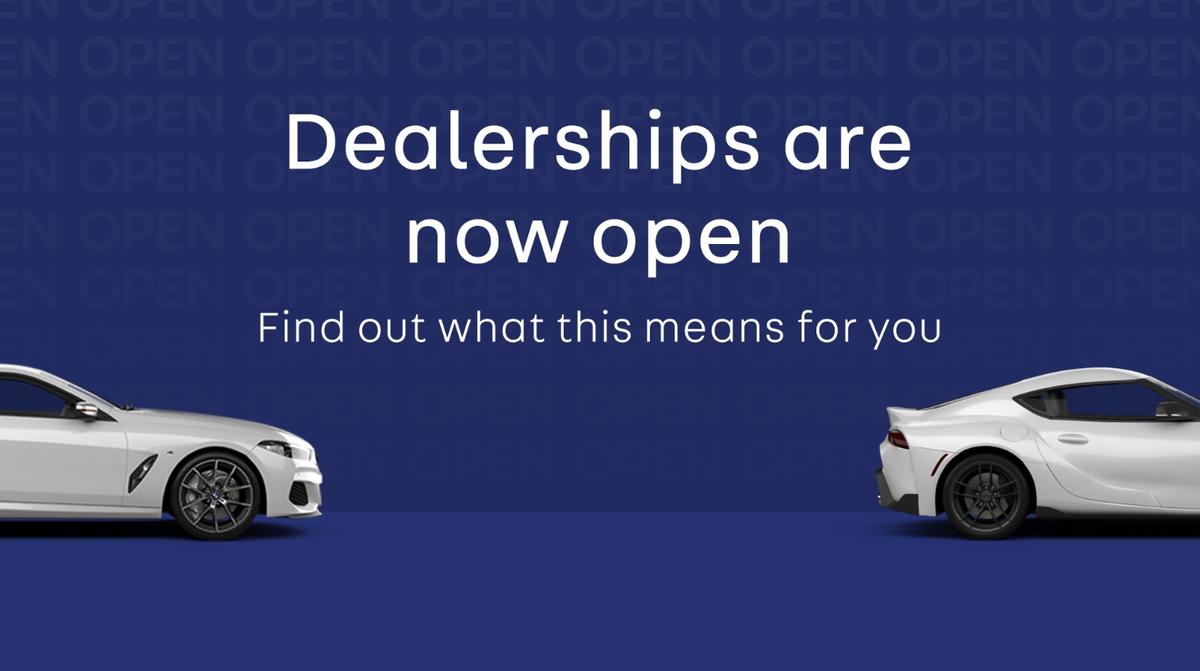 View gallery
Lockdown restrictions are still in place around the UK, so please check local guidance for
England
,
Scotland
,
Wales
and
Northern Ireland
.
Auto Trader are supporting dealerships and car buyers throughout this, offering a range of online and in-person buying option where available.
When physical dealerships are closed, you can still research and buy a car using
Auto Trader's online buying options
, including home delivery where available.
When dealerships are open, social distancing and sanitisation measures will be in place.
In the meantime Auto Trader is committed to helping you
buy or sell responsibly
according to lockdown rules and we have dedicated advice pages covering topics such as video viewings, click and collect and other safe ways to choose a new vehicle from the comfort and safety of home. Suffice to say, with over 176,000 cars available for
delivery
advertised on Auto Trader there's no need for lockdown to stop you indulging in some four-wheeled retail therapy!
Where they are permitted to open advice has been issued to dealerships on how they can apply distancing measures and help to reduce the risk to their properties, customers and workers. To find out more from individual dealerships on what safety measures they have in place, get in touch with them directly. Contact details can be found on the Auto Trader advert.
It's important you feel comfortable when buying a car, and that you know a dealership has taken appropriate safety measures for their forecourt before you visit, which is why we've added features to Auto Trader adverts that highlight the measures the dealerships are taking for you.
These currently include:
• COVID-19 safety measures
• Live video viewings
• Home delivery
You can
learn more about those features here
.
Dealerships in the UK can provide
'click and collect' services
, as and when they have the infrastructure in place – so this could be worth considering if you're unsure about visiting the showroom, or already know which car you want.
How can dealerships work towards keeping people as safe as possible?
Government advice on how to observe social distancing and lower the risk of virus transmission has been made publicly available. You can
read the latest guidelines here
.
Further to this, the Society of Motor Manufacturers and Traders Ltd. (SMMT) and National Franchised Dealers Association (NFDA) have created complementary, sector-specific guidelines that provide guidance and best practice on how dealerships can actively work towards keeping people safe.
This advice has been distributed to SMMT and NFDA members, and is
available to read here
.
As this is an evolving situation, advice issued should not be seen as exhaustive or comprehensive. It is however, regularly updated and dealerships are working flat out to ensure they're meeting the latest best practice to keep car buyers as safe as they can.
Some of the measures suggested to dealerships include:
• Working by appointment only to ensure the number of people in the showroom at any one time is limited. You can make an appointment through the Auto Trader advert, just use the call, email or live chat buttons. Some dealerships may work extended hours to make more appointments available.

• Introducing a two-metre social distancing gap between customers and dealership team members; and potentially entering and leaving a dealership by a one-way system.

• Regularly sanitising all facilities and surfaces, including entry points and service areas.
Dealerships are encouraged to maximise their online presence, and Auto Trader is working closely with them to ensure you, as a prospective car buyer, are getting the best online experience.

Many dealers have taken advantage of the new COVID-19 safety measures feature on Auto Trader adverts to showcase the steps they are taking – so check this out and get in touch with the dealer for more information.
What can car buyers do to stay safe?
We encourage everyone to follow the
NHS guidelines on COVID-19 (coronavirus)
.
Ahead of booking a visit to a dealership, make the most of the online experience by:
• Researching your next car – you could compare
expert reviews
or create a shortlist in your Auto Trader favourites.
• Where possible, arranging a live video viewing of the vehicle to see it in advance.
• Contacting the dealer ahead of time with any questions – you can use the extra time to properly research
car finance
options and double check the latest listings on site.
• Booking an appointment in advance.
• Taking sensible steps, such as bringing your own pen, if you feel uncomfortable using those provided.
• Wearing a mask when at a dealership, or viewing a car elsewhere.
For any medical advice, check the
NHS guidelines
for the latest updates.
Remember, you must self-isolate for 14 days if you, or any of your household, show symptoms of COVID-19.
Home delivery and customer collection
Many dealerships are now providing car buyers with additional options which they are able to highlight to buyers on Auto Trader: you can arrange
home delivery or customer collection
where these services are available from dealers.
Dealerships can flag when home delivery is available in your area, so keep an eye out for that icon on the advert. If in doubt, just contact them directly as they may be able to make arrangements.
With customer collection, you can buy a car online or over the phone and collect it from the dealer. Again, please check whether they have the infrastructure to safely and responsibly support this transaction.
As with showroom and forecourt visits, best practice and guidance have been issued on offering these services. You can check what measures a dealership is taking on their Auto Trader advert, or by contacting them directly.
--
This article represents Auto Trader's opinions and interpretation of the current situation and does not necessarily reflect the latest government guidance and advice. Please always consult the latest
government guidance and advice
before taking any decision based on this article.