Feature
If brands made electric cars, here's what they would look like
We've put our curiosity to the test to imagine how seven of the world's biggest brands, from Amazon to Sony, would revolutionise the electric car industry forever.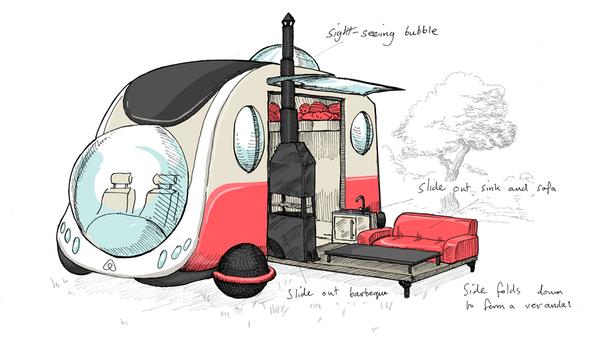 Traditional car manufacturers including
Audi
and
Mini
are investing heavily in future electric car models. With Dyson and Apple also set to join the market, it's only a matter of time before other forward-thinking consumer brands start following the trend. So what might the electric car landscape look like if some of your favorite major brands designed cars? How might they tackle issues such as limitations in range and battery?
We've put our curiosity to the test to imagine how seven of the world's biggest brands, from Amazon to Sony, might revolutionise the electric car industry forever.
Amazon
The online one-stop-shop would create an epic car packed with the speedy functionalities closely associated with the brand. The car would let you sit back, relax, and get you to where you need to go without you lifting a finger. Alexa would be your Sat-nav goddess, and you would be able to stream tracks from Amazon Music. Having an Amazon car would be like having Prime on speed, because the dashboard controls would have drones drop packages to your car. Another USP would be the car's super-fast charging speeds, which would enable drivers to fully charge their batteries within 10 minutes.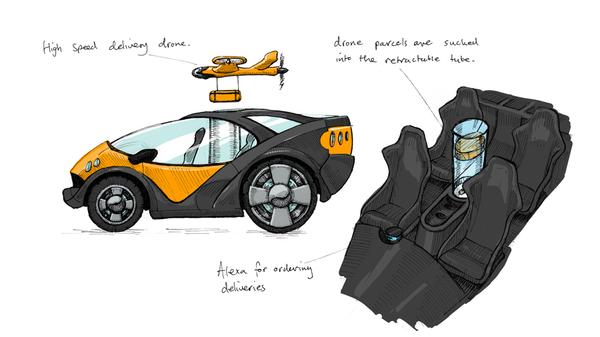 Ikea
Unlike Amazon's out of the box functionality, an Ikea car wouldn't immediately make your life easier per se. Just like the flat-pack furniture, you'd have to earn the car through hard work, and patience. True to its Scandinavian roots, the design would be stylish, practical and wholesome looking, with ethically-driven qualities and family-friendly furnishings. It would be hard to miss on the road of course, with its Swedish yellow and blue colour scheme. The brand's commitment to sustainability would be at the forefront, with the car running entirely on solar energy provided by rooftop panels.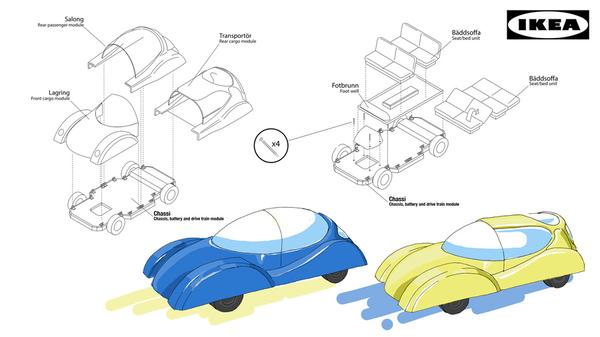 Spotify
The virtual kings of music would obviously have an unbelievable sound system for you to play your latest Spotify playlist. Just like the streaming service, driving a Spotify electric car would be a collaborative experience. The model would be in tune to your mood, and play the appropriate track according to how you would be feeling. You could get inspiration from fellow Spotify-drivers around you, by sharing your routes and playlists with the electric car community. Appearance wise, it would be black and green, with a rounded finish to match the brand's logo.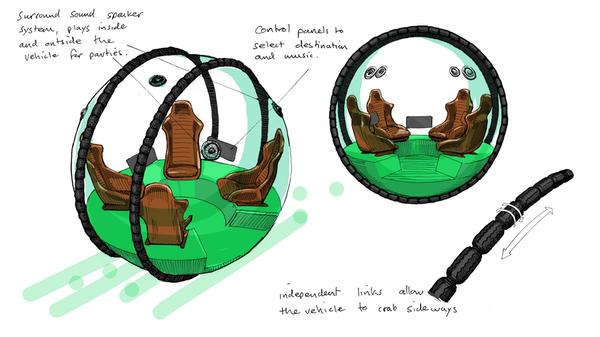 Airbnb
The idea of living in your car wouldn't be so depressing with these guys behind the wheel. You would get more bang for your buck with an Airbnb car that could efficiently transform into a sleek and petite apartment at the click of a button. Following the brand's devotion to the sharing economy model, users would be able to lease the car when they needed some extra cash. As well as being a mobile hotel, it would be made for neighbourhood exploring, thanks to the in-built guides, curated by locals. Range anxiety would be a thing of the past, with these cars built for long-distance road trips of up to 300 miles.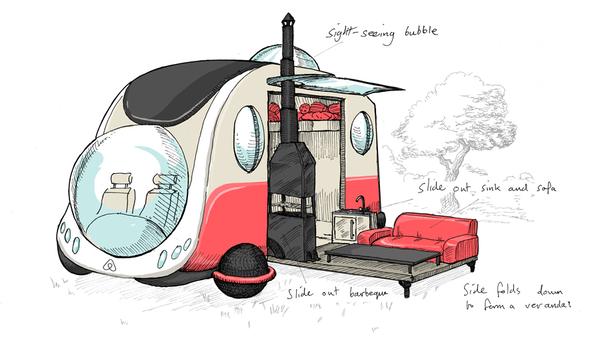 Instagram
With Instagram, it's all about the aesthetic. There would be various filters, which would give the car a unique and different look on a daily basis. Drivers would be able to snap their 'road trip stories' via a built-in webcam on the dashboard, and share their videos with everyone in their electric car network, seeing how their journeys compare to all those they follow. The vehicle would be self-driving, with sensors at the front, back and sides, and windows that tint to some of Instagram's most popular filters.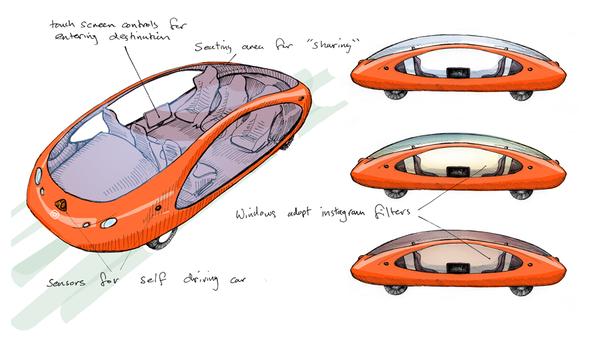 GoPro
With a GoPro electric car, it would be all about going off the beaten track and diving into new adventures, literally. The most impressive aspect of the model would be its ability to go underwater. In contrast to the curvy physical attributes of its competition, the GoPro electric car would be boxy in appearance. There would be inbuilt cameras so you could snap amazing photos of everything you see on your incredible journeys too. A fold-out solar panel bell tent would enable drivers to recharge car battery when in remote locations, while providing shelter for camping.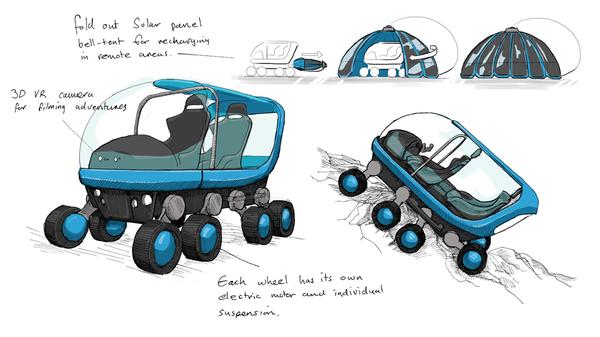 Sony
A technological game changer, a Sony electric car would be built with VR powers with a Playstation racing simulator. There would be an infinity display, touch interface and facial recognition. This would be the dream electric car for the gadget-obsessed driver who wanted to escape their day-to-day reality of driving to and from work.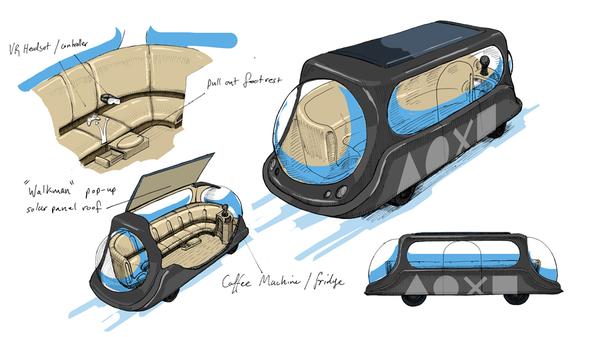 Virgin
Sir Richard Branson, co-founder of Virgin has flown the flag for electric cars, suggesting the proposed ban for diesel and petrol cars should be brought forward to 2025 – 15 years ahead of government plans. A Virgin car might pay tribute to the brand's accomplishments in the field of transportation, both on land and in the air, perhaps offering an electric vehicle that shifts between on-road driving mode, to flying, at the touch of a button.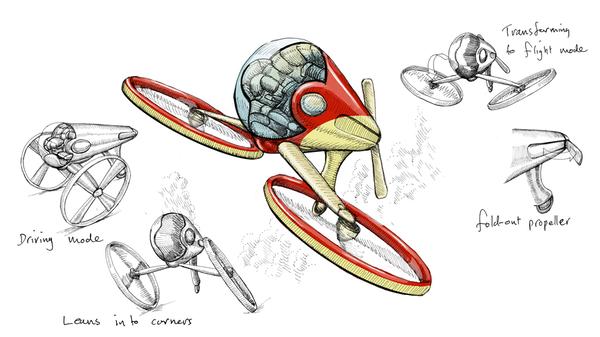 Sadly these cars are only a figment of our imaginations of how these brands might choose to enter this emerging market (any resemblance to actual plans being entirely coincidental), but with new electric car technologies being developed at an exponential rate, it's surely only a matter of time before these futuristic features could become a reality. In the meantime, why not check out some of the real makes and models currently available on
Auto Trader's electric car hub
?