Feature
EVA scheme explained
Auto Trader ads now display the EVA logo for certified dealers. Find out what that means for you.
What is the EVA scheme?
The EVA scheme certifies dealerships that have met a set of independent standards for electric vehicle sales and aftersales.
The standards covered are quite strict, and they all need to be met in order to become accredited and display the EVA logo. So, if you choose to buy from an EVA certified dealership, you'll be working with experts who can give you the latest information and most up-to-date advice on electric cars – some of which may not be available to general retailers. EVA dealerships are generally better placed to answer your questions and help you find the right electric car, or plug-in, for you.
Who's involved in the EVA scheme?
The EVA scheme was developed by the National Franchised Dealers Association (NFDA), which represents around 4,500 franchised car and commercial vehicle retailers in the UK.
The EVA scheme was endorsed and funded by the Government's Office for Low Emission Vehicles (OLEV) during a three-month pilot and its first year. The scheme is also endorsed by the Energy Saving Trust (EST) which is an independent organisation working to address climate change by promoting sustainable energy, EST conducts the EVA auditing.
How does the EVA scheme help?
Buying an electric car can be confusing, especially when you're trying to get your head around the different types of
charging connector
, real-world
charge range
, and working out how much an electric car will cost over its lifetime.
The EVA scheme aims to support those looking at an electric car by verifying electric vehicle retailers that have demonstrated they understand the electric car market and have all necessary resources to help car buyers find an electric vehicle that suits their budget and lifestyle.
How does the EVA scheme work?
The Energy Saving Trust independently audits individual dealerships at their various locations. Should they pass this audit, they'll receive clear certification.
The standards audited and tested can include: • staff knowledge, • technician expertise, • availability of charge points, • and overall business standards.
How can I tell if a dealer is EVA certified?
EVA certified dealerships are allowed to display the below logo, so keep an eye out for that if you're looking for an electric or hybrid.
If a dealership is EVA certified, they've demonstrated they can support you in making an informed buying choice. They'll be well positioned to both support the growing desire and need for low- and zero-emission vehicles overall and do so by helping find the right solution for individual customers.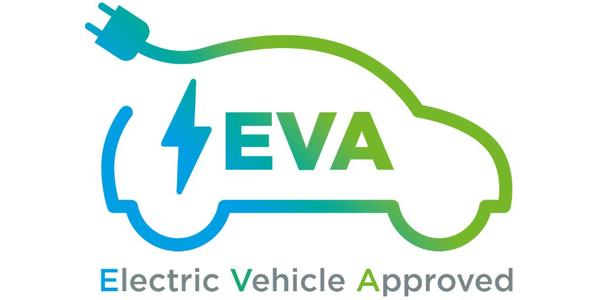 Finding EVA dealerships on Auto Trader
To help Auto Trader customers buy in confidence, we now display the above EVA badge for retailers that have been certified as part of this scheme.
This logo will be displayed on the vehicles they're advertising on our site, just like in the example below. You'll now be able to tell, at a glance, whether a dealership near you is certified and we hope this helps you further investigate
electric and hybrid cars
.