Best Of
Black Friday Car Deals 2024
Black Friday deals have now ended on Auto Trader. Check back on 29th November 2024 to find our Black Friday car deals 2024.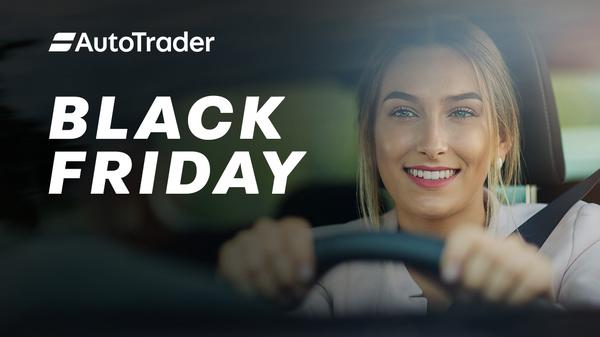 Words by: Andrew Woodhouse

Additional words by: Nimisha Jain
Last updated on 25 November 2023 | 0 min read
Black Friday car deals 2024
Win an electric car
What's better than saving money on a new electric car? Winning one for free!
We're giving a brand-new electric car every month. Enter today, and learn more about the previous winners: enter
Auto Trader's electric car giveaway.
What is Black Friday?
Black Friday is a major shopping event, traditionally held the Friday after Thanksgiving in the USA.
Originally, retailers would drop their prices for a one-day sales event while Americans were off work for an extended Thanksgiving weekend. Since 2013, however, sales have started earlier, and Black Friday has become a mammoth sales event across the world.
Why is it called Black Friday?
There are a few origin stories out there. One of the more popular, but inaccurate, stories is that stores would make huge profits from the sales and their books would go "into the black".
Most agree the name Black Friday was actually coined by police in 1950s Philadelphia, who had to work long shifts to control the crowds of tourists and shoppers creating traffic jams and disruption over the weekend. Somewhere down the line, it lost the bleak connotation – though many still dread the crowds.
What is the meaning of Black Friday?
For many, Black Friday is seen as the unofficial start of the holiday shopping period. There was an unwritten rule that retailers in America couldn't advertise holiday offers until after Thanksgiving. As the holiday season is such a lucrative time, retailers would mark the occasion with heavy marketing and sales on old stock.

What is Cyber Monday?
Cyber Monday is the first Monday after Thanksgiving. It was originally created to promote online shopping, back when that was a relatively new thing in 2005.
Nowadays, Cyber Monday and Black Friday have virtually merged into a massive sales weekend (with final discounts sometimes available on Cyber Monday). One differentiator, in most cases, is that Cyber Monday deals are only available online – unlike Black Friday deals which can be online and in-store.
Is Black Friday and Cyber Monday a good time to buy a car?
Many car manufacturers and dealerships offer Black Friday and Cyber Monday car deals, so you can nab yourself a bargain if you're in the market for a new car. These deals could be anything from discounts on cars to finance contributions, 0% APR or free gifts. We'll update this page with all the Black Friday/ Cyber Monday car deals, as we find them.