Review
Vauxhall Grandland X SUV (2017 - ) review
The Grandland X is Vauxhall's rival for family SUVs like the Seat Ateca, Ford Kuga and Kia Sportage, and with its good space and practicality, it's worth a look.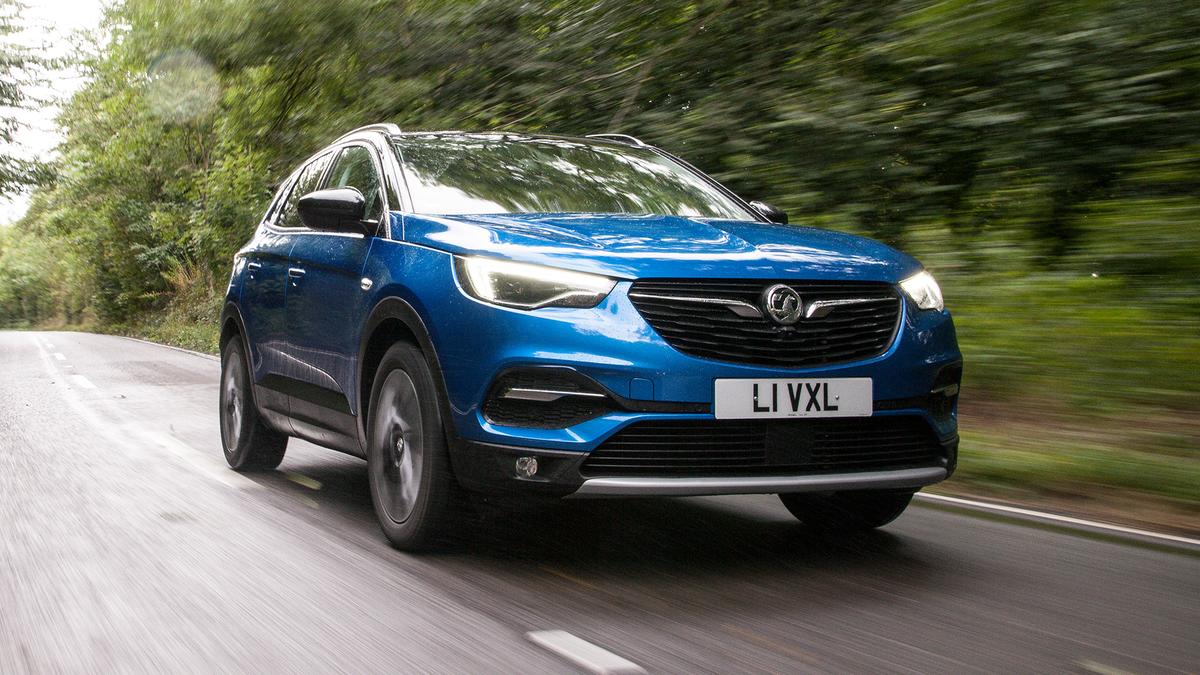 View gallery
The Auto Trader expert verdict: ★★★★★

★★★★★
3.5
We have no doubt the Grandland X will make a very decent family car. It's spacious, practical and well-equipped, and shouldn't cost too much to run compared to its rivals. However, it lacks that spark of greatness – whether it's the rather conservative way it looks, or the slightly disappointing way it drives – that sets apart the very best cars in its class.
Pros
Good space and practicality

Most versions are well-equipped
Cons
Rivals are more enjoyable to drive

Ride uncomfortable with larger wheels

Base SE trim misses some very desirable kit
Pick of the range
A good package of equipment and performance for a sensible price.
Most economical
Grandland X 1.5 Turbo D automatic
The best fuel economy, at least until the hybrid arrives.
Best avoided
Grandland X 2.0 Turbo D Ultimate Nav
Very expensive for a Vauxhall SUV of this size.
Interested in buying a Vauxhall Grandland X?
How good does it look?
The Grandland X is based on the same mechanical bits as the Peugeot 3008, but you'd never know it from the outside. The two cars could hardly look more different. To some, the Vauxhall may look rather more conservative than some of its rivals, but there's no denying it's a smart car. Across the range, you get the smart chromed wings on the grille that flank the Vauxhall badge and link it to the headlamps, as well as front fog lamps.

We think it's well worth upgrading from the basic SE model, as higher trim levels get more chrome trim (on the front and rear skid plates, and in the door handles, as well as around the side windows, for example), tinted rear windows and puddle lights on the side mirrors. Top-spec Ultimate Nav models also come with full LED headlamps.
What's the interior like?
The Grandland's cabin could not be more different from what you'll find in the Peugeot 3008, with which it shares so much. The Vauxhall's interior is certainly conservative, with some hard plastic surfaces about the place.

However, there's no faulting the cabin layout, with lovely clear dials, and sensibly laid out controls. Some of the most frequently used ones, such as the stereo volume, have rotary controls, which are much easier to use than a touch-screen. While Vauxhall has given every version of the car a touchscreen, it's also moulded the dash in such a way that you can rest your hand on it while you're prodding at the screen, which helps improve your aim when the car's on the move.

There's also no faulting the driving position, with lots of adjustment on both the driver's seat and steering wheel, and plenty of leg-room. You also get enough head-room for a six-foot driver, even if you fit the optional panoramic sunroof that floods the cabin with welcome extra light. Sadly, the same isn't true of the rear screen, which is small and surrounded by a wide expanse of metalwork either side of it, which means it's very hard to see what's going on when you're parking, even with standard rear parking sensors.

How practical is it?
This is one the areas where the Grandland is most impressive. On top of the good room in the front, you also get a very decent amount of space in the rear seats, as well as nice, square doors that make it easy to get in and out. With a flat floor and relatively flat rear seat, you could get three people across the back seat easily enough, and the Isofix mounts are easy to get to for anyone fitting a child seat. It would make a very decent family car.

The boot is very practical, too. It's a nice, square shape, and full of handy hooks and so on to help hold luggage. It's not quite as big as you'll find in a 3008, but it's on a par with the Seat Ateca and much better than in a Nissan Qashqai. However, when you fold down the rear seat backs (split 60/40 on every model), they leave a big lip in the floor. Loading and unloading is made a bit awkward too, by the high lip and wide bumper you have to lift your luggage over.
What's it like to drive?
So far, we've only driven top-end versions of the Grandland X, which come with relatively large wheels, and that's not good news for ride comfort. On the top Elite Nav and Ultimate Nav models, which come with 19-inch wheels, the ride can get downright uncomfortable, and it never seems to settle, even on the smoothest sections of motorway. Things are a bit better on the 18-inch wheels that are part of Business Edition Nav and SRi Nav trims, but it's bearable rather than comfortable.

Likewise, the handling is good, rather than great. In isolation, the Grandland X feels pretty decent, without too much body roll in corners, gripping well and felling nice and easy to manoeuvre around town. The weak link is the steering, which feels too light and doesn't give you much feel once you get a bit of speed going through the car's wheels. As a result, it doesn't inspire much confidence in the driver, and the car feels less rewarding to drive than a Seat Ateca or Peugeot 3008.
How powerful is it?
There are three turbocharged engines to choose from in the Grandland X – a 1.2-litre petrol unit, a 1.5 diesel - both with 130 horsepower - and a 2.0-litre diesel with 177 horsepower. We've tried the first two, and on paper, they look similar in terms of power and performance, and both do a very decent job of getting the car around. Despite its apparently small size, the 1.2-litre petrol doesn't struggle at all, responding well across the rev range and every bit as quick as similarly powerful engines in rival cars. Against the clock, it's quicker than the slightly less powerful diesel, but it doesn't feel that way on the road. That's because the diesel has considerably more pulling power, which means it feels easier to drive, as it responds more quickly and doesn't need working as hard as the petrol engine for the same performance. The standard manual gearbox isn't the slickest.

There'll also be a plug-in hybrid version of the Grandland X from early 2020, called the Hybrid 4. It'll boast a 1.6-litre, turbocharged engine with two electric motors, giving a whopping 300 horsepower through an eight-speed automatic gearbox.
How much will it cost me?
When you look at the price list in comparison to some rivals, you may think the Grandland X looks a bit expensive, but when you consider the Grandland X comes very well-equipped, it seems better value.

You might expect a car with a Vauxhall badge to lose value more rapidly than its rivals, but initial forecasts suggest the Grandland X will be on a par with most of its competitors. In terms of regular running costs, only insurance looks a bit steep.

How reliable is it?
Vauxhall as a brand sits in the middle of Warranty Direct's Reliability Index, well below Nissan, Peugeot and Renault. However, the 2019 JD Power Vehicle Dependability Study, which ranks more recent manufacturer performance, has Vauxhall well above average, which is encouraging news. The company offers a pretty standard three-year/60,000-mile new car warranty, well below what you'll get with a new Kia Sportage.
How safe is it?
The Grandland X has already achieved a maximum five stars in Euro NCAP crash tests, matching the Peugeot 3008. Every model comes with six airbags and a lane departure warning system. We think it's worth stepping up from the basic SE model, as from Tech Line Nav, the Grandland also comes with the Safety Pack, which includes a system to detect driver drowsiness, forward collision alert, automatic emergency braking and a lane assist system, as well as a blind spot assist system.
How much equipment do I get?
The base model is SE trim, and it comes pretty well equipped, with Bluetooth, DAB, Android Auto, Apple CarPlay, dual-zone climate control and cruise control, as well as automatic lights and wipers, and rear parking sensors. Business Edition Nav, which is targeted at fleet customers, adds sat-nav and a larger, 8.0-inch touchscreen, as well as some interior niceties like the movable boot floor, rear centre armrest and puddle lights on the outside, as well as front parking sensors and some extra safety systems,

SRi Nav sits alongside Business Edition Nav in the range, and is similarly equipped, but has a dark roof and door mirrors, while Elite Nav has leather, heated front seats, an electrically adjusted driver's seat and a panoramic sunroof. Meanwhile Ultimate Nav throws in plenty of toys, from a wireless phone charger and Denon sound system to adaptive cruise control, more high-tech LED lights and a panoramic camera for ease of manoeuvring. It also has keyless entry and start.
Why buy?
The Grandland X is a perfectly decent family SUV that comes with plenty of equipment and lots of space. Knowing Vauxhall, it should also be available with some very attractive offers, but you'll have to be willing overlook some weaknesses to part with your cash and buy one.
Interested in buying a Vauxhall Grandland X?