Expert Review
Rolls-Royce Dawn convertible (2015 - ) review
There are plenty of luxury convertibles on offer these days, but none quite like the Rolls Royce Dawn. Hand-built from the finest materials, and with the on-road character of a luxury limousine, the Dawn is a car with virtually no direct rivals.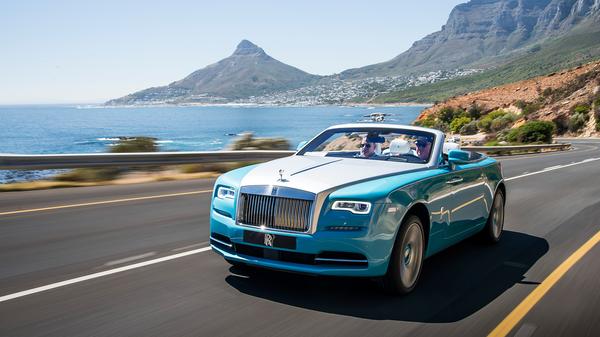 The Auto Trader expert verdict:
Available new from £287,420
The Rolls-Royce Dawn is a luxury convertible like no other. Its immense size, beguiling looks and exclusive badge make it the ultimate expression of prosperity, while the sumptuous materials and incredible attention-to-detail on display in the hand-made cabin will make even the most well-heeled customer feel spoiled. The comfort and quietness it delivers on the road are exactly what you expect from a Roller, but with the added appeal of feeling the wind in your hair. Very expensive, but absolutely fabulous.
Reasons to buy:
Incredible comfort and quietness
Breathtaking interior quality
Not many better ways to show off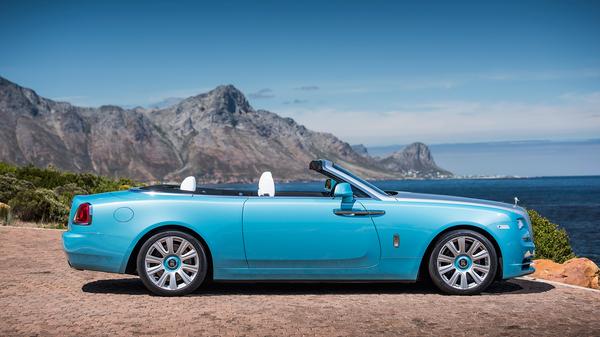 How good does it look?
You don't buy a convertible if you're a shrinking violet, and if you fall into that category, you certainly don't buy a Rolls-Royce. So, a Rolls Royce convertible? This is about as showy as it gets. It's dramatic even with the multi-layered fabric hood in place, not least due to the sheer size and scale of the Dawn, but also thanks to the rakish lines, huge chrome-laden grille and the Spirit of Ecstasy hood ornament that reveals itself automatically when you unlock the car. Tug the switch that drops the roof, and the car's looks take on a whole different dimension. As statements of glamour and opulence go, this is an effective one.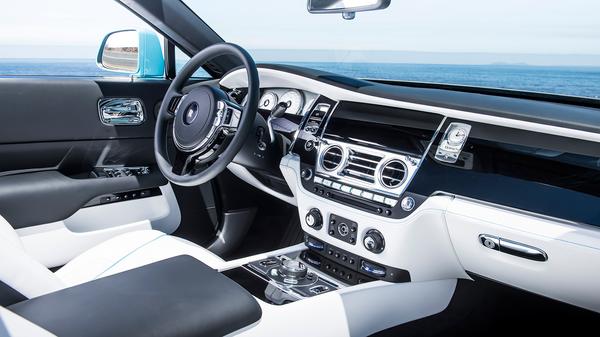 What's the interior like?
There's only one word to describe the inside of a Rolls-Royce: dramatic. The drama begins before you even get in, thanks to the unique way the long, rear-hinged doors beckon you in. It reminds you you're about to climb aboard something a bit special. Shuffle yourself into the soft leather seat and you'll find yourself in a cabin trimmed with woods and hides that smell as good as they look and feel. This sensory overload gives you a real sense of occasion. The infotainment system is a version of BMW's iDrive system, but with reworked graphics. This means the system is among the easiest of its type to use. The rest of the controls are also fairly self-explanatory, and with electric adjustment for everything, getting comfortable shouldn't be an issue for anyone. Even the rear view isn't too bad with the roof up, and obviously, your rearward visibility opens out even more with the hood down.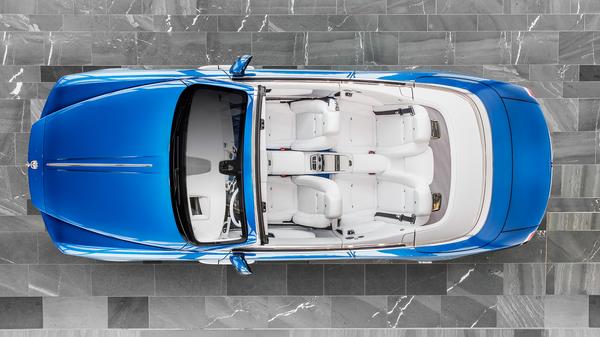 How practical is it?
Most four-seat convertibles are a wee bit snug for those in the back, but in fairness, most four-seat convertibles aren't as enormous as the Dawn. However, while the car does give you more headroom and legroom than you'll find in most drop-tops, with enough to satisfy very tall adults, you might expect more space to stretch out. Getting in and out of the back seats is very easy, though, even in a tight parking space, thanks to those rear-hinged doors. The boot is a decent size in terms of volume, and a small collection of tailored weekend bags will fit without fuss. However, the loadspace is a rather awkward shape, and it's also rather shallow, especially when you lower the load cover that allows you to drop the roof. The opening is pretty shallow, too, and there's a hefty load lip that you will have to muscle heavy items over.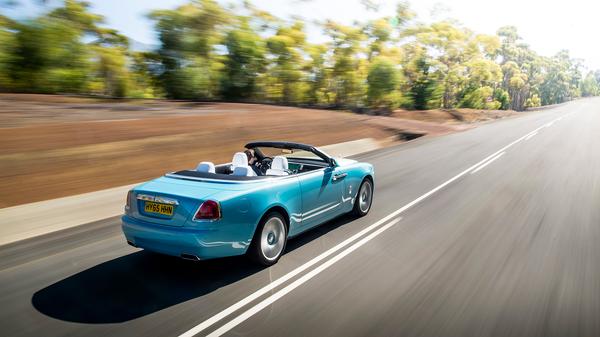 What's it like to drive?
The Dawn is based on the Ghost, the smaller of Rolls-Royce's two luxury limousines, so it's no surprise the focus of the car is on providing comfort and quietness above all else. It does a fabulous job, too. The standard air suspension mops up pretty much every bump in the surface with barely any fuss, and with a lovely floaty-yet-controlled character to the way it moves along the road, you just waft along gently and serenely. There's very little of the shake and wobble that blights the bodywork of most convertibles, too, so bumps in the road are even less likely to ruin the calm. The handling is stable and secure, but as you might imagine with a car of this size and weight, the laws of physics are working overtime whenever it changes direction, so it never does so in a hurry. The sheer size can make it feel quite cumbersome, especially down narrow lanes or busy streets, so you'll need to be extra careful when manoeuvring.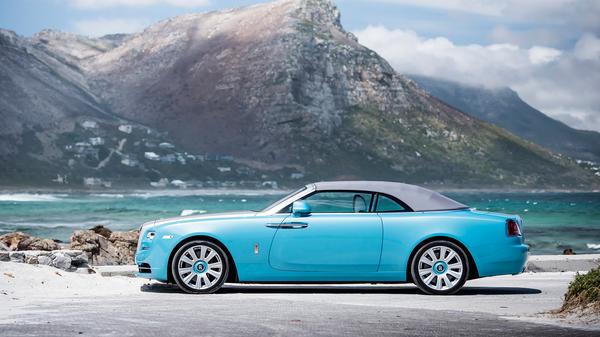 How powerful is it?
The engine that powers the Dawn is a huge 6.6-litre V12 that delivers an even-huger 571 horsepower. Despite these supercar-baiting figures, though, don't go expecting supercar-baiting performance. Yes, the Dawn is extremely fast, much faster than any car weighing two-and-a-half tonnes has any right to be. But, like any Rolls Royce, that pace is unfurled in a way that's measured and stately, rather than explosive or violent. You're pushed along on a seamless wave of forward momentum, and although you're going very, very quickly and the engine is very responsive, the pickup feels effortless and unhurried, almost nonchalant in fact. Indeed, when you're accelerating hard and, at the same time, you glance down to a dial on the dashboard that's telling you far more power is being kept in reserve than is being used, you're not at all surprised. Above all, this is an engine that's much more about smoothness and quietness than it is about outright speed, and it absolutely nails the brief. You have to put serious pressure on the accelerator pedal before you hear the slightest peep from the engine, and even then, you'll struggle to detect any vibration. Be careful, though, because the quietness, smoothness and general lack of drama at high speed means it's very easy to go far too quickly with realising.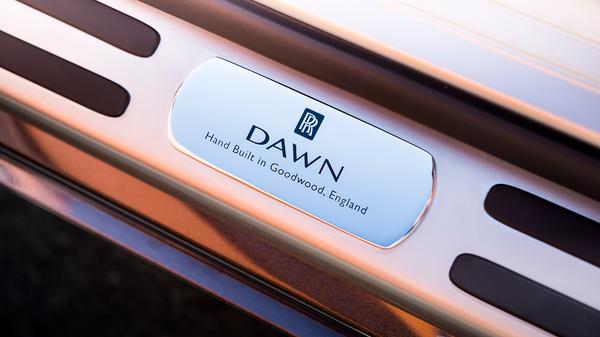 How much will it cost me?
Nobody embarks on Rolls-Royce ownership under any illusion that it'll be a cheap undertaking, but the costs involved are pretty astronomical. You know the phrase, 'if you have to ask then you probably can't afford it'? Well, that certainly applies here. The eye-watering purchase price will become even more eye-watering by the time you've added all the optional extras you'll inevitably add to your car to personalise it. Although the car's resale values aren't all that bad in percentage terms, the sums of money concerned are so vast that the amount you'll lose in depreciation will still be enough to destabilise a small country. Throw in what you'll pay to insure it, tax it, put fuel in it and put tyres on it, and this car is the exclusive preserve of the fabulously wealthy. If that's you, the amounts you'll need to pay to own one won't be any sort of barrier whatsoever.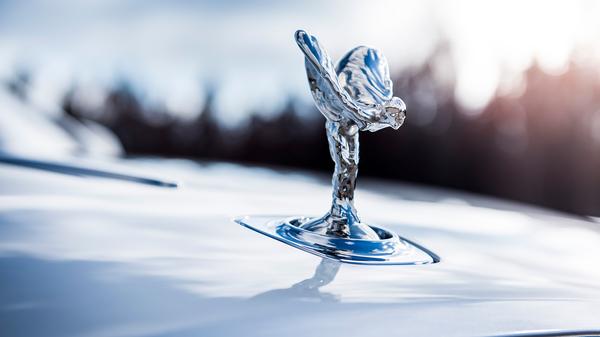 How reliable is it?
Reliability data on Rolls-Royces is pretty hard to come by. They're sold in very low numbers, so they don't often feature in your average reliability survey. The car shares quite a few of its mechanical components with the BMW 7 Series, which doesn't achieve a great score in the Warranty Direct Reliability Index, but you can take heart from the fact that Rolls owners aren't usually the types to scrimp on routine servicing, meaning they should prove to be a bit hardier than the Beemers included in the study. You can guarantee repairs will be pretty pricey when they're needed, but hopefully you'll be spared the bills for the first few years, as all cars come with a four-year/unlimited mileage warranty as standard.
How safe is it?
Every time you drive the Dawn, you have a massive amount of power – not to mention monetary value – under your control, so you'll want your car to have the kind of safety systems that'll help prevent you from getting into trouble in the first place. Annoyingly, many of these cost you extra: things like lane departure warning and a night-vision system that can detect hazards lurking in the darkness up to 300 metres ahead of you. Other clever stuff that's available includes adaptive cruise control that keeps you a safe distance from other vehicles, and adaptive headlamps that flood the road ahead with light, but without dazzling drivers of oncoming vehicles. The Dawn comes with all the usual stability and traction aids as standard, along with tyre pressure monitoring and six airbags. However, don't expect a crash test rating from Euro NCAP anytime soon, because cars that sell in such low numbers aren't usually subjected to the tests.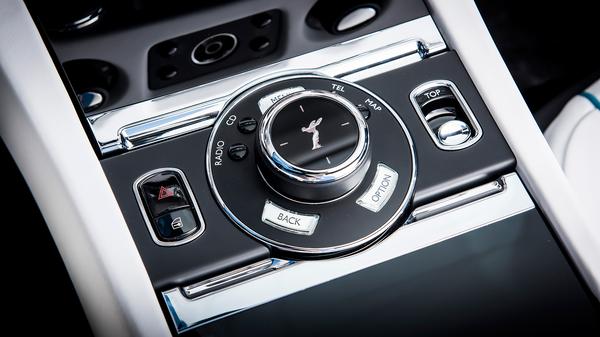 How much equipment do I get?
You should rightfully assume any car that comes with a six-figure price-tag would also come with a fair amount of luxury kit, and the Dawn does indeed deliver on that score. The standard roster includes pretty much everything you expect, such as multi-zone automatic air-conditioning, all-round parking sensors and cameras (just as well as these are essential on a car this huge), keyless start, and an infotainment system that brings together (among many other things) sat-nav, a 20GB hard drive, a variety of connected services and a high-end audio system with no less than 18 speakers. It's perhaps a little surprising you have to pay extra for a wifi hotspot, but that's unlikely to be a deal-breaker for any potential customer. The options list also includes many weird and wonderful items that allow you to tailor your car, or simply make it even more outrageously opulent than it already is. For example, there are two lighting options for your Spirit of Ecstasy bonnet ornament, which can either be uplit or fully illuminated. You can also specify a bespoke picnic hamper made of teak, leather and polished aluminium, complete with crystal glasses and Wedgewood crockery.
Why buy?
Because you want the ultimate expression of opulence and wealth, but you want to combine it with a bit of good old-fashioned wind-in-the-hair appeal. After all, showing off is always easier when everyone can see you. That said, the Dawn is much more than that, also providing incredible quietness, comfort and class. Expensive, but that's what happens when a car is hand-built over many, many painstaking hours, and it's a wonderful thing to behold if you can afford it.