Expert Review
Porsche 911 GT3 Coupe (2004 - 2012) review
Read the Porsche 911 GT3 coupe (2010 - 2012) car review by Auto Trader's motoring experts, covering price, specification, running costs, practicality, safety and how it drives.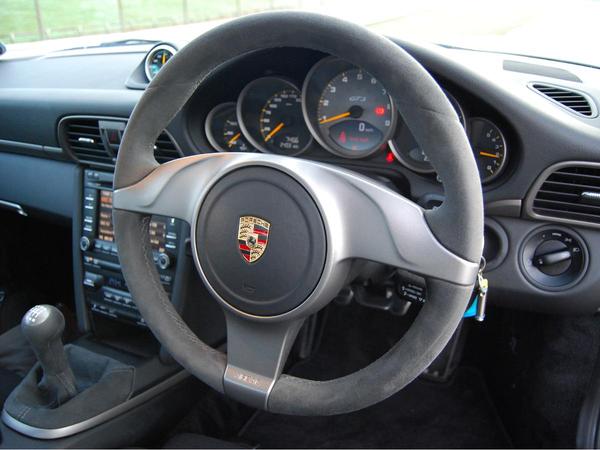 The Auto Trader expert verdict:
Porsche's most focused 911 is among the most focused drivers cars available, but it's a veritable bargain given its pedigree and performance.
Reasons to buy:
Sensational performance
Grip, feel and immediacy
Sensible price for such focus
How good does it look?
The
Porsche 911
GT3 and GT3 RS both look every inch the race car for the road, which is exactly what they are – both cars exist thanks to motorsport homologation rules. The RS and the GT3 look largely similar, with pouting, tarmac-scraping front splitters, large bi-plane rear spoilers plus additional air intakes and vents puncturing the 911's familiar lines. The RS adds wider front wings for its increased track and some extrovert decals and contrasting paint schemes. Nothing is superfluous (those stickers aside), with every detail honed to make it faster on road and track.
What's the interior like?
The racing theme continues inside, with a pared-back cabin featuring racing bucket seats, a roll cage in the rear and Alcantara covering the steering wheel and gearshift knob. But despite this, the GT3 features more mod-cons than you'd expect from a trackday-tailored supercar. The super lightweight GT3 RS on the other hand feels a bit more austere than it has any right to given the considerable cost. Leave it completely standard and you'll find that Porsche even removes the standard door handles, threading lightweight pull straps through lightweight door cards instead. Basic, yes, but all the necessities are there – though if you're a total purist you can delete the air conditioning to save weight.
How practical is it?
Even in its most hardcore GT3 RS guise this 911 retains much of the practicality of its slightly less focused relations. There's a front luggage compartment that'll swallow a weekend's luggage in soft bags, and you can thread loads into that rear unseated compartment through the roll cage. Only the car's taut suspension and extremely low front splitter compromise it for daily use, that splitter making speed bumps and ramps a nose-scraping nightmare. Porsche offers a front lifting kit as an option, but even with it, and the car's impressive low-speed drivability, it's only really an occasional-use sports car.
What's it like to drive?
With suspension that's biased towards track use there are some comfort compromises with the GT3. Even so it's not the horror you might anticipate, as the suspension is taut rather than hard, with suppleness to the ride that's surprising. It's worth putting up with that for the handling, which is simply sensational. The steering is sublime, the weighting perfect and the response immediate. That's especially true in the RS, which gains a slightly wider front track to improve steering precision and front-end grip over the GT3. All those aerodynamic wings help push it onto the ground, too. On road or track it's extraordinary.
How powerful is it?
With an engine that can trace its roots back to Porsche's 911 GT1 Le Mans racer, the GT3 and GT3 RS have real pedigree. Here it's 3.8-litres of high-revving joy, which adds up to 435bhp in the GT3 and 450bhp in the RS making for 4.1 and 4-second 0-62mph times respectively. Top speed for both models is in excess of 190mph. What's deeply impressive is the engine's flexibility; it's happy to trickle along at low revs in traffic. The clutch is reasonably light and the gearshift is among the best out there. Both cars punch very hard, but they're amazingly accessible.
How much will it cost me?
Porsches wear a premium badge and come with running costs to match. That's true of the GT3, but given the performance on offer it's actually surprisingly inexpensive to run. It'll need expensive tyres regularly, and if you take it to the track you might want to option the costly, hard-wearing and fade-resistant Porsche Ceramic Composite Brakes (PCCB). Officially it'll return fuel consumption in the low 20mpg range, but figure on about two thirds of that in ordinary driving – less if you're really enjoying it. CO2 emissions of around 300g/km means expensive road tax, too.
How reliable is it?
Porsche 911s are typically reliable, and GT3 models have been built for endurance racing – its engine having been proven many times over at the tough Le Mans 24 hours race. Compared to other performance cars it should be bomb-proof regarding reliability. Keep it regularly serviced and there should be few problems.
How safe is it?
The GT3 has stability and traction control systems tailored for its performance, both switchable for track driving. The standard tyres don't like the rain, being semi-slick to maximise grip in the dry, so you need to drive cautiously when the clouds burst. There's a roll cage inside though, and the brakes are sensational. Driver and passenger airbags are standard, and many examples are fitted – after delivery – with full five-point seatbelt harnesses.
How much equipment do I get?
There's not much in the way of equipment, but that's the point. The GT3 RS is a pared-to-the-bones racer that's had anything superfluous stripped out to make it lighter and faster. The money is in the drivetrain, that exceptional engine and the lightweight, bespoke RS parts. Climate control is standard; as are alloy wheels with centre hubs, but if you're a weight obsessive you can bin the climate control to save more weight. It's very much a case of less is more in the GT3 RS, and that's what buyers usually want. The GT3 is more luxurious, as it includes electric windows and mirrors plus a CD/MP3 player. Importantly, you won't feel like you've spoiled the work Porsche's engineers have done to lighten the car by specifying sat-nav, Bluetooth or a remote garage door opener on the GT3.
Why buy?
The GT3 and GT3 RS are the absolute pinnacle of the naturally aspirated Porsche 911 family. The RS is a proven race winner and that translates to quite staggering performance on the road. It's not just about the power though; it's the immediacy, the control and the feel on offer that make both cars so special. There are few cars that involve the driver so much or reward so convincingly. They're useable too, and given the performance on offer, both cars are relative bargains. A lightweight special, the RS line has always signalled the ultimate 911, and the GT3 RS is no different.