Expert Review
Mercedes-Benz E Class Convertible (2016 - ) review
The Mercedes E-Class Cabriolet is that rare thing: a prestige four-seat convertible. It's a seriously tempting buy, too. Find out why with our expert review
The Auto Trader expert verdict:
In terms of its size, it's a bit of an odd fish, but that doesn't stop the Mercedes E-Class Cabriolet from being seriously desirable. What's more, Mercedes' past form with four-seat cabriolets suggests it could be one of the best out there – even if it finds itself with relatively few direct rivals.
Reasons to buy:
Chic looks and strong image
Lovely interior
Comfortable and quiet to drive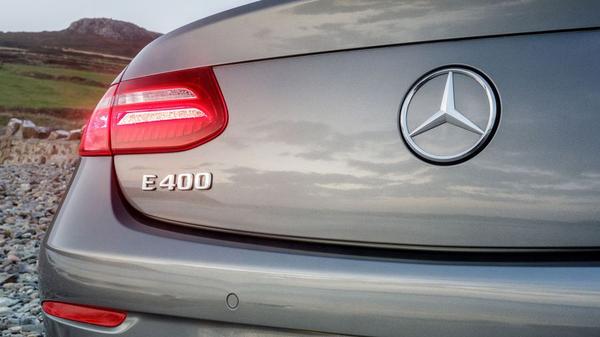 Running costs for a Mercedes-Benz E Class
Comparing the Mercedes E-Class Cabriolet's prices with those of competitors such as the Audi A5 and BMW 4 Series is a rather a confusing business. These cars are a perfect match for the smaller C-Class Cabriolet on price, and although it's a good slice bigger, the E-Class really doesn't cost that much more. Compare the E with other big drop-tops like the BMW 8 Series, meanwhile, and it costs many thousands less. It's worth noting that the Mercedes will cost you more to maintain and to fuel than its smaller rivals, simply by dint of its extra size and weight; of course, that also means it'll be less expensive to run than larger four-seat cabrios, too. What's more, the E-Class Cabriolet holds its value very well, which helps to mitigate any extra cost involved in buying it – even if it doesn't do so entirely.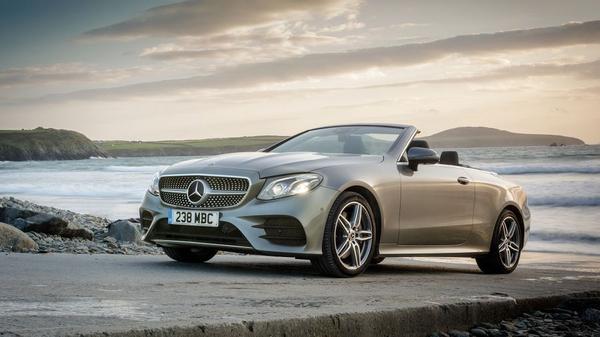 Reliability of a Mercedes-Benz E Class
Mercedes' reputation in this area has been rather patchy in the last few years, and the manufacturer standings of Warranty Direct's Reliability Index study won't do too much to allay many fears on that score, as the brand is lodged firmly in the bottom half of the rankings. The situation looks a little rosier for E-Class owners specifically, though, because the last version represents the company's second-best performing car in the study, with a very respectable score indeed. And while Mercedes' finishing position in the 2019 JD Power Vehicle Dependability Study was below average, it still beat both Audi and BMW in that survey. The three-year/unlimited-mileage warranty isn't half bad, either.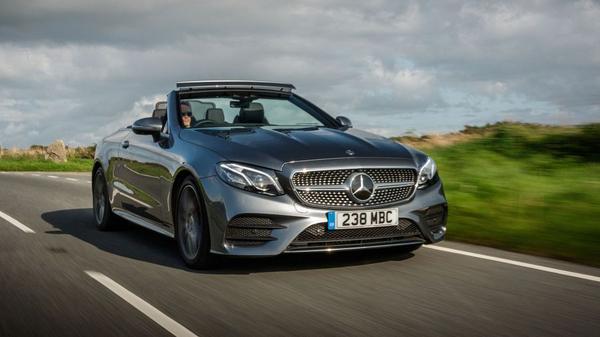 Safety for a Mercedes-Benz E Class
The E-Class Cabriolet comes with a very impressive amount of safety kit provided as standard, which includes nine airbags, all the usual electronic traction- and stability aids, Isofix child seat anchoring points on both rear seats, a driver fatigue sensor and a bonnet that pops up automatically to provide better protection for pedestrians in a collision. You also get automatic emergency braking, a system that will slam the brakes on automatically if it senses an impending smash. The options list features more clever safety systems, including a package that utilises a whole variety of systems – like blind spot assistants, braking assistants and steering assistants – to allow the car to pretty much drive itself.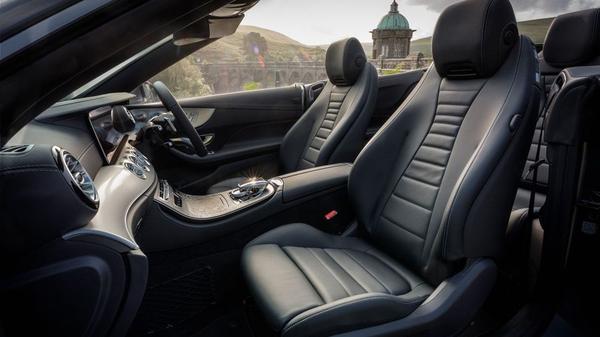 How comfortable is the Mercedes-Benz E Class
Just as you'll find in any other version of the E-Class, the Cabriolet has a level of interior quality that not many cars at any price can rival. The materials are dense, glossy and high-grade, with a wide range of textures and finishes to keep things interesting; and, combined with an exemplary standard of fit and finish, the feeling of sophistication is cranked up even further. As with most cars these days, most functions are controlled by scrolling through on-screen menus. There are various ways of doing this in the E-Class (depending on how you specify your car), including touch-sensitive thumb pads on the steering wheel and another touchpad on the centre console. Neither is particularly easy to use, though, especially on the move, so you're best off making do with the more conventional scrolling wheel and buttons, also located on the centre console. The electric seat adjustment, meanwhile, makes finding your desired driving position easy, and your rear view isn't too bad whether the roof is up or down. With many four-seat convertibles, it's somewhat 'optimistic' to say that every one of those seats is a useable everyday proposition. Happily, that is something you can claim about the E-Class with some confidence. Legroom in the rear, although a little on the snug side, is adequate for six-foot passengers, and with the fabric hood in place, there's enough headroom, too. The seats themselves are a little upright, so you won't want to spend hours in the back, but for short to moderate trips, you'll be absolutely fine. A system called Aircap – which directs airflow over the car more smoothly, efficiently and with less buffeting – also means that those in the back won't end up with a bird's nest hairstyle and flies in their teeth. The boot is a decent size at 385 litres, and that's about the same as you'll get in rivals from Audi and BMW, although that does drop to 310 when you put the roof down. And while the luggage area is rather oddly shaped, and accessed through an awkwardly shallow opening, folding rear seats come as standard. So far, we've only tried the E-Class Cabriolet on air suspension. This is standard fayre on the most powerful, most expensive versions of the car, but isn't actually available on the versions you're most likely to actually buy. That does mean we don't yet know how the car will behave on its basic suspension – but what we do know that the air suspension is seriously effective. Depending on your mood, you can firm things up or soften things off by selecting different driving modes, and the comfier ones give you a really comfy, cosseting ride, while the firmer ones give you impressive control over the way the car's body moves in the corners. The considerable size and weight of the car mean it doesn't feel particularly sporty, but there's no doubting how capable its handling is; and, this isn't a car that you'll really want to chuck around that much anyway. It's at its best at a steady cruise, keeping things comfortable, quiet and luxurious as the world – and the wind – rushes by serenely. The improved airflow provided by the Aircap system also helps enhance the car's roof-down refinement, and you don't feel many flexes, wobbles or shakes from the bodywork, either, which isn't something you can say about all convertibles.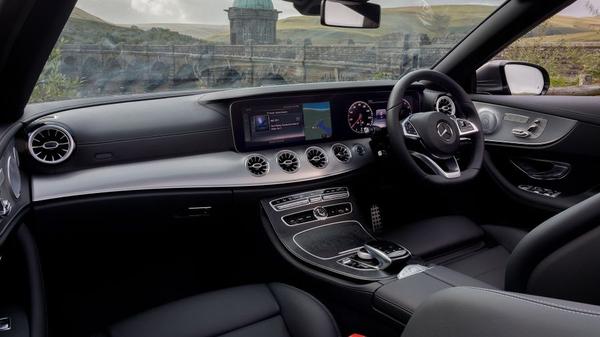 Features of the Mercedes-Benz E Class
The range kicks off with the high-end AMG Line Premium trim, and that means that all versions of the E-Class Cabriolet are very well equipped. The standard kit includes climate control, heated front seats, leather-effect upholstery, cruise control and an infotainment system that brings together sat-nav, digital radio, Bluetooth and a reversing camera, and comes with a 12.3-inch screen. The standard roster also includes the Aircap system, along with another system called Airscarf, which blows warm air down into your collar through vents in your seat. It's worth noting, though, that this trim is only available with the E220d, E300d and E300 variants. Upgrading to the rather long-winded AMG Line Night Edition Premium Plus model gains you access to the more powerful engines; it also gives you larger alloy wheels, an upgraded sound system fettled by hi-fi specialists Burmester, and keyless entry and starting. Choose your E-Class Cabriolet in hot AMG E53 form, meanwhile, and you can have it in either Premium or Premium Plus form. The former gets you that excellent air suspension system, as well as multi-beam adaptive LED lights that adjust their beams to leave other cars in shadow, a top-down parking camera, and a smattering of performance upgrades to cope with the extra power. Premium Plus, meanwhile, adds larger alloy wheels, keyless entry and starting, and that Burmester sound system.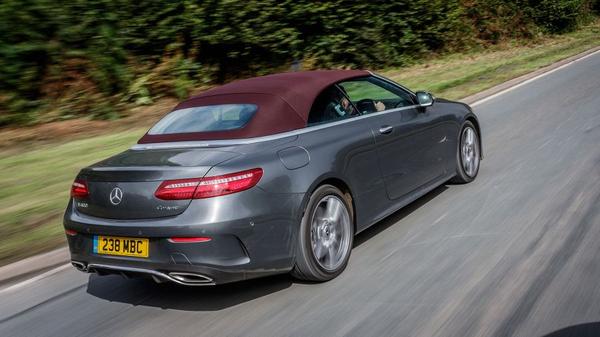 Power for a Mercedes-Benz E Class
The E-Class Cabriolet is available with seven engines – four petrol and three diesel – and to be fair, we can't see much of a reason to look past the entry-level options. The most popular engine is the E220d, which has a 2.0-litre diesel with 194 horsepower. It has enough grunt to cope with any everyday driving situation without you having to work it particularly hard, and the impressive mid-range pull makes overtakes on single-lane roads nice and straightforward. You don't have too much to complain about on the noise and vibration, front, either. It's not worth working the engine to its limits, though, because you don't ultimately get that much more speed out of it. If it's a more potent diesel you're after, you can choose between the four-cylinder E300d, or the six-cylinder E400d. Both of these are quite a bit more potent, but also quite a bit more expensive – so make sure you really need the extra power. It's worth noting that the E400d comes with four-wheel drive, too, which is great if you want extra traction in slippery conditions, but it's important to keep in mind the extra toll this will take on your fuel bill. For those that prefer petrol power, the E300 has a turbocharged 2.0-litre engine with 245 horsepower. It delivers a decent spread of power across most of the rev range, so neither acceleration nor flexibility are ever in short supply, but it can sound a little wheezy when you really rev it. The E400, meanwhile, has a 3.0-litre V6 that's smoother and sounds much nicer, and with 333 horsepower, it feels muscular and effortless when picking up the pace. There's also the E350, which we haven't tried yet; this comes with a 2.0-litre four-cylinder petrol engine mated to a small electric motor that, while not powerful enough to turn the car into a proper hybrid, still gives it an extra hit of performance. If real performance is what you're after, however, you should look at the AMG E53. This model gets a similar electric boost to the E350, but with a 435 horsepower 3.0-litre six-cylinder base engine instead. It's certainly fast, though it doesn't quite have the rip-snorting pace you'll find in other AMG models. All engines are mated to a nine-speed automatic gearbox, which – as it should – blends nicely into the background. Although manual shifter paddles are mounted behind the steering wheel, there's little incentive to use them as the auto mode does a more-than-adequate job.