Expert Review
Lotus Elise Convertible (2000-2010 ) review
Read the Lotus Elise convertible car review by Auto Trader's motoring experts, covering price, specification, running costs, practicality, safety and how it drives.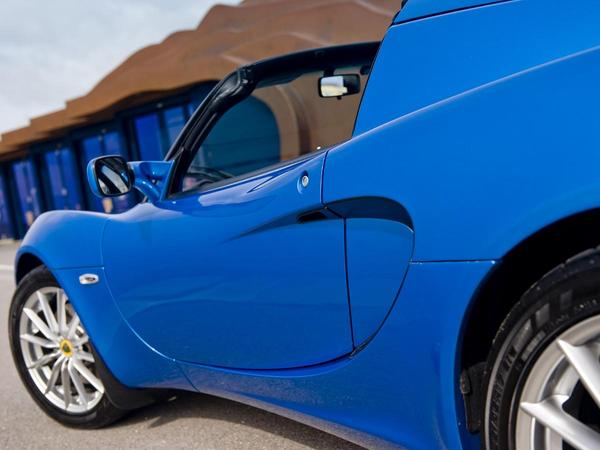 The Auto Trader expert verdict:
Available new from £47,320
The Lotus Elise offers a unique driving experience. It has been designed to perform and handle through light weight, making it cheaper to run than almost any other sports car.
Reasons to buy:
Thrilling to drive
Low running costs
Hold their value
How good does it look?
Since its introduction in 1997 the Lotus Elise design has become iconic. While it has itself given rise to the Vauxhall VX220 and recently the all-electric Tesla roadster, it has remained almost unique in its execution. If you want a racing car for the road on a tight budget, the Elise is almost certainly on your shopping list. In its most recent guise its lines have become less curvy and more taut, while its headlights have more menace. New for 2011 are improved aerodynamics with a larger rear bumper diffuser, LED tail lights and improved alloy wheel designs.
What's the interior like?
Weight – or rather, lack of it – was key to every stage of Elise design, and it's no more obvious than inside the cabin. Getting inside is notoriously tricky with the roof in place, requiring a nimble manoeuvre over the door sill and into the low front seats. Much of the lower surfaces are bare metal, with just a shallow dashboard, small instrument cluster and MOMO steering wheel in front of the driver. The seats look excruciatingly devoid of padding, but actually provide impressive support thanks to their moulded shape.
How practical is it?
While people can and do drive their Elise to work, or even away for weekends, it takes a dedicated enthusiast to do so. For the majority of customers the Elise makes much more sense as a toy, where luggage consists of your wallet, phone and sunglasses. At most a few soft bags can be carried in the 112-litres of luggage space behind the front seats. Rear visibility can be an issue for parking, but the Elise is so small, it's rarely a problem.
What's it like to drive?
While most cars have to fulfil a wide range of everyday tasks, the Elise was designed as a sports car from day one. Its lightweight bonded aluminium chassis has racing suspension bolted directly onto it, is incredibly stiff and has a low centre of gravity. This translates to incredible road handling, with instant response from the steering and exceptional agility. Because the car is light and stiff, it can also use relatively soft springs and dampers, meaning it rides surprisingly comfortably and won't get upset by bumps in the road. With its engine mounted in the middle of the car the Elise is prone to neither understeer or oversteer, but both can be provoked by aggressive driving.
How powerful is it?
The entry-level Elise is now fitted with a 1.6-litre petrol engine producing 134bhp. Acceleration from rest to 62mph takes 6.5 seconds. It's a responsive engine, which sounds surprisingly rorty with the sports exhaust fitted, while its overall performance is just enough to excite the chassis. A Club Racer version gets the same engine and power, but with 24kg shaved from its body weight for slightly better performance. The Elise R is fitted with a 1.8-litre engine and gets 189bhp for a more serious hit of performance. But, that's not the end of the story. Fitted with a supercharger, the Elise SC has 217bhp and can worry far more expensive machinery with its acceleration from zero to 62mph in 4.6 seconds, and demands serious respect from its driver.
How much will it cost me?
The 1.6-litre Elise is the cleanest petrol sports car currently on sale, a great news story in these times of high fuel prices and the stigma around polluting vehicles. Its combined fuel consumption of 45mpg and emissions of 149g/km are no worse than a petrol family hatchback. The Elise R and SC emit 195 and 199g/km of CO2 respectively, making them cleaner and cheaper to tax than most similarly-performing cars.
How reliable is it?
The standard fitment of Toyota 1.6 and 1.8-litre engines instantly gave the reliability of the Elise a boost. These engines are tough, with few reported faults, but can begin to use more oil as the mileage of the vehicle increases.
How safe is it?
A large part of feeling safe in the Elise comes from the knowledge the car has great brakes and handling to avoid danger. If the worst does happen, the car's structure is extremely strong and there are two airbags fitted. Anti-lock brakes (ABS) are fitted to help prevent skids.
How much equipment do I get?
The standard Elise is extremely pared back, with just electric windows, alarm, CD radio and central locking fitted as standard. Add the Touring pack and you get extras including leather trim, while the Sport pack enhances the suspension and adds traction control.
Why buy?
Because the Lotus Elise is built for pure enjoyment of the road and track. Its handling is confidence inspiring for novices, but also allows more advanced drivers to improve their skills and enjoyment of the car.