Expert Review
Hyundai i30 Fastback N (2019 - ) review
If you're looking for a hot hatch, that's not quite a hatch, but still delivers on fun, power, practicality and driver engagement, take a look at the Hyundai i30 Fastback N
The Auto Trader expert verdict:
The Hyundai i30 Fastback N is a swoopier version of the i30 N hatch, with a slightly bigger boot and a bit less headroom for those in the back. It's got the same engine and power as the hatch and it's just as good to drive. On top of that, it's competitively priced, and comes with plenty of kit as standard. Definitely worth a look if you're looking for a hot hatch with a slightly more mature image.
Reasons to buy:
Very fun to drive
Plenty of standard kit
Should be reliable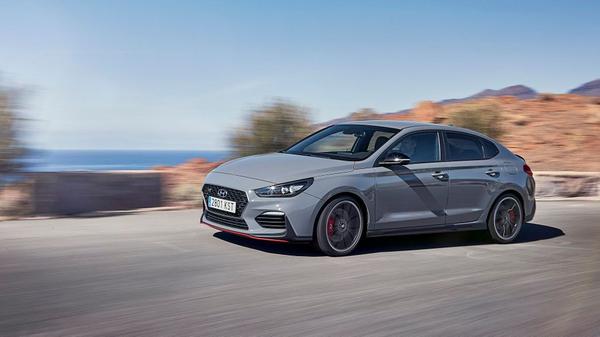 Running costs for a Hyundai i30
The i30 Fastback N Performance is a shade more expensive than the
i30 N hatchback
while its slightly more grown-up image sets it up against cars like the Mercedes-Benz A-Class saloon. It can't compete with the AMG-tuned A35 for power, prestige or with its all-wheel drive tech but it's a lot cheaper to buy, though come resale you may be glad you paid the extra money for the Mercedes. In terms of day to day running costs the official figures are about average for a car of this performance but are clearly going to be a lot more than the regular
i30 Fastback
. If you want some of the N's style and a slightly sprightlier driving experience than a standard Fastback you could always opt for one with the N Line trim, which has a similar look to this model but is much cheaper to buy and run given it uses the standard engine.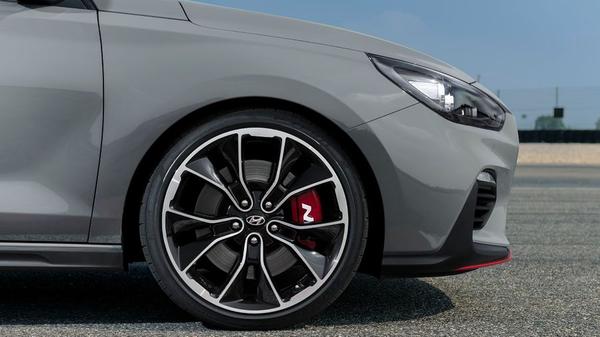 Reliability of a Hyundai i30
Hyundai has an excellent reputation for
reliability
and robust construction and ranks highly in the respected JD Power Vehicle Dependability Study, even if it's slipped a couple of places from the top spot it occupied in 2018. That's nothing too serious to worry about and we can see why the i30 Fastback N should stray from this excellent track record. The Warranty Direct Reliability Index looks further back and here Hyundai is still a strong performer and comfortably in the top third of all manufacturers. Five years of roadside assistance and vehicle health checks are included with the standard, fully transferable, unlimited-mileage warranty.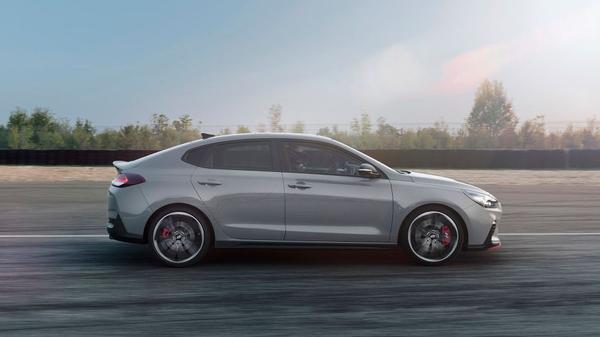 Safety for a Hyundai i30
On top of all the regular airbags, stability control and suchlike the i30 Fastback N comes with all the assistance and safety systems you could wish for, including a driver attention alert that will warn you to take a break if it senses you're tired, a lane keep assist that steers you back into your lane if you're drifting out of it, alerts if you don't react to a hazard in front of you (and automatic braking if you don't slam on the anchors yourself) and high beam assist that automatically dips your lights to stop you dazzling oncoming traffic.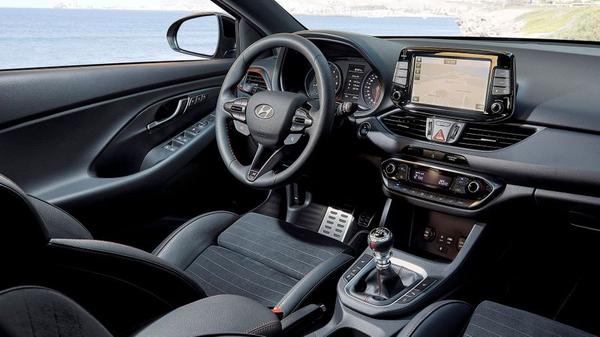 How comfortable is the Hyundai i30
The Fastback N grips well and has excellent body control so you'll feel perfectly confident
having fun in the corners
. The steering is weighty, precise and pretty quick, which is exactly what you want from a car like this. The Performance model – the only one coming to the UK – comes with an electronically controlled limited-slip differential to help put the power down, an exhaust that pops and bangs in its sportier modes to put a smile on your face, and bigger brakes than the standard i30 Fastback. Hyundai has tweaked the suspension to make it ever so slightly less firm compared with the i30 N hatch. It's still on the firm side in Normal mode, but it's not uncomfortable, and you could happily have it as a daily driver. N mode is best saved for the track, given how firm it makes the car feel. Just like the standard i30 Fastback, the Fastback N gets a decent amount of room inside. There's plenty of adjustment in the powered front seats, although some people might wish the driver's seat went a bit lower for the full sporty experience. There's quite a small rear window, so visibility out the back isn't great, although the Fastback N does come with a reversing camera to help you out when parking. The sloping roofline does give a bit less headroom in the back compared with the i30 N hatch, but it still won't be a problem for most passengers. Other practical compromises for this sporty model include a bracing bar across the boot floor – it stiffens up the body but gets in the way if you want to carry big items with the seats down.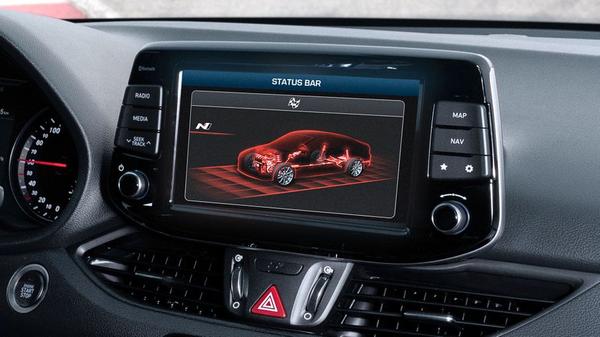 Features of the Hyundai i30
The Fastback N is the most expensive version of the i30 Fastback, so you would expect it to have lots of kit, and it does. As standard, you get keyless entry and engine stop/start, heated front seats and heated steering wheel, front- and rear parking sensors, a reversing camera, automatic wipers, climate control and cruise control. To keep you entertained, the Fastback N comes with six speakers and a USB port, and on the 8.0-inch touch-screen you get sat-nav, live traffic alerts, local information, DAB, Bluetooth and
Apple CarPlay and Android Auto
connectivity. You also get front sports seats, some red stitching and various other accents around the interior that are unique to the N model, as are the driver mode buttons on the steering wheel. The button on the left allows you to select from three drive modes - Normal, Eco and Sport - and the chequered flag button on the right unleashes N mode. If you press that twice, you can access a custom N mode that allows you to personalise various aspects of the car, and store them for future use.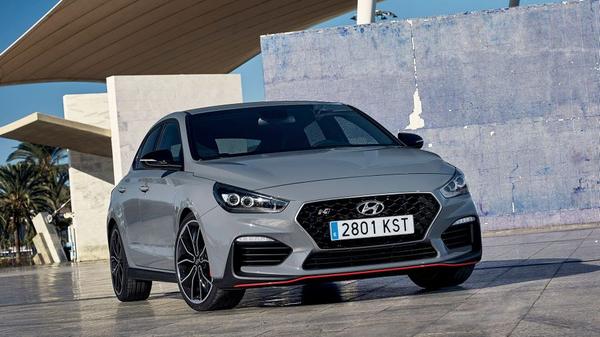 Power for a Hyundai i30
The Fastback N Performance uses the same 2.0-litre, four-cylinder, 275 horsepower turbocharged engine as the i30 N hatch. The engine pulls hard from just below 2,000rpm, and keeps going strong through the middle of the rev range. It's also flexible, and you won't struggle to overtake cars on the motorway in fifth gear. The engine is paired with a six-speed manual gearbox that is a joy to use. The travel between gears is quite short, so changes feel sporty, and lock into place nicely. The Fastback N also comes with a launch control programme, for maximum traction and speed off the mark, and it's got a rev matching function that blips the accelerator automatically, to help you get slicker gear changes. If you really put your foot down, you can feel the steering wheel tugging from side to side as you accelerate, but that's not unusual in a powerful front-wheel drive car, and it's not so aggressive that you'll be struggling to rein it back in.