Expert Review
Ford Edge SUV (2015 - ) review
Ford of Europe is in desperate need of a full-size SUV to re-engage with customers who are deserting traditional saloon and estate cars in their droves. Is Uncle Sam's Edge the answer to those European prayers?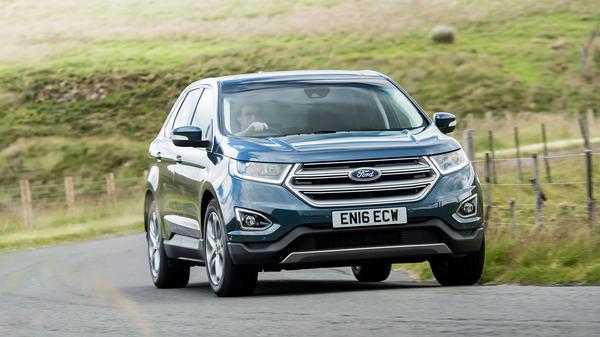 The Auto Trader expert verdict:
The Edge is well equipped, extremely spacious, fairly refined and comfortable too, so what's not to like? Sadly, it's not exactly the most engaging car to drive. Delivering sluggish performance and lazy responses, its extravagant dimensions can be sensed at every turn, and as a consequence, it fails to deliver the sparkle that we've come to expect from a Ford car.
Reasons to buy:
Generous equipment
Excellent refinement
Spacious cabin and boot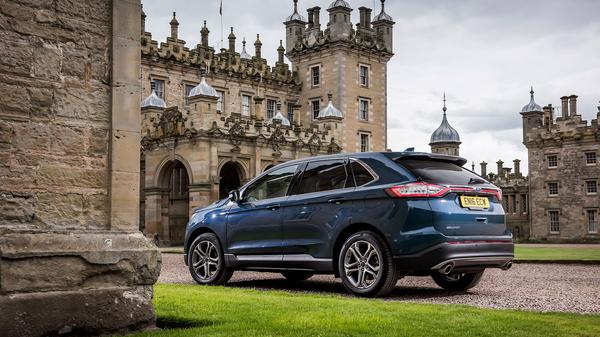 How good does it look?
Don't worry if you think the Edge looks vaguely familiar. It's actually been on sale in the States for a number of years, although it was given a significant facelift and some substantial engineering tweaks before its European debut. Despite the changes, the Edge retains an unmistakable State-side presence, with a bluff front end that's dominated by a gaping, slatted grille, a billiard-table-sized bonnet (complete with a couple of sighting bulges to help you place the car on the road) and lots of chrome highlights on the outside. Based on the same underpinnings as the
Mondeo
family car and the
S-Max
MPV, in terms of both price and size, the Edge sits above the Kuga as the flagship model in Ford's SUV range. Although it costs roughly the same as the
BMW X3
and
Audi Q5
, you get a fair bit more metal for your money, as the Edge is a good deal bigger in every direction than its German rivals - in fact it's actually longer than a VW Touareg.
What's the interior like?
Certainly, anyone familiar with the latest Mondeo will feel instantly at home in the Edge. So, in much the same vein, while the main touch-points and all the buttons and switches look and feel of decent quality, some of the materials used elsewhere are less convincing. Items such as sharp edges inside the door pockets and the plastic on top of the stereo tend to let the side down. That said, the most frustrating aspect of the Edge's cockpit is the infotainment system, which isn't the most intuitive or slick touch-screen system available. It does have plenty of features, at least, including DAB radio, Bluetooth connectivity and sat-nav. More positively, loads of deep storage bins, capacious cup holders and nice little touches like padded rear seat belts are all welcome additions.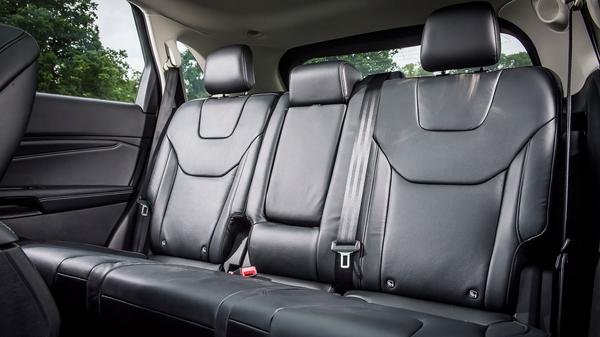 How practical is it?
With loads of legroom front and back, as well as an exceptional amount of space between the doors, the Edge will take three bods across the rear bench rear without them resorting to shoulder-charging tactics. With a capacity of 602 litres with all the seats in place, and more than three times that available when stacking to the roof with the seats folded, you've got to imagine that no one will ever complain about a lack of boot space. So as a five-seater, the Edge is almost as useful as a Mondeo Estate. Of course, the one glaring omission is its lack of a third row of seats, which are readily available in rivals such as the
Hyundai Santa Fe
.Given the immense size of the Edge, it seems crazy that extra chairs aren't even offered as an optional extra.
What's it like to drive?
Be under no illusion; the Edge is, and always feels like, a seriously big car. While the positives include a quiet and largely compliant ride quality (once you get going) and decent control over body roll in bends, you're still very aware of the car's mammoth mass every time you try and change direction or slow down. If you're going at a decent speed and you then turn the steering wheel or give the brakes a good shove, the car can sometimes feel like it's really struggling to do what it's told. The ST-Line version comes with a sports suspension that does very little to make the car more nimble, and only succeeds in making the ride a shade less forgiving, although it's still pretty comfy. The brakes themselves have a rather numb feel, and while the standard steering doesn't respond as sharply as you'd like, the optional Active Steering system is the exact opposite; it feel rather too quick, which can make the car feel a little twitchy.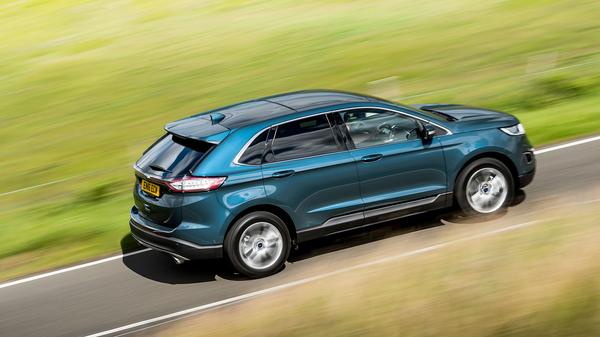 How powerful is it?
The Edge is available with a couple of 2.0-litre diesel engines: a 180 horsepower four-cylinder unit (using a single turbo and coupled to a six-speed manual gearbox) and a twin-turbo version of the same motor producing 210 horsepower, which is mated to a six-speed dual-clutch automatic. To be honest, it's difficult to justify the premium for the extra oomph, as the higher-powered Edge doesn't feel much quicker than the lower-powered car. The dual-clutch auto is not the best example of its type, either. It's slow in deciding which gear it wants, and in engaging it as well. It gets its act together a little more quickly when you shunt the selector down into Sport mode, but then it holds low gears for longer, which makes the engine both noisier and thirstier. Initially, you'll find yourself switching between modes to suit the driving situation, but once you get tired of doing that, you'll just stick with the mode that annoys you the least. At least both engines are reasonably smooth, only producing harsher vibrations when you have lots of revs on the dial. They're also pretty hushed (at least from inside the car), thanks in no small part to synthetically enhanced tones that are piped into the cabin to help mask the noise.
How much will it cost me?
The Edge isn't too far behind five-seat SUV rivals like the Audi Q5 and BMW X3, so it's not a cheap option. But, because it's also considerably bigger, you do get a fair amount more car for your money. It's also pretty similar in price to cars like the Hyundai Santa Fe and Kia Sorento, but with those, you can have seven seats. You pays your money, you takes your choice. It's worth bearing in mind, though, that the car's resale values won't get anywhere near matching those of its German rivals, and will be much more comparable to the Korean rivals mentioned, so be prepared to kiss a fair chunk of your outlay goodbye when you part ways with your car. All versions of the Edge return similar fuel economy at around 48mpg, and a correspondingly hefty CO2 figure means this won't exactly be the conveyance of choice for tax-conscious company car drivers. Those rivals from Kia and Hyundai also give you a much more generous warranty for your money, too.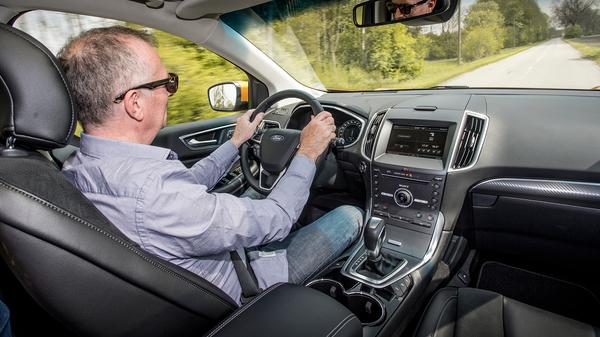 How reliable is it?
Ford is currently riding fairly high in the manufacturer standings of Warranty Direct's Reliability Index, and we can't see any reason why the Edge would change this. If things do go wrong, being a Ford, parts and repairs will be pretty affordable. While the Edge's interior materials aren't as plush as those in some German rivals, everything feels dependable and sturdy, so hopefully the cabin should stay free from squeaks and rattles.
How safe is it?
The Edge comes with an impressive suite of safety measures, including stability control, a plethora of airbags and a hill-start assistant. Ford also provides a collision mitigation system that warns of an impending low-speed impact and slows or stops the car if the driver takes no action. Inflatable rear seatbelts to help reduce bruising in the event of an impact are also included. Additionally, there's a lane-departure system that helps you to stay in your lane on the motorway, as well as a blind-spot warning system and a 180-degree 'Split View' camera that helps you to see oncoming traffic when pulling out of tight junctions. This kind of technology played a big part in helping the Mondeo that it is based on achieve the maximum five-star rating; and, perhaps unsurprisingly, the Edge also ended up with the same score.
How much equipment do I get?
Along with intelligent four-wheel-drive, Titanium trim gives you 19-inch alloy wheels, DAB radio and Bluetooth connectivity, automatic lights and wipers, a reversing camera, dual-zone climate control, rear privacy glass, a powered tailgate, heated front seats, a touch-screen infotainment system with sat-nav and a Quickclear heated windscreen. As a consequence, it's highly debatable whether it's worth upping the spec beyond this point. If you do step up to ST-Line trim, you get benefits like sportier styling, sports suspension, part-leather trim and powered front seats. The Vignale model has unique styling inside and out, but not actually much more in the way of extra luxury kit.
Why buy?
It may not provide the finest drive, but the Edge is big on equipment, comfort and refinement - all things that will appeal to plenty of SUV buyers. Its elevated ride height, large glass area and exceptionally spacious cabin provide airy, lavish accommodation for all the family, too. Providing you're savvy and recognise that the Edge won't retain its value as well as German rivals, then it could well represent a decent family car. Ford is not averse to offering attractive discounts, however, so be prepared to haggle hard to help take the sting out of the inevitable heavy depreciation.