Expert Review
Caterham Seven Convertible (2002 - 2009) review
Read the Caterham Roadsport convertible (2010 - ) car review by Auto Trader's motoring experts, covering price, specification, running costs, practicality, safety and how it drives.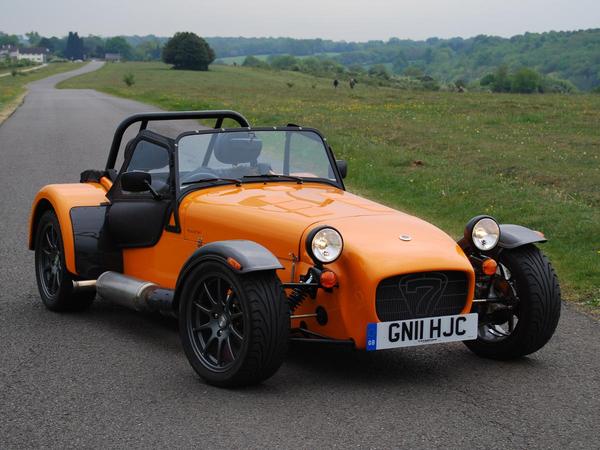 The Auto Trader expert verdict:
Available new from £17,730
The Caterham Roadsport is built for driving, not for getting from one place to another. It's fast, but most importantly, you are always part of the action.
Reasons to buy:
Incredible driving experience
Brilliant handling
Ample performance
How good does it look?
One look at a Caterham tells you all you need to know about this sporty two seat roadster. It's the closest you'll get to supercar thrills and spills, without the hefty price tag. Its styling may have stayed true to the Lotus Seven of the sixties, but its blend of old school charm mixed with modern engines makes it one of the most exciting cars to drive, regardless of price. The Roadsport 125 is the most popular model in the line-up and offers a great blend of affordability and performance with just the basic essentials to get from A to B while raising the corners of your mouth.  It's not the most extreme model in the line-up, but don't think that makes it any less fun. There is also the entry-level Classic, the Academy model (which is road legal, but designed for Caterham's racing series), track orientated Supersport and Supersport R, even quicker Superlight R400 and R500 and the exotic CSR. Make no mistake, this isn't an everyday runabout, instead it's more geared towards weekend driving and track day fun.
What's the interior like?
The cabin of the Caterham is simplicity itself and is as easy to use as a knife and fork. After all when you're hurtling around a track, or enjoying the twists and turns around a country lane, the last thing you want to be distracted by is a radio or satellite navigation. Two seats and a steering wheel are pretty much all you get. The dials and controls stretch across the dashboard and take some getting used to, and as for luxuries, don't expect much, if anything. The Roadsport, Supersport, Superlight R400 and CSR are available in an SV body style, which has a wider body and longer footwell for increased interior space and luggage room. But, SV or not, don't expect any sort of in car entertainment and as for air-con, the closest you'll get is the cool breeze wafting into the cabin with the roof down. The ignition is hidden under the dashboard and is fiddly to access, but after a while you get used to it. The seating position is snug,  low and probably not great for six footers or those with fuller figures, and getting in and out with the roof up isn't the most dignified of processes. As you go up the range, the seats, dashboard and gauges look more like you'll find in a racing car, with composite materials adding an air of pitlane-cool.
How practical is it?
Caterham build cars with driving pleasure in mind, rather than the practicality we've come to enjoy in more expensive and prestigious drop-top offerings. We've already mentioned space for the driver and passenger is at a premium, and it's much the same case for luggage. There is a limited boot which is really only useful for an overnight luggage and there's no space for additional bags in the cabin, so if you're planning a weekend away, you'll need to pack light. Also, erecting the tent-like canvas roof takes a few minutes, even for the well trained, which isn't ideal should you find yourself caught in the middle of a downpour. All Roadsports are available as an SV (Series Five) which means slightly more cabin space, however, that comes with a bigger price tag.
What's it like to drive?
As its sporty demeanour shows, this is a car designed with the pure petrolhead in mind. That means a firm ride and sensational handling is the norm. This is how racing cars used to be built so it goes without saying that the Caterham will fly around a track. Weighing in at just 550kg, its lightweight body, which can be lightened further with carbon fibre optional extras, makes it agile and its steering is responsive. Although the lack of power steering means manoeuvring at low speeds can be hard word. But its race car handling is one of the main reasons it's got such a cult following. But all those thrills come with a downside. If it's refinement you're after, then this isn't the car for you. In short, it's a brutal attack on the senses. The ride is on the firm side and will have you planning routes to avoid speed bumps, while wind and road noise will only excite the pure driving enthusiasts. But it comes into its own on twisty roads or on a track day, few cars will offer as many thrills per pound. As you go up through the range the suspension becomes increasingly more specialised, culminating in the CSR, with a wide body, fully independent rear and inboard front suspension and aerodynamic enhancements.
How powerful is it?
The Roadsport 125 is the big seller of the Caterham family because of its blend of performance and affordability. Power takes the form of a 125bhp 1.6-litre engine and its lightweight body means it will shame many performance cars, 0-60mph takes just under six seconds and it will keep going to a top speed of 112mph. It's available with either a five speed or six-speed manual gearbox and depending on the type of driving you'll be doing will dictate which one you opt for. The six-speed is more geared around aggressive track driving while the five speed is better suited for more spirited use and motorway work. The Caterham Classic has a 1.4-litre engine with 105bhp and the Roadsport is available with 125, 150 or 175bhp from either a 1.6-litre or 2.0-litre motor. The Supersport uses a 140bhp 1.6-litre, while the Supersport R gets serious with a 2.0-litre tuned to 180bhp and zero to 62mph in a scant 4.8 seconds. If the Supersport R is serious, the rest of the range only gets more eye-watering. The R400 and R500 have the same 2.0-litre, but with 210bhp and 263bhp respectively, the latter hitting 60mph in 2.9 seconds. That's not much slower acceleration than a Bugatti Veyron, and for less than a tenth of the price. The CSR has a 2.3-litre Cosworth engine, with a monstrous 260bhp.
How much will it cost me?
Drive the Caterham conservatively and it'll return an impressive 38mpg but, realistically, this is a car that wants to be driven at pace, meaning you'll struggle to get close to that figure. The Roadsport 125's popularity is thanks to its affordable running costs and cult status. That means it'll retain its value surprisingly well, and better than any other more extreme versions, which are more expensive to own and run. Service intervals are every six months and a three-year service plan is available.
How reliable is it?
Performance cars like Caterhams can live hard lives if they are used on trackdays or for racing, so as a general rule, it needs more TLC than more mainstream alternatives but, as they are relitively simple things, fixing any problems are not that difficult or expensive. The engines have proved reliable, but regular maintenance checks are advised. You'll also need a garage too to keep it secure (as there are no door locks) and to keep it out of the elements.
How safe is it?
This isn't a car for the faint of heart, push it over the limit and it's pretty unforgiving, with no safety aids you'll find in more mainstream models. There's no traction control, stability control or ABS, so when the heavens open, it's probably best to leave it tucked up in the garage. All models are fitted with a roll bar and four-point seatbelts, while versions spending a lot of time on track should have a roll cage fitted.
How much equipment do I get?
This is a stripped down thrill machine with all the mod cons ripped out in the interest of pure one man and his car driving pleasure. There's no radio, air-con or heated seats. The most common optional extra is the metallic paint job and leather seats. The rest of the optional extras list is more geared around how extreme you want to make your Caterham with equipment like carbon fibre bodywork, removable steering wheel and racing seat belt harnesses.
Why buy?
Simple. No nonsense thrills. The Caterham is a car you'll enjoy again and again on weekends around country lanes or blasting around a track.