Vauxhall Crossland
New from £18,175 / £331 p/m
Is the Vauxhall Crossland SUV a good car?
Read our expert review

Words by: Dan Trent
"The popularity of small SUVs and crossovers shows no signs of dimming and to keep pace with a talented field of rivals Vauxhall has updated the Crossland with its latest corporate look and detail improvements across the board. It's better than before but no more than average and, against the likes of the Nissan Juke, Renault Captur, Peugeot 2008 and Volkswagen T-Cross, that's not enough to make it stand out."
Read the review by category
Running costs for a Vauxhall Crossland
Having ditched the 'X' from its name the Crossland competes in an incredibly vibrant corner of the market against some very talented rivals. Sharper looks help its case and you get a decent amount of kit but for comparable money you can get the considerably more appealing Renault Captur with a punchier engine, equivalent features and a five-year warranty. It's cheaper and better equipped than a Peugeot 2008 but, across the board, fails to land a killer blow on value for money as you hope it might. And the entry-level version might look attractively priced but is very basic indeed. In terms of running costs the 1.2-litre petrol at the heart of the range is pretty much comparable with rivals in terms of fuel consumption, CO2 emissions, Benefit In Kind and the other monthly costs you'll be weighing up. Diesels are better on fuel but more expensive so you'll have to be doing a lot of miles to make this a cost-effective choice. The similarly sized Mokka meanwhile offers hybrid or full electric options if that's what you're looking for in your compact crossover.
Reliability of a Vauxhall Crossland
If not spectacular Vauxhall has a commendably decent reliability record and shares many of its parts and engines with Peugeot and Citroen, with which it is now partnered. Peugeot in particular has done well on dependability studies of late so this should give you some confidence. Vauxhall's three-year warranty is pretty typical but some rivals, Renault and Kia among them, offer five years or even more for additional peace of mind.
Safety for a Vauxhall Crossland
When we tested the previous Crossland we noted that, for all its commendable safety features, it only offered assistance functions like automatic emergency braking as cost options. As such it is disappointing Vauxhall hasn't taken the opportunity of this update to add a feature many rivals include as standard. You can still pay extra to add it – and it doesn't cost too much – but you shouldn't really have to in this day and age. A lane departure warning is included as standard but we found it intrusively over-sensitive on rural roads and soon switched it off.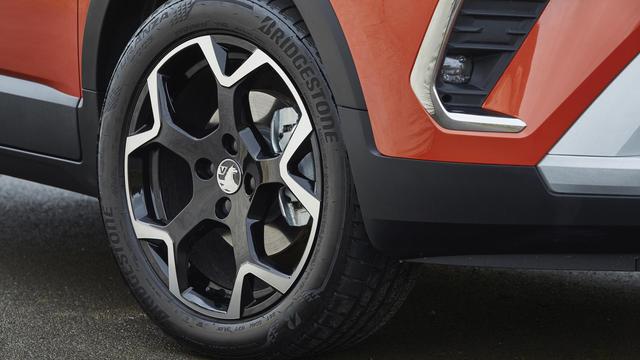 How comfortable is the Vauxhall Crossland
Vauxhall has responded to criticisms the previous Crossland felt a little twitchy and insubstantial in motorway driving and has added a little more weight and response to the steering, among a number of detail changes intended to make the car sharper to drive. It seems to have worked, though it still feels a tad top-heavy and forward visibility at junctions is seriously hampered by thick pillars either side of the windscreen. Otherwise there is a wide range of adjustment to suit all physiques and plenty of scope to get that raised seating position many drivers seem to appreciate. Practicality is important for buyers in this sector and the Crossland has a good-sized boot for carrying the kit young families need. Some models get sliding rear seats, meaning you can trade legroom for more boot space if required, though that doesn't leave you with much space behind the front seats when you have them in the forward position. Short rear doors also make access to the rear seats a little tight for strapping kids in, or loading baby seats into their carriers.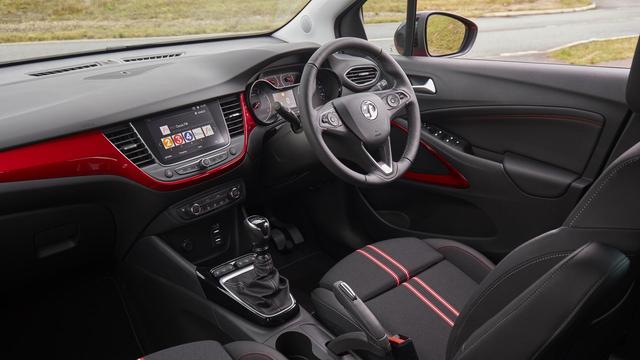 Features of the Vauxhall Crossland
The Crossland's model range doesn't follow a linear path but instead splits into two parallel ones offering different trims at similar prices. Above the (very basic) SE you can choose between sportier looking SRI Nav and more luxurious Elite, which gets kit like heated seats but makes you pay extra for the 8.0-inch touch-screen navigation system the SRI Nav includes as standard. This is all a bit confusing but SRI Nav looks the better deal. At least the top trim – Ultimate – does what it says on the tin. Inside and out the improvements to the looks of the Crossland are a big step up from before but there's no escaping it feels a little left behind by the likes of the Juke, 2008, T-Cross and others in the segment and there's little in the way of surprise and delight design or functionality.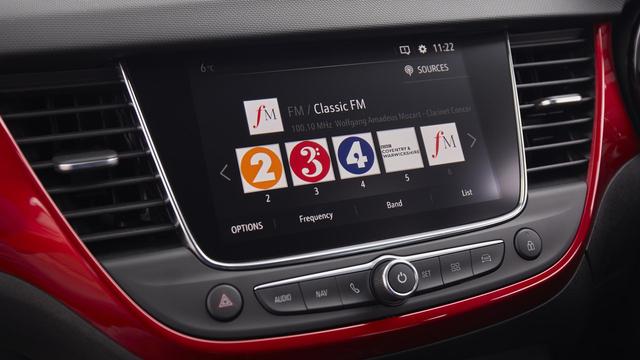 Power for a Vauxhall Crossland
The 1.2-litre petrol is available in three power levels, the upper two benefitting from turbocharging and a six-speed manual for extra flexibility over the five-speed in the base car. You can also have the most powerful 130 horsepower version with a six-speed automatic if you wish. We drove the latter with a manual gearbox and it feels pretty perky, if not especially refined. Previous experience of the 110 horsepower version suggests this may be plenty, and is a bit cheaper to buy. There's also a diesel, which comes with the six-speed manual or – optionally – the automatic. We tried the manual version and it feels stronger than the petrol, which will suit you if you cover more motorway miles or regularly travel with a full load of passengers. Given the Crossland is more geared towards shorter, lower-speed urban and suburban driving for our money the petrol versions look a better bet.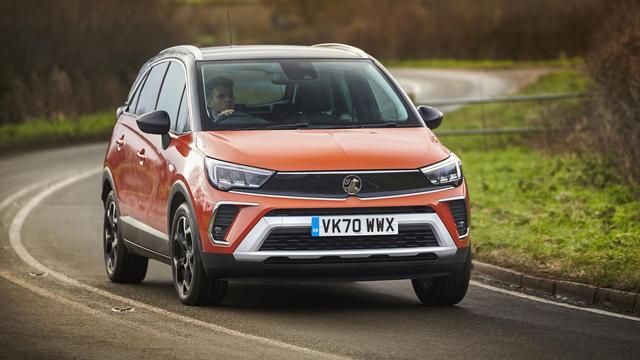 Lease deals
These deals are based on terms of 8,000 miles, for a 36 month lease with a 6 months initial payment.
Standard equipment
Expect the following equipment on your Vauxhall Crossland SUV. This may vary between trim levels.
Related articles and reviews