Hyundai IONIQ 6
New from £47,040 / £779 p/m
How long will it take to charge?
Results based on 77.40kWh Hyundai IONIQ 6 battery
0

For a part charge (up to 0 miles)

0

For an 0% charge 0
You can charge this vehicle in 20 minutes at its fastest charging speed of 350 kW
* We have used data from the manufacturer to estimate these charging times, they are only a guide. Charging times for some speeds may not have been provided.
Is the Hyundai IONIQ 6 Saloon a good car?
Read our expert review

Words by: Erin Baker
"Following hot on the footsteps of the Ioniq 5, with another unique design, great reliability and strong electric range, is the pure electric Ioniq 6. You can choose rear or all-wheel drive, two trim levels and a choice of two power outputs from the battery. Does Hyundai have another winner on its hands?"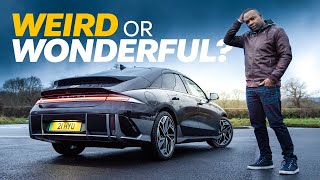 Read the review by category
Running costs for a Hyundai IONIQ 6
Electric cars remain expensive to buy - on average they are around a third expensive than their petrol counterparts. But it can pay (literally) to do the maths before you buy. Your monthly finance deal may look dear, but if you have off-street parking where you can install a home charger, get your household on a dual-tariff with a smart meter and charge off-peak overnight you could claw back that cost over the course of a typical ownership cycle. If you live in London there's no congestion charge, either. But this car will make best sense for company car drivers, who pay negligible Benefit In Kind on EVs for the foreseeable. Servicing costs are lower with fewer parts to go wrong as well, and very little gets wrong with Hyundais, ever.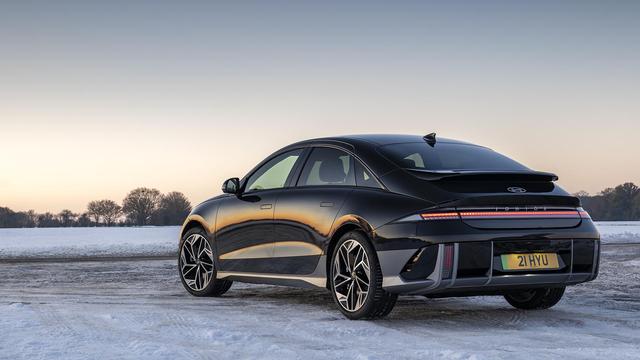 Reliability of a Hyundai IONIQ 6
Hyundai, like its sister brand Kia, offers a great track record in reliability and, if that's not enough to persuade you, the Ioniq 6 comes with a five-year, unlimited-mileage warranty and a 12-year anti-perforation warranty. You also get an eight-year/100,000-mile battery warranty and Hyundai Roadside Assistance. Plus five annual health checks on your car. Best of all, you shouldn't need to call on any of it, if previous owner satisfaction reports are anything to go by.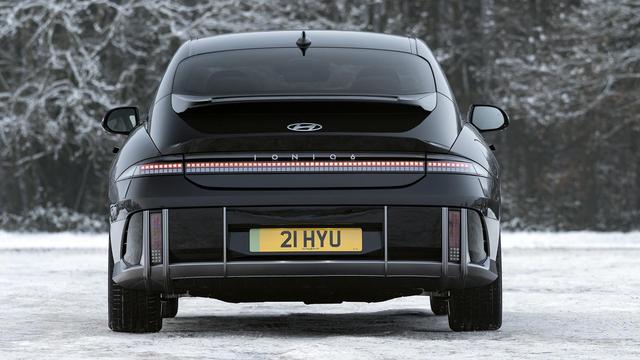 Safety for a Hyundai IONIQ 6
Hyundai offers an impressive amount of advanced safety technology on its cars as standard. Both Premium and Ultimate trim levels get the blind-spot warning system, an alert for pedestrians, cars and cyclists that you might be about to crash into and a system to keep you in your motorway lane should you start to stray. Rear cross-traffic alert is also included as standard for reversing out into busy roads. All of which is a lot more than many competitors offer as standard. A head-up display, surround parking camera and parking collision warning, however, can only be had with the upper Ultimate trim. Like certain Kia and Hyundai models also get camera views of what's alongside you displayed in the instrument cluster when use the indicator so you don't pull out into something in your blindspot. You can also pay more again to have the traditional rear-view mirrors replaced by cameras. They look cool and are actually better in the dark, providing a clearer image of what's behind you.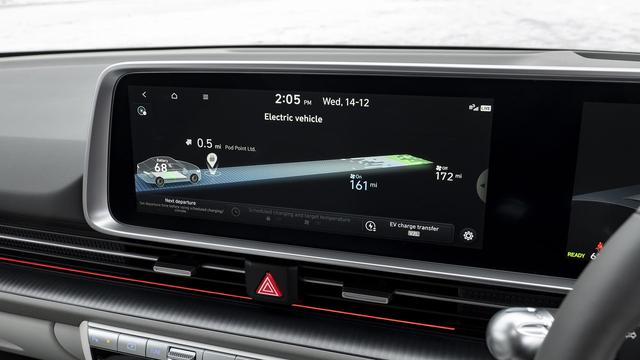 How comfortable is the Hyundai IONIQ 6
Holy moly, what a comfortable car. The space for passengers and luggage in the boot is just incredible and you even get a teeny front boot (or "frunk" in the EV jargon) which is just big enough for an umbrella or your charging cables. Stretch out and enjoy. It rather puts the first wave of electric cars, where batteries have been shoehorned into existing petrol cars, look like poor value for money. All versions come with a heated steering wheel (one of our favourite ever features), and heated front and rear seats, which is very generous. The higher trim level gives you ventilated seats too, for hot days even if we've always found the sensation of a ventilated posterior rather unsettling. Each to theirs, though, and if you live somewhere hot it might be useful. The Ioniq 6 is also smooth and silent on the go, beyond the standard refinement you'd expect of an electric drivetrain. All in all, a supremely comfortable car.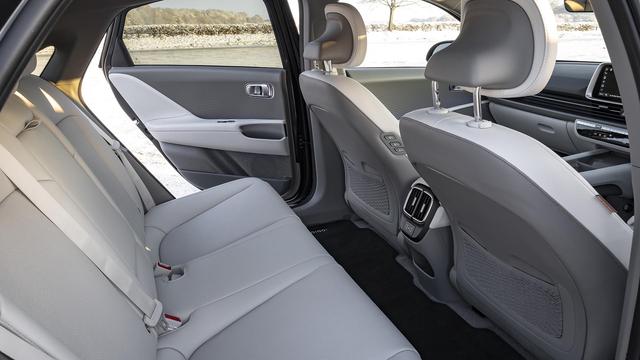 Features of the Hyundai IONIQ 6
Hyundai doesn't offer the prettiest graphics and digital displays, and if you want your car to look graceful inside, you might be best off with a premium European car brand like BMW or Land Rover. But all the bells and whistles are there, from a large touch-screen and smartphone mirroring, to a wireless phone-charging pad as standard. There are USB charging points and cup holders front and rear. Note you also get a feature which most electric cars will come with in the next few years, referred to as a V2L (Vehicle to Load) function. Essentially there's a socket for a normal three-pin plug, allowing you to power everyday devices from your car's battery. For example, you might be going camping and want to rig up some lighting or power a kettle, or maybe it's just easier to plug the hedge trimmer into the car while it's out on the driveway than run an extension cable from the house. Call us suckers, but we also love the futuristic lighting inside, which really adds a point of difference to this odd, but cool, car.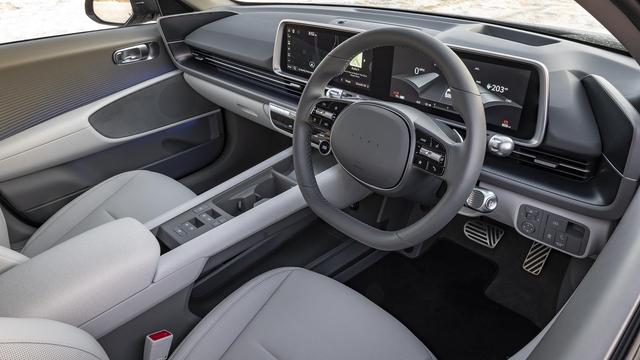 Power for a Hyundai IONIQ 6
There are two power outputs, and rear-wheel drive or all-wheel drive. The higher power goes with the latter, which gets you where you're going that little bit faster, but at the expense of the battery's range. You cannot, sadly, be both fun-fast and efficient. So, you either go for the lower 228 horsepower car with rear-wheel drive and a maximum range of 338 miles - around 300 or just under in reality - or you plump for the stonking 328 horsepower version, with all-wheel drive and a lower maximum range of 322 miles. Given the relatively small gap in range between the two, we'd go for the fun version if your budget stretches to it on the basis it's properly nippy.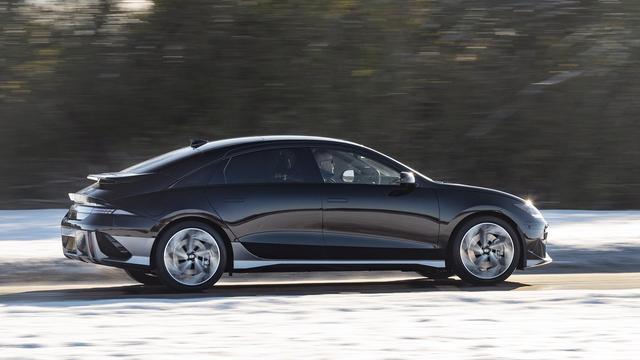 Lease deals
These deals are based on terms of 8,000 miles, for a 36 month lease with a 6 months initial payment.
Standard equipment
Expect the following equipment on your Hyundai IONIQ 6 Saloon. This may vary between trim levels.
Related articles and reviews
Hyundai Ioniq 6: coming soon
Rory talks us round the Hyundai Ioniq 6, a sleekly styled and very distinctive electric saloon designed to give the Tesla Model 3 a run for its money