Lexus LS 500h Saloon
New from £79,800
Is the Lexus LS 500h Saloon a good car?
Read our expert review

Words by: Auto Trader

Additional words by: Auto Trader
"The Lexus LS500h is a very impressive looking car with distinctive style inside and out. The hybrid powertrain is similarly unique and able to switch seamlessly between petrol and electric power (or a combination of both) but the engine can sound strained and the plug-in hybrid rivals have more usable pure electric range."
Read the review by category
Running costs for a Lexus LS 500h
For all the raised eco expectations of the hybrid branding the official combined figures are 35.7mpg and 175g/km for the rear-wheel drive versions and 30.7mpg and 208g/km for the all-wheel drive models. This is on a par (or marginally better) than the diesel powered options in rivals like the Mercedes-Benz S-Class, BMW 7 Series or Audi A8 but way behind their full plug-in hybrid versions, which will cost heavily in Benefit In Kind if you were going to run it as a company car. Until October 2021 these plug-in rivals also score a 'cleaner vehicle discount' in the London Congestion Charge zone, which will make a massive difference if you need a luxury limo for purring about the capital or are running it as a chauffeur car. It's an expensive car to buy too, the base model comparing reasonably against rivals from Mercedes, BMW and Audi but the higher spec quickly increasing the upfront costs.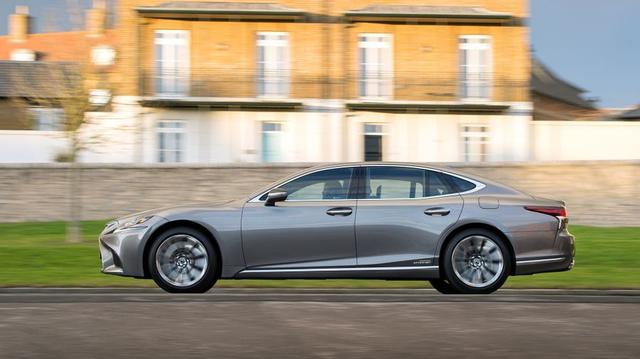 Reliability of a Lexus LS 500h
Lexus as a brand has an excellent reputation for both reliability and customer care. Saying that, our test car encountered a glitch with its navigation system while connected to Apple devices and discussion with Lexus highlighted an interesting case-study in how a customer would have been treated in such a situation. Much like phones and computers, modern cars require frequent software updates and these are typically added as part of the regular service regime. If, as in this case, a problem occurs that impacts on the car's operation Lexus told us they'd offer to collect the vehicle or invite the owner into the dealership for the upgrade. A spokesperson told us that dealers' "individual, flexible approach to needs" is one reason the brand performs well in customer satisfaction surveys.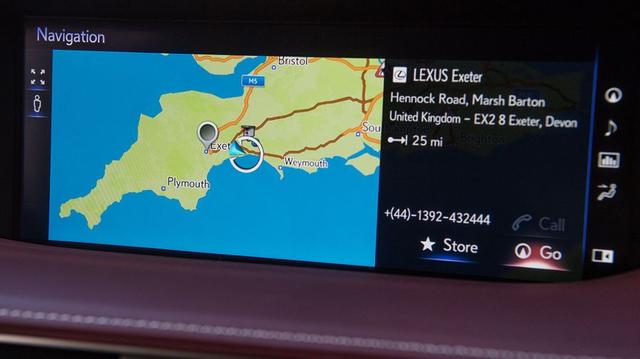 Safety for a Lexus LS 500h
Flagship cars in this class are typically showcases for the latest in safety and driver assistance technology and the LS is no exception. As standard it comes with the Lexus Safety System+, comprising Pre-Collision System, radar activated Adaptive Cruise Control, Road Sign Assist, Lane Keep Assist and the anti-tiredness Sway Warning. Automatic High Beam is standard for the triple LED headlights, a more sophisticated Adaptive High-Beam System featuring on pricier models. The expanded Lexus Safety System+A is reserved for the top trim level and adds Pedestrian Alert and semi-autonomous functions like Active Steering Assist and Lane Tracing Assist. Impressive on paper, but we found the latter two systems easily confused, sometimes requiring unexpected manual override and less confidence inspiring than similar packages from rival manufacturers.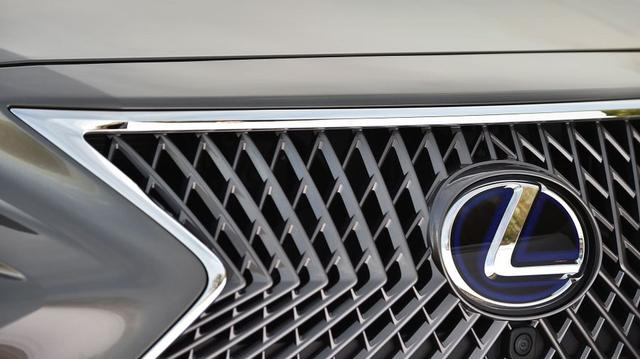 How comfortable is the Lexus LS 500h
The LS's exterior styling makes a powerful statement but Lexus correctly lavishes its real attention on its occupants, as befits a luxury limo. While many in the sector offer standard and long-wheelbase versions the LS comes purely as the latter, with a generously appointed rear cabin geared to owners who like to be driven as well as drive themselves. While technically a five-seater the backrest of the rear seat is more typically folded down and used as an armrest and touchscreen control centre for seats, climate and media while the hybrid battery system restricts boot space compared with rivals. The LS is packed with chassis technology intended to improve comfort, handling and performance. All versions get variable damper control adjusted via six driver modes while higher trim grades gain more sophisticated air suspension. This is a must-have for a car of this class and can adapt firmness and ride height, even adopting a raised 'Access Mode' when you unlock the doors to aid entry and exit. In its Comfort mode the LS rides with an imperious calm, if perhaps not the magic carpet smoothness of an equivalently specified Mercedes S-Class.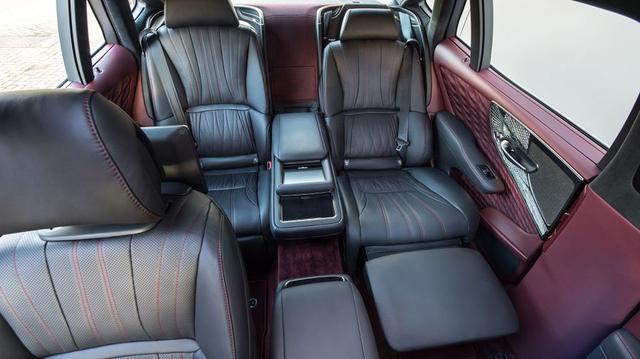 Features of the Lexus LS 500h
The equipment list is generous and, in keeping with brand traditions, most kit is included in the base price for each grade. Lexus Premium Navigation with a 12.3-inch display is standard on all models, as is the full-colour head-up display projecting key information onto the windscreen. Soft-close doors are standard, likewise the old-school addition of a tilt/slide sunroof. All get two-zone climate control while top models get a more sophisticated four-zone system with a clever Lexus Climate Concierge system that automatically adjusts heating and ventilation according to your body temperature and environmental conditions. The 23-speaker Mark Levinson stereo is standard on the top model and pretty much worth the price of the optional Premium Pack it's included in on other models. Clearly the LS is designed around its rear-seat occupants, the more so as you progress up the range. Leather is standard, becoming progressively more luxurious while all but the entry-level car get 28-way power-adjustable front seats. On the top model this goes as far as reclining rear seats with leg rest and Shiatsu-inspired massage functions. The nearside rear passenger can even control the front passenger seat and effectively fold it forward to fully stretch out as you might in a first-class airline seat. Stylistic flourishes designed to showcase traditional Japanese craftsmanship include intricate origami-inspired quilting on top spec models and optional Kiriko glass trim. It's a more expressive cabin than many in the sector but the LS lags behind Mercedes, BMW and Audi in terms of integrated technology and the more traditional binnacle and separate infotainment screen are somewhat outdated, ditto the fiddly touchpad interface.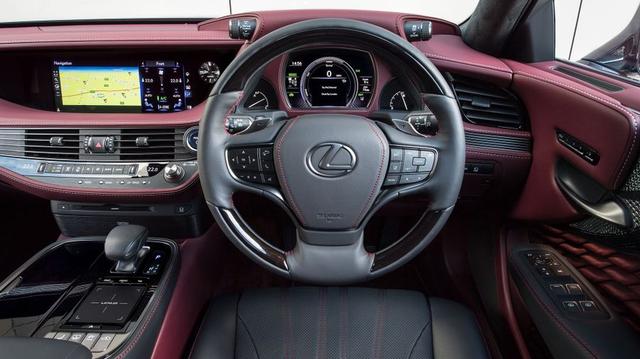 Power for a Lexus LS 500h
While diesel engines are widespread in rivals and popular with the chauffeur market the LS is hybrid only. At its heart is a petrol 3.5-litre V6, assisted by two electric motors. The Lexus can also operate in pure electric mode, albeit for very short distances and at low speeds. You can just about purr around town on pure electric power for a mile or so but any gradients or assertive throttle inputs quickly wake the petrol engine, relegating EV mode to little more than novelty. The Lexus also has a very complicated transmission. It claims to have eliminated the 'rubber band' sensation (Lexus's words) of the CVT component but if you need to accelerate smartly the engine can rev wildly in search of a 'ratio' and the noise is harsh and intrusive for a car of this stature.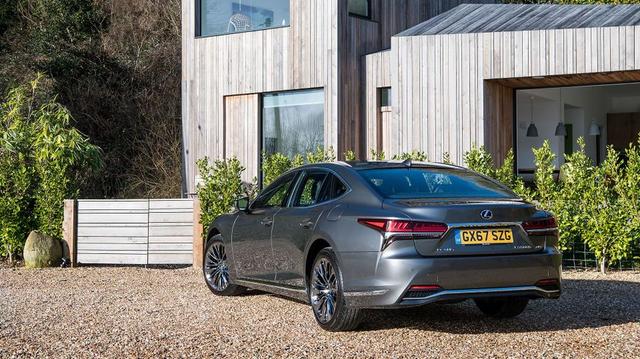 Standard equipment
Expect the following equipment on your Lexus LS 500h Saloon. This may vary between trim levels.
Related articles and reviews
Lexus LS 500h Saloon (2017 - ) review
The Lexus LS500h is a hybrid-powered luxury flagship offering a distinctively Japanese alternative to German giants like the Mercedes S-Class, BMW 7 Series and Audi A8