Alfa Romeo Stelvio SUV
New from £44,950 / £817 p/m
Is the Alfa Romeo Stelvio SUV a good car?
Read our expert review

Words by: Dan Trent
"Alfa Romeo's Italian twist on the SUV format has always impressed for its sharp looks and sporty driving manners, a fresh round of updates for the 2023 model year including fancy new headlights, improved connectivity for running the car through your phone and a more streamlined range focusing on the sporty vibe the Stelvio has always embodied. There might be fresher SUVs around but it's arguably still the best to drive, while still being as practical and spacious as you'd hope for a car of this type. A shame there are still no hybrid options, though."
Read the review by category
Running costs for a Alfa Romeo Stelvio
Even as a sensible SUV you buy an Alfa Romeo with your heart rather than your head, which is a necessity given the lack of hybrid options and higher running costs than many rivals. You can choose petrol or diesel but, without any electrification, neither has the CO2 numbers to make a Stelvio viable as a company car given the hammering you'll take on Benefit In Kind. This is perhaps less of an issue for private buyers but VED (aka 'road tax') will still be costly. Meanwhile to help residual values (and keep a lid on finance costs) Alfa Romeo lets owners you what's known as a Non-Fungible-Token (or NFT) storing the service history and other data about your Stelvio in an encrypted digital certificate counting towards its ongoing value. As car buyers switch from traditional ownership into more flexible options of PCPs, leases and subscription-based 'usership' models this crypto-influenced move is an interesting innovation, though it remains to be seen if it will have the meaningful impact on resale value Alfa Romeo hopes. Fair play for trying something new, though.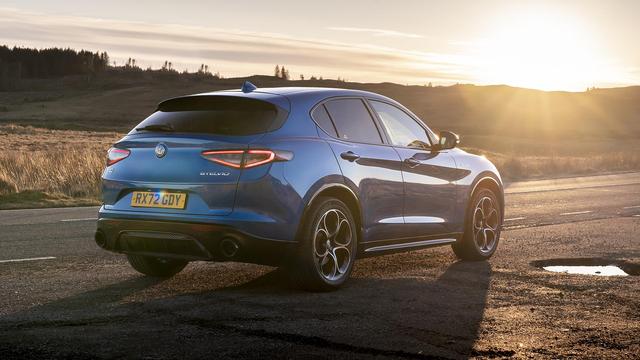 Reliability of a Alfa Romeo Stelvio
Sporty stereotypes favour Alfa Romeo, the flipside being a long-standing reputation for flaky reliability the brand has struggled to shake, and reflected in its standing in many dependability rankings. To be fair the supposedly more dependable German premium brands are also pretty weak by the same score and the Stelvio and Giulia saloon on which it is based hail from a more recent chapter in the brand's history, and one that hopefully overcomes a historically poor reputation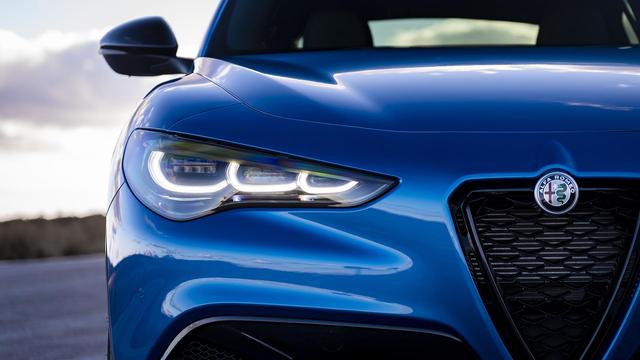 Safety for a Alfa Romeo Stelvio
All Stelvios are fitted with Autonomous Emergency Braking, Forward Collision Warning, automatic wipers/lights, Hill Descent Control and lane departure warning while a rear-view camera is now standard. 'Level two' autonomous support via the optional Driver Assistance Pack Plus was introduced in a previous update and remains available at additional cost here. This expands on the existing passive safety features and expands on them with active interventions should you drift out of your lane or fail to respond to an approaching hazard. In more general driving the combination of sensors, forward-facing radar and cameras works with the active cruise control to maintain speed and lane position according to the traffic around you, all easily controlled via steering wheel buttons.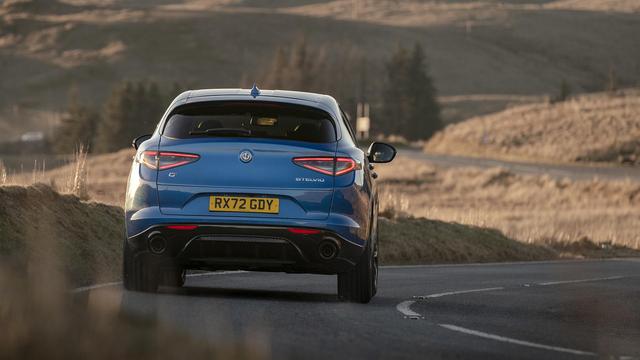 How comfortable is the Alfa Romeo Stelvio
Most people buying into Alfa Romeo will be doing so for the sporty image, and here the Stelvio more than delivers. In short no SUV or crossover this side of a Porsche Macan drives as nicely. Indeed, we'd argue the Stelvio rides more comfortably than the Porsche, its lithe cross-country pace sharing much in character with the Giulia saloon on which it is based. The Stelvio is way more family-friendly, though, with more space in the back and a much bigger boot. While improved in a previous update the interior can't match rivals from Mercedes, BMW or other more traditional premium brands for quality of its fixtures and fittings but things improve as you go up the trim levels and the more traditional vibe fits the overall character.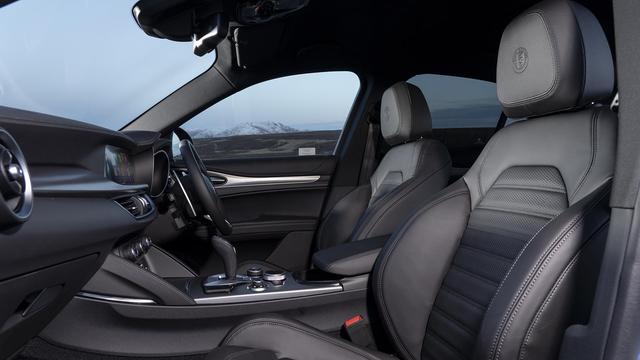 Features of the Alfa Romeo Stelvio
This latest update to the Stelvio range progresses through three trim levels, all of them with improved equipment. This includes the distinctive triple-lens headlights with what's known as Matrix LED technology, the short version being the lights can vary and direct the direction and intensity of the beams for maximum illumination without dazzling other road users. If you drive a lot at night, especially on dark country roads, it's a real bonus, and the lights are standard on all Stelvios. Meanwhile the range of connected services available through the central screen has been expanded, meaning you can interact with the car remotely via your phone. The screen itself is on the small side compared with rivials but the customisable, widget-based operating system is easy to navigate and we like the option of being able to control it via a physical knob to keep eyes on the road. Apple CarPlay and Android Auto are also supported, though not wirelessly. Also new for all trim levels is a fully digital instrument cluster with a choice of display themes, while leather, power seats and other luxuries come as you work your way up the range. Mid-level Veloce feels like a nice balance, all in all.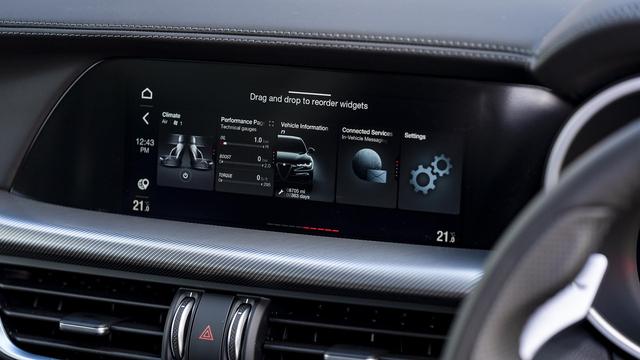 Power for a Alfa Romeo Stelvio
A simplified engine range strips out the lower-powered options to concentrate on a single 210 horsepower diesel or the 280 horsepower petrol. Both drive all four wheels through a standard automatic gearbox and a three-position driver mode system, encouragement to switch to Dynamic and use the gearbox in manual provided by the large, supercar-style shifter paddles behind the steering wheel. Previous experience of the diesel suggests it feels strong but a little unrefined, the petrol seeming more appropriate given Alfa Romeo's sporting traditions and with strong performance across the board. If that's still not enough there's still the seriously spicy Quadrifoglio version, which costs a lot more and has the pace and handling to chase proper sports cars. That's a more committed – and expensive – purchase and the regular petrol engine feels the right balance for a car more likely to be used as family transport. With no hybrid assistance set your expectations to realistic when it comes to fuel consumption and other running costs, though.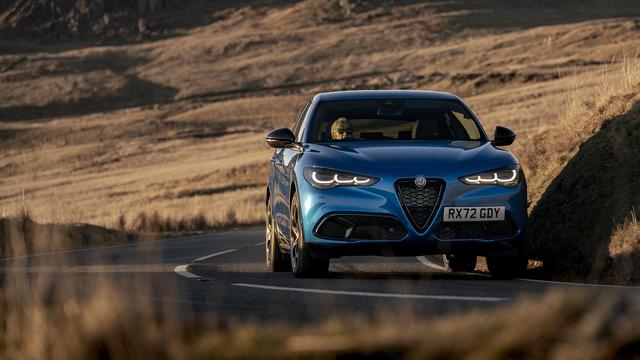 Lease deals
These deals are based on terms of 8,000 miles, for a 36 month lease with a 6 months initial payment.
Standard equipment
Expect the following equipment on your Alfa Romeo Stelvio SUV. This may vary between trim levels.
Related articles and reviews