News
New all-electric luxury Lagonda SUV due in 2021
Lagonda is a new all-electric brand from Aston Martin. Its first car, an SUV, will go on sale in 2021.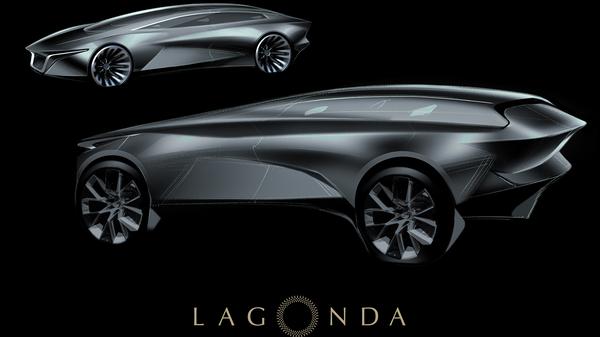 Lagonda range to be 'emission free'
Production of SUV will begin in 2021
Lagonda Vision Concept shown at Geneva Motor Show
This sketch shows an idea of what we can expect from the new all-electric SUV from Lagonda, a new luxury brand from Aston Martin that revives its previously dormant brand name.
Aston says the EV will be the first of its kind as an 'ultra-stylish, supremely luxurious' vehicle. The revised Lagonda marque will apparently aim to be the first zero-emission luxury car brand when it goes into production in 2021. After previewing two Lagonda concepts at the 2018 Geneva Motor Show earlier this year, Aston says it will keep some of the design and style for the SUV when it goes into production. Aston claims the batteries in the Vision Concept shown at Geneva will take the car as far as 400 miles between charges, and that the car will have the latest self-driving technology. It can drive itself on both motorways and around town, and has constant internet connectivity. It'll be interesting to see how much of this technology remains in the Lagonda SUV. "The Lagonda SUV will retain the boldness of the Vision Concept. Lagonda is a luxury brand, but it is also one rooted in technology. It will be like no other SUV to drive, so its looks have to reflect that new reality and to serve as pathfinder to a future in which the most desirable and prestigious automobiles still have a place," Marek Reichman, Aston Martin executive vice president and chief creative officer said.
Andy Palmer, Aston Martin president and chief executive officer added, "In reviving one of the most iconic names in motoring we have created a unique opportunity. One that allows us to cast aside an inherited 20th century approach and instead design cars around 21st centre demands and desires.
"The Lagonda SUV is the first of its kind: a spacious, high-performance 4x4 that successfully reconciles a love of technology, luxury and style."