News
Coming soon: Citroën Ami
We try Citroën's affordable, funky looking electric 'quadricycle' and ask could it work over here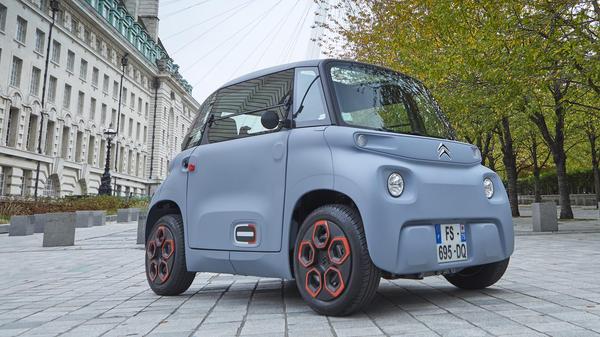 Is this what we will all be driving in five years? More interestingly, is this what our teenagers will be taking themselves to school in? Meet the Citroën Ami, a dinky little electric car with a top speed of 28mph and 15 horsepower from its little motor. Crucially, it's classed as a quadricycle, not a car, which means that in France teenagers as young as 14 can get behind the wheel, with no driving licence required on public roads. If that sounds scary, bear in mind the thoughts of Citroën CEO, who asked at the Ami's launch how parents would rather their children travelled to school — on a bike on public roads, with zero protection, or in this little two-seater?
Initially launched as a left-hand drive in the European market, Citroën has extended Ami's launch to the UK and we can expect to see it from spring 2022 onwards. After over 12,000 people registered their interest in buying an Ami in the UK, Citroën will offer Brits the option to reserve their own Ami from the end of September onward, by paying a refundable reservation fee of £250. The quadricycle will continue to be sold as a
left-hand drive
in the UK but the Ami's small cabin size, spanning only 1,390mm in width, will make the driver's seat only 300mm away from the typical position in a right-hand drive car. The
EV charger
, however, will be adapted according to the UK's requirements and be fitted with a Type 2 plug. The prices for the UK market haven't been confirmed yet, but for a guide the Ami costs 6,000 euros in France and Italy and is designed to be as cheap to manufacture as possible. To make it more accessible to the public, Citroën will be offering financing options, such as long-term rentals. As well as being ambidextrous in terms of which side you steer from Ami is symmetrical, which lends itself to some quirky styling — on the right-hand side, the door opens in the normal direction, whereas on the left-hand side, it opens rearwards, because it's the same module. The front and rear sections are also interchangeable.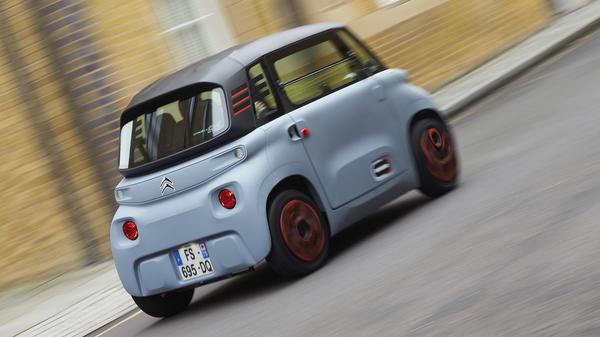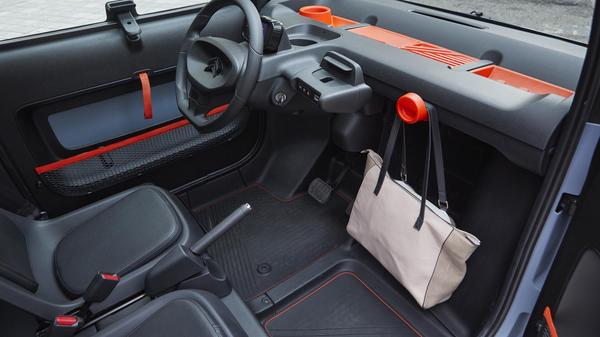 We took it for a (slow) spin round Coventry, Citroën's home in the UK. It's surprisingly spacious inside — the rudimentary seats sit by the rear axle so there's loads of room in front for long legs and shopping bags, and even a hook on the passenger side for handbags or takeaway bag handles to dangle from. The cabin is punctuated by flashes of the red that adorns the exterior, too, so you get bright orange/red trays and grippy surfaces for storing little objects on the dash, and bright red fabric pulls instead of door handles inside. Even the large cargo nets inside the doors are trimmed in red,
There's a little digital display behind the steering wheel to show speed and how many miles are left on the charge. The automatic transmission buttons are down between the seat and door, and there's even a USB port — important for a target market that could be mostly under 18 years old. We trundled around, the motor whirring, plenty of light and visibility from the upright body shape. It's a doddle to park because there's no bodywork behind you. Yes it's loud and a bit draughty but hey, it's also half the price of the cheapest car out there. We rather liked it.