The latest Lancia car reviews, news and advice from our team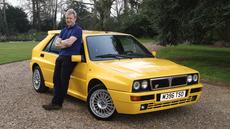 I Bought One
4 years ago
Rupert Matheiu tells us why he loves his rally-bred Lancia Delta Integrale Evolution II
Meet the Auto Trader team
Erin Baker
Editorial director
Erin spent most of her career as a motoring journalist on The Daily Telegraph. Still enjoys fast cars, but spends most of her free time driving round four kids in a SUV.
Ivan Aistrop
Road test editor
Ivan has been testing cars and writing reviews since 2000. There aren't many motors out there that he hasn't driven.
Phill Tromans
Senior road tester
A journalist since 2001, Phill spent more than a decade testing cars in the UK and abroad, working for Autocar, Fleet News and Evo Middle East.
May Starey
Video & image editor
May manages all of Auto Trader's editorial photo and video activity, along with our YouTube channel.
Rachael Hogg
Digital editor
Rachael has been a journalist since 2012, covering all aspects of the motor industry. She manages and writes Auto Trader's content.