First Drive Skoda Superb Estate 2.0 TDI 150 first drive review
The new Skoda Superb is a large estate with a fantastic combination of a good price, excellent practicality, low running costs and fine value-for-money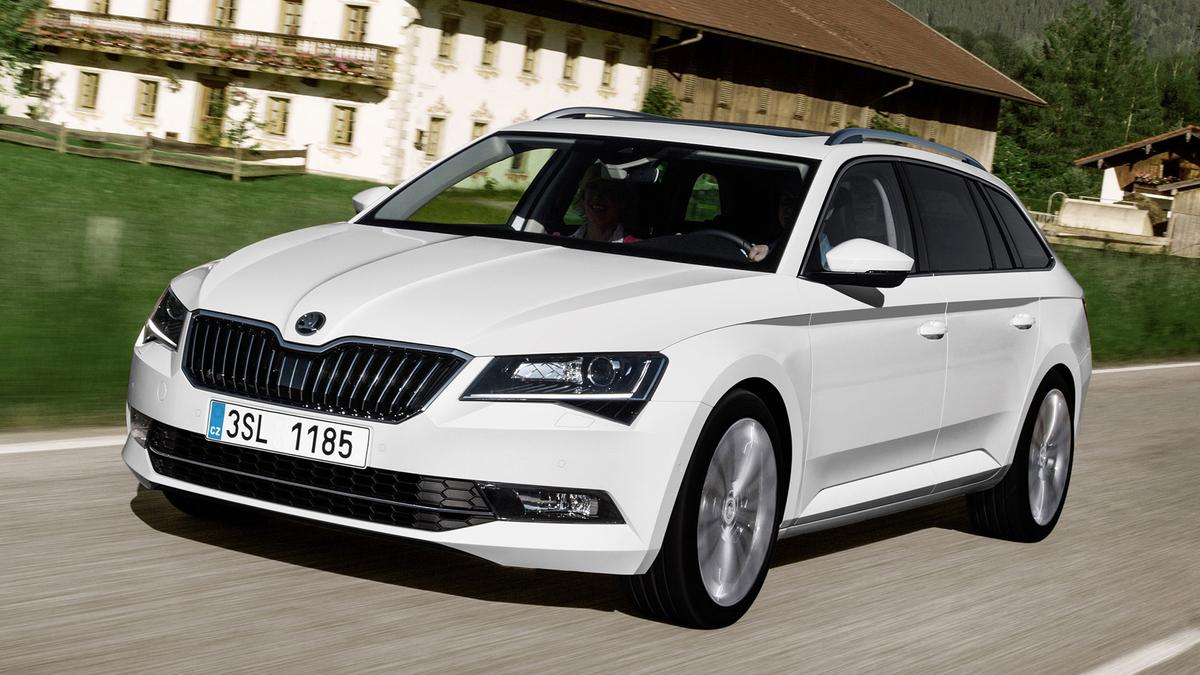 View gallery
Auto Trader Verdict:
The Skoda Superb is a hugely refined and capable large estate car. It aims to be one of the most practical cars on sale and boy, does it deliver. The boot is truly vast, and that's on top of exceptional value for money, a good driving experience, and a fantastic range of strong, economical and clean diesel engines, as well as loads of space for passengers and good running costs. It's also a sharper design than before, too. Skoda could well have a winner on its hands here.

Author: James Richardson
Location: Bavaria, Germany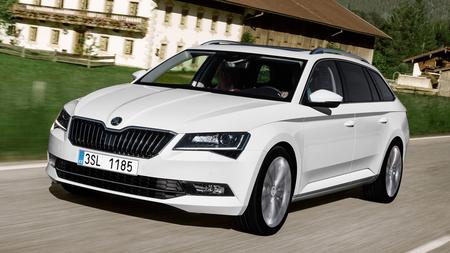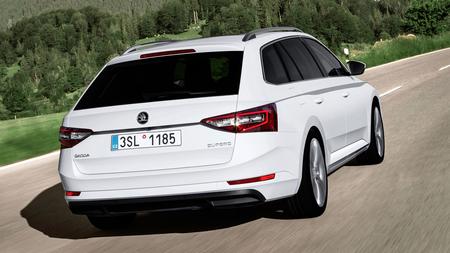 What is it?
This is the estate version of the hugely impressive Skoda Superb hatch which we tested in May. The company has started with an already hugely spacious and practical car, and lifted it to new levels of capaciousness. It combines comfort, refinement and handling prowess with efficiency and simply staggering practicality; so much so that you start to wonder if all that bootspace – all 1,950 litres (with the rear seats folded) of it – is really necessary.

A rival for the likes of the BMW 5 Series Touring and Mercedes E-Class Estate size-wise, but priced to compete with the VW Passat and Ford Mondeo, the Superb Estate could be all the car you'll ever need.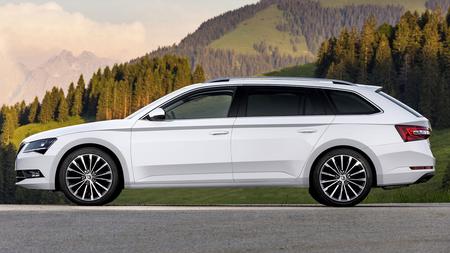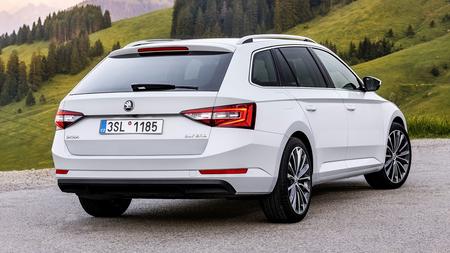 What's it like?
If size is your thing, and you regularly need to carry large loads in the boot, then the Superb Estate could well be the car for you. Not only is the cabin fantastically roomy – headroom, shoulder room and legroom are all exemplary – but the boot is astronomically large, too.

Its 660 litres of load capacity (with the rear seats up) is more than you'll find in the VW Passat, Ford Mondeo, Mercedes E-Class or BMW 5 Series wagons; and, with them down, it offers a van-like 1,950 litres. It's a really usable, square space, too, and the rear seats fold flat with just the pull of a lever in the boot. In terms of practicality, nothing else even comes close.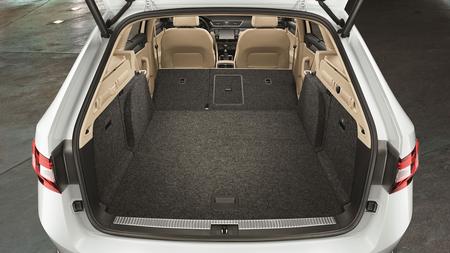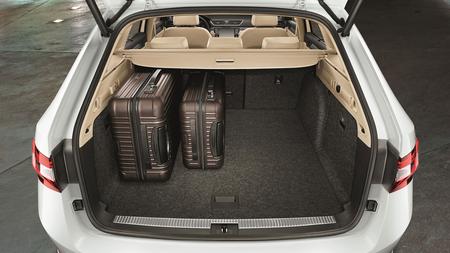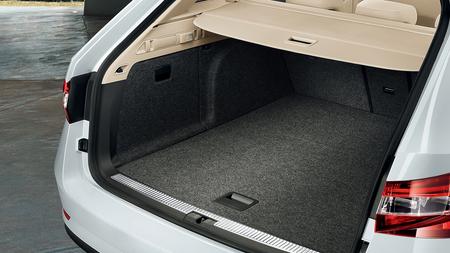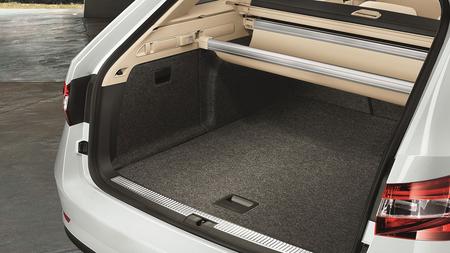 Not that it drives like a van, though. In fact, despite its large proportions, it doesn't even feel like a big car to drive. All of the controls feel light, but positive, while the array of parking sensors and the good view out make it easy to manoeuvre at low speeds.

The car has clearly been set up for comfort rather than outright handling prowess, and our first impression is that it's an exceptionally comfortable thing to drive. However, we'll have to wait until we've sampled the car away from the pristine German Tarmac on which we tested it, before giving a final verdict on the ride quality.

For all that, it's not a no-hoper in the bends. Body roll is well controlled, despite the Superb being being a relatively tall and heavy car, and the steering reacts well to inputs. Four-wheel drive is available, but we wouldn't bother – unless you regularly need it – as we found that models with it had slightly over-light steering. The two-wheel drive model is a much more enjoyable drive, as well as being cheaper to buy and to run. It doesn't give anything away to its all-wheel drive sibling in terms of grip or traction on the road, either.

Unsurprisingly, diesels are the likely big-sellers for this car, and the two we've tried are absolute peaches. Both 2.0-litre, four-cylinder units, developing 148- or 181bhp, they pull strongly, but you'd be hard pressed to notice the difference in power in everyday driving. The 148bhp unit also delivers far superior running costs, managing 68.9mpg, compared to 67.3 in the more powerful diesel, and CO2 emissions of 109g/km, rather than 120.

We also tried the 148bhp 1.4-litre petrol engine, which is a good unit, with an impressive power band, but it doesn't have quite the same low-down urge as the diesels, and if you do lots of miles, it'll cost you quite a bit more to run.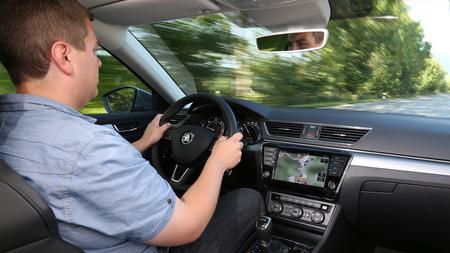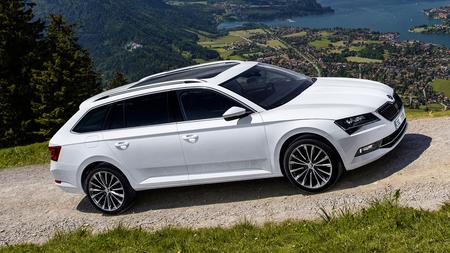 Equipment levels are impressive, too, with our favourite trim (SE Business) coming with 17-inch alloys, LED rear lights, sat-nav, dual-zone climate control, a host of safety kit and a 6.5-inch touchscreen infotainment system. This includes Bluetooth, USB connectivity and DAB radio.

Inside, everything feels very well put together. The quality of materials isn't quite up to the same standard as in the VW Passat, but it's not far off; and, the seats are very comfortable, with loads of adjustment for them and the steering wheel, so finding a good driving position is easy.

Everything's a step ahead of the previous model on the outside, too. While the last Superb was a lesson in conservatism, the latest version makes the most of its boxy shape. If you look hard, there are loads of interesting details, and the steeply-sloping rear window gives it an almost shooting-brake-esque shape. That, combined with the sharp creases around the bodywork, will help it stand out from the rest in the executive car park.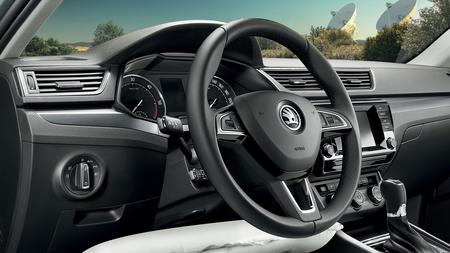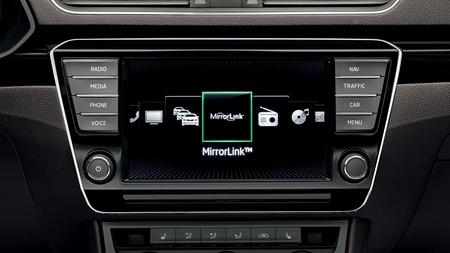 Should I buy one?
If you need a large amount of space, there's no reason not to buy one. The Superb is comfortable, quiet, well equipped, excellent value for money and decent to drive.

Admittedly, it doesn't quite have the same brand cachet as a BMW, Jag, Merc or Audi, but if you can look past the car park politics, you'll see that nothing this side of a proper luxury car offers this amount of car - and certainly not for anywhere near this little money.

The fact that the Superb starts at less than £20,000 and goes up to just over £35,000, with BIK tax liabilities ranging between 18- and 25%, means that it makes a great deal of sense as a company car. And, if you regularly carry passengers and a lot of kit, it also makes sense as an estate car. Overall, an excellent car for an excellent price.
Key facts:
Model: Skoda Superb Estate 2.0 TDI 150 SE Business

Price: £23,290

Engine: 2.0-litre turbodiesel, six-speed manual

Power/Torque: 148bhp/251lb ft

0-62mph: 8.9 seconds

0-62mph: 8.9 seconds

Top speed: 135mph

Economy: 68.9mpg

CO2/BIK tax liability: 109g/km/19%

Bootspace: 660-1,950 litres
Interested in buying a Skoda Superb?