First Drive Seat Leon Cupra 290 SC first drive review
The Latest Leon Cupra looks set to ruffle the feathers of the Honda Civic Type R and Volkswagen Golf GTi. With effortless power and poise, it's fast and agile, but it can also be a bit of a bad lad when let off the leash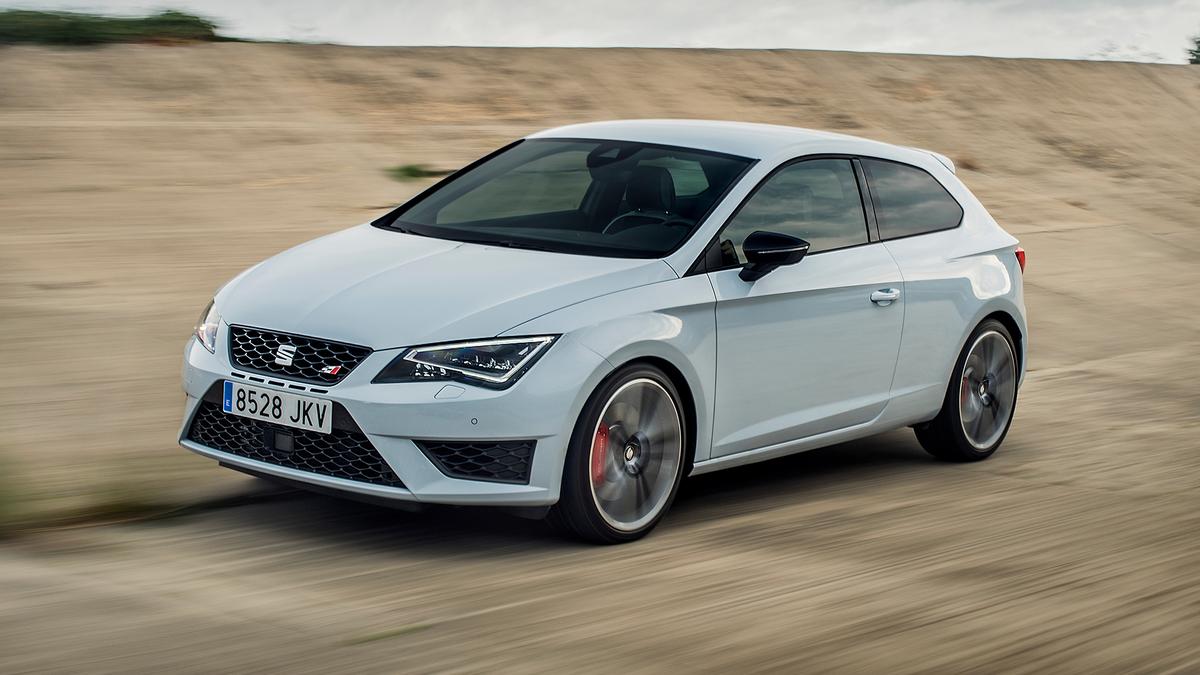 View gallery
Auto Trader verdict:
Whichever body style you choose, the Cupra 290 won't disappoint; but, for us, the 3dr SC is the most affordable of the three options and feels like the the most genuine incarnation of the hot hatch genre. It's also a truly fabulous thing to drive. Fast, poised and surprisingly refined when driven smoothly, it also retains something of the inner hooligan about its DNA which gives it a vitality and duality beyond many of its rivals.
Need to know:
On sale now, with prices from £28,375

Available in three bodystyles

Strategically placed between a Golf GTi and Golf R
What is it?
There are plenty of compelling reasons to buy a Seat Leon Cupra over rivals like the Volkswagen Golf GTi and Honda Civic Type-R - especially now it has been revised to produce even more power. That fizzing 286bhp turbocharged four-pot engine (which has just been uprated) delivering truly exhilarating performance, hugely entertaining handling and a highly competitive bangs-for-your-buck's ratio being just three.

On the other hand, it could simply be a case that the Leon is unique in offering mega-hatch thrills in a full suite of body styles.
Drawn to that super clean, less-is-more look? No worries, the 3dr Cupra SC has it covered. Looking to factor in the school run? No sweat, the 5dr hatch provides the requisite versatility. Blimey, even if the family pooch turns out to be a closet speed freak, then the ST estate is the perfect Cupra to satisfy Fido's rabid cravings.

What's more, if you like the idea of hanging on tight with both hands when unleashing the Cupra's tidal wave of torque, a sweet-shifting DSG automatic 'box, complete with wheel-mounted paddle shift, is also available with all three body styles.
Still not enough choice? Then a 'Black pack', which includes Alcantara-trimmed Cupra sports seats, black 19-inch alloys and glossy black door mirror caps and grille surrounds, is also available.

For us, though, if you're in the market for a no-holds-barred hot hatch, then the default choice has to be the edgy 3dr SC. With this in mind, we went to Seat's backyard in Barcelona to take a test drive.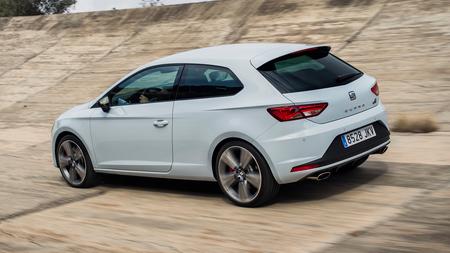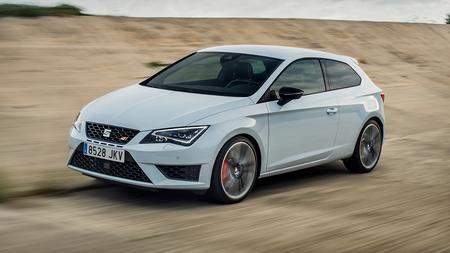 What's it like?
Although it is spun off the Volkswagen group's latest and greatest MQB platform and benefits from an advanced limited-slip-differential and all manner of techno wizardry, there's still something fundamentally old-school about the Cupra; and we can't help but love that.

Deselect the electronics, stamp on the throttle as if you were crushing a drinks can and, despite the Cupra's dogged determination to maintain a straight line, ultimately, the combined forces of 286bhp and 258lb ft of torque will win out, forcing the front tyres into a proper 1980s' smoking and squirming dizzy fit.

Take a more considered approach and you can't help but notice a fair degree of turbo lag below 2500rpm, too; but, once you're above that crunch point, the Cupra feels phenomenally strong and genuinely quick. Take a cheeky shortcut from sixth to fourth, twang a metatarsal and you'll simply nuke past slower-moving traffic like they're heading in the opposite direction.

The Cupra sounds pretty quick, too, thanks to a big-bore sports exhaust that rasps under hard acceleration and pops and bangs in protest as you hone in on the rev limiter.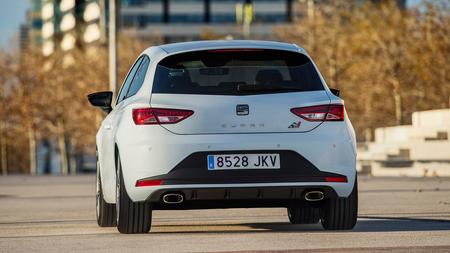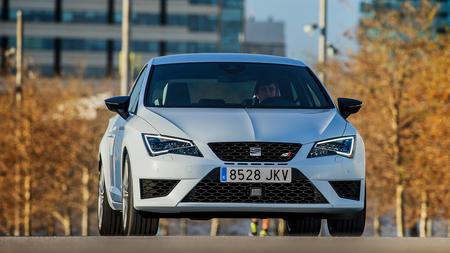 Granted, there are also aspects of the Cupra that are clearly products of modern electronics and innovative chassis design. For instance, when charging downhill into a tightening switchback, even on a trailing throttle, the front end grip is simply epic, making even the most ham-fisted driver look like a budding Sebastien Ogier.

Even so, despite this foolproof adherence, given the freedom, the Cupra will also respond to more advanced driving techniques.

Make the most of the torque-over-traction dominance and it's simply a case of figuring out the requisite amount of controlled aggression in order to adjust the Cupra's cornering attitude by powering and drifting the front wheels.

Just as well, really, because although the Cupra's steering is appropriately weighted and can be adjusted via the different driving modes, it always feels quite wooden, lacking the steely precision of a Ford Focus RS.

There's also something quite ponderous about the six-speed manual gearbox, which is made to looks all the more slothful by the super-quick DSG auto's precision shifts. Consequently, it's a bit of a no-brainer where any spare cash of ours would be spent.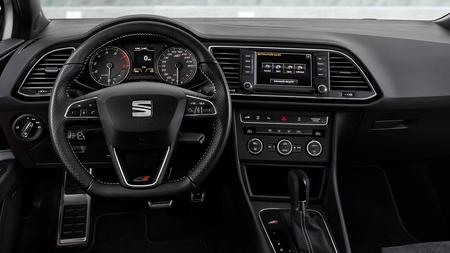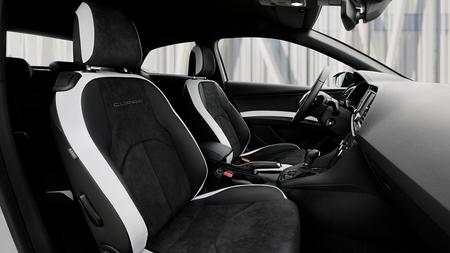 Unlike many previous hot Seats, this Cupra's front and rear axles are tuned pretty much in harmony. Unsurprisingly, the rear suspension jitters a wee bit more than the front and the heavy damping in Cupra mode means the occasional deep dip delivers a hefty thud to the sternum; but, in the main, the ride is extremely civilised.

Select comfort mode from the drive menu and the Cupra's touchy-feely side goes up another notch. Dialling back the exhaust content, slackening the steering efforts and relaxing the damping maximises touring comfort, providing a duality that few other hot hatches possess.

Inside, things aren't quite so impressive, but they're far from shabby. Obviously there's the familiar Volkswagen group ergonomic excellence, so you get almost all the same head-, leg- and elbow room that you'll find in a Golf; but, apart from the sports seats, aluminium-faced pedals and flat-bottomed sports steering wheel, you can't help feeling the cabin looks a bit like it's decked out in its posher cousin's hand-me-downs.

At least there's a full gamut of up-to-date communication tech, including MirrorLink, Android Auto and Apple CarPlay, alongside a 6.5-inch infotainment screen and DAB radio, to play with.

Should I buy one?
The Cupra SC is one of the sweetest front-wheel-drive hot hatches money can buy. Yes, it's more expensive than a Volkswagen Golf GTi and, yes, it's less powerful than a Honda Civic Type R, but there's something about the Cupra's blend of prodigious performance allied to its everyday driveability that makes it a more compelling proposition than either of those rivals. It may look a wee bit understated for some tastes and the interior may be somewhat short of panache, but if you're in the market for a devastatingly quick, yet surprising civilised hot rod, then the Cupra might just ring your bell.
Key facts:
Model: Seat Leon Cupra SC

Price: £28,375

Engine: 2.0-litre 4-cyl, six-speed manual

Power/Torque: 286bhp/258lb ft

0-62mph: 5.7sec

Top speed: 155mph

Economy: 51.4mpg

CO2/BIK: 156g/km/28%

Boot space: 380 litres
Also consider:
Honda Civic Type R
The outrageous Touring Car-influenced styling, grippy chassis and bonkers high-revving engine give the the Type R a unique personality. Shrinking violets need not apply.
Renault Megane Renaultsport.
Soon to go off sale, this extreme Megane has a chassis and performance to die for. Grab this icon of hot hatchdom while you still can; you wont regret it.
Volkswagen Golf GTi
The GTI is one of the most impressively hot hatch on the market today. It's handsome, fast and fun to drive, yet it's practical, comfortable and comparatively cheap to own and run.
Interested in buying a SEAT Leon?