First Drive Range Rover Sport SVR first UK review
The power struggle in the large SUV segment seems to have no limit – but is a 5.0-litre V8 leviathan from SVR really a viable option in the UK? We find out.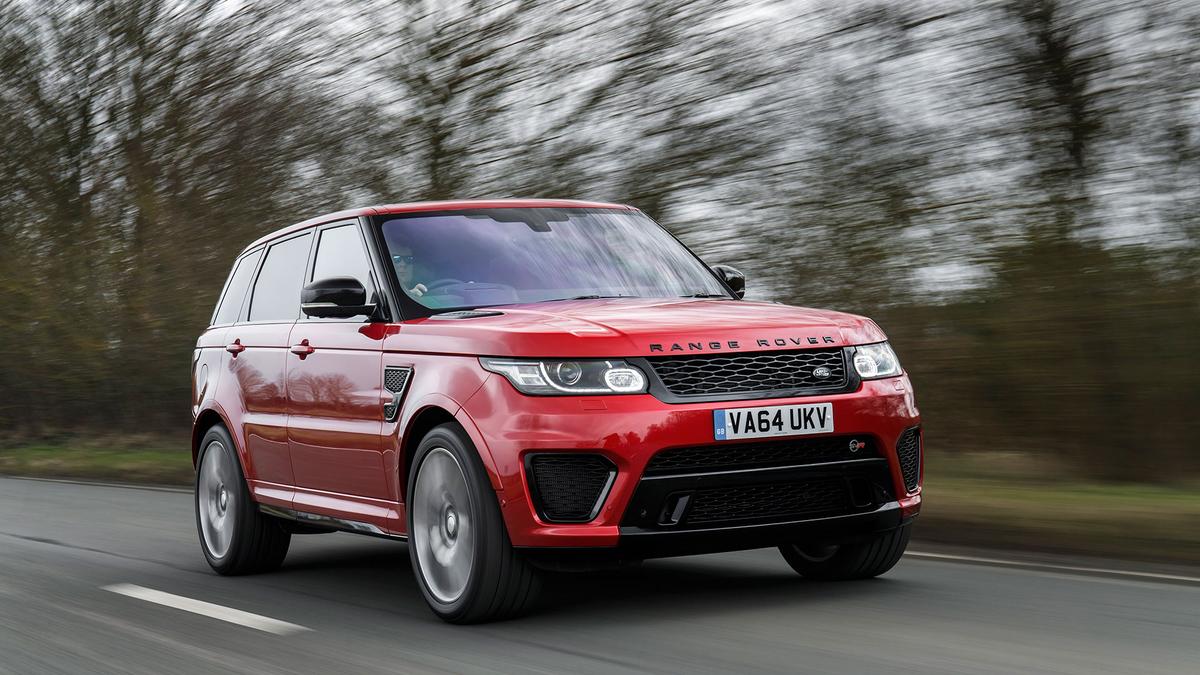 View gallery
First published: 25th January 2016
Auto Trader Verdict:
As a template for future performance products from JLR, the Range Rover Sport SVR is a real triumph: a brash, brilliant-to-drive and wonderfully entertaining take on a high-performance SUV that doesn't sacrifice comfort and off-road ability. It costs a lot, but at £50,000 less than the top Range Rover, you could almost call it a bargain.
Need to know:
High-speed Range Rover uses 542bhp V8 from jaguar F-Type

0-62mph in 4.7 seconds, and a 163mph top speed

On sale now, priced from £95,150 on the road
What is it?
One of the the most extravagant and outlandish SUVs that money can buy, the SVR is the ultimate iteration of the Range Rover Sport – a British bruiser with the engine from a hot-rod.

Yes, if you couldn't already tell from the side skirts, bluff new bumpers and glossy bonnet vents, 'Sport' is definitely the key word in this 4x4's moniker. A 542bhp V8 engine, new quad exhaust system and fettled air-suspension are just some of the changes that set the SVR apart from the standard model.

It's built by Land Rover's in-house SVO tuning arm, and we've already tried it out on the mean streets of New York, but what's it like on this side of the Atlantic, where petrol prices mean you'll be parted with around £120 at every fill-up?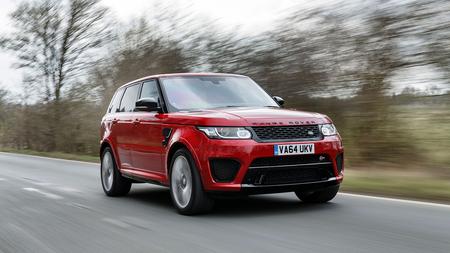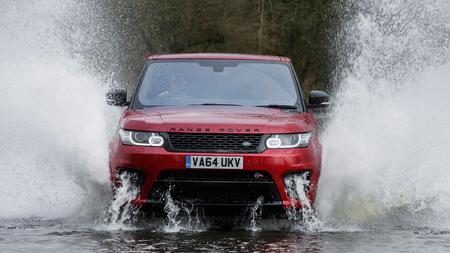 What's it like?
A full-on riot in the grounds of Hampton Court Palace, or if you want to put it another way, an intoxicating combination of power and luxury in the extreme. Hardly subtle, though.

The beating heart of this car, and the thing that threatens to overwhelm everything else in its dynamic repertoire, is that brilliant supercharged V8 motor. Its rumbling baritone never fails to raise a smile on start-up, and its combination of effortless pace and oh-so smooth power delivery is a delight compared with even the most hushed turbodiesel.

Prod the throttle towards the thick carpet, and the SVR will squat down on its haunches, the nose lifts slightly and the whole car surges forward with alarming, addictive ferocity.

This never gets old – particularly with the button to open up the exhausts depressed – and just knowing that all that power and torque is accessible at a moment's notice is a major part of this car's charm. It's the reason you'd buy this over the equally muscular, but more sensible, TDV8.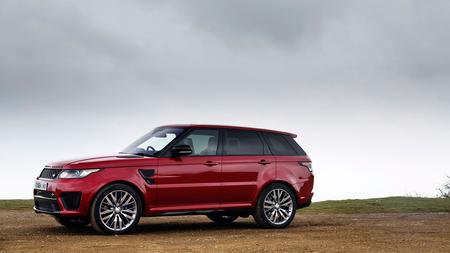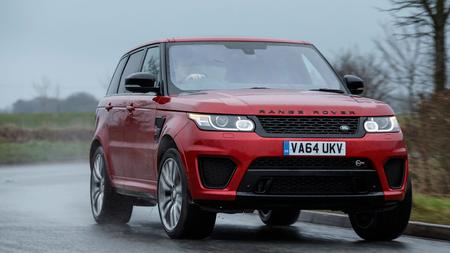 The handling is equally surprising. This does feel like a big old bus to thread around our small UK roads – especially in town – but once the road opens out, the traction, tight body control and naturally-weighted steering all give you the confidence to chuck it around like a car half its size.

Better still, unlike many sports SUVs, the Range Rover is not unbearably uncomfortable when you're just popping out to the shops, or doing a long-haul motorway journey.

Yes, the ride on the air-springs is noticeably firmer than the standard car's at low speed, and the standard 21-inch wheels hardly help matters, but it's never uncomfortable.

Once you're up to speed, the ride settles down nicely, and the racy-looking seats (unique to the SVR) are actually really supportive, even on longer runs. Yes, on a track a Porsche Cayenne Turbo will stop, turn and steer with more precision, but in the real world, the SVR is a more rounded proposition, and an absolute hoot as well.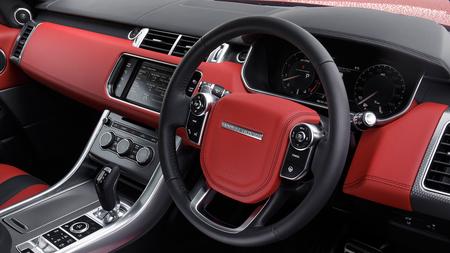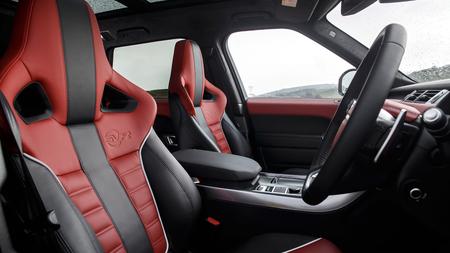 There are some gripes, though. The four individual seats look brilliant, but do compromise the practicality when you need to carry five; and if it was our choice, we'd avoid the garish bright red and black leather fitted to our test model.

The rest of the interior is beautifully finished, though, with brushed aluminum or expensive-feeling leather covering all the dash surfaces, and only the dated infotainment screen letting the side down in an otherwise lovely cabin.

One final note – most buyers of performance 4x4s never bother to take their cars on track, or off the beaten track, but the SVR is one of very few cars that can manage both.

The complex electronic four-wheel drive system, lofty ground clearance and all terrain tyres from the standard car have all survived the SVR treatment. To prove it, we took it down a near-submerged green lane, with deep, muddy ruts, which most other SUVs would baulk at, but never even came close to getting stuck in the Land Rover.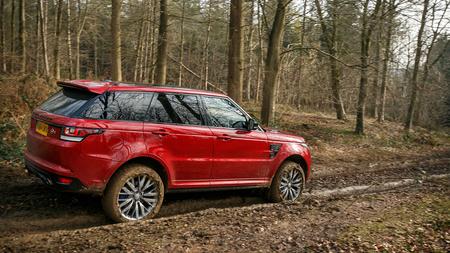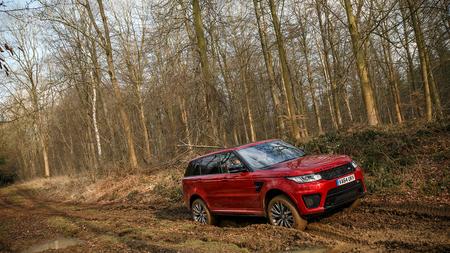 Should I get one?
It perhaps goes without saying that if you're in the market for a car like this SVR, then you'll probably have pockets deep enough to afford the ruinously high running costs.

Setting those aside, this is a sporting SUV that really does tick all the boxes, and is comfortable and refined enough to make it the perfect vehicle for almost every occasion.

Only the lingering question marks over reliability would stop us taking the plunge, and unfortunately we did see a couple of error messages flash up during our time with it.
Key facts:
Model: Range Rover Sport SVR

Price: £95,150

Engine: 5.0-litre supercharged V8 petrol, eight-speed auto

Power/Torque: 542bhp/502lb ft

0-62mph: 4.7secs

Top speed: 162mph

Economy: 22.1mpg

CO2/BIK tax liability: 298g/km

Boot space: 489/1,761 litres
Also consider:
Porsche Cayenne Turbo
A sharper experience on track, but less comfortable and less charming off it.
BMW X5M
Tasteless styling, but similar performance and a better infotainment system
Mercedes GLE 65 AMG
Probably matches the aural drama of the SVR, but not its ride quality
Interested in buying a Land Rover Range Rover Sport?