First Drive New Volvo V90 D5 first drive review
You might have thought Volvo was all about SUVs these days, but not a bit of it. With the V90, the company is returning to the executive estate car market where it made its name
First published: 2nd June 2016
Auto Trader verdict:
The V90 is another example of Volvo – very successfully – not doing what the competition are doing. With its elegant good looks, a distinctive interior and a refined and comfortable drive, the big Volvo offers something different to its predominantly German rivals. Throw in its competitive pricing, excellent safety features and fine standard equipment, and it's a car to which anyone in the market for a prestige estate car should give serious consideration.
Need to know:
Latest in a line of big Volvo estates that stretches back more than 60 years

V90 shares platform and technology with XC90 SUV

On sale now, with prices from £34,555 and first deliveries in September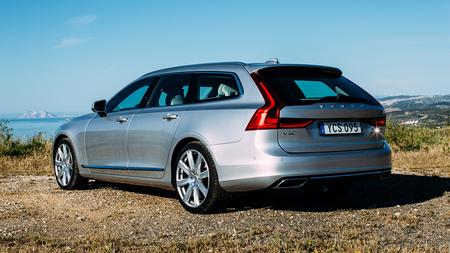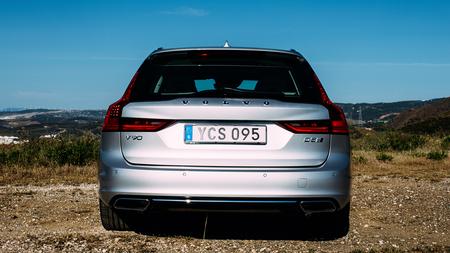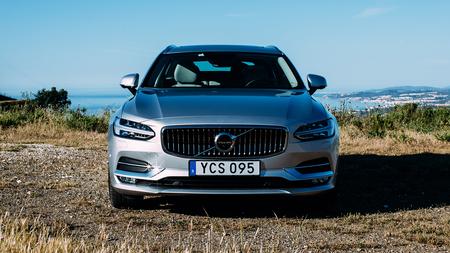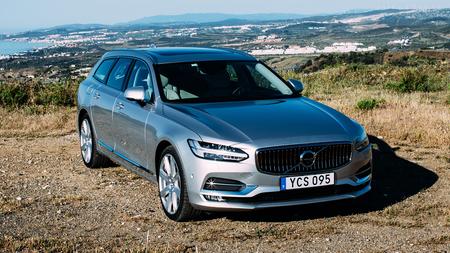 What is it?
The V90 is Volvo returning to a market with which it has a long and proud association: executive estates. Such has been the company's success with SUVs that you might have thought that it had given up on big estates, but not a bit of it. The V90 is aimed squarely at the kind of buyers who are looking at the likes of the BMW 5 Series Touring and Mercedes E-Class Estate.

The V90 borrows heavily from the XC90, not least in terms of its styling, platform and technology, but that's no bad thing; after all, the XC90 is a deeply impressive car. However, in something of a break from the established practice, Volvo hasn't created the biggest estate in the class – although this is still a very large and practical car – instead concentrating on providing what Volvo calls 'the right kind of functionality.' Which, Volvo being Volvo, includes some class-leading safety features.

The range consists of two very well-equipped trim levels, both of which are available with a choice of two diesel engines and – in due course – a petrol/electric plug-in hybrid, but for our first experience of the new car, we tested the range-topping D5 model in Inscription trim.

What's it like?
The first thing that strikes you about the V90 is just how elegant it is. With its bold grille and 'Thor's Hammer' headlights, grafted on to a sleek body that strikes just the right balance between elegance and excess, it's a car that bears comparison with any executive car you care to think of. No doubt, it's about as far removed as it's possible to get from the boxy banality that Volvo estates were so renowned for in the past.

If anything, the interior is even better, with a sense of Swedish design that is wonderfully different from its rivals'. It's almost identical to the XC90's, but that's no bad thing, with the dashboard dominated by a 9.0-inch touch-screen that, in combination with the wheel-mounted controls, takes care of pretty much all the car's infotainment systems. Best of all, it's really easy to use, with smartphone-style operation and simple menus.

Volvo also gets full marks for the space and comfort on offer up front. Even with the optional panoramic sunroof fitted, the car has more than enough room for a six-foot driver, and the seats are some of the very best in the business.

Thanks to the square rear doors, it couldn't be easier to get into the back seats, and there's also enough room here for a couple of six-footers to sit in total comfort. The only reason it's not-quite-perfect for sitting three across the back seat is that the transmission tunnel for the four-wheel drive system eats into footwell space.

At 560 litres (which grows to 1526 with the rear seats folded down), the bootspace is competitive, rather than class-leading, but where the V90 scores is that its designers have clearly set the car up to deal with real life. So, on top of nice details like bag hooks and power points in the boot, the tailgate opens nice and high, the opening is wide, and the loading lip is low, all of which guarantees a degree of everyday usability that we'll gladly trade for a few extra litres' space here and there.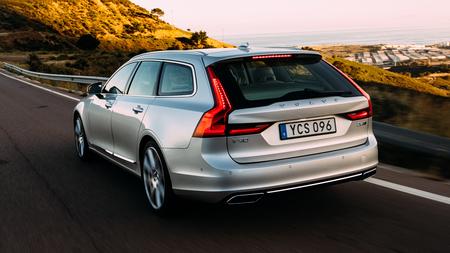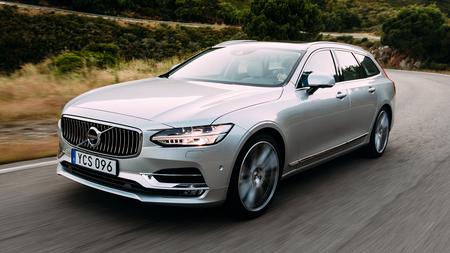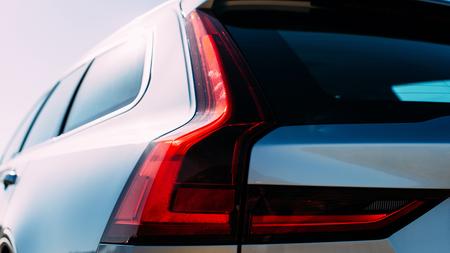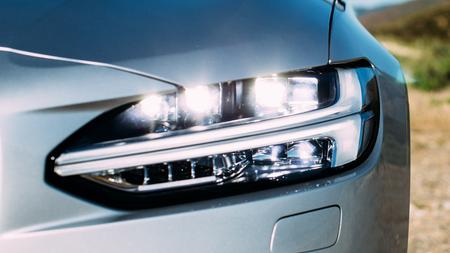 That everyday usability is reflected in the way the car drives, too, with an emphasis on easy performance, comfort and refinement that makes the V90 a very different proposition to its rivals.

This is not a car to hurl down a back road, but if you just want to go from A to B with the minimum of fuss, and get out at the end relaxed and unflustered, there aren't many estate cars that'll do the job more effectively than the V90.

What's most remarkable is just how refined the car is, eating up mile after mile at the legal limit on the motorway in almost total silence. The ride, too, is surprisingly comfortable – and especially so, given that the car we drove was fitted with optional 20-inch wheels, rather than the standard 18-inchers. True, the Spanish roads of our test route were rather less challenging than your average British High Street, but even so, we came away from the V90 impressed.

That said, it should also be noted that the car we drove came with the optional air suspension system, which is similar to the one that so improves the ride on the XC90. However, on this estate, it's a less complicated system that works only on the rear end. We'll find out in due course how well the V90 rides on its conventional set-up, but it's very possible that this £950 option will be money well spent.

The D5 engine, too, is another plus point: strong, refined and responsive. The responsiveness is further aided by a neat piece of technology called PowerPulse that uses compressed air to spin the turbocharger up to speed before the exhaust gases can do so, meaning the engine doesn't suffer from the 'turbo lag' that so many engines of this type can do. Instead, it responds really quickly at low revs, meaning there are no heart-stopping moments pulling into fast-moving traffic or just keeping up with the general ebb and flow on the motorway. All of which helps towards the general feeling of reassurance the V90 creates in its driver.

Likewise, when you do drive the car hard, there's nothing to alarm you; just plenty of grip and a sure-footed feel that gives you total confidence. That said, this is not a sporty, dynamic car in the way a BMW 5 Series is. You never forget the V90 is a big, heavy car, and that discourages from you barreling down B-roads with too much belligerence

Instead, it's a softer and more cultured companion that prefers to be coaxed down the road rather blasted along it. But, then again, isn't that just what you want in a family car?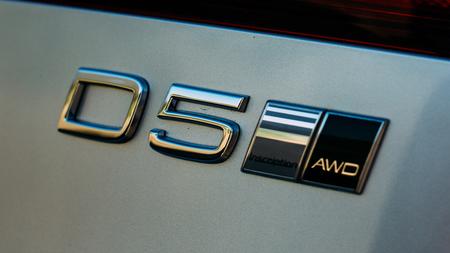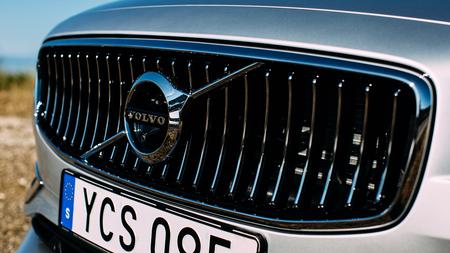 Should I get one?
As long as sheer size isn't your most major concern, then yes, the V90 is car that anyone who wants a premium-badged estate car should consider. It's a spacious, comfortable and refined way to cart around an awful lot of stuff and, as you would only expect of a Volvo, comes with some truly impressive safety features. Throw in competitive prices, plenty of standard equipment and good running costs on top of that, and the result is a very attractive package.
Key facts:
Model: Volvo V90 D5 Inscription

Price: £44,055

Engine: 2.0-litre turbodiesel, eight-speed automatic

Power/Torque: 232bhp/3354lb ft

0-62mph: 7.2secs

Top speed: 145mph

Economy: 57.6mpg

CO2/BIK tax liability: 129g/km/25%

Boot space: 560 – 1526 litres
Also consider:
BMW 5 Series Touring
Choose the right version of the 5 Series Touring, and the right optional extras, and it's the sharpest-driving car in the executive estate class
Mercedes E-Class estate
The E-Class combines load-lugging practicality and premium luxury in one smart-looking package. It's comfortable, good to drive and well equipped.
Audi A6 Avant
This is an excellent executive estate car – refined, spacious and practical, and available with some really economical engines that make it very appealing to company car drivers.
Interested in buying a Volvo V90?