First Drive New Seat Ateca 2.0 TDI 150 first drive review
The Ateca is Seat's first SUV, but with big brother Volkswagen just a phone call away, there's no lack of expertise behind the scenes. Underpinned by proven mechanicals, spiced with Spanish gusto and priced to kill, it could be one of the best cars of 2016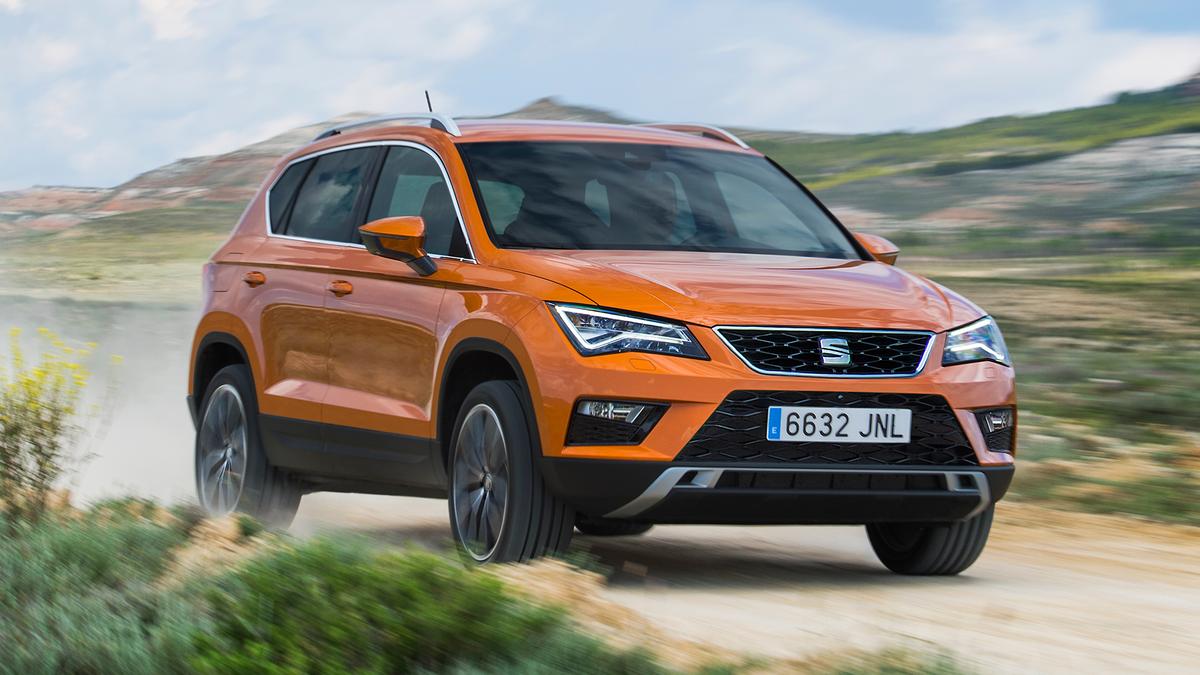 View gallery
Auto Trader verdict:
Clearly, the Ateca has what it takes to upset the established players in the ever-burgeoning SUV market. Its sharp looks and engaging drive are endearing factors, while a spacious, well-finished interior, attractive pricing and comprehensive specification mean Seat is likely to have an instant hit on its hands.
Need to know:
Seat's first foray into the SUV and crossover market targets Nissan's Qashqai

Sharply styled, spacious, economical and fun to drive

On sale now, with first deliveries in September and prices starting at £17,990
What is it?
Seat is under no illusion as to the size of the task that confronts it as it attempts to topple established SUV favourites such as the
Kia Sportage
and
Nissan Qashqai
.
The Qashqai, in particular, is the car which broke the SUV mould, taking the rugged styling of an off-roader and draping it over a car that was as easy to drive and live with as a family hatchback. A winner of countless awards, it continues to set the benchmark at this end of the SUV spectrum.
As a consequence, if it even just wants to compete, Seat has had to nick most of the best bits from the Volkswagen parts bin in order to deliver a solidly built, crisp-driving motor. In addition, the Ateca comes stacked with the latest safety/convenience systems, including traffic jam assist, which autonomously steers, accelerates and brakes for you at speeds up to 37mph. Blind spot monitoring with lane keep assist and autonomous braking to help prevent low-speed collisions are also available.
The engine choice includes 113bhp 1.0-litre three-cylinder and 148bhp 1.4-litre TSI petrol motors, as well as 1.6- and 2.0-litre TDI turbodiesels. The most powerful TDI comes only with four-wheel-drive and a seven-speed DSG automatic gearbox, but it's the 148bhp front-wheel-drive car with a manual gearbox, which we've driven here, that is likely to be the best-seller.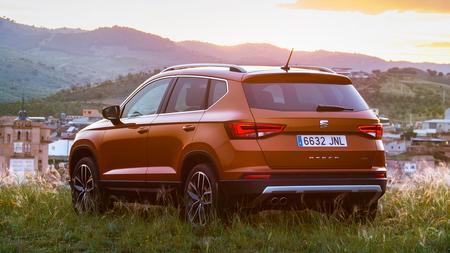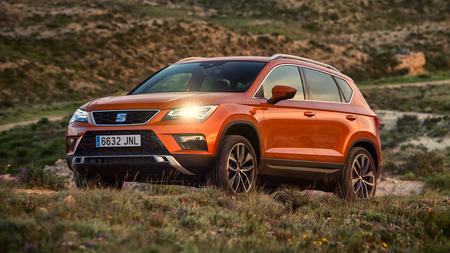 What's it like?
At the risk of repeating what we've said in umpteen previous tests, no manufacturer is presently making more refined diesel engines than the Volkswagen Group, and the 148bhp 2.0-litre four-cylinder engine found in the Ateca is further proof of that.

With the exception of a trace of low-rev combustion rattle at tickover and just a smidgen of vibration, which can be sensed pulsing through the floor when lifting the revs away from idle, the Ateca's motor is a proper smoothie.

For the most part, it's also pretty decent at avoiding turbo lag, so consequently it pulls strongly and smoothly, and generates an ocean of mid-range swagger. As an upshot, once cruising, the motor rarely requires more than a single downshift to summon up a strong burst of acceleration.

Given that most Atecas, like our test car, come with a pretty basic rear axle arrangement – the four-wheel-drive cars get a more complicated multi-link rear suspension – some pretty sizable alloy wheels and keen damper rates, it's perhaps not surprising that the Ateca's ride occasionally borders on the tough side.

The trade-off for this firmness is excellent body control, which means the Ateca is one of the more engaging SUVs you can buy. With a decent amount of steering feel and fairly brisk reactions, the Ateca spears though challenging bends with great poise and control.

What's more, as a bonus of its simple rear axle arrangement – multi-link suspension systems may be more adept at isolating lumps and bumps, but because they have more body contact points, they allow more road noise and vibration to enter the cabin – the basic Ateca appears to be one of the better SUVs at isolating road noise, albeit judged on smooth Spanish roads.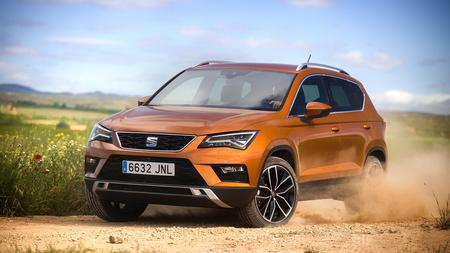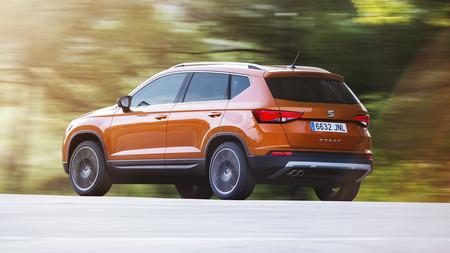 Equally, as well as boosting front- and side visibility – we've lost count of the number of SUVs that are blighted by huge A-pillar-mounted mirrors – the Ateca's aerodynamically sculptured door-mounted mirrors generate extremely low levels of noisy turbulence.
Inside, the Ateca's dash is almost a facsimile of the
Leon hatchback's
, with its mixture of fast-reacting touch-screen infotainment system, clear graphics and classy-looking instrumentation. The driving position is typical Volkswagen Group, so you get plenty of adjustments, for both the seat and steering wheel, so most folk should have few issues setting up a comfortable perch.
That said, the Ateca's rising waistline and elevated door trims mean little 'uns sitting in the back will struggle to see out. There's also a sense that those relegated to the back row are sitting in the cheap seats, as the cabin plastics don't feel as plush as those up front. At least there's loads of leg- and elbow room.
A fair bit has been made of the fact that the Ateca misses out on the sliding rear bench that's found in the rear of the new Tiguan. For us, though, it's a sacrifice we'll happily accept, given the Ateca's significantly cheaper list price; and, besides, the Ateca's rear seat backs split and fold to create a fairly substantial load area that will be more than enough to cope with most folk's daily requirements.
Should I get one?
If you're after a good-looking alternative to some of the stylistically bankrupt crossovers and SUVs that are currently flooding onto the market – some may argue that the Ateca is the sharpest looking SUV since the
Range Rover Evoque
burst onto the scene – then the Ateca is well worth consideration.
It's an enjoyable drive, with a natural agility and flow that are more akin to that of an accomplished hatchback than a lofty SUV. While the smart, spacious cabin may not be finished to the same standard as its
Volkswagen Tiguan
cousin, excellent safety features, high levels of standard equipment and competitive pricing all add to the Ateca's desirability.
Key facts:
Model: Seat Ateca 2.0 TDI 150PS SE

Price: £22,930

Engine: 2.0-litre turbodiesel, six-speed manual

Power/Torque: 148hp/273lb ft

0-62mph: 8.5secs

Top speed 126mph

Economy: 64.2mpg

CO2/BIK tax liability: 114g/km/22%

Boot space: 510 – 1604 litres
Also consider:
Nissan Qashqai
The car that started the push to crossovers and SUVs over hatchbacks. Omnipresence is its biggest failing.
Renault Kadjar
A Nissan Qashqai with French dressing. More visual appeal, and rarer, but little different otherwise.
Kia Sportage
Seat claims it's gunning for the Sportage hardest, and we can see why, as it's an accomplished all-rounder that's good to drive.
Interested in buying a SEAT Ateca?